Asian kids have their own unique facial features and they want hairstyles that can frame their predominantly round faces to perfection.
There are quite a few Asian hairstyles for kids that can do the job rather nicely despite their shorter length. They have a uniquely stylish look to them and really feel amazing when the style is achieved in a perfect manner.
Here we have a few styles listed for Asian kids and they can wear these beautiful hairstyles regardless of the occasion.
Casual Forward Swept Hair With Edgy Fringe
Source: Clairevictoria.t
For kids with naturally fine and thin hair, this is one of the best hairstyles that don't require any maintenance whatsoever.All you have to do is to let the kid's hair grow in all directions and make the tips look edgy with careful trimming. The hair on top should be swept forward and the edgy fringe falling over the forehead makes a statement.
Short Bob Hairstyle
Source: Men's Stylists
We have all seen bob hairstyles to be a popular choice among girls, but the hairdo also works for Asian boys and really looks amazing on them. This short and rounded bob is a perfect example of that. The hair length is almost the same all over and it looks really cool. Sweep the bangs to a side and it will make a statement.
Textured And Spiky Side Swept Hairstyle With Hard Part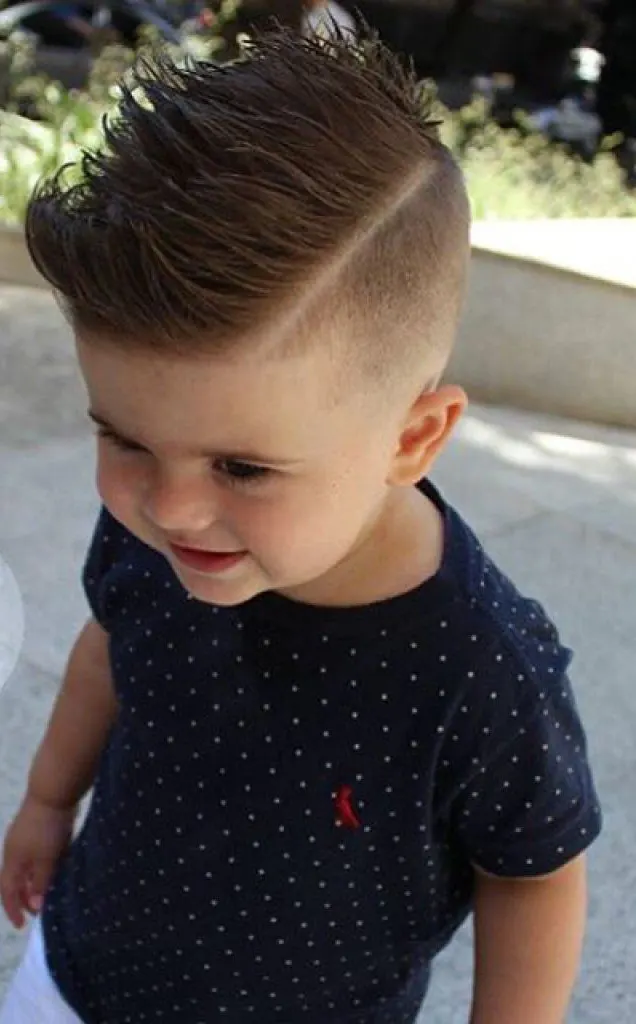 This beautiful fade haircut boasts some length on top which is swept nicely to a side.
Applying some strong-hold styling product to the top hair will give it more of a stylish look.There is a cool hard part on the sides while a high fade completes it to perfection.
Combed Back Hairstyle With Knot And Side Fade
Another cool look to achieve for Asian boys, this beautiful hairstyle requires you to have some length on top.
Comb it all backwards into a beautiful edgy ponytail around the crown area. A high fade on the sides completes the look to perfection.
Textured Side Swept Hairstyle With Hard Part
A simple, stylish and elegant look, this hairstyle is about having medium-length hair on top which is all swept to a side and textured to perfection. The hard part on the side looks really amazing as well while a high fade gives it a more military vibe. The hairstyle suits perfectly to Asian boys' facial features.
Classic Toddler Cut
In a classic toddler cut, the hair is styled to adapt the shape of the scalp. It can be easily done at home as well. All you need to do is trim the ends as the hair grows out.
A simple hairstyle that requires no further styling or any hair products. Leave the hair to an optimal length, just above the ears.
Classic Asian Buzz Cut
This traditional buzz cut is an all-time favorite amongst Asian kids with short hair. It's easy to maintain, looks super cute, and suits most face shapes. It's ideal for active boys who prefer simplicity and practicality in their hairstyles.
Textured Crop
A textured crop is a fantastic choice for short haircuts for Asian boys. It features shorter sides with a bit longer top hair. It's great for adding volume to the hair and works well with the typically straight and thick hair of Asian kids.
Short and Spiky
For a fun and edgy look, consider the short and spiky style. This look gives a playful and energetic vibe, which matches perfectly with the active lifestyle of young kids. It's one of the charming short hairstyles for Asian kids who love to stand out in a crowd.
Side Swept Short Hair
A side swept short hairstyle gives a trendy and fashionable look. The hair is kept short but long enough to be swept to one side. This style adds a dash of sophistication to Asian kids with short hair, making them look stylish and well-groomed.
Short Shag
The short shag is a modern and stylish haircut that features a mess of tresses in a beautiful layered cut. This haircut is ideal for Asian boys with thick hair. It's one of those short hairstyles for Asian kids that give a laid back and cool look.
Layered Short Haircut
A layered short haircut is another stylish choice for Asian boys. The layers add depth and volume to the hair, making it look fuller and more dynamic. It's an excellent option for those looking for a change from the traditional bob or buzz cut.
Bowl Cut
Popular amongst Asian kids with short hair, the bowl cut is a classic hairstyle that never goes out of style. The hair is cut straight around the head, giving the appearance of a bowl-like shape. It's a simple yet stylish haircut that looks cute on boys.
Faux Hawk
The faux hawk is a less dramatic version of the traditional mohawk and can be a great short haircut for Asian boys. The sides are short, with longer hair in the middle that can be spiked up. This style adds an element of fun and edge to their overall look.
Caesar Cut
Named after Julius Caesar, this short haircut features a short fringe and slightly longer hair on top. The Caesar cut is a stylish and trendy choice for Asian boys, making them look like little warriors.
Slicked Back Short Hair
Last but not least, the slicked back short hair style is a trendy choice for Asian boys. The hair is cut short and styled backwards, creating a neat and clean look. It's an excellent short haircut for Asian boys who prefer a more mature and sleek style.
Bowl Cut With Undercut
If your little boy has natural straight and thick hair, you can go for a bowl cut. A bowl cut among Asian hairstyles is a safe bet as it is trendy, stylish, and convenient.
The hair falls perfectly around the head, making a face look innocent and sweet. In addition, an undercut is added to the hairstyle for a modern look. Undercut allows the hair to be shorter and more manageable.
Mop Top
Long hairstyles for a toddler can be hard to maintain as your little rebel may not want to take care of his long locks. But a low-key hairstyle such as a mop-top does not require much commitment. All it needs is regular combing. Skip the products and let his hair fall where it may.
Messy Short Hair
Short hair for little boys can be fun by messily styling them. Add layers to get those short wispy strands and embrace the cowlicks. Keep a few strands longer in the front to form fringes. Let the hair do its own thing.
Short Spiky Hair
If your boy has pin-straight thick hair which refuses to settle, short hair will be perfect for him. The straight hair will form natural spikes filled with texture. You can decide on the length of the spikes.
Short spiky hairstyle is a low-maintenance hairstyle that does not require further styling. Your boy will look cute and well-groomed at the same time.
Long Hair With Side-Swept Fringe
Long hairstyles can suit any hair texture, whether straight, thick, or wavy. Style your boy's long hair in a side part and crop the sides, keeping long hair at the back. Sweep his hair forward to form fringes. Long hair with side-swept fringes gives a smart and casual look.
Crew Cut
Give your boy an athletic style with a crew cut. The hair at the top is kept to 1 or 2 inches, and the hair at the sides is tapered short. A crew cut requires no maintenance and be styled easily by anyone. Perfect for a boy who is in sports.
Tousled Side Part
A tousled side part gives a gentleman look to your little boy. Keep his hair up to medium length and blow-dry to give a lift to his hair and tousle his hair sidewards. It is one of the most popular Asian hairstyles among parents.
Layered Side-Swept Hair
This haircut is a modification of side-parted hair. Layers are added to the hair to create a natural lift. The hair is kept longer at the front of the head, which falls over the forehead in a fashionable manner.
Angular Fringe Cut
Looking for a hairstyle that is not over the top but yet makes your boy stand out, pair his hair with an angular fringe. You can pair angular fringe with any hairstyle to make it fresh and exciting. Angular fringe gives an edgy twist to the classic mushroom cut.
Shaved Sides
If your little boy hates going to the barber, crop his hair short by opting for high shaved sides with short hair on the top. Comb his hair on the top towards the front for those wispy strands to fall on his forehead. This hairstyle will look great on your little man and continue to look good as it grows. You can wait for a couple of months to get a cut.
Samurai Hair Bun
A traditional Samurai top knot is paired with fringes that give a rather soft and cute look to your toddler. Keep the side hair shorter and gather all the long hair at the top. Twist the hair like a rope and tie it in a Samurai bun.
Forward Swept Hairstyle With Frontal Spike
This really is a cool hairstyle that boasts medium length hair on top and a nice spiky frontal fringe that goes high up right at the front.
There's an undercut fade on the sides with a beautiful surgical design. The hairstyle looks amazing on kids with round faces.
Textured Spikes With Faded Sides
Medium length hair on top, all spiked up to perfection is the ultimate style that makes this hairdo special. You will need strong hold styling product for this to work. The sides have a fade and the hair is made to come forward stylishly.
Side Swept Bob Hairstyle
Another bob hairstyle variation for Asian kids, this Asian hairstyle requires you to get your kid a nice short bob and sweep it all to a side. The silky texture and casually side swept look will make the hairstyle look amazing. Overall, it's just perfect.
Mohawk With Disconnected Undercut
You might have seen Mohawk hairstyles with faded sides before but this cool look is about a typical Mohawk that is supported by a disconnected undercut on the sides. The natural texture is maintained on top and the hair is spiked to perfection.
Side Swept Textured Hairstyle With High Fade
This cool variation of a side swept hairstyle is about nicely textured hair that goes all the way to a side and looks amazing with a hard part on the other side. There is also a high fade on the sides that complements the look to perfection.
Forward Swept Spikes With Undercut
Another cool look for the Asian boys to sport, this wonderful hairstyle boasts of some length on top which is applied with a strong hold styling product to pull off a uniquely stylish hairstyle.
There is an undercut on the sides which complements the top hair rather elegantly and balances it all off.
Casual Side Swept Hairstyle With Mid Fade
This cool and casual look is going to make a statement for your little kid on any day. Whether you want to let him wear this hairstyle to school or you'd want him to sport the look on a casual event, it will work just fine.
The mid fade on the sides and some length on top swept casually with a side part really makes a perfect combo.
Spiky Mohawk With Medium Length Hair On The Sides
Another cool Mohawk hairstyle on the list, this one boasts of strongly held together spikes on top with some length on the sides as well.
There is no typical fade given to this hairstyle and it still makes a unique statement. The hairstyle is just perfect for those casual days.
In fact, these are not the only Asian hairstyles your kid can sport to achieve a stylish look. Rather, there are so many other hairstyles out there and you can even experiment with his hairstyles as well.
Just make sure that you eventually go with something that complements his Asian facial features to perfection.