We all love our kids and we want them to look beautiful and attractive at all times. Reflecting their carefree personality in their style is always a great idea and therefore you should opt for such Baby Hairs Cutting Ideas that is true to their personality. You can come across many such cool ideas every year and they all have a special vibe to deliver.
Baby Hairs Cutting Ideas To Consider In 2023
So, do you have any cool ideas in your mind? Don't worry if you haven't got any because here we have these best baby cutting ideas for boys all listed down here. Let's check out.
Messy Spikes With Shaved Designs
A messy and spiky look is always reflective of your kids' carefree nature and you can consider this hairstyle we have here for your boy's next haircut. Shave off the sides completely or get a nice shaved design to make it look even better.
Side Swept With High Fade
A simple side swept look that your boy can wear with a smile, this beautiful hairstyle has a lot to say about your kid's wonderful personality. Achieve this cool look with medium-length side swept hair and get sides shaved off to the skin. Nothing can beat the look.
Long Side Swept Hair With Texture
Textured hair always looks special no matter how simple the hairstyle may be. This everyday hairstyle delivers gorgeous vibes with some length swept all the way to the side and a simple side part created on top. The sides are trimmed high for a nice high fade.
Kinky Buzz Cut
This beautiful afro hairstyle has a special vibe to deliver. In fact, it's the most natural look for the African kids and anyone can wear it. Go for a surgical line on a side and complete a wonderful new look.
Short Pompadour With Undercut
Pompadours are more classic than carefree but this beautiful new look is definitely going to do the trick for your little man. A bit of organization on top and a simple full-trimmed undercut on the sides really makes a perfect combo.
Messy All-Over
This casual look doesn't need any styling at all and makes more of a low maintenance haircut for everyday routine. Just let his hair grow and keep it the way it is.
Short Messy Top With High Skin Fade
Yet another cool hairstyle for boys, this one also doesn't need too much of maintenance. All you have to do is to keep the hairstyle short and simple. High skin fade on the sides and short messy hair on top, it all looks gorgeous.
Textured Side Sweep With Undercut
Textured hair on top and an undercut on the sides, that makes a perfectly stylish combo for boys on any day. You can wear the look in daily routine or special events and it won't disappoint you at all.
Short And Spiky
If you are looking for the best toddler hairstyles this year, here we have a cool hairstyle for them to flaunt. Just let their hair grow and spike it up in the center.
Short Mohawk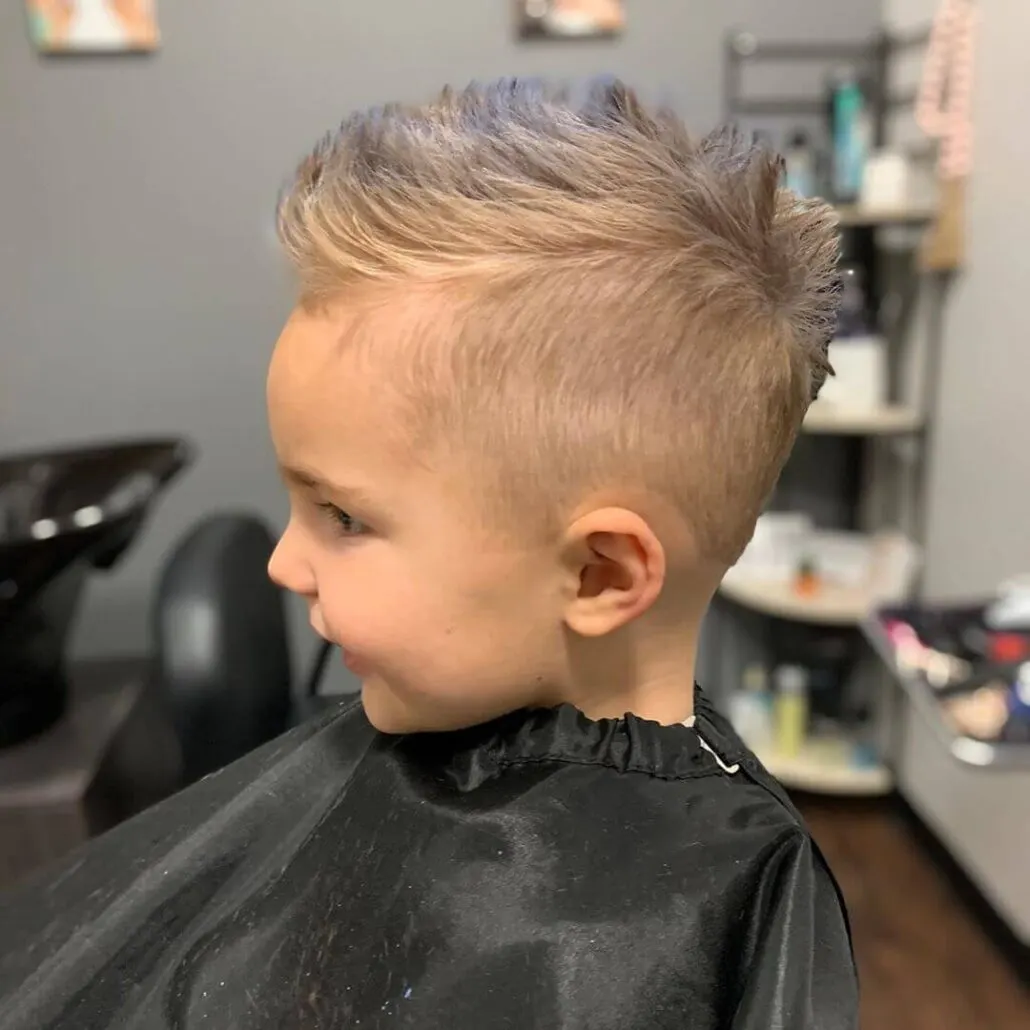 This is a cool little implementation of a Mohawk hairstyle and it just looks gorgeous. It has some sense of organization to it and it looks really cool and stylish as well. A perfect style to go with this summer!