Choosing the right hairstyle for summer months is always a challenge. And, that challenge becomes more of a hassle when you have to select a perfect hairdo for your little one. They are free souls and they don't want to carry all the mess on top or keep maintaining a look all day long. So, do you have any summer haircuts options in your mind that you would like to try this year? Have you been following the latest trends in kids haircuts to make your selection now.
Here we have listed some of the best hairstyles for summer that would make your boy feel the air and enjoy his time even on the hottest days. Let's have a look.
1. Dapper Dollop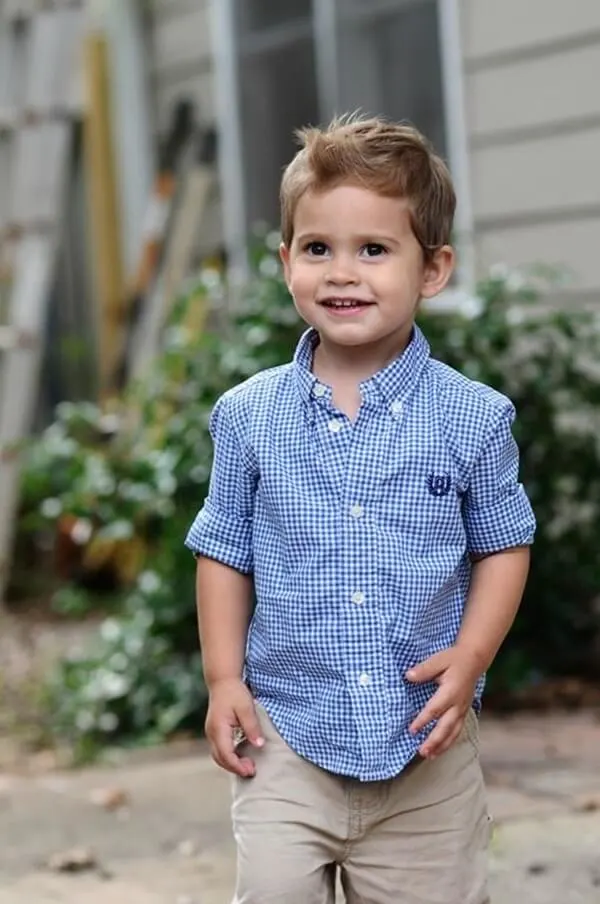 This hairstyle has been popular for years and it's trending this summer as well. The hairstyle makes a perfect vibe and it is quite easy to achieve as well. It's dapper and it's handsome! When getting the hairstyle, ask for super-tailored hair all over and make sure that the frontal bangs are left longer. You can use a quality sea salt spray for lifting the hair on the front without any hassle. Comb it upward in the end to secure a perfect look.
2. Side Slicked
Now, this one seems much debonair and gives more of an Old Hollywood look. The hairstyle is quite easy to achieve as you have to simple get it trimmed to an appropriate length and slick the hair to a side using a styling gel or some water. Use light hold hair spray to set everything into place.
3. Buzz Cut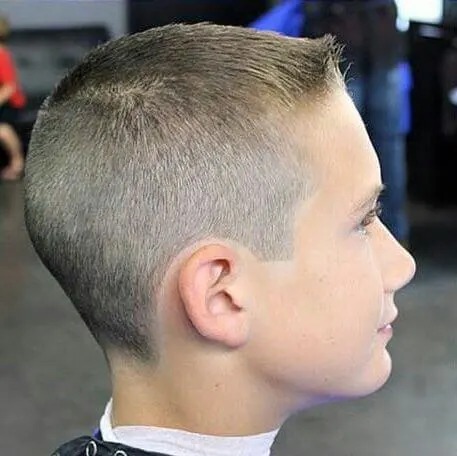 This one is the best low maintenance haircut which resonates with the summer theme to perfection. The hair is all trimmed short and close to the head giving a perfect feel. You can add a surgical design to an otherwise bland look to make sure it gets a cute and stylish look.
4. Faux Hawk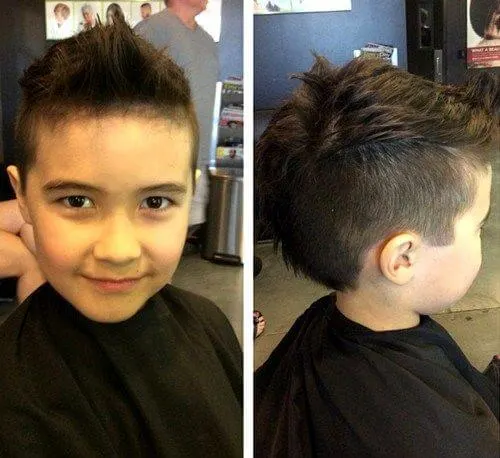 Faux Hawk really is too cool a hairstyle to go away. We don't actually see it going anywhere anytime soon. The hairstyle really looks amazing on little kids and the boys really love that harder edgy look it creates. Moms, on the other hand, love the ease of styling that comes along with this beautiful hairstyle. You just have to get a perfect haircut and use a styling gel to create spikes easily without any flakes whatsoever.
5. Side Buzzed Hair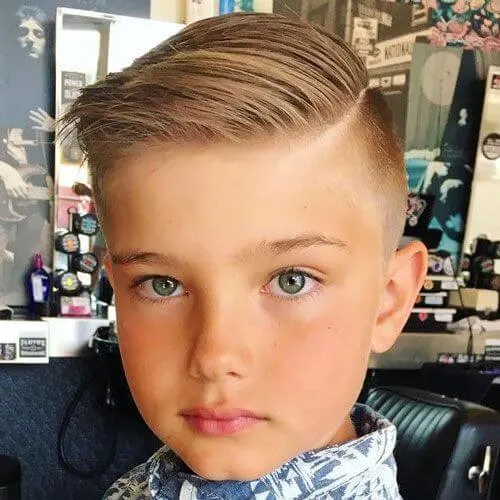 We just discussed the buzz cut hairstyle for kids, but you can also give the typical haircut an interesting twist of style. You can go for a typical buzz cut on the sides while the top can be left slightly longer and disconnected. You can add some definition to the look by using pomade or gel to flick the strands on top. The hairstyle won't require much of styling and your kid can go outdoors within a moment.
6. Short and Bristly
This is a highly functional haircut for an adventurous little boy. It's short with enough hair left to be nice and bristly, so it won't get too tangled or dirty while playing outside or getting messy with friends. It's low-maintenance and easy to keep up with at the barber shop or at home.
7. Long Front Bangs
If you have a little boy who wants some length to his hair, this is one of the summer haircuts that will be suitable. The hair is short on the sides, but the top is long enough to style, ruffle, or let fall over the forehead.
8. Little Quiff
Summer haircuts that keep your son's head cool are fantastic, and this one will certainly help. The sides of the hair are short and the top of the hair is quiffed so it stays out of his face and doesn't make him sweat while playing outside.
9. Easy Cropped Side Haircut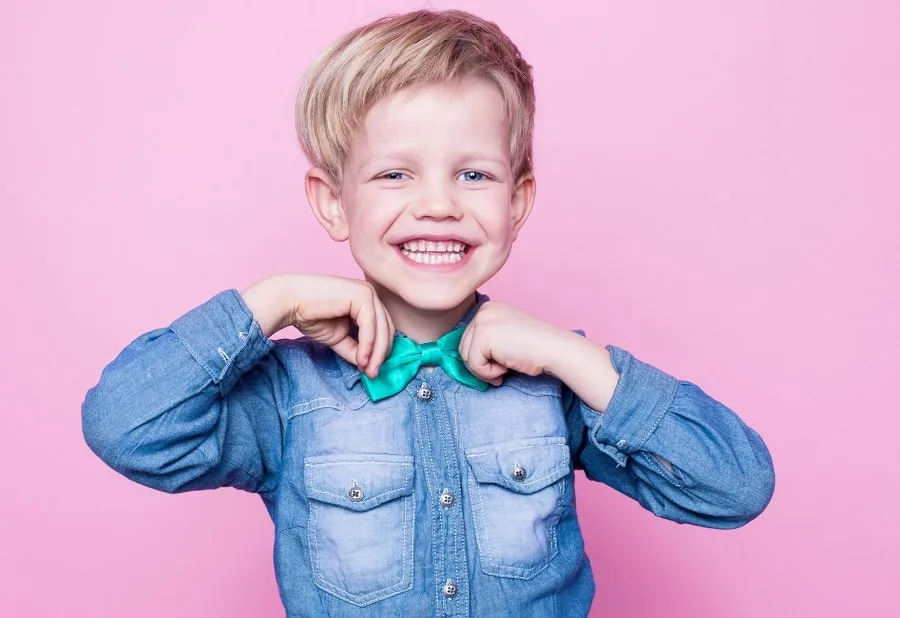 This haircut is easy and short and timeless. The hair is cropped short on the sides but has enough length to run your fingers through on top. The hair is then pushed to one side, so it's very easy to style.
10. Adventurous Spikey Haircut
This is a haircut for a boy who loves adventure. The gently ruffled spikes are great for looking fun-loving while exploring the sunny outdoors in summer. Your little boy will have a good time and look very cool while adventuring with his friends and playing all day.
11. Sweet Side Sweeping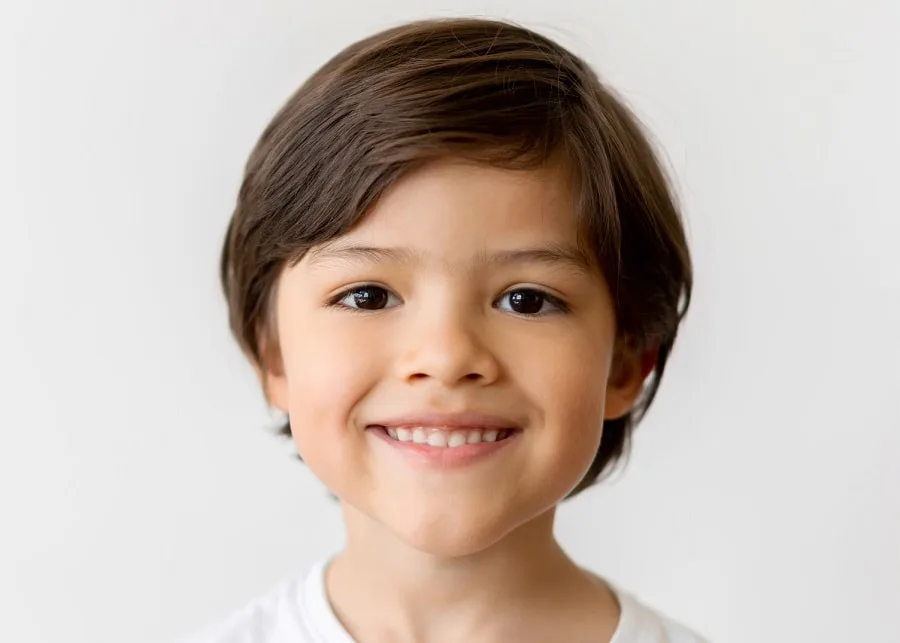 If your son likes his hair a little longer then this is a great cut that will make him look very sweet. It's great for younger boys in particular. The hair is brushed neatly to one side with bangs that cover half the forehead, the sides are ear-length, and the back is a little longer.
12. Messy Textured Style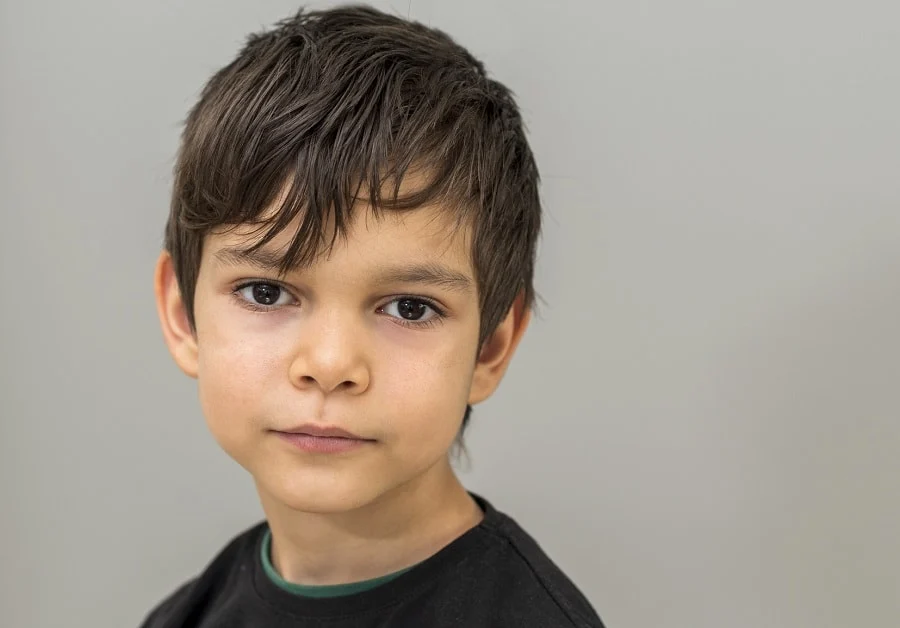 This haircut is good for boys who want to look a little bit rough and messy. The choppy way the hair is cut provides that effect. Some hair sweeps down to touch the eyebrows, and the rest of the hair is short but brushed forward.
13. Natural Curls With Some Shaping
For boys with naturally curly hair, this is perfect. The curls are left mostly natural, but the hair is shaved below the ears so it's a little neater and easier to handle. It's a playful look that suits younger kids and older kids.
14. Bowl Inspired Cut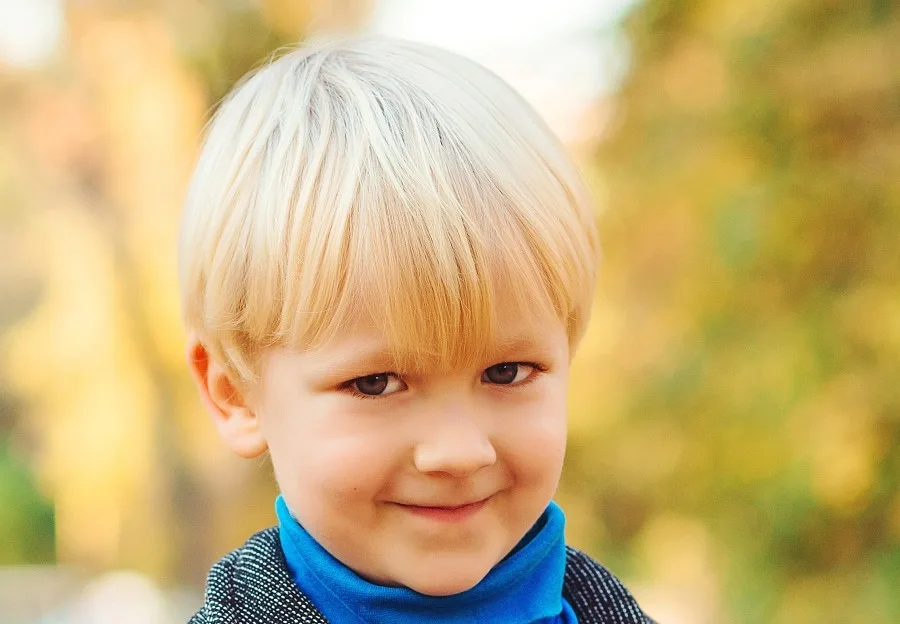 This is another timeless haircut. It's a bow-inspired look that has the hair at the same length right around the head. It suits very young children perfectly. The hair on the sides is just slightly longer than that in the front, so it creates a nicer look.
15. Short But Stylish Mini Quiff
This look lets the hair stay stylish and very easy to maintain, but there's enough hair left on top to brush forward and gel up into a quiff. The hair on the sides is kept nice and short, accentuating the front.
16. Casual Side Parted Hair
This is another easy haircut to keep up with for summer. The hair has a side parting and some falls over one side of the face. The rest of it is cut short, to the length of the top of the ears. It's easy to maintain and simple to style.
17. Neat Standing Short Cut
This haircut is very short, but there's enough hair to style and make stand upwards. It looks wonderful and is easy for your little boy to style by himself every day. The hair on top is slightly longer than the hair on the sides.
18. Slightly Long Hairstyle With Taper
It's quite a sophisticated and chic hairstyle that is long and still tapered to offer you plenty of options to style the hair. Do some grooming around his neckline and the ears to keep the hairstyle looking polished. Use hairspray to create a naturally tousled and sleek vibe.
19. Curly Hairstyle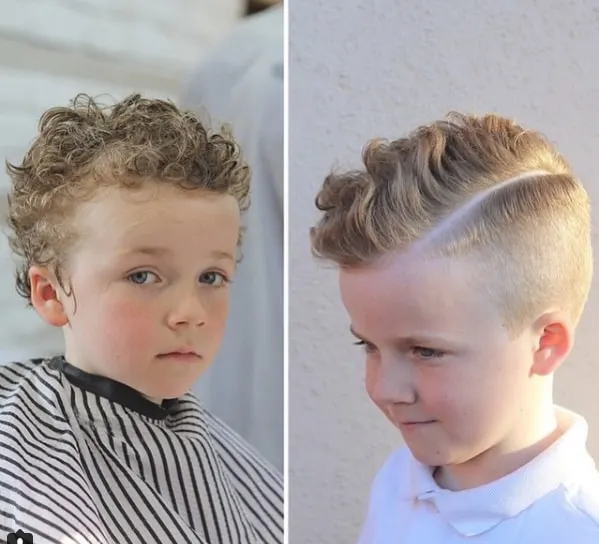 Kids look the cutest in curls and there are plenty of curly hairstyles that your kids can wear in summer months. Use a quality curl serum to lift and define the ringlets as well as the waves. Just play with the curls of your boy as much as you like before you can come up with a cool look overall.
20. Short And Spiky Hairstyle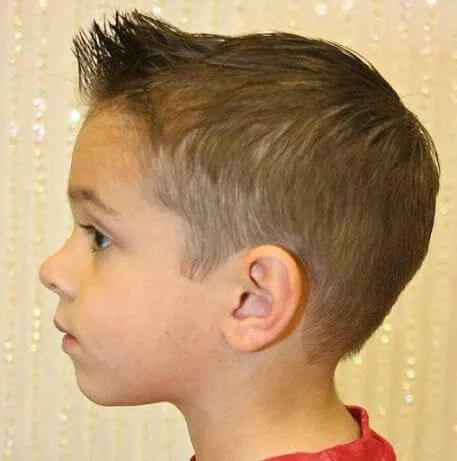 It really is one of the best summer haircuts for kids and it doesn't require too much maintenance either. Use a quality curling gel to quickly spike up his hair. Just ask the stylist to style it in the direction that your kid likes. It will give him a look that tailored perfectly to his own requirements.
So, which of these summer haircuts do you prefer to go with? Do you think your kid is going to like any of these? You may also like to explore many other boys haircuts this year but for the summer these 8 have really become the top trend. Pick one for your kid and give him a perfect style to flaunt.