During the time when your child is growing into a gentleman, he has to pass through a lot of phases. During different schooling stages, they have to be more conscious about their looks and appearance as they not just have to keep themselves looking great but also have to follow the strict school codes.
They have a long preference list and they just want to look modern and cool during those school years. As a parent, you have to pick the best school boy haircuts for them and give them the chance to look as chic and beautiful as ever.
But you do have a difficult job to perform as well because not all the haircuts would give you the best of both worlds – look cool at your boy and not breach the school code at the same time. So, what options do you have then?
Top 20 School Boy Haircuts This Year
Don't worry! We've got you covered here as we have been helping parents give their kids the most stylish of looks possible. So, here we have a few for you.
Crew Cut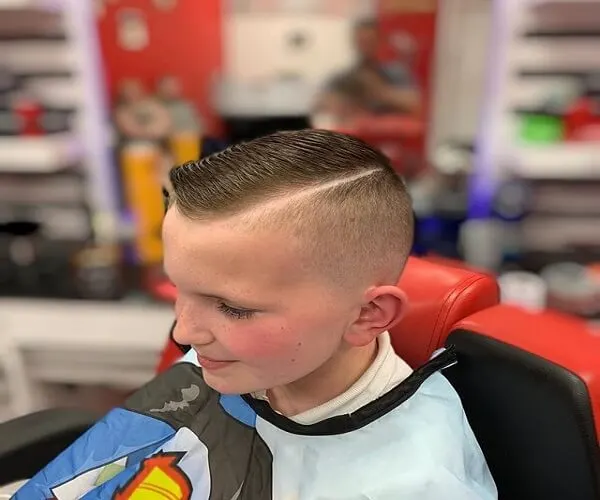 Years in and years out, crew cut remains one of the most popular and, literally, the best options around for parents looking for school haircuts for boys.
The hairstyle is just perfect for boys as well as for men and is long worn by athletes who indulge in a variety of sporting activities.
But it also fits well in any school code and your kid won't have to face any troubles whatsoever meeting school dress code requirements if he wears this particular dress. It's a low maintenance haircut that will fit perfectly to your boy's needs.
Wispy & Layered Fade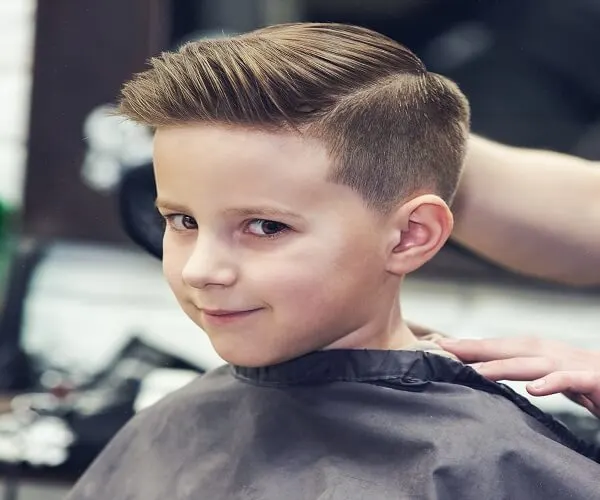 Fade haircut has long been a popular choice for school going kids and this variation of the hairdo works just fine for school going kids.
This one makes the fade more prominent and highlights the sober looks of your little guy while making them look tough as well.
On top we have long and nicely combed hair where a part separates the longer locks from the faded sides. Overall, it really looks gorgeous and won't be at conflict with your kid's school code.
Quiff Haircut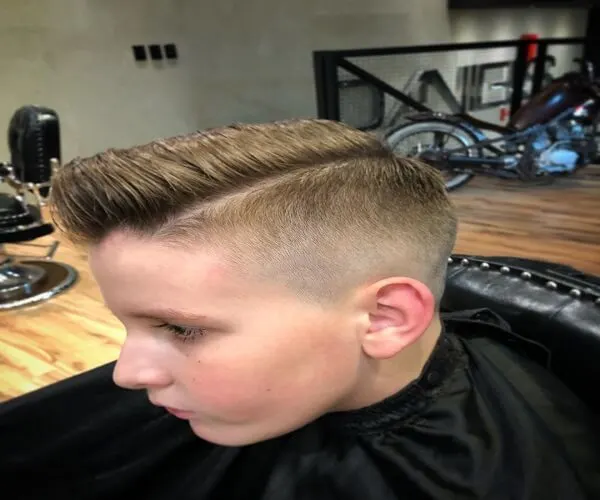 If you want to go classic with your kid's hair, Quiff haircut really makes a perfect choice. Most of the schools often allow for medium-to-short hair lengths and quiff really fits very nicely in this definition.
One of the best hairstyles for boys with medium hair, the hairdo requires the top to be styled into a beautiful quiff while the sides must be kept a bit messy without any noticeable part.
The hairdo really makes one of the coolest looks for school and your boy is definitely going to love it.
The Undercut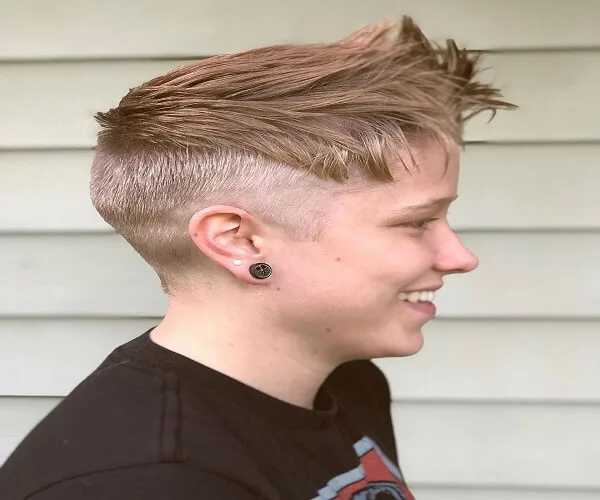 A popular choice among high school haircuts for boys, the undercut is compatible to almost all the school environments and codes.
The hairdo is very much flexible and you can even try to mold it a bit if your kids' school code is a little stricter. The hairstyle will require you to apply some quality pomade to do the styling part on top and ensure that it looks shiny and cool.
Obviously, you need to keep the top longer for that and you can style it in all the different ways possible while making sure that it's pretty organized and looks gorgeous.
Spikes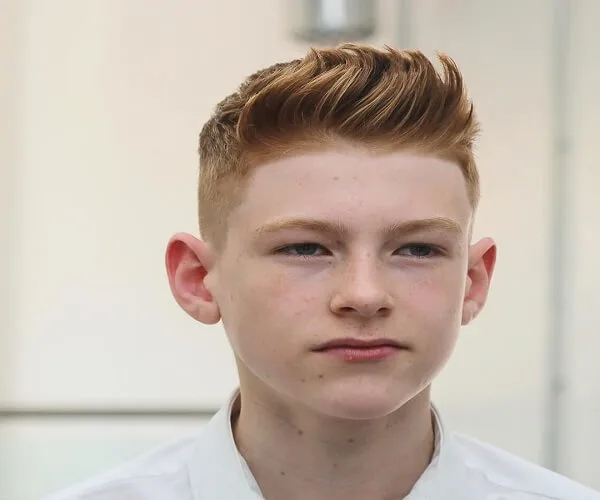 Even though it is more of a hip look, spikes school boy haircuts are sure to pass some of the strictest school codes as well. Keep it edgy on top and the short beautiful spikes would definitely add a unique charm to your kid's looks.
The hairstyle doesn't require any maintenance because the hair is kept so short that they won't go anywhere. But if you go for the longer alternative then it may need a bit of maintenance to keep this hairdo in shape all the time.
Use a high quality product for styling his hair and it will make the spikes look more defined and gorgeous.
Swooped Long Bangs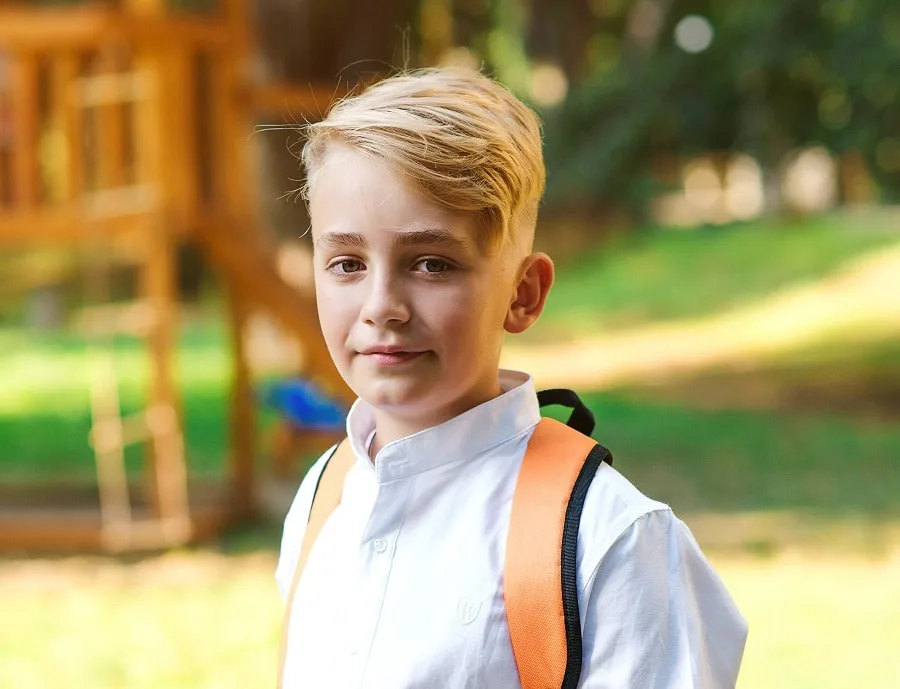 If your little man is starting school, you need to find a haircut that is low-maintenance, but also something that he'll be proud to wear. A school boy haircut with very short sides and a longer layered top that is styled on one side is a pretty good option.
If you go to a private school that has a strict haircut code, you can just trim the top a little to fit into those regulations.
Long Layered Hairstyle
This long haircut is probably not for boys to go to private schools but is a cute hairstyle for those young men who attend a school with fewer haircuts and clothes regulations. It involves numerous layers and just a messy bang flip.
The hairstyle needs no styling products, and it is a great low-maintenance hairdo and one of the best school boy haircuts for those who wish to grow their hair even longer.
Afro Curls
Coarse hair is quite a struggle for any mom when prepping her kid for school. Keeping the hair short is the best way to get him ready for school, in a fast manner.
By choosing a short length, your kid's hair will need regular detangling but less investment on your part.
Sleek Hairstyle for School Boys
Businessman hairstyles are some of the best when choosing a suitable cut for a school boy who wants to look cute and fancy.
Go for a V fade on the sides, contour the hair from the corners of the forehead, and use pomade to give your kid's hair that sleek look.
Short Cut with Fade
A short haircut with very short bangs is an option for school days. One of the perks of this haircut is that if your little man wants to look cool, you can use styling products and lift the hair.
You will get him that fancy rockstar look on the weekends and the nice, good kid looks when he attends school for the rest of the week.
Bowl Cut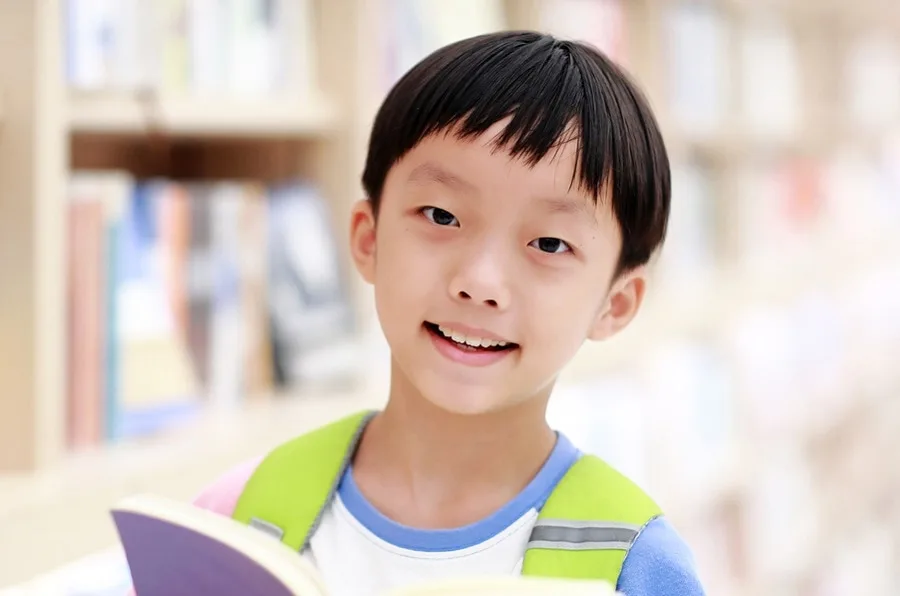 An Asian schoolboy can sport a bowl haircut that keeps his hair the same length on the sides, back and bangs.
If you don't want to go to the stylist, you can use a medieval technique that requires placing a bowl on the head. This will be used as a mark when cutting the hair to make sure the cut is even.
Rich Blonde Curly Hairstyle
If your little gentleman has curly hair, he probably looks like a little angel, and you certainly won't want to cut his hair too short.
Get him a medium-cut that allows the curls to form and use some pomade to hold the curl and make the ringlets seem more defined.
Short Fade with Disconnection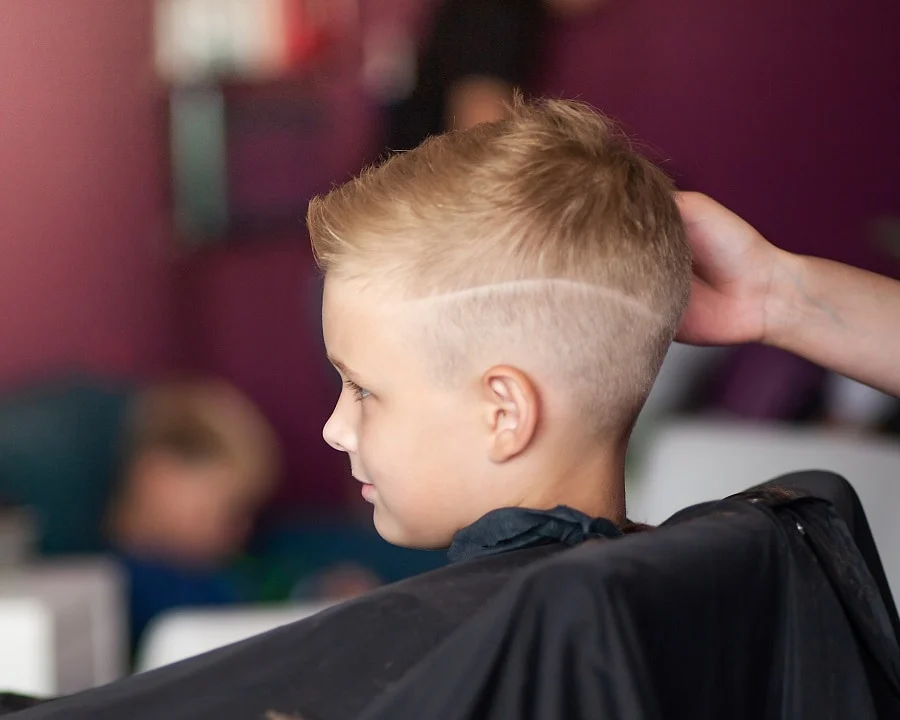 If this school doesn't have strict reglementations about the kid's hair, your son can get a fancier hairstyle.
Go for a short fade on the sides and if you want this school boy's hairstyle to stand out, get him a razor line that delimits the shorter section from the gradually longer top.
Very Short Coarse Hair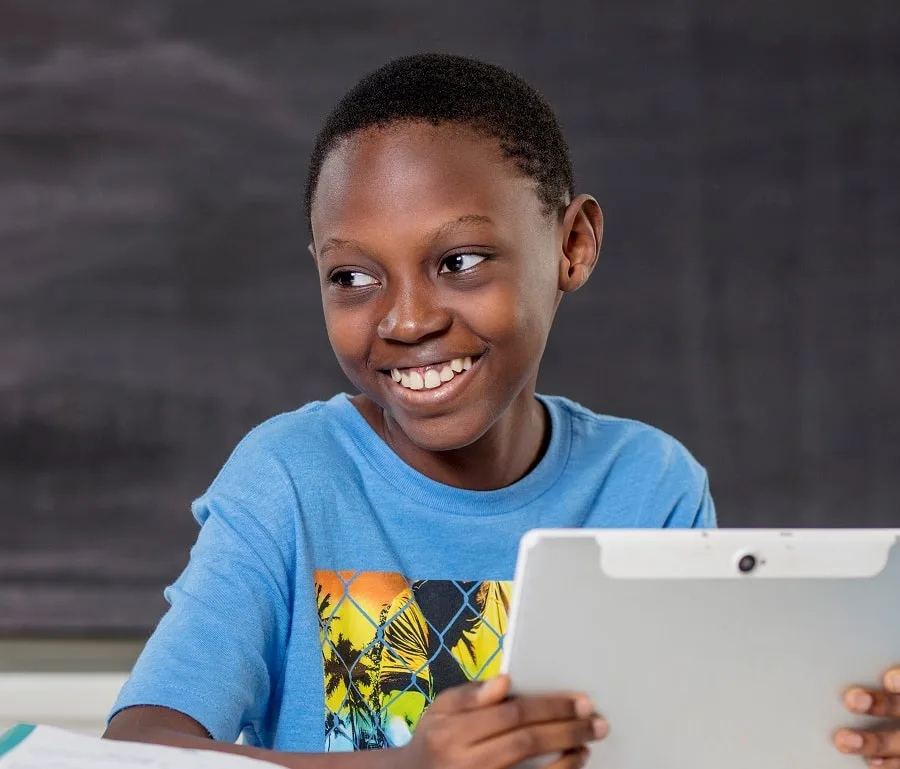 Coarse hair is so beautiful but really hard to detangle and care about when you have thousands of things to do in the morning before taking your kid to school.
Cutting his hair short is a great option, at least for now, especially if the school regulations are quite strict on this matter.
Medium Hair with Bangs
If your kid has a gorgeous color and soft hair, you can get him a longer haircut with bangs that you can easily swoop on one side.
The hairdo is quite low maintenance and needs just a comb in the morning and a regular trim from time to time.
Pompadour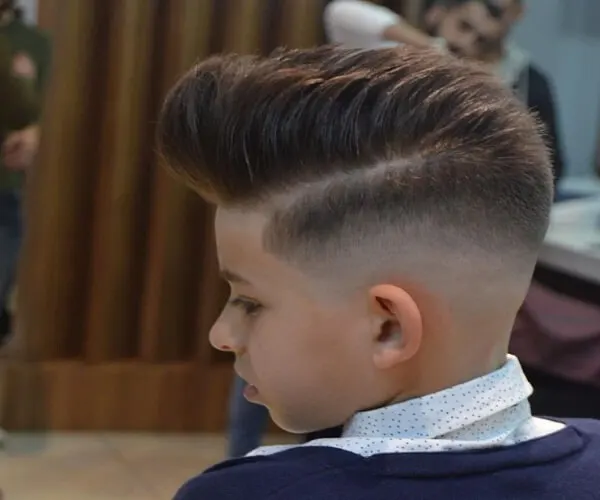 Another classic haircut on the list, pompadour comes among the hairstyles that have had a huge following among kids, boys and men alike.
The hairstyle can give you the best of both worlds as it is not only stylish to look at but it also gives amazing school vibes at the same time as well.
You don't have to follow any strict rules when it comes to parting the hair on top, so you enjoy a good bit of flexibility in styling the hairdo.
Just make sure that the top hair gives you enough volume to style a perfect pompadour. An amazing textured look can be achieved with the help of a good styling product.
Caesar Hairstyle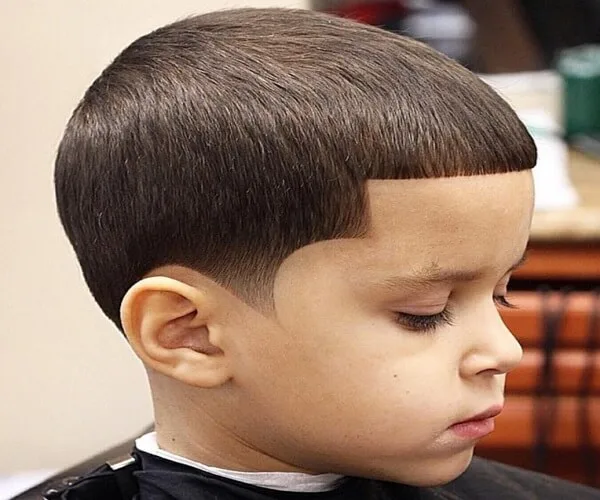 Another hairstyle that is very much classic and works perfectly fine for school kids, Caesar has had its fair share of popularity over the years.
Besides getting the hair cut short and tight to the head all over, the hairstyle needs some working around.
The hairstyle requires a few locks to be combed to forehead while styling the others in various directions all around. Overall, the hairstyle is simple, stylish and unique offering you a perfect hairdo for any day.
Shaved Sides With Stylish Top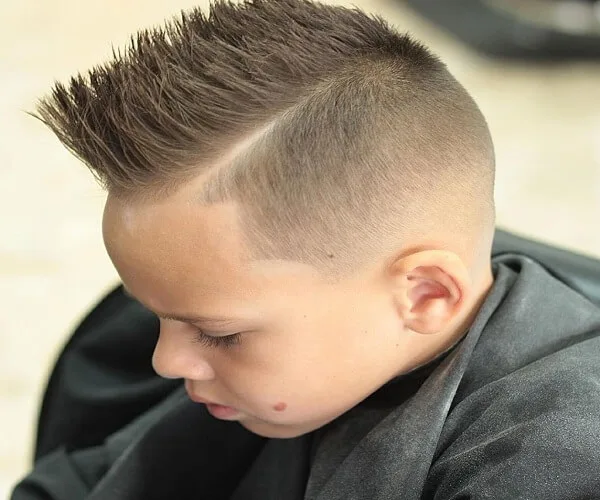 This beautiful option among the school boy haircuts really is one funky hairstyle that requires the sides to be shaven off.
The hair on top, however, is styled uniquely with some added volume. The sides have a really sharp contrast from the hair on top while the crown is highlighted as well.
The top hair should be left longer so that you can be creative enough to give him a unique look every day. The hairstyle can really work best for your kid's curly hair as well.
Brushed Back Hairstyle
Another cool look to achieve for school going boys, this one requires long hair on top so that it can be brushed backwards neatly. There is an undercut to style the sides while the top hair is blown with the help of a hair blower.
This one, probably, is among the smartest of choices for school boys and it can easily maintain the code your kid has to follow for school. Not to mention, it is really stylish as well.
Disheveled Bangs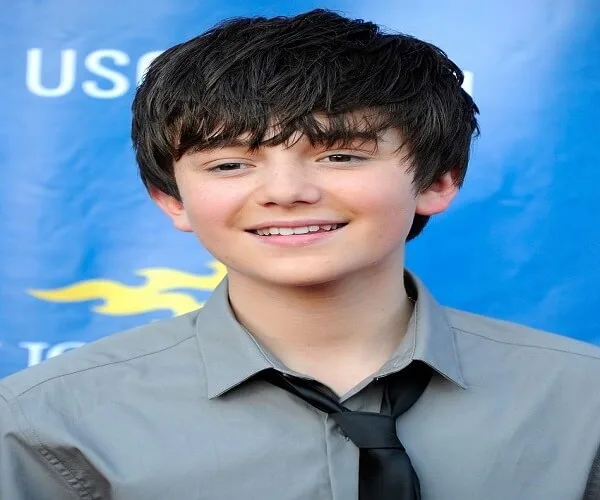 The hairstyles with bangs always look cute on little kids and this one here is just a perfect example. However, the bangs we have in this particular hairdo have a unique touch of style and that's exactly why the hairstyle looks the cutest of the lot.
The hair doesn't require any combing as the messier you style this hairdo, the cuter it will look. However, you should take care of the fact that the bangs must not fall over his eyes. So, trim it down to an appropriate length before you can secure a perfect look.
So, which of these school boy haircuts appeal to you the most? Do you think any of these would make a perfect hairstyle for your kid this year?
You can explore a lot of school haircuts for boys and keep experimenting with your little man's looks until you find something amazing to settle down with. Try one of the looks above and see if it does the job for you or not.