Boys always love to look cool and they want to sport the most beautiful hairstyles out there. However, coming up with the right haircut for boys with straight hair turns out to be one of the biggest challenges for them.
Despite the fact that there are plenty of amazing options available, you have to be spot on with the choice you are going to make.
If you go with the wrong hairstyle that doesn't fit the personality of your kid, you're surely going to end up destroying his overall appeal and the charm of his personality.
Worry not, however, here we have some of the best hairstyles for boys with straight hair that not only look cool but will also be trending this year and beyond. So, let's go through the list right away.
Top Haircuts for Boys with Straight Hair (2023 Update)
Casual Textured Hairstyle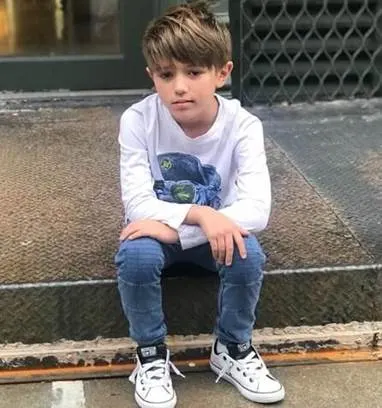 Source: Giovanni_biagio_gmm
This beautiful hairstyle boasts of its unique, cool and textured look that is achieved with medium length hair all over. It would even work if your kid loves the short hairstyles for boys because the hair on top is not too grown out.
In addition to that, the cool and charming look of the hairstyle will definitely appeal to him and everyone else who is around. Just let him grow his hair to the medium length and bring it all forward and to a side casually.
Textured Side Swept Hairstyle With Surgical Design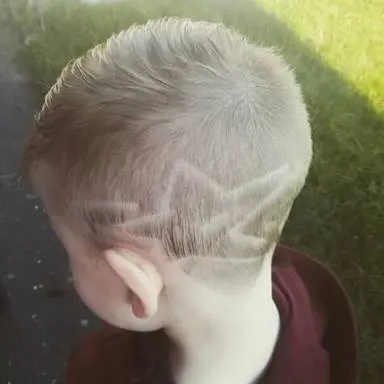 Source: Jennielillie
This is another beautiful hairstyle that every little boy would love to flaunt. One attractive element to this look is that surgical star created towards the back of the head.
In fact, every little boy will fancy something like that. The hair on top is kept short and is swept nicely to a side close to the head while maintaining the natural texture.
Combed Back Hairstyle With Cool Braided Tails
Source: Mama
You don't always have to keep your boy's hair short to make a style out of it. In fact, it's all about going with the right style elements and your boy will end up with something gorgeous at the end of the day.
For achieving this cool look, let him grow his hair to shoulder length and then achieve the hairstyle by combing it all back on top and starting the braids around the crown area to make some really cool tails that take the style up a notch. Overall, it will just look amazing on those casual days.
Textured Casually Side Swept Hairstyle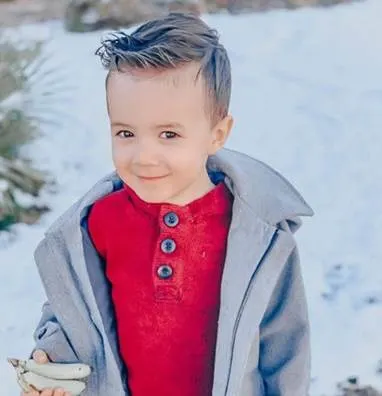 Source: Makin_gmemories
To be honest, the coolest hairstyles for boys are all about casual looks and this one is a perfect example. The hairstyle boasts of a textured look on top with medium fade on the sides.
Overall, the hair is kept shorter in length and the look is achieved by casually sweeping it to a side and allowing the fringe to make a unique statement.
There is nothing much you have to do for achieving the look. Just run the fingers through after applying some styling product and you're good to go.
Spiky Mohawk With High Fade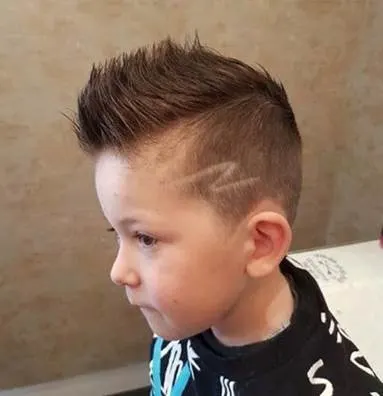 Source: Loxx_byjordi
Mohawks have always been among the coolest boys hairstyles and nothing can be cooler than this one here. The hairstyle boasts of short-to-medium length hair on top and it really looks amazing when spiked up into the center to form a cute Mohawk look.
You will need some strong hold styling product for keeping the look intact for long but it will look really amazing for sure at the end of the day.
As for the sides, we have a high fade that distinguishes the top hair from the sides and there is a surgical design around the temple area to define the look. It really looks charming overall.
Long Hairstyles
Messy boy's hairstyles are quite popular among young men. They make them look more mysterious, cool and are quite a low-maintenance hairstyling option.
Top Bun
This hairstyle for kids is a lower fade that grew longer than needed. But if your little man wants to grow his whole hair and quit trimming to get the fade, this is how it will look.
Long Layered Hairstyle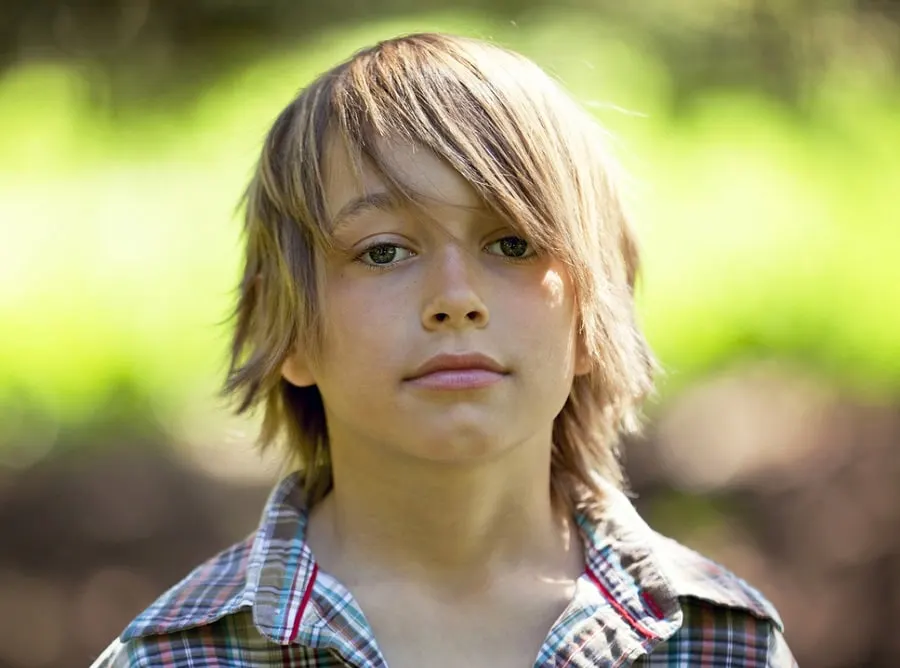 When kids grow older, their personality starts showing off more and more. And if your son loves this emo/ skater boy hairstyle with loads of layers and long bangs swooped on one side, you will have to comply.
Curtain Bangs
Curtain bangs are incredibly cute. When your little man has such gorgeous hair color, it would be such a shame to keep his hair shortly trimmed. Get him a bowl cut, and he will look absolutely adorable.
Boy Haircut with Bangs
Small boys look so cute with medium-long hair, especially if the haircut also has bangs. Layer the hair in front to create a great framing.
Mullet
Some hate them, and some adore them. Either way, mullets are popular, and some kids might like them.
If you want your son to feel the full experience, get him the haircut and style two razored designs on the sides. After all, you can always shave it off if he needs a more formal haircut.
Punk Hairstyle
Every now and then, a kid wants to look cool and tends to copy grown-up hairstyles.
A mohawk can be a great hairstyle for the summer or periods when your kettle fellow doesn't have to go to school. It will make such a great option for Halloween too!
Curved Razored Line
When it comes to fancy hairstyles, some schools have strict regulations regarding boy's hairstyles. If his school allows medium fades and razors designs, your son will certainly fall in love with this amazing short haircut.
Green Messy Hair
Once in a while, you can allow your son to get a unique look. He can dye his hair during summer vacations or even weekends using his favorite colors.
There are numerous hair sprays available that don't change his hair color permanently and are easy to mix and remove.
Messy Curly Bun
If you're not ready to give up your son's long curly hair, this hairstyle for boys is ideal for the summer. It keeps the sides and back short, while the curls can be tied in a messy bun.
Your little fellow won't sweat that much during the hot season.
Half Blonde Half Blue
If your son loves colors, this example counts among the coolest hairstyles for boys. It involves bleaching his hair and dyeing it in a silver platinum blonde.
On one side, he can use a semi-permanent blue hair dye to spice things up a little bit.
Bowl Haircut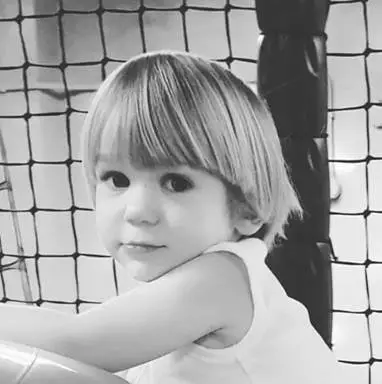 Source: Theodore_charles_sylvester
If your kid loves growing his hair then this really is the best look for him to flaunt. A typical bowl cut is achieved with long hair on top that is all made to fall over in every direction to create a perfect vibe.
Mostly, the hairstyle is a perfect choice for toddler boys and will make a statement for them on any day. It doesn't require too much of styling to be done and it's all in the cut while the rest is just natural.
Forward Swept Textured Spikes With Undercut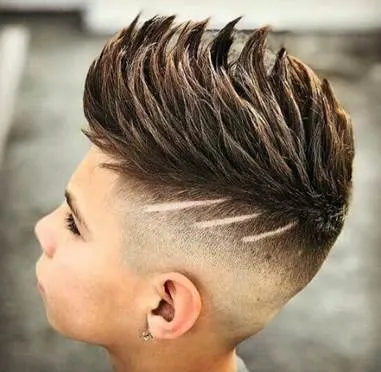 Source: Hairformenstyles
Though it resembles somewhat to a typical Mohawk look, but the hairstyle is a bit different in some styling elements.
It requires you to make sure that your kid has a bit longer hair on top which is all gelled up and swept forward while a nice, textured look is added by running the fingers through. The natural texture of the hairstyle makes it look as elegant and cool as it could ever get.
The spiky touch on top actually makes a statement. If you want an added style element, go for an undercut on the sides and some surgical lines parallel to each other. Voila! A perfect look is ready for your boy to flaunt.
Side Swept Hairstyle With Hard Part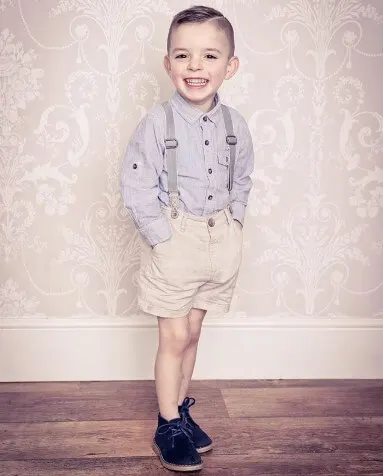 Source: Jacobjaydenmcgregor
Nothing can be as cool and simple as this wonderful hairstyle we have here. The length is kept shorter and all swept to a side giving a perfectly textured look on top.
There is a hard part to complement which adds to the overall style and an undercut on the sides completes the look to perfection. It's more of a formal hairstyle that still presents a cool vibe.
Buzz Cut With Hair Design
Source: Eva_meldere
You may have known buzz cuts to be simple and elegant but you can always try something different with the natural looks of the hairstyle. Here we have a typical example of that.
All you have to do is to go for a perfect buzz cut style with short hair all over and then add a touch of elegance and uniqueness to it with a cool hair design on the sides achieved with a scissor by trimming the hair in all sorts of different shapes.
It will really look amazing and will present a wonderful style overall.
Textured Side Swept Hairstyle With Undercut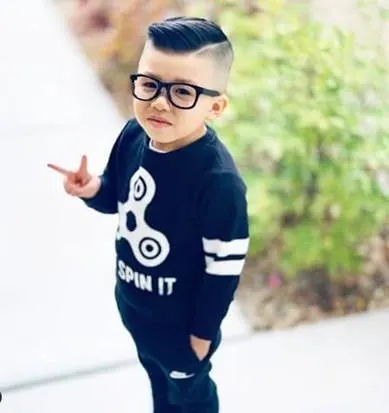 Source: Mzsammysam
This cool hairstyle is a bit of both – formal and casual. Nevertheless, it presents a really cool vibe and will allow your little boy to make a statement on any given day.
The hairstyle requires you to get his hair trimmed short on top and then apply lots of gel on in before sweeping it to a side and sticking it into place.
The sides have a complementing undercut that really looks nice and elegant as well. You can add a hard part on the side to further define the look.
Cool Spiky Hairstyle With Faded Sides
Source: Shinesalondb
This cool hairstyle boasts of short-to-medium length hair on top and it really looks amazing on boys with straight hair. The hair is cut in a way that it can be spiked up easily by simply running the fingers through.
To add a cool vibe to the hairstyle, the front hair is given a slightly side swept look while it's all spiked up into the center moving towards the back.
The sides have a nice faded look which complements the hairstyle overall. Your kid is surely going to make a statement with this beautiful hair style boys and everyone will love it for sure.
Spiky Top With Mid Fade And Bangs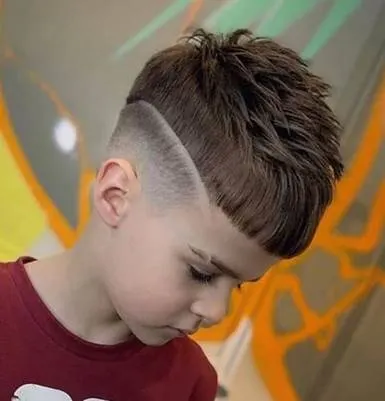 Source: Ali_mr30bil
This beautiful hairstyle is all about medium length hair on top that is spiked nicely as it's swept in the forward direction. The frontal bangs is also trimmed to a perfect length and swept forward to fall over the forehead.
A unique style element is added to the hairstyle with the faded sides where we have a nice surgical parting as well that separates the top hair from the faded ones on the sides.
Forward Swept Hairstyle With High Fade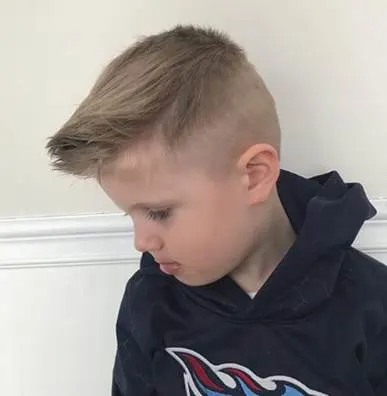 Source: Hairbybrittanycalcagni
This forward swept look has a unique vibe to it. All the hair is kept short on top and is swept nicely forward to achieve a textured look and making a bit of spike right at the front.
The hair on the sides gets a high fade to complete a perfect look overall. It's perfectly balanced and it really looks cool.
Long Side Swept Hairstyle With Fringe
Source: Stylinkidootd
For those looking to have something that looks just awesome with long hair, this is the hairstyle to go with. The hairdo boasts of some beautiful long hair swept all the way to a side with a statement fringe joining it right there.
The sides have a high fade which really looks cool and amazing and actually balances out the hairstyle with longer hair going to one side and covering the fade there.
Overall, it's a perfectly cool look and it is not that hard to achieve either. All you have to do is to simply comb his hair to a side and it would look amazing.
Textured Top With Disconnected Undercut And Design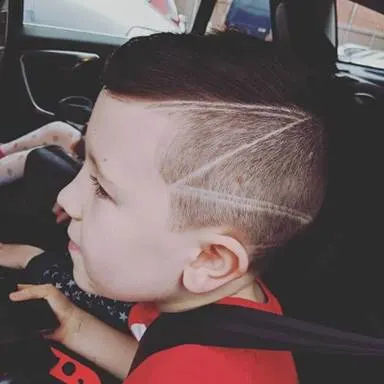 Source: Mrspmt
This cool hairstyle has a few style elements which are definitely going to make your boy look unique, cute and awesome.
The hairstyle boasts of short-to-medium length hair on top all nicely textured and slicked tight to the head. There is a disconnected undercut on the sides and back which makes sure that all the attention is drawn to the hair on top.
However, a bit of interesting touch is added to the hairstyle with that beautiful surgical design on the sides. Every single styling element joins the other to make the hairstyle look cool and charming overall.
Textured Side Swept Hairstyle With Disconnected Undercut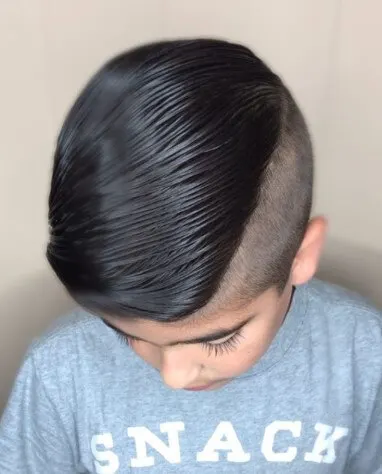 Source: Evancutshair
Another cool option among the best hair style boys out there, this hairdo boasts of short-to-medium length hair on top that is all textured and swept nicely to a side on top.
The sides have a disconnected undercut that complement the hair on top rather elegantly. The hairstyle actually balances things out to perfection and makes for a wonderful choice both for casual routine and for special events.
When planning to take your boy to some event, it would be advised that you add an extra layer of styling product to make the hairstyle look glossier and beautiful.
Swirling Spikes With Undercut
Source: Barberlessons
If your boy loves to keep some volume on top and wants to flaunt a look that has medium-to-long hair on top, this is the best hairstyle you could give him this year.
The hairdo boasts of some length on top with the hair swirled and spiked up going towards a side. It is secured with the help of a strong hold styling product because we have some length to deal with here.
The hair on the sides is trimmed too short to have a beautiful undercut that seems to be a bit disconnected. In fact, the undercut balances out the volume on top rather nicely as well. Overall, it's a cool and chic look that every little man would love to flaunt.
Wavy Combed Back Top With Undercut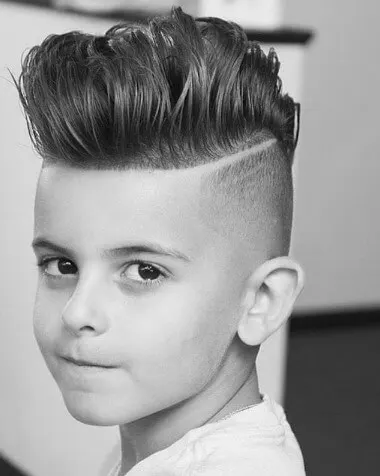 Source: Boyhairofficial
Yet another cool hairstyle with undercut, this beautiful hairdo again boasts of some volume on top. It really looks amazing with top hair combed all the way back.
It is quite informal and casual look on top and can be achieved by growing the hair long, combing it all back and then running the fingers through. Some styling product may be needed to keep it looking fresh on top.
There is a surgical part on the side while the undercut really looks glam in the overall scheme of things. A perfect look even for events, mind it!
Buzz Cut With High Fade
Source: Boyhairofficial
A bit of experimentation here and there is always going to give you something special when it comes to your boys' haircuts and hairstyles.
This beautiful hairdo we have here boasts of a typical buzz cut style on top with his hair cropped shorter and all kept to same length moving towards the back.
The sides are faded nicely with a high fade and it really looks pleasing to the eye. You may not have seen such a variation in many buzz cut styles out there but if you choose to go for it, your boy will really love it for sure.
Deciding on the right hair style boys is really important because that's how your boy's personality is going to be shaped.
If you haven't come up with any choices for your boy's new haircut yet, choosing from the list above will definitely cook a recipe for a charming, glam and cool look overall. See which one on the list is going to suit your boy the best and choose accordingly.