Embrace the fashionable and trendy medium length haircuts for boys, departing from the traditional buzz cut. Kickstart a delightful transformation for your little boy's style by exploring an array of modern hairstyles.
The era of limited haircut choices for boys has concluded. Nowadays, parents are increasingly favoring longer, versatile, and fun hairstyles for their little boys with medium-length haircuts.
These haircuts are suitable for any hair type – ranging from straight to curly, and all types in between.
If you're looking to update your son's hairstyle, medium length haircuts offer a range of possibilities. From shaggy layers to slicked back styles, there's something for every personality and occasion.
Here are some of the best medium-length haircuts for boys to inspire your next trip to the barber.
Best Medium Length Haircuts for Little Boys in 2023
Without wasting more time, let's have a look at our top 90 medium length haircuts for boys.
Sharp Side Part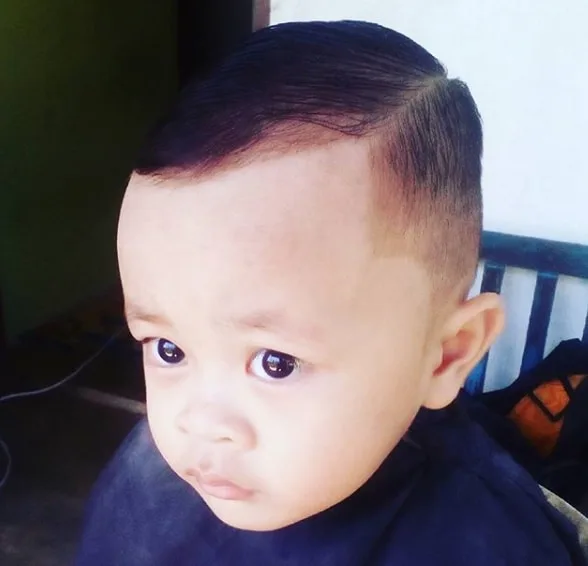 Source: wattraphael
A sharp side part can give a distinctive and stylish look to any little boy with medium-length hair. The haircut frames the face nicely and delivers an air of neatness and maturity, making it an ideal medium length haircut for a little boy.
How to do it: Start by identifying the natural part of the hair. Then, using a fine-toothed comb, create a sharp line on this part, pushing hair to the side. Remember to keep the sides shorter to accentuate the part.
Straight Shag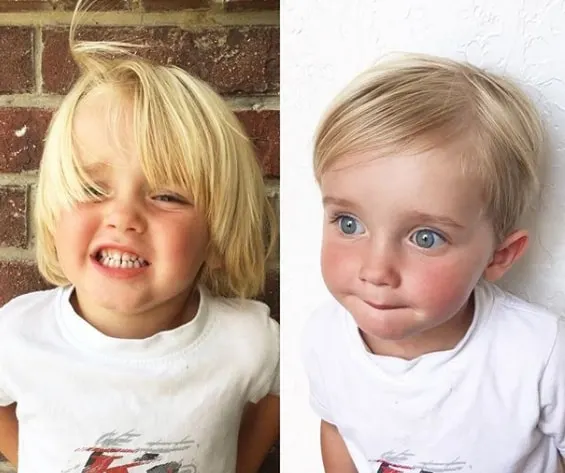 Source: Rusticrootssalon
You may have seen Justin Bieber wearing this hairdo and that's where it rose to fame. It's one of most quickly trending boy haircuts.
Depending on your type of hair, the hairdo can be quite low maintenance and may just require you to brush it up and use a bit of mousse to achieve the look.
If your hair is not straight naturally, using flat iron can help you achieve the pin-straight look that this hairdo is known for.
Typically, the haircut is the best choice for anyone who has straight hair, round cheeks, high foreheads and long face. To achieve the messy look, ask your stylist to give razor cut at ends of hair.
Shaved Sides With Layers On The Top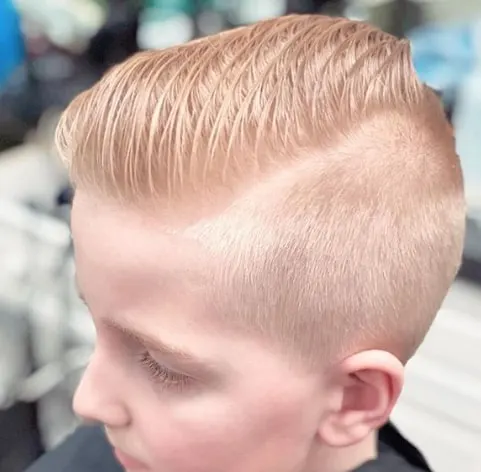 Source: Traceybowenbarber
Take any trendy haircut for boys, and you will see there are long layers up top.
Usually, boys like to go for slicked back and comb over hairstyles with layered haircuts but you can choose to stylishly standout with chopped haircut brushed onto your forehead.
Brush-Cut Hairdo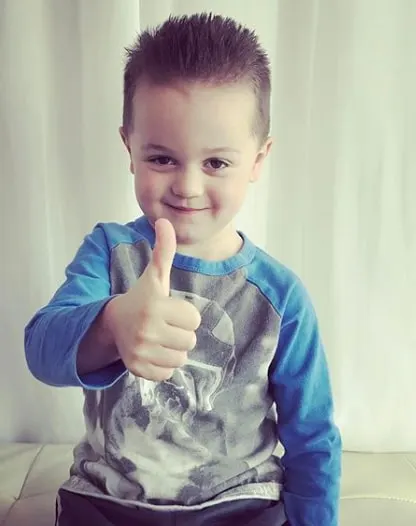 Source: Lisa_myreis
It's really a flattering hairstyle with textured front and tapered sides flaunting your style in an all-different manner.
Both men and boys look equally good in this stylish haircut. As far as boys are concerned, go for it if you have fine-to-medium hair texture.
Wavy Shag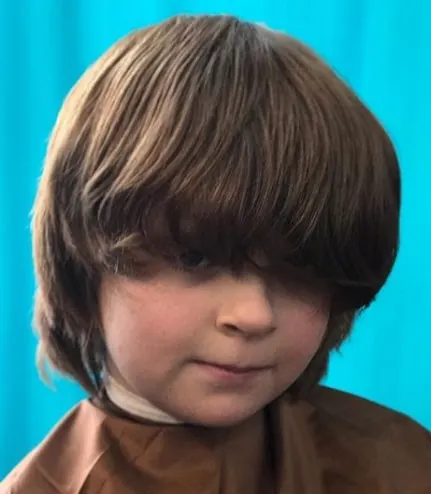 source: Shannonvon
Wavy shag really is a sensation and cool haircut for boys. Straight shag may have captured many eyes, wavy shag fits best to those casual teens.
And, it may not be the best choice for you if you have straight hair, still it is a top option for those having thick and wavy hair. Depending on the unpredictability of your hair, some mousse or gel may be needed for styling purposes.
Boys with thick and wavy hair, high foreheads and round faces having strong cheekbones would be better off choosing this hairdo.
Layered Hair with Short Bangs
This hairstyle is fun, easy to manage, and offers a vibrant look. It's suitable for boys with medium length hair, adding depth and texture to their overall appearance.
How to do it: Ask your stylist to create multiple layers in the hair, gradually shortening the hair near the front to form short bangs. This provides a dynamic, playful look.
Thin Dreads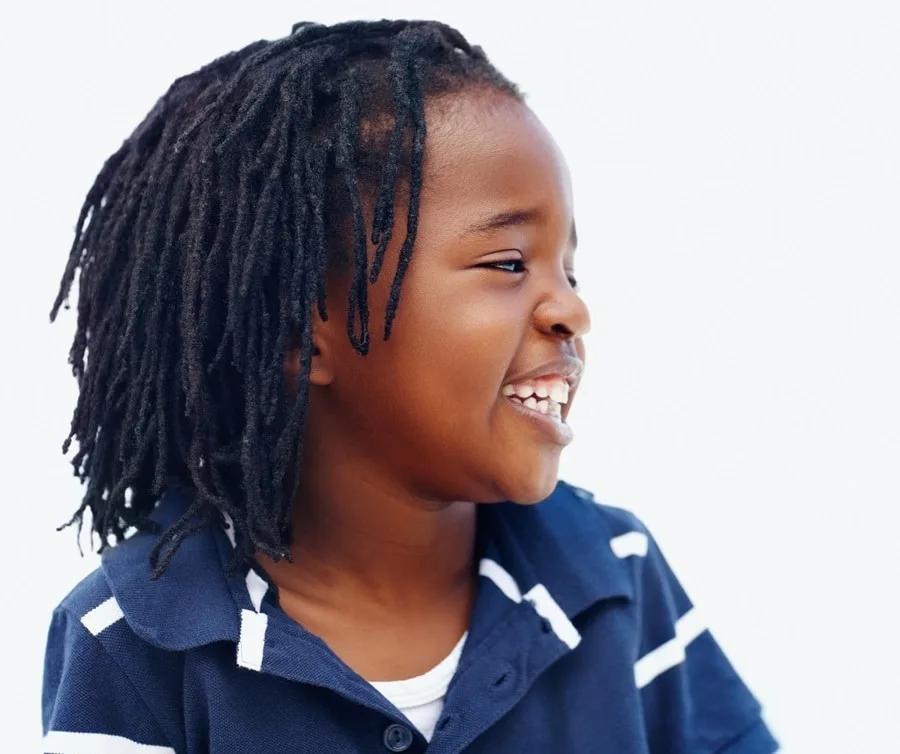 For a trendy yet unique style, thin dreads are an excellent choice. They give an edgy look, and are particularly fitting for boys who are not afraid to express their individuality.
How to do it: Dreadlocks require twisting and locking sections of hair; it's recommended to have a professional stylist help with this process to ensure the dreads are uniform and neat.
Asymmetrical Boys Haircut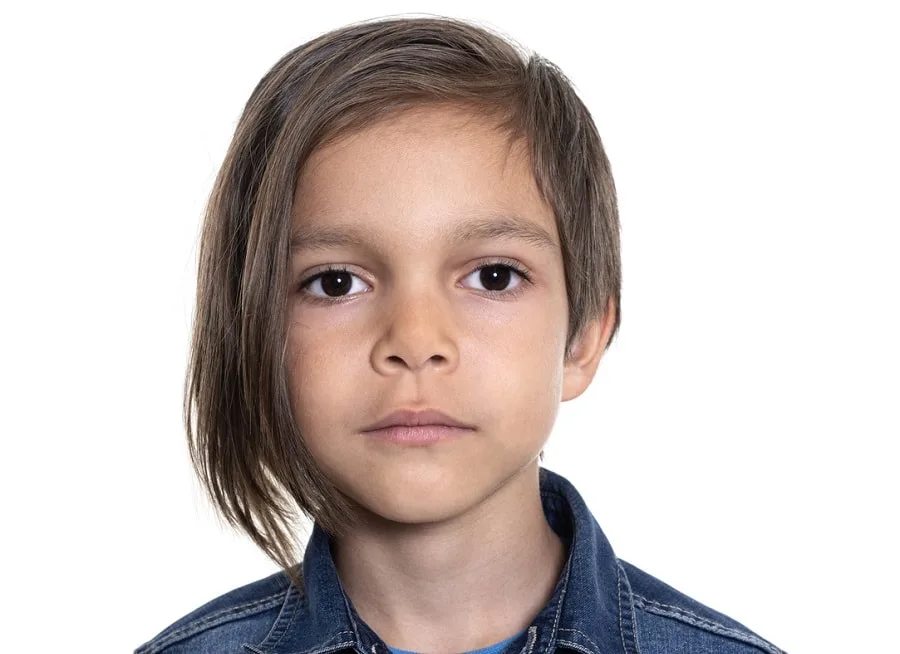 This is an unconventional and modern hairstyle for boys with medium length hair. It adds a touch of fun while keeping a stylish edge.
How to do it: One side of the hair is kept slightly longer than the other in this cut. It's important to have a professional hairstylist do this to achieve the right balance and angle.
Messy Center Part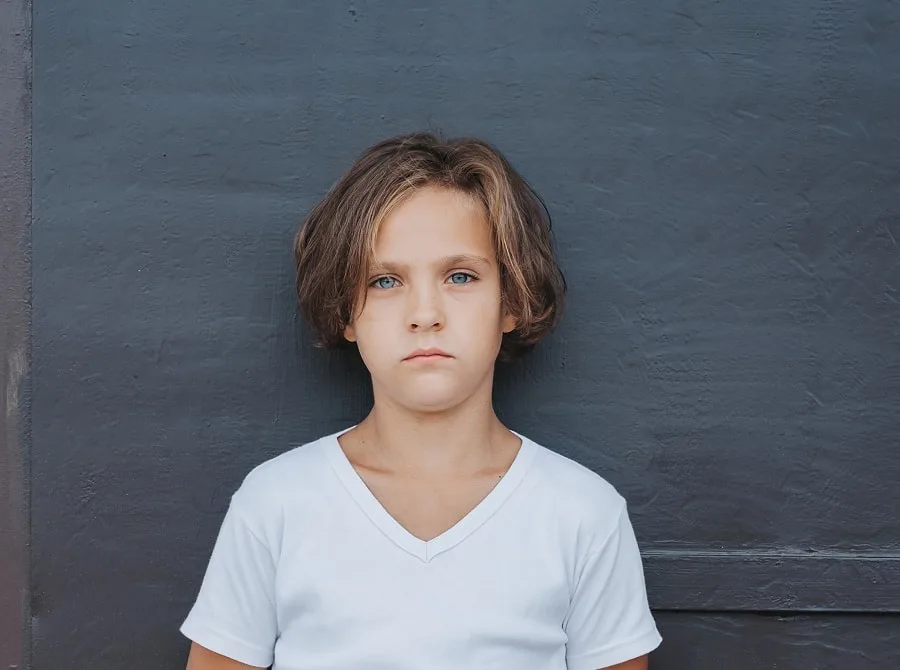 The messy center part gives a casual, effortless look to your little boy's medium length haircut. It's perfect for any casual setting.
How to do it: Find the center of the scalp and create a part using a wide-toothed comb. Allow the hair to fall naturally on each side, adding a bit of styling product to enhance the messy look if desired.
Ponytail with Fade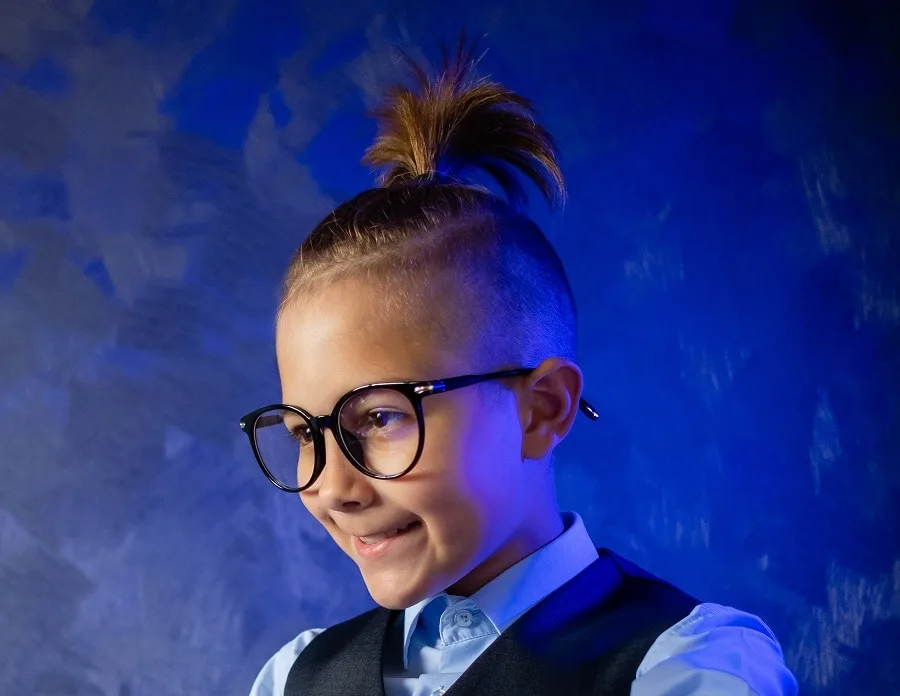 This style combines the clean, sharp lines of a fade cut with the playful nature of a ponytail. It's a versatile hairstyle for boys with medium length hair.
How to do it: The sides and back are faded while the top part is kept longer, allowing it to be pulled back into a ponytail. Regular trims are needed to maintain the fade.
Braids for Natural Black Hair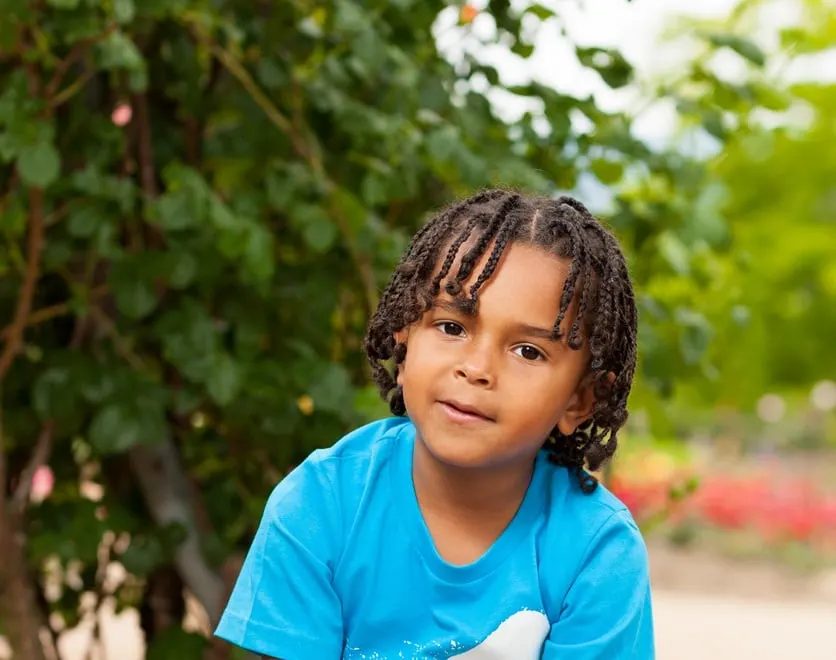 This hairstyle showcases the beauty of natural black hair, and it's an excellent option for boys looking for a low-maintenance style.
How to do it: Section the hair into multiple parts and braid each section from the root to the tip. Keep the braids neat and moisturize regularly to maintain the hair's health.
Short Layers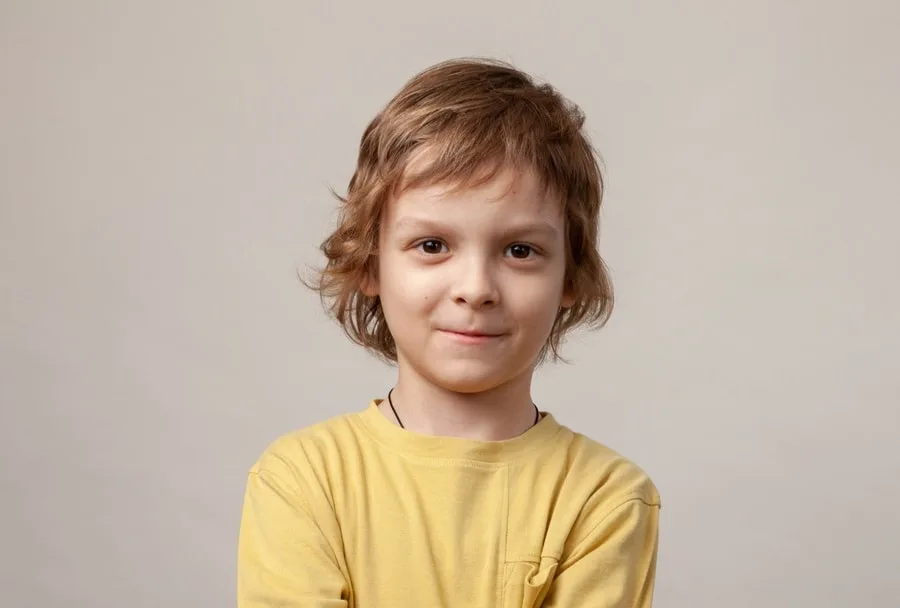 One of the easiest ways to add instant shape and texture to a boys medium length haircut is with short layers. Leave the majority of the hair long, but add in the short layers up top for cute choppy style.
Rounded Haircut with Color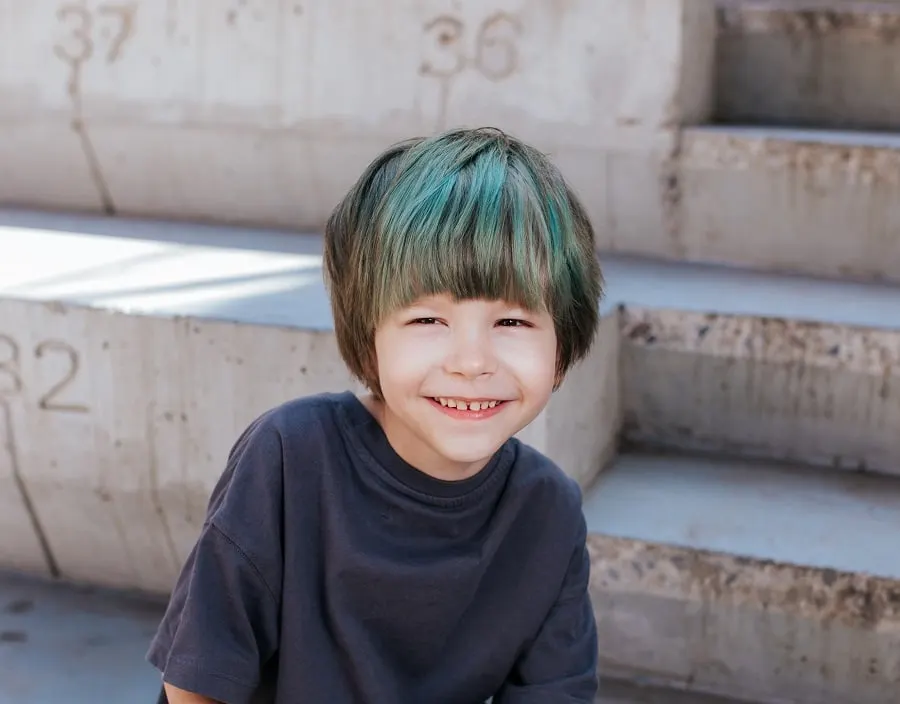 A rounded haircut with color adds a pop of personality to a little boy's look. It's youthful and energetic, making it a favorite among boys.
How to do it: The hair is cut into a round shape and then colored with a non-permanent hair dye that's safe for children. Regular trims are needed to maintain the shape.
Curly Medium Length Hair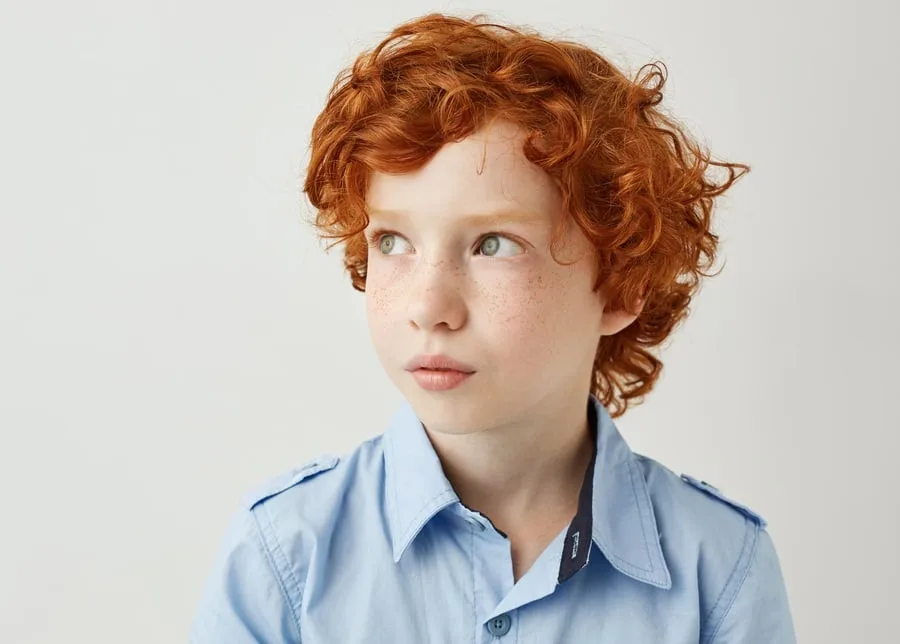 Is there anything cuter than curls or waves on a boys haircut? Show off the length and texture with a medium length haircut that stops just above the neck line. Short layers near the forehead will ensure this boys haircut doesn't get too shaggy or sloppy.
Spiky Colorful Medium Length Haircut
For Halloween or a crazy hair day at school, encourage the fun by shaping your boy's medium length haircut into spikes! Use spray on temporary color to make sure all the attention is on your kiddo's crazy cool cut!
Undercut For Teenagers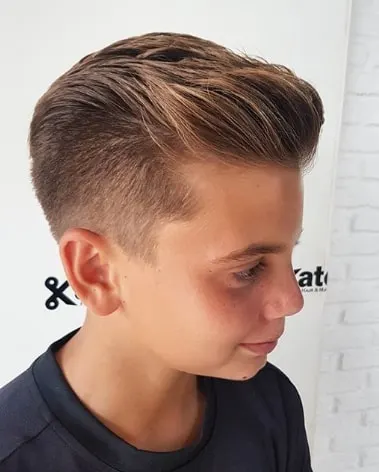 Source: Katehairandmakeupstudiophuket
It's a fun hairstyle that looks equally elegant and actually combines more conservative layers on the top with funky looking shaved sides.
If you always want to test the look before you fully commit to it, this haircut is a perfect choice for you. For more of a hipster vibe, gather all those longer strands and create man-bun or a small ponytail.
Spiky Fringe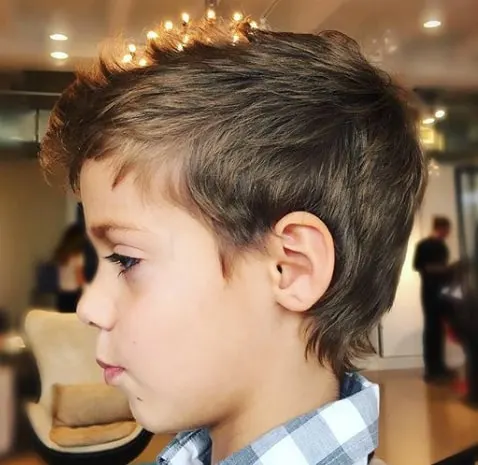 Source: By_inga
Spiky Fringe is yet another popular hairdo among under 5 years old boy haircuts. Basically, it's the modern day alternative to porcupine spikes from 90s.
More of a wind-blow look, this hairdo gives you a soft and spiky style which really looks cool. Normally, you need to style it with mousse as gel will make your hair lose that soft look.
Some maintenance will also be needed and you will have to run through your hair with the styling mousse every morning. Also, as the style is based around wind-blown look, much of sculpting won't be needed.
Soft Taper Haircut With Texture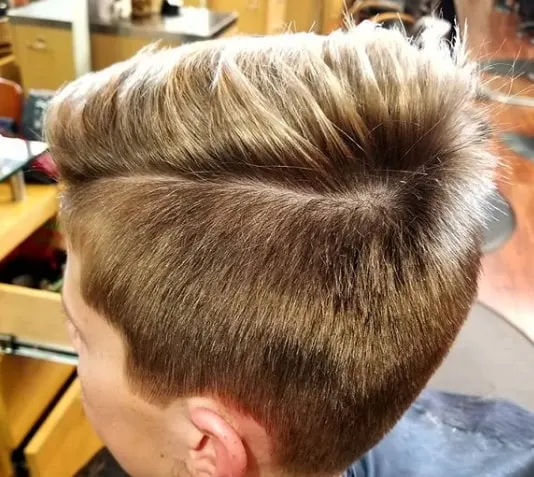 Source: Indulgewithhaley
Most of the boy haircuts combine that polished mane and some texture. You can have wavy kids haircuts with the help of tools if the waves do not come naturally. Keep hair on top brushed backwards to get the dapperness you are after.
Short Afro Haircut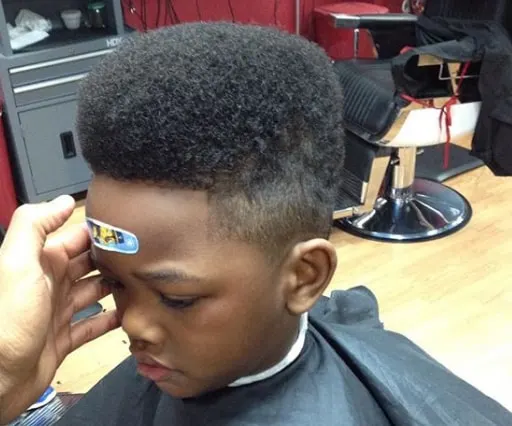 Source: Comebackqueen
The Afro haircut from the 80s is still a bold option to go with for black men. However, the modern hairdo is more of a controlled version of what we used to have back then.
A short and tapered Afro haircut gives you the African American textured hair along with a natural, soft curl which is getting increasingly popular these days.
Besides, the natural texture and thickness of African Americans makes sure that they do not need much of maintenance for the curl. A bit of gel may still be needed for styling purposes.
Textured Top With Temple Undershave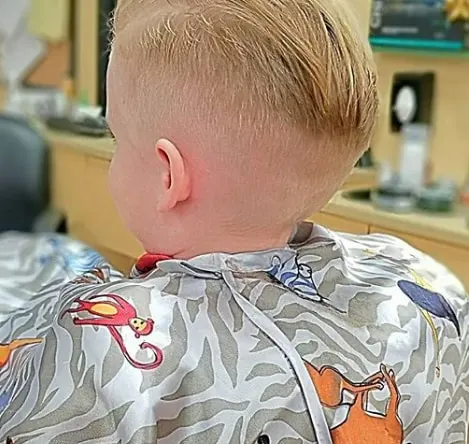 Source: Samanthareed
If you are in search of something more modern and masculine, undercut with short textured hair on top is a good choice.
Typically, the look requires 2 inches of hair at most and you need to make sure your barber sticks to that. However, if he suggests something else would better suit you, don't hesitate to go for it.
Short Dreads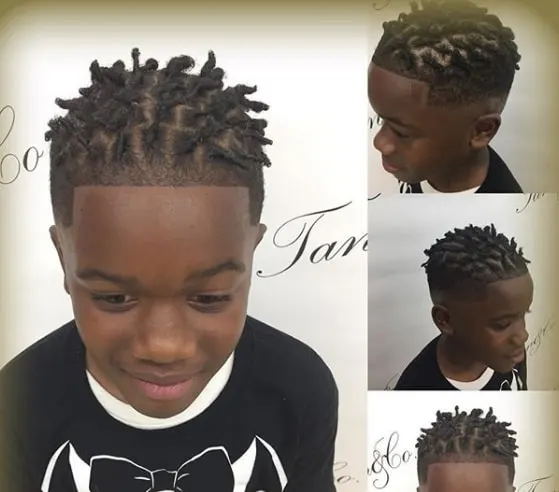 Source: Mzfeefee_atl_locqueen
Another of the boy haircuts 2023 to suit natural texture of African American hair, this one is perfect for Black boys looking to add some charm to their personality.
Even though long dreads haven't gone out of fashion, short dreads have made a strong statement of late. Textured styling is done for keeping dreads just around your head. Typically, you'll find short dreads on top while the sides are completely shaved down.
Some maintenance is needed for this hairdo as dreadlocks are a bit hard to handle. To make sure the dreads don't go matted, you will have to keep rolling them continuously.
Slicked Hairstyle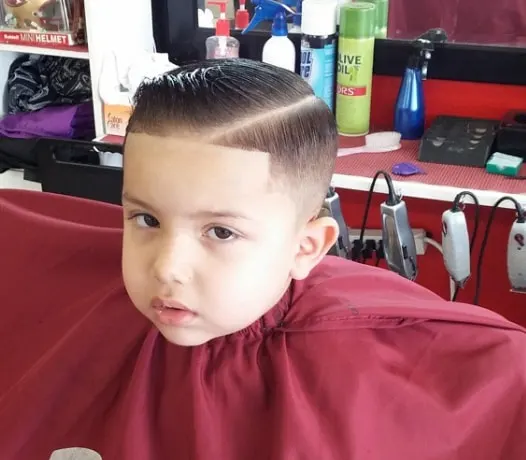 Source: Justyour_averagebarber
Another of the most stylish boy haircuts 2023, it doesn't require you to grow old enough to experiment and try new looks.
Having slicked spiky hair on front and shaved side part, this hairdo really gives you a fresh twist of style. It's a super clean haircut for modern, formal look.
Cornrows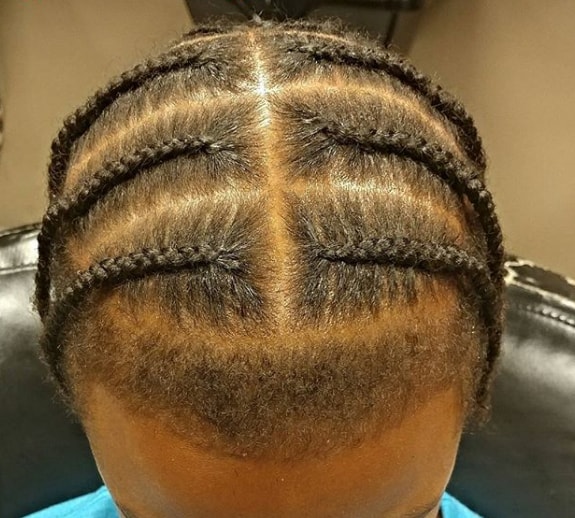 Source: Braidsbymichelle
It is a traditional African hairdo that is achieved with underhand upward motion for creating rows full of braids.
The braids are kept near the scalp. Though the normal style requires the braids to be formed in the straight lines, you can manipulate cornrows in different ways for creating waves or shapes on your scalp surface.
The best thing is that this haircut doesn't require much of maintenance and can simply be left as it is for longer time periods. All you have to do is to wash those rows gently and consistently. Besides, oiling the scalp is necessary.
Long Undercut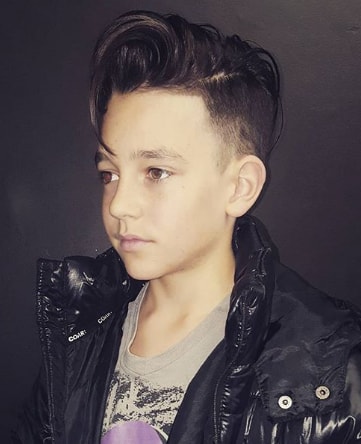 Source: Rocketrobz
Coming all the way from Europe, this is one of style related to eboy haircut that is getting popular around the world.
The long undercut gives you a perfect combination of masculine buzzed hair and suave layers to complete a perfect look overall.
The styling can be done by blow drying the hair upwards and back and then working it with some texturizing pomade.
Tousle Haircut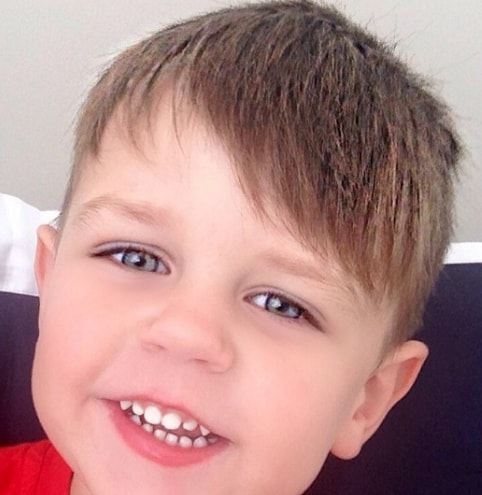 Source: One_moment_in_time
Tousle haircut is your perfect 'rolled out of bed' hairdo. Quite surprisingly, it requires some experimentation for getting the final look right. This one works perfectly fine for boys who prefer laid-back appearance.
In order to get a perfect look, try skipping a haircut as it will make sure that the hair starts sticking at ends. When that happens, you are surely in for a perfect tousled haircut.
Short Teenage Haircut
Source: Behindthehairbyericka
When it comes to teenage haircuts, they all must be free of any fuss. The mid taper hairdo that we have here is brushed forward before letting the hair to get air dry.
Though the teen we have here has straight hair, this haircut works just fine even with the curly and wavy textures too. The sides are closely cropped out to ensure a perfect and neat look.
Textured Curly Undercut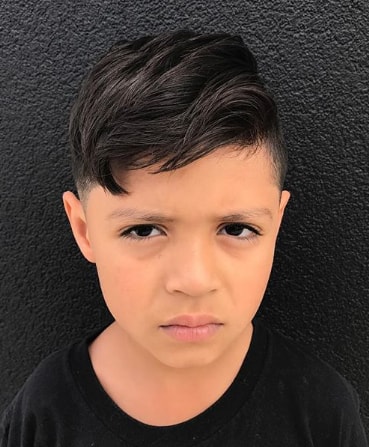 Source: Perches
A perfect one among boy haircuts 2023 for those having curly hair, this style is for you if you're out of options when it comes to styling your hair.
The hairdo features an undercut but the curls are still allowed to retain the shape to add unique personality to your hair.
Curls are trimmed in a way that they frame and suit your face shape and the undercut ensures that you don't have to live with that curly mess anymore. So, get rid of unruly curls and try this new and cleaner look.
Side Blown Undercut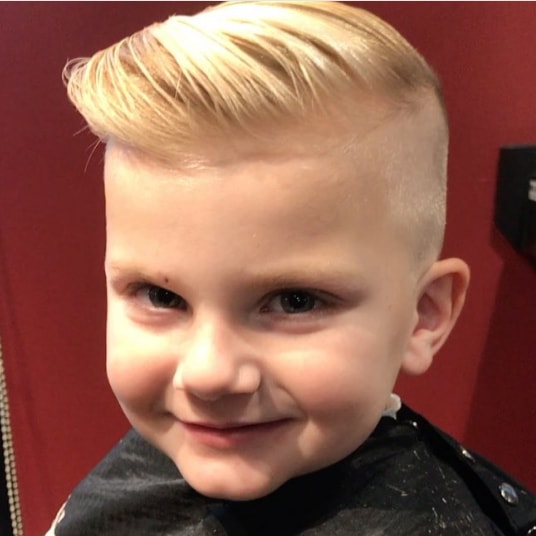 Source: Jessekamuah_lookbook
To have the most fashionable boy haircuts 2023, undercut gives you all the inspiration you need. Keeping hair on top long and shorter on back and sides, this side blown undercut gives you a perfect, trendy look.
The versatility of the look is probably the best part. Style it just the way you want as you can make it your pompadour, side parted or blown back haircut.
Classic Fringe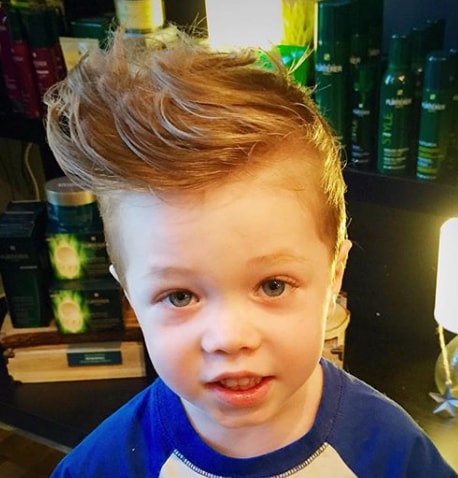 Source: Darlingmerrill
Just as the name suggests, it's a timeless hairdo for all teens and boys. If you have straight, shiny hair then this haircut is just perfect for you. However, it works just fine for those who have wavy hair as well.
With clean bangs and tousled hair, Classic Fringe is your way to get a slightly modern appearance while style being classic.
The hairdo doesn't really require much of maintenance and you can adapt it in variety of different styles. It works perfectly fine with long or short hair and is an ideal choice for boys who love to have no-frills look.
Straight Mohawk Hairstyle With Fade
Boys who have straight hair are never short of options when it comes to styling their hair in a perfect manner and same is the case here.
If you're a teenager, going for short Mohawk hairstyle with fade will give you just exactly what you need for being stylish in an age-appropriate manner.
Being shorter, this is one of boy haircuts 2023 that is appropriate for school. However, you can have all the flare and fun you need with fade.
Here are some more beautiful pictures:
Idea # 31

Source: 4hairfashion
This is a beautiful faux hawk hairdo for little kids. It creates an elegant, stylish personality out of your kiddo.
Idea # 32
Source: 4Hairfashion
The beautiful Quiff hairstyle with undercut looks and feels amazing and every boy can sport this look in 2023.
Idea # 33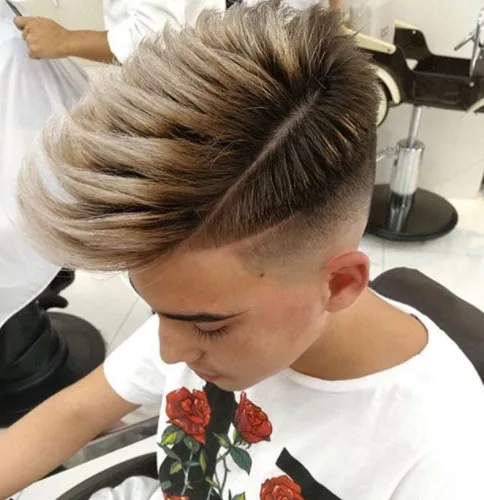 Source: 4Hairfashion
Another side-swept quiff haircut with faded undercut and a bit of surgical design, this style looks cool on boys.
Idea # 34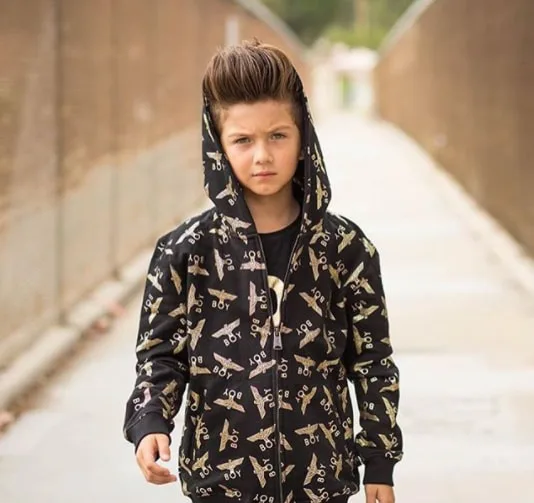 Source: 4Hairfashion
Combover hairstyle always creates a different vibe and that's exactly the case here with this hairdo. It's just amazing.
Idea # 35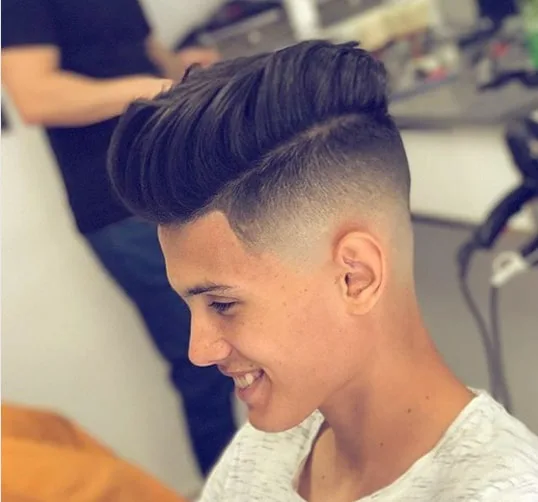 Source: 4Hairfashion
Comb over faux hawk look with faded undercut is a perfect style to achieve regardless of the occasion.
Idea # 36
Source: 4Hairfashion
If your boy loves the carefree look then this beautiful mohawk hairstyle with undercut is the way to go about it.
Idea # 37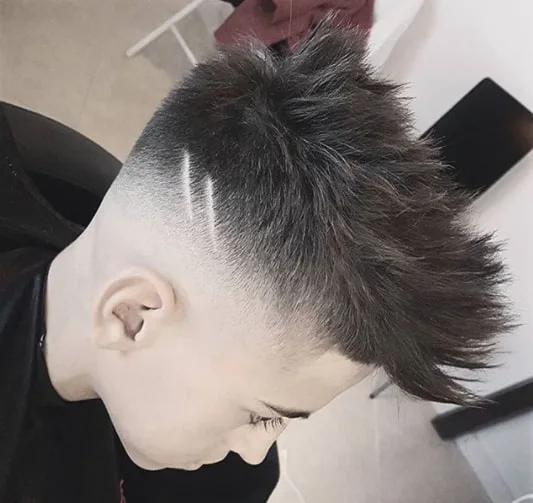 Source: 4Hairfashion
This spiky mohawk with undercut can make you stand out from the crowd and if you want to take it up a notch, add a couple of surgical lines towards the back.
Idea # 38
Source: 4Hairfashion
If you are short on ideas about how to style your short hair, this messy option is the way to go about it.
Idea # 39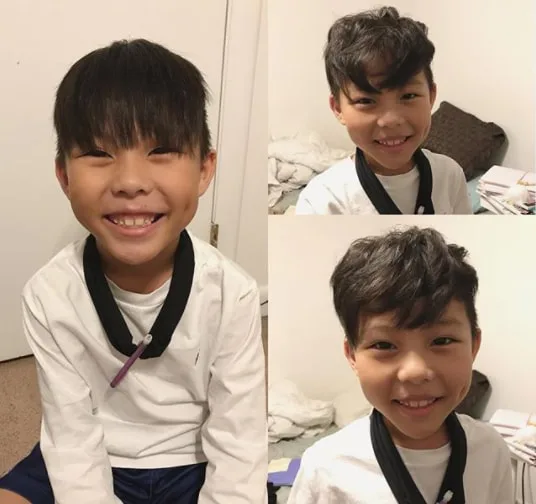 Source: _Talandon
Short hair can be styled in just about any way you like. Keep it straight or make the hair messy and swipe them slightly to a side. Whatever you do, you have a good hairdo to flaunt.
Idea # 40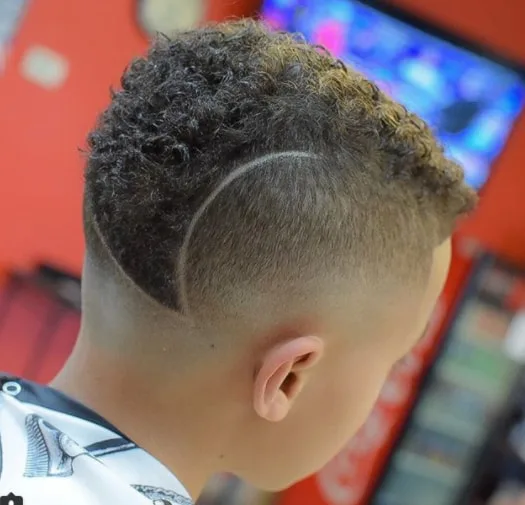 Source: N8estrellaa
The woes of your curly hair can end with this unique and beautiful mohawk style that is give a unique touch of its own. The surgical design at the back makes it different and standout.
Idea # 41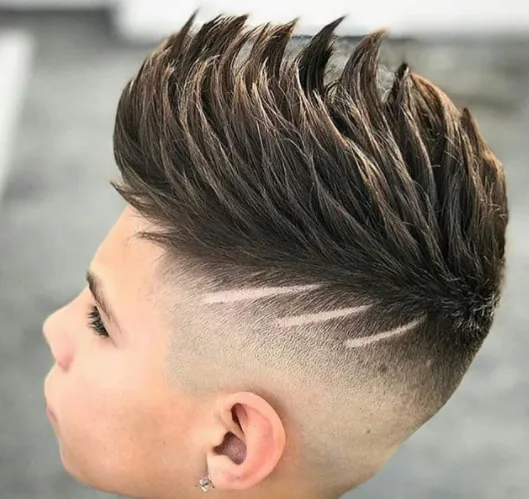 Source: Metin_beyazkilinc
Mohawk hairstyles can't get any better than this. This is one of the best boy haircuts 2023 that features elegant mohawk with a beautiful surgical pattern.
Idea # 42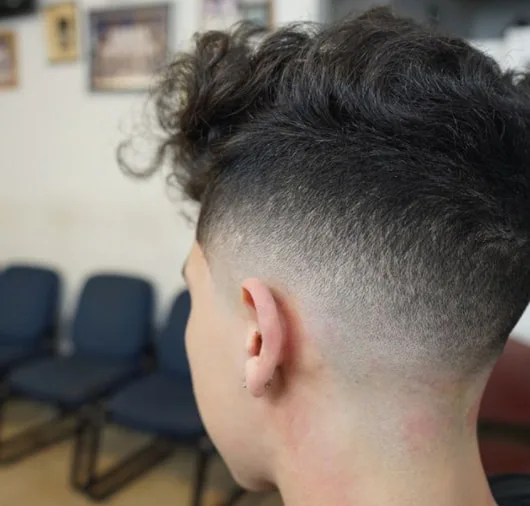 Source : Vickk_thebarber
Undercut combined with messy and curly hair on top, this hairdo requires you to keep the top hair length a bit longer.
Idea # 43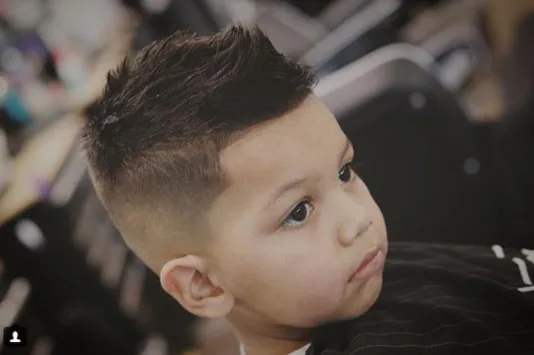 Source: Cjdabarber
This simple, side-swept textured hairstyle can enhance the personality of just any kid. The undercut beautifully enhances the overall look.
Idea # 44
Source: Dappergentsbarbershop
If your kid is obsessed with batman movies, give him this beautiful surgical design on an undercut while keeping the top hair swept to a side beautifully.
Idea # 45
Source: Felipem_mesquitabarber
This clean and nice hairstyle is loved by just about any teenager. The comb over quiff with a hard parted undercut looks just amazing.
Idea # 46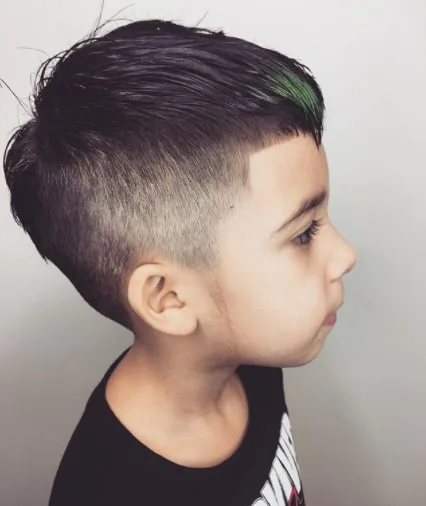 Source: Kayc_hairsnob
Looking for the cool and funky boy haircuts 2023? This cute little undercut gives you just that and that green colored tint at the frontal fringe lifts the whole look.
Idea # 47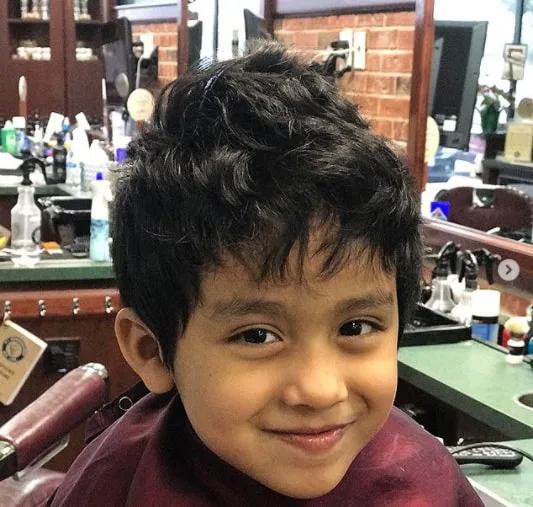 Source: Johnnybthebarber
Messy hair are always a great way making style statement for boys and that's exactly what you have here.
Idea # 48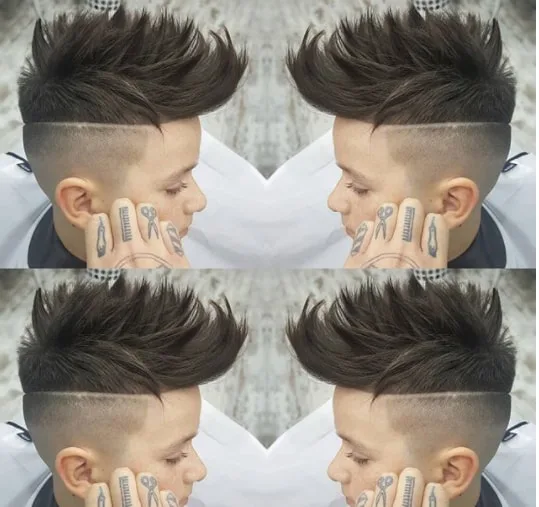 Source: Alexbo_fade_players
Mohawk with bangs and hard parted undercut is what we have got here. The look is amazing and the boy looks cute and stylish at the same time.
Idea # 49
Source: Alexbo_fade_players
Another hard parted undercut, this one is beautiful mohawk style. Long frontal fringes are styled beautifully.
Idea # 50
Source: Witness_barber
This undercut is wonderful with short hair. The hair is kept close to the skin and style is added with a curvy surgical line.
Idea # 51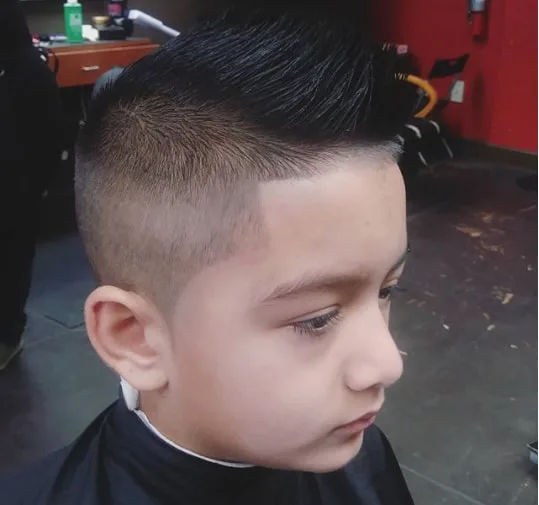 Source: Witness_barber
That's an amazing faded undercut with faux hawk that makes it one of the best boy haircuts 2023. This cool look is so neat that you can wear it anytime at any event.
Idea # 52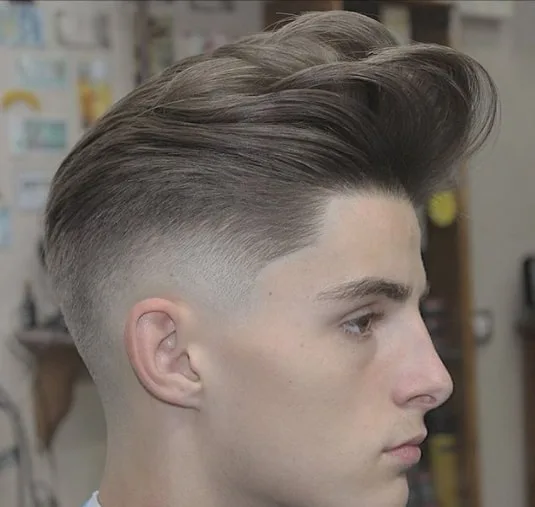 Source: Fade_players
Comb over quiff with faded undercut is a timeless look that you can have any time.
Idea # 53
Source: Fade_players
This is a beautiful, funky look and if you want to style your hair in an all different manner then this is the look you'd want to achieve.
Idea # 54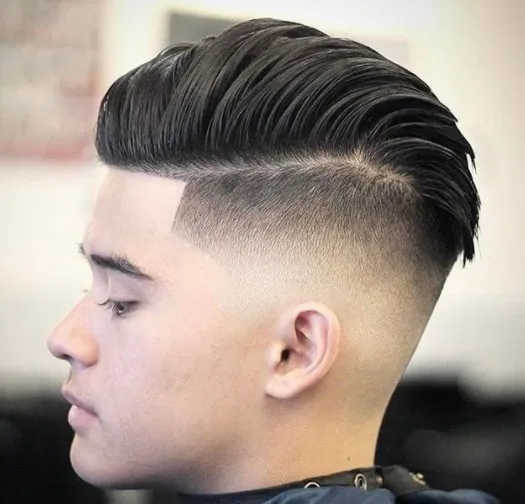 Source: Fade_players
This beautiful slicked back style with undercut gives you a neat and formal look for any event you have planned up.
Idea # 55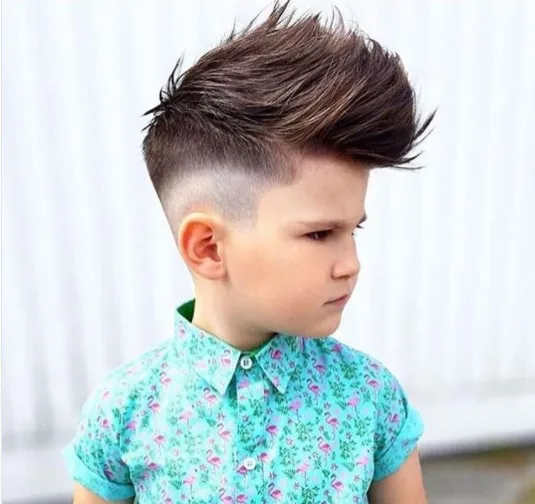 Source: Fade_players
Long hair on top can be styled in this unique mohawk look with faded sides to keep it neat and clean.
Idea # 56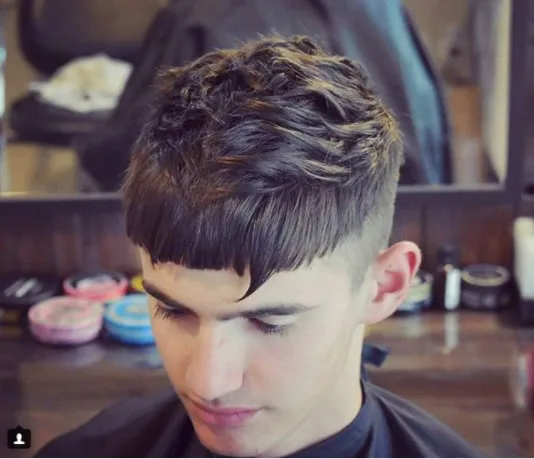 Source: Alexbo_fade_players
Short messy hair on top with a fringe and undercut are so beautiful. Any boy can rock this look in 2023.
Idea # 57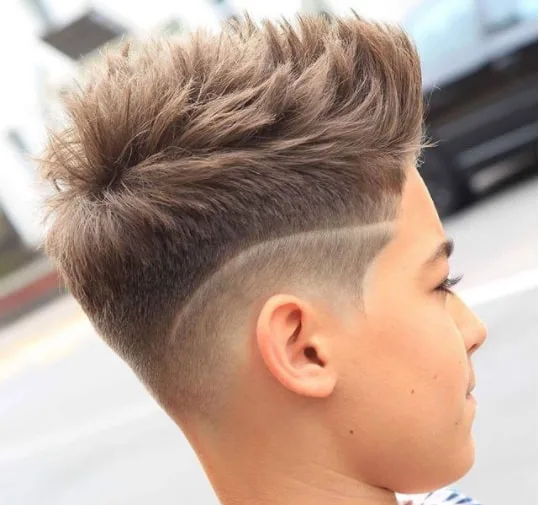 Source: Fade_players
Have you ever tried spiky up do? It's going to be the best boy haircuts 2023 and can be worn like this with faded undercut and a surgical line.
Idea # 58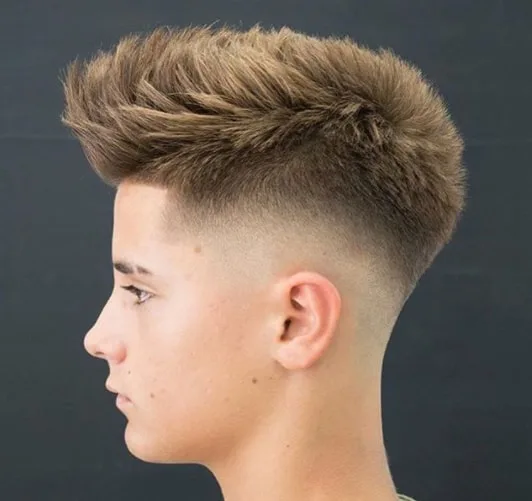 Source: Fade_players
Faded undercut with fohawk look seems great on golden brown hair just like the one in the picture.
Idea # 59
Source: Fade_players
Give your kid a unique and elegant look in 2023 by styling this faux hawk haristyle and using a grey dye to create an all new style.
Idea # 60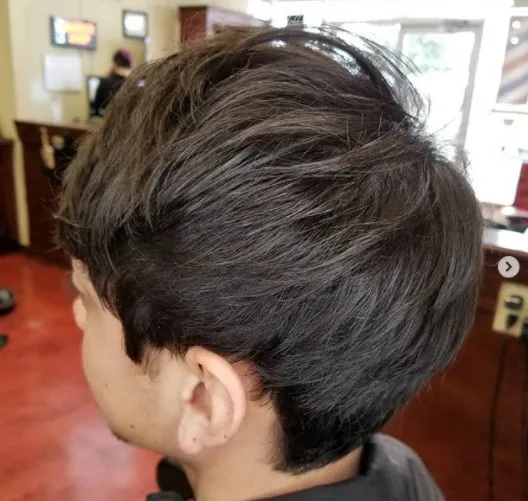 Source: Matadoratbandera
If you have long and silky hair, you can style them in just about any way you like. Just take this kid, for example, and see how he has kept the hair swept to the side and still looks different.
Idea # 61
Source: Shawng.2010_.
Short hair can always be styled with a little bit of mousse or styling gel just like the one we have here. To add a different look, a unique surgical design is added.
Idea # 62
Source: Raspinahairclub
Side swept slicked hair with a faded undercut and hard side part is what creates this beautiful look.
Idea # 63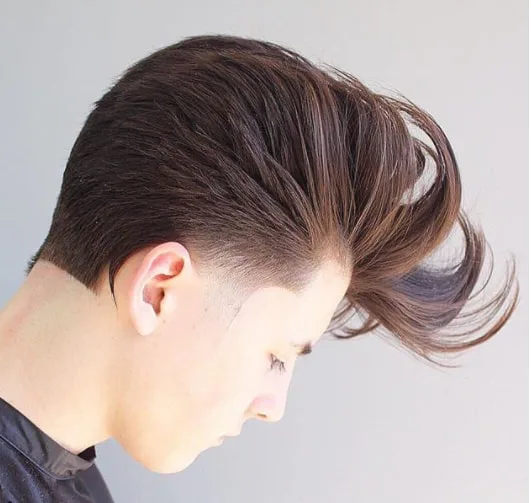 Source: Guyshair
Nothing can be as beautiful and unique as this Quiff hairdo. Sides are kept short and styled to the back.
Idea # 64
Source: Deyvidmatinella
Messy hair can be styled in whatever way you like. Just roll your fingers through and you will have this interesting look.
Idea # 65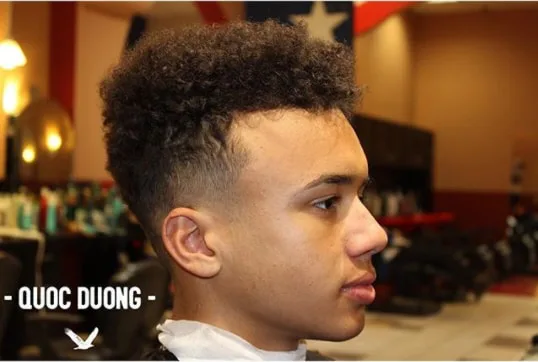 Source: Qduong2014
This is a cool look for kinky hair with faded undercut. And, if you have been finding it hard to style your curls, go for this one.
Idea # 66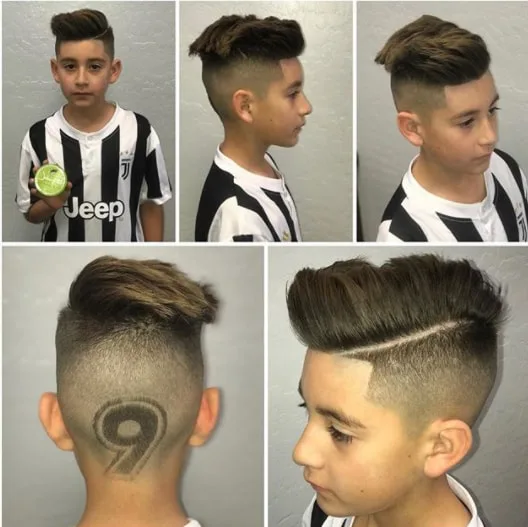 Source: Etepthabarber
This messy style side swept hairstyle with undercut and hard part is a great look for a football fan. The number 9 at the back makes it even more personalized.
Idea # 67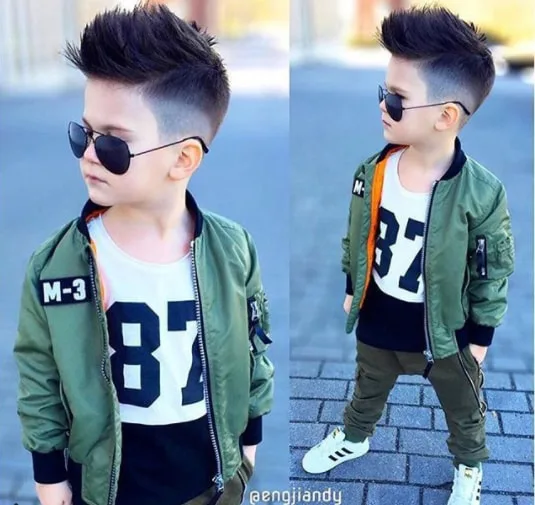 Source: 4Hairfashion
If faux hawk is your style then combine it with this cool and unique faded undercut to achieve a timeless look.
Idea # 68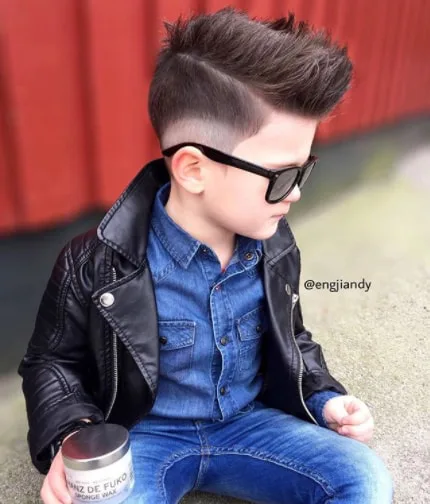 Source: 4Hairfashion
Another similar faux hawk style like the one above, this one shows how hard side part can complement the look.
Idea # 69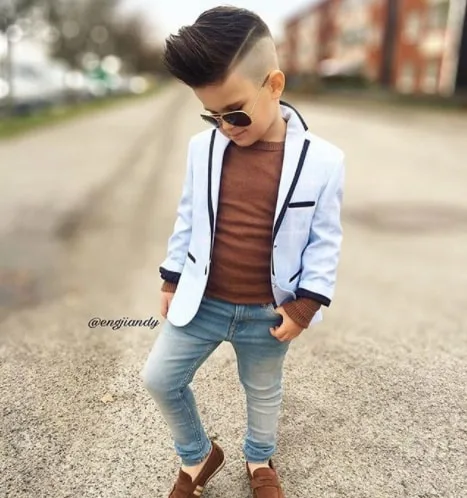 Source: 4Hairfashion
Faux Hawk, undercut and hard part make this wonderful timeless look.
Idea # 70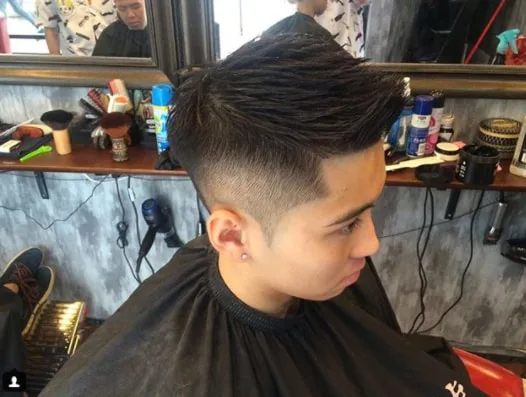 Source: 9Cutbarbershop
This version of the Faux Hawk look is different in the way that it keeps most of the top hair combed forward and only the frontal locks take the hawk look.
Idea # 71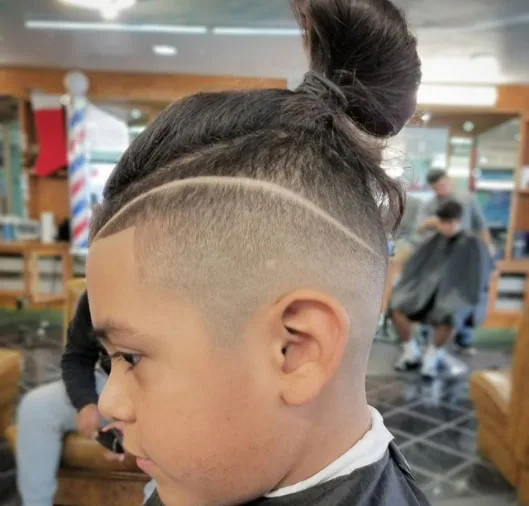 Source: Profadesbarbershop
Top knot is going to be one of the best boy haircuts 2023 and you can have it in this perfect look. There is a hard part and undercut to achieve the final look.
Idea # 72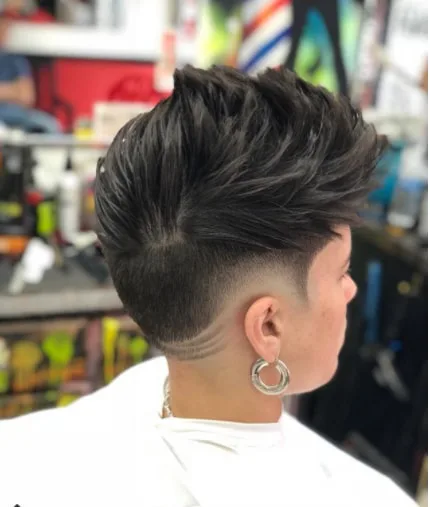 Source: La_rosy15
This spiky up do with undercut and surgical lines is what sets the look apart. It's your hairdo for a unique and funky casual look.
Idea # 73
Source: Barberlife112
This undercut hairstyle is perfect for curly locks. Just make sure that the curls on top are kept exactly the same length as in this one.
Idea # 74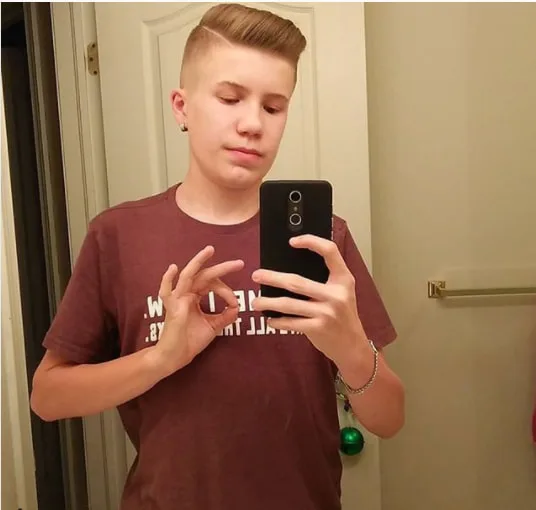 Source: Meraki_barber
Slicked comb over with hard parted undercut is a beautiful and timeless look for boys and a perfect choice for styling in 2023.
Idea # 75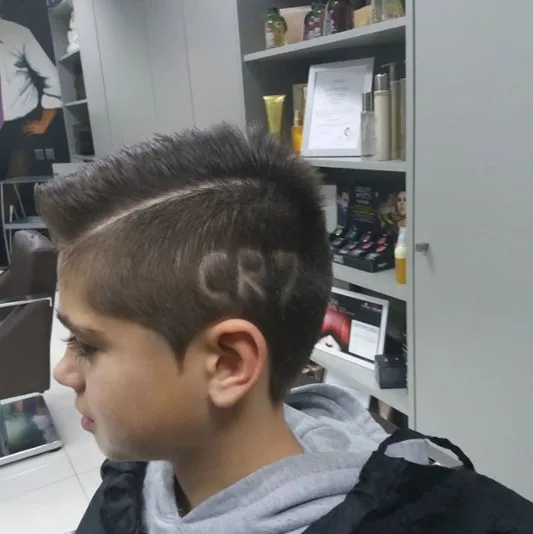 Source: Paulitobarber
This neat, side parted fade is beautifully complemented by a surgical design.
Idea # 76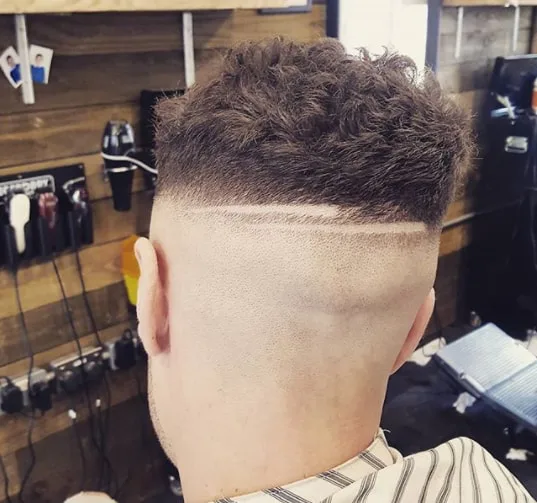 Source: Vayzbarber82
If you like hairstyles with undercut then this one is a great variation for you. The curly mess on top always looks amazing.
Idea # 77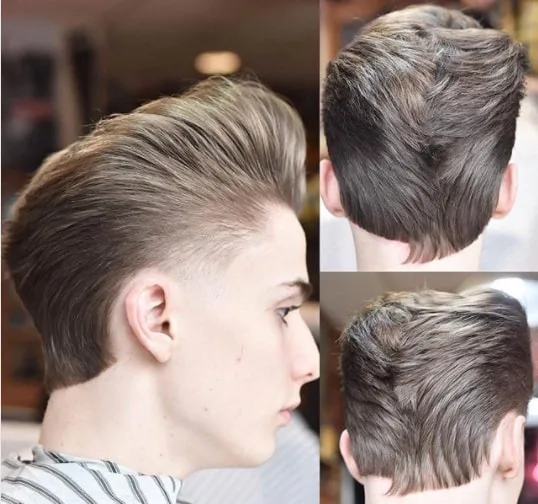 Source: Trimz_barbershop
This classic Quiff style of the 70s is going to make a comeback this year with an all new vibe. The layers at the back look amazing.
Idea # 78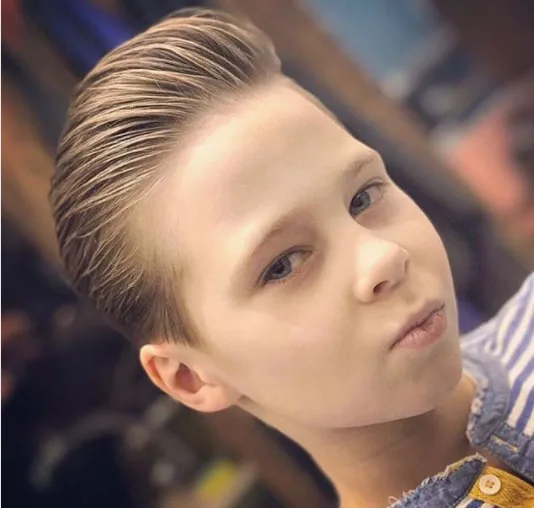 Source: _Timur_barber_
Comb over hairstyles have always been a favorite among boys and this one is no different.
Idea # 79
Source: Iba_vongModern quiff!!
Quiff with a hard parted undercut, this is a wonderful choice for anyone who wants to keep long hair on top and short on sides.
Idea # 80
Source: Thebarberpost
Spiky up do with faded undercut creates a casual party look and is a great one to wear.
Idea # 81
Source: Philyscuts
Crew cut is given a bit different look here with hard parted undercut. The hair on top is styled with a bit of styling product.
Idea # 82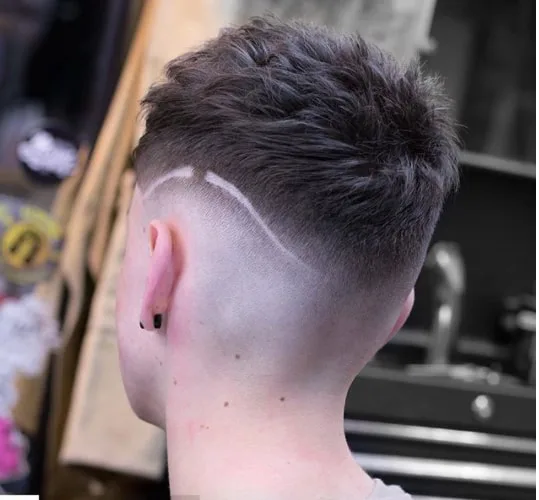 Source: Modernbarbermag
This wavy style around the crown with an undercut parted with a surgical design looks amazing.
Idea # 83
Source: Modernbarbermag
If you are interested in black boy haircuts 2023, this flat top hairdo is a must-try haircut for you.
Idea # 84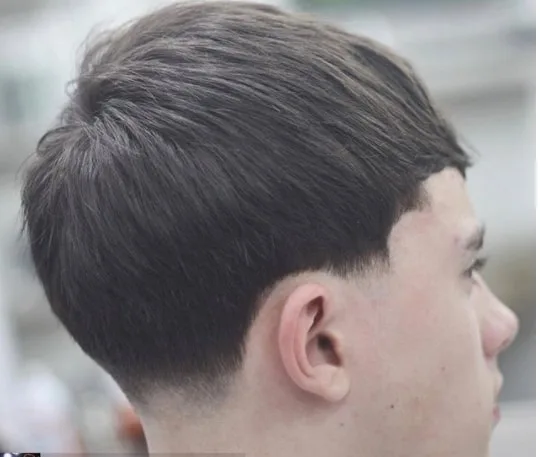 Source: Modernbarbermag
Wavy fringes on top with a faded undercut create a simple yet elegant look.
Idea # 85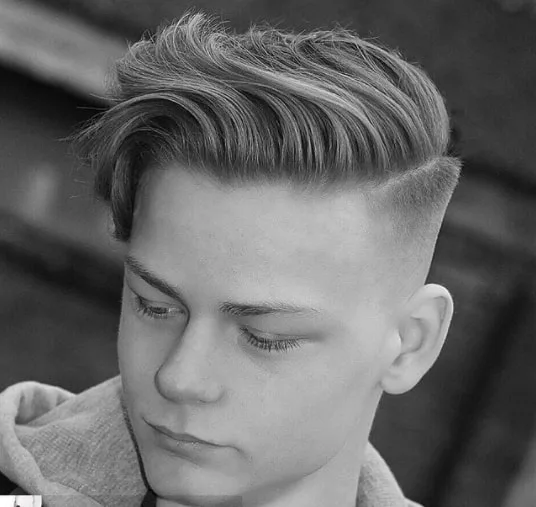 Source: Modernbarbermag
This one is a beautifully side swept hairdo that is complemented with a hard part and faded undercut.
Idea # 86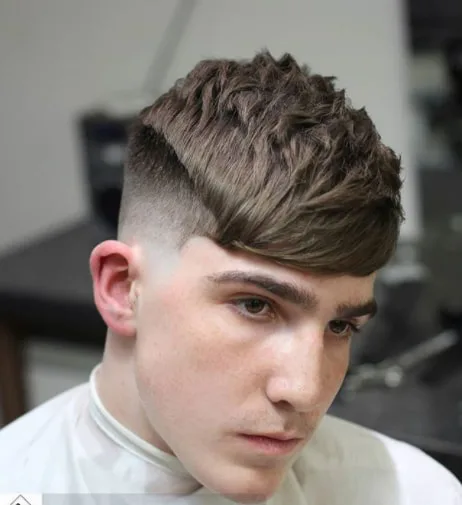 Source: Modernbarbermag
The messy fringe on top with faded sides is a uniquely different haircut for 2023.
Idea # 87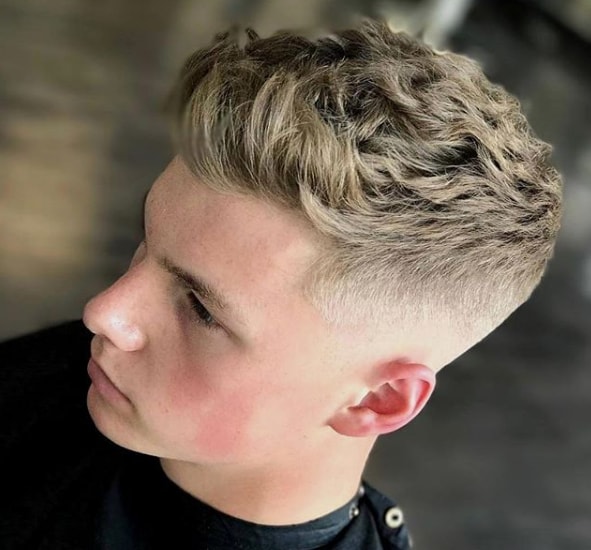 Source: allthingsboyshair
Textured waves on top and an undercut on the sides give this hairdo a timeless look.
Idea # 88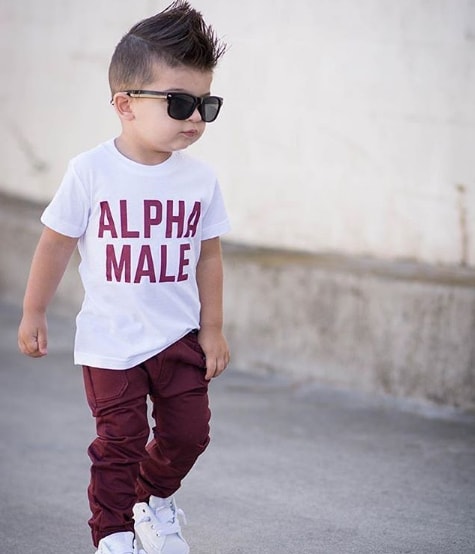 Source: haircutkidz
Little boys look so cute in beautiful mohawk styles. This one combines the look with undercut and is really one of the best boy haircuts 2023.
Idea # 89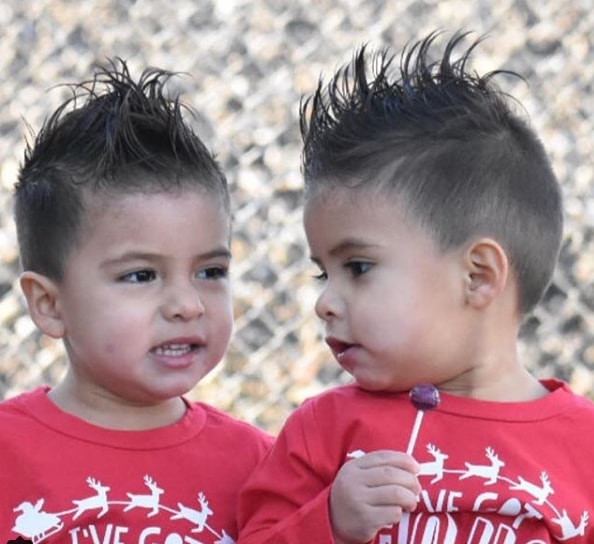 Source: haircutkidz
This mohawk look can be achieved with fine hair and a styling product. Undercut is given on the sides to complete the look.
Idea # 90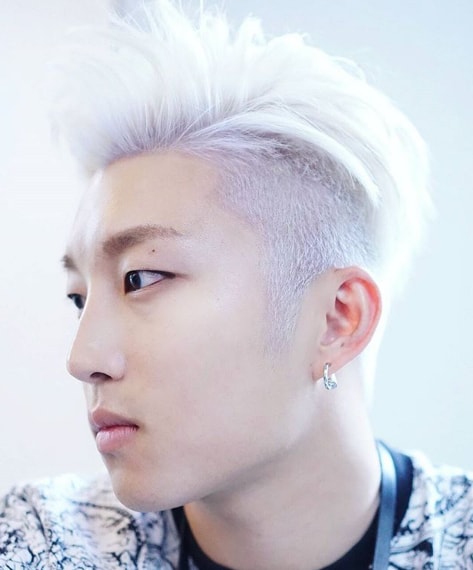 Source: rickykazaf
If you want to wear a funky look in 2023 then go for this beautiful side swept quiff with an undercut. You'll rock the look!
So, these are some of the beautiful boy haircuts 2023 that can be worn according to the occasion and styled perfectly to achieve a timeless look.
From simplest to the funkiest, you have all the options and all you need to do is to make the right choice according to your face.