If you are not already familiar with the eboy haircut, it's a more old-school hairstyle that boasts of some length and the curtain bangs. In fact, it's often colloquially called as the curtain hairstyle as well. Lately, the hairstyle is being redefined and is getting all sorts of variations to make it look more stylish and attractive. Now that you know the eboy haircut name, let's explore all the new ways you could achieve this wonderful look and make a style statement.
Eboy Haircut Variations To Brace This Year 2021
Know the eboy haircut name already and looking to try some variations of the look now? Let's check out some cool options you have at hand.
Long Eboy Haircut With Curtain Bangs
Curtain bangs being the hallmark of this look, you have a perfectly casual hairdo here with a bit of oomph. This beautiful hairstyle keeps the bangs a little longer and they frame the face to perfection. And, it's not a neat look by any means but still some styling product is applied to keep it fresh.
Eboy Look With A Slight Side Part
A conventional eboy hairstyle is parted in the center but this one is altered a little as the part is moved a bit further to a side. The hair is casually swept over and looks gorgeous.
Eboy Haircut Curly Hair
Got curly hair? No problem, you can still get a cool eboy look. Though the bangs won't form a curtain around the face, but it will still look gorgeous.
Typical Eboy Hairstyle With Curtain Bangs
This typical hairstyle looks gorgeous. Curtain bangs angle towards the back as they fall over and make a style statement.
Center-Parted Hairstyle With Casual Bangs
This one is a cool variation with bangs casually making an arc at the front. The sides have a nice faded look.
Messy Eboy With Color
This messy eboy haircut looks gorgeous and the touch of color makes it look even better.
Casual Combover
If you are not a big fan of the typical center-parted look, this one is a great variation to try. Bring all the volume to a side and make the bang form a similar curtain style as in the signature look.
Messy Blonde Eboy
This messy eboy haircut curly hair is another carefree look for a casual day out. It really feels amazing on blonde hair.
Silky Straight Eboy Hairstyle
This is a more formal look for silky straight hair. It looks gorgeous and requires minimal styling.
Messy Eboy With Curly Bangs
This messy look is stunning for any day and the curly bangs lend it a whole unique vibe.
Casual Messy Hair On Top
Another completely different look, this one boasts of some volume on top that's all kept messy. Nevertheless, the mess looks stylish!
Casual Curtain With Grayish Tinge
This curtain hairstyle keeps the hair a little on the shorter side compared to a standard look. A touch of color makes it look different too.
Long Center-Parted Hair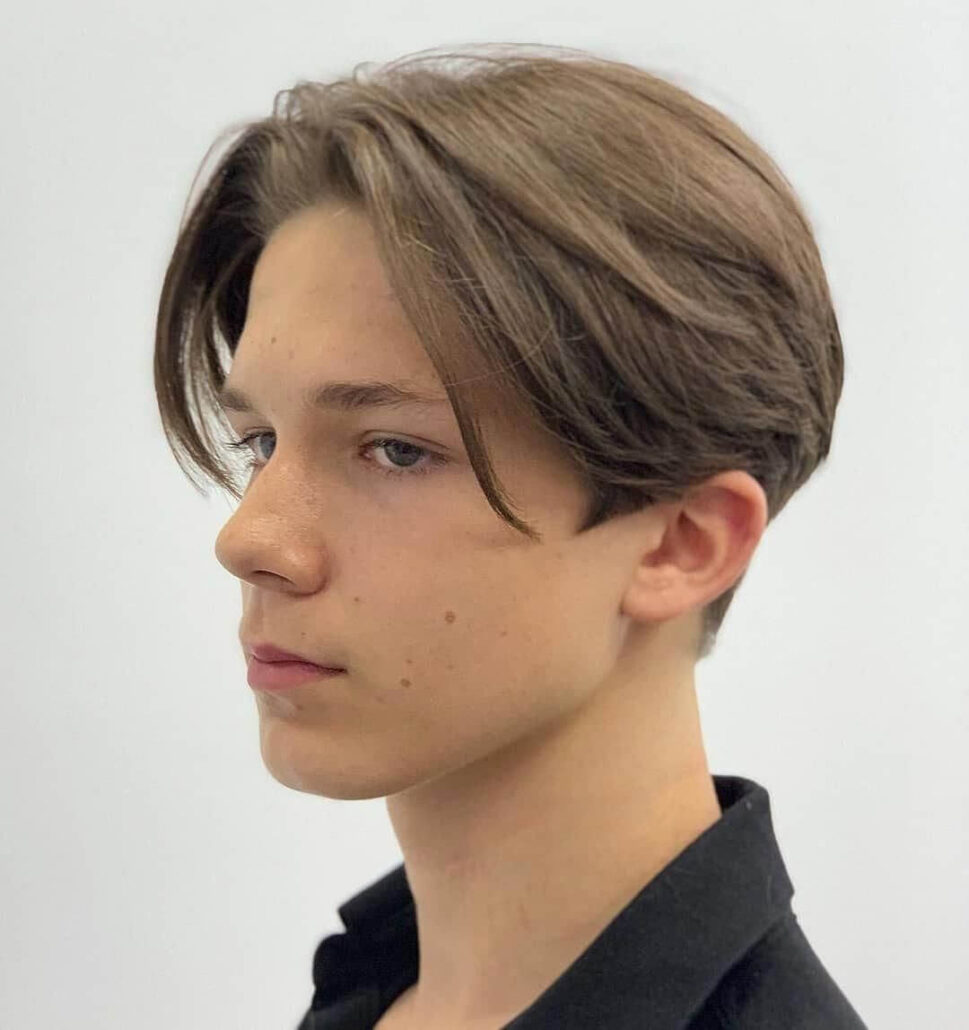 Source
Another one with some length and a center part, this one gets the hair shorter at the back. However, the lengths blend in nicely.
Curly Eboy Hair With Band
This curly hair style grows in volume towards the sides and the curly bangs look gorgeous. The head band adds a unique touch to the look overall.
Curtain Bangs With A Casual Part
The hair is parted casually in the center and forms typical curtain bangs on the sides. It all sits in nicely to complete the look.
Formal Eboy Hairstyle
If you want something more formal and organized, this is the style you should adopt.
Casual Curtain Hairstyle With Length On The Sides
This beautiful hairstyle has a casual vibe to it with some length on the sides that covers the ears. Everything is nicely brought into perspective as far as the differing hair lengths are concerned.
Eboy haircut should give you a whole new perspective to your style this year. Redefine the look with one of these amazing variations and you should be able to give yourself an impressive look. Whether you want something more formal or try a hairstyle that has a casual vibe to it, the eboy hairstyle is the one you should be after.