Boys with curly hair often face dilemmas when choosing a haircut. Whether your boy or kid has loose waves or tight coils, there are plenty of curly hairstyles and haircuts that can enhance his features and showcase his individuality.
In this article, we will explore some of the best curly hairstyles for boys, from short and low-maintenance cuts to longer and more adventurous styles.
Let's dive in and discover the perfect curly hairstyles for your boy!
Curly Hairstyles For Boys
1. Classic Taper Fade: Simple and Versatile
The classic taper fade is a timeless haircut that works exceptionally well for boys with curly hair. This cut features shorter hair on the sides and back, gradually tapering to longer lengths on top. The taper fade complements curly hair by providing a neat and well-groomed appearance while emphasizing the natural texture. It's a versatile style that can be dressed up or down, making it suitable for both formal and casual occasions.
2. Curly Undercut: Stylish and Modern
The curly undercut is a trendy and fashion-forward haircut that combines shorter sides with longer curls on top. The contrast between the shaved or closely trimmed sides and the voluminous curls creates a striking look. The curly undercut allows for ample styling options, whether it's pushed back for a sleek appearance or left to flow naturally for a more relaxed vibe. It's a versatile choice that exudes confidence and style.
3. Short and Textured Crop: Effortlessly Cool
The short and textured crop is a popular choice for boys with curly hair who prefer a low-maintenance and cool hairstyle. This cut keeps the hair short all around and adds texture to enhance the natural curls. It's a practical option that requires minimal styling while still looking stylish and contemporary. The short and textured crop is perfect for active boys who want a fuss-free and effortlessly cool look.
4. Curly Quiff: Bold and Playful
The curly quiff is a bold and playful hairstyle that adds a touch of flair to your son's look. This style involves keeping the hair longer on top and styling it upwards and slightly forward to create a voluminous quiff. The natural curls add texture and dimension to the quiff, making it stand out even more. The curly quiff is ideal for boys who want to make a statement and showcase their confident and adventurous side.
5. Long and Free-flowing Curls: Embracing Length and Volume
For boys who prefer longer hairstyles, embracing their long and free-flowing curls can create a striking and eye-catching look. This style involves allowing the curls to grow out naturally and embracing their length and volume. Long and free-flowing curls create a distinctive and unique appearance, exuding a sense of confidence and individuality. Regular maintenance and conditioning are key to keeping the curls healthy and well-defined.
6. Faux Hawk with Curls: Edgy and Attention-Grabbing
The faux hawk with curls is an edgy and attention-grabbing hairstyle that combines the classic faux hawk with the natural texture of curly hair. This style features shorter sides and a longer strip of hair in the center, styled upwards to create a spiky effect. The natural curls add an element of uniqueness and flair to the faux hawk, making it a bold and fashionable choice for boys who want to stand out from the crowd.
7. Side Part with Curls: Classic and Polished
The side part with curls is a classic and polished hairstyle that adds a touch of sophistication to your son's look. This style involves creating a deep side part and styling the curls to one side. The defined part and neatly arranged curls create a sharp and refined appearance. It's a versatile choice that works well for both formal occasions and everyday school wear.
8. Curly Mohawk: Bold and Trendy
The curly mohawk is a bold and trendy hairstyle that embraces the rebellious spirit. This style involves shaving or closely trimming the sides and leaving a strip of longer curls in the center. The height and volume of the curls create a striking and attention-grabbing look. The curly mohawk allows your son to express his individuality and make a fashion statement.
9. Curly Afro: Natural and Iconic
The curly afro is a natural and iconic hairstyle for black boys and kids. This style involves allowing the curls to grow out freely into a rounded shape. The curly afro exudes confidence, embracing the natural texture and creating a powerful and distinctive look. Regular conditioning and maintenance are essential to keep the afro healthy and well-defined.
10. Twist Out: Defined and Textured
The twist out is a hairstyle that creates defined and textured curls with a twist. This style involves twisting small sections of damp or moisturized hair and allowing them to dry. Once the twists are unraveled, they reveal beautifully defined and textured curls. The twist-out adds dimension and depth to your kid's curly hairstyle, making it a versatile and stylish option.
11. Messy Hair With Volume On Top
If your boy has some volume on top, this is the look you should be giving him this season. The hairstyle gives him a casual look and won't need much of styling. Just let it go with the natural flow and the mess on top will make a statement.
12. Undercut
Undercut, the highly recommended haircut for 5 years old boys, this is the look you'd want to sport if you want to keep it all properly organized. Trim it short on the sides with a perfect undercut and comb the hair on top back. Hold it together with a styling product and it looks amazing.
13. Cherubic Haircut

If your kid is a fan of Jaden Smith, this cherubic haircut sported by the star kid will be an adorable choice for them. The hairstyle suits kinky hair perfectly and will need the sides to be trimmed a little shorter than the top.
14. Loose Waves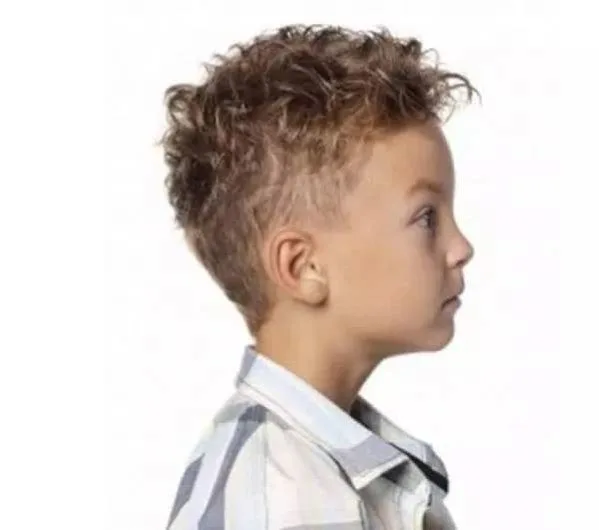 A casual look for his everyday routine, this beautiful hairstyle just requires you to enhance his wavy volume on top a little and give him a unique, cool look. The sides have a fade that complements it all perfectly.
15. Crisp Curls
Just as the name suggests, this beautiful hairstyle is all about those extravagant curls. That spring-like look is gorgeous and it looks even better when your boy has a head full of it.
16. Thick Wavy Top With Mid Fade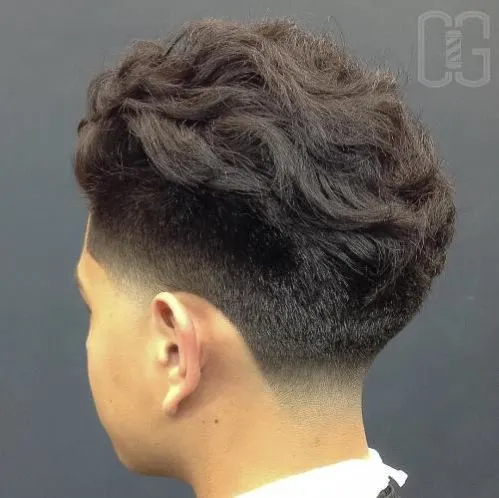 Instagram/ @CHADIUS_MAXIMUS
A fade haircut can be your best companion when it comes to thick, long and wavy hair. It can add an organized touch to the entire hairstyle and it looks gorgeous. With the same length of your hairs if you will make them straight you can have eboy hairstyle too.
17. The Plateau Top
A Plateau top makes a statement as an everyday look and has a cool, stylish vibe to deliver. There is some flat volume on top and the sides are trimmed all the way to the skin. A perfect look indeed!
18. Curly Mess With Undercut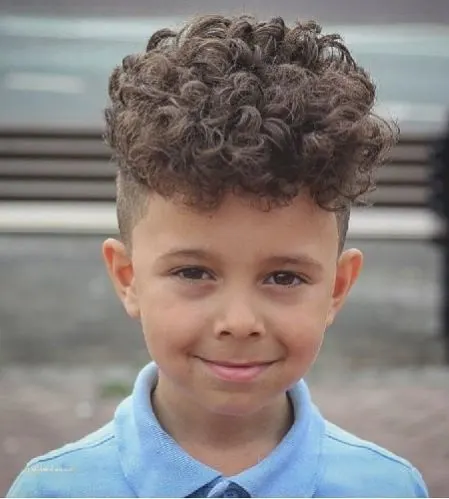 A disconnected undercut always looks gorgeous on boys. And, if you can style it with voluminous wavy curls on top, it looks even better. It's a low maintenance haircut and won't need too much of styling effort either.
19. The Curly Bob
Yes, Bob haircuts are for girls. But not necessarily! You can allow your boy to grow his wavy hair long enough to get a bob-like shape. Perfect everyday look!
20. Wavy Top With Undercut And Surgical Design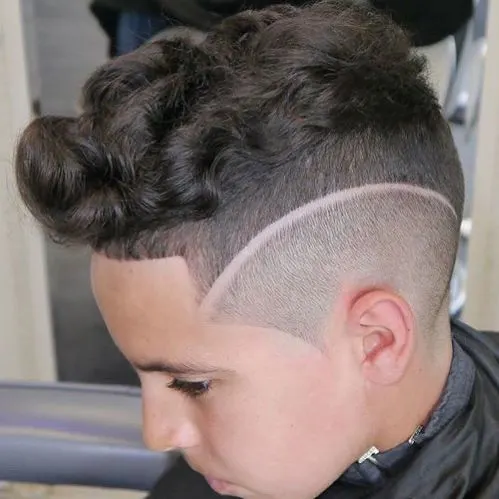 Most wavy hairstyles have some length on top and an undercut on the sides. You can take this look up a notch by adding a nice surgical design on the sides.
21. Long Shaggy Haircut
22. Baby Punk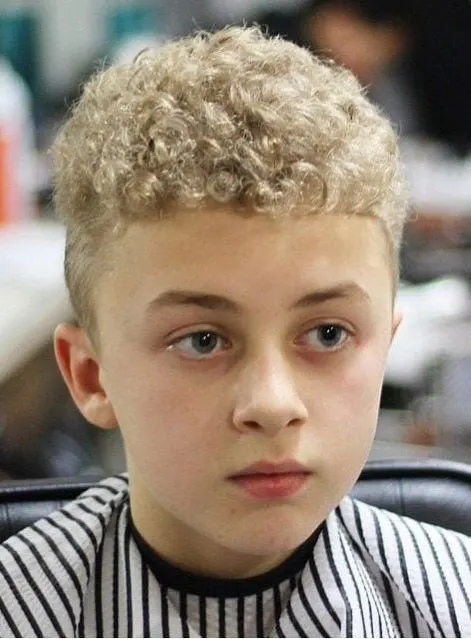 So, what is your opinion on these curly hairstyles for boys? Do you think any of the designs & styles would look stunning on your little boy? Make your choice and give your little one a perfect style to flaunt in your everyday routine.