Undercut remains to be a popular choice over the years among boys and girls right from toddlerhood to teenager. The hairstyle has long been considered among the top low-maintenance haircuts that have been around.
The best part is, the haircut can be achieved in so many different variations and you can easily blend it into just about any type of hairstyle you may want.
From long top to short spikes and an undercut on the sides, you have all the flexibility in the world to pick something that suits your kids better than the others. And, obviously, the hairstyle allows you to experiment with the look just the way you like.
If you have that creative sense, you'll be able to carve out something really special that won't just be unique but will also make your kids look their best and attract all eyes everywhere from school to special events they're going to attend with you.
Who Should Get Undercut Hair?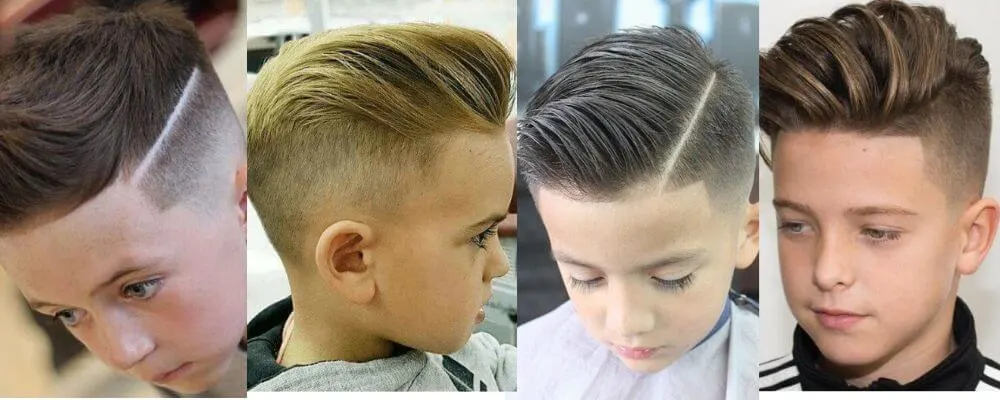 If you've been wondering whether it's a hairstyle you should give to your kid or not, there are many others who are thinking on the same lines.
Well, here we have a few points that you must take into consideration before going with undercut hair so that you can understand whether you're making the right choice or not.
Steps For Getting Undercut Hair
Before choosing the hairstyle for your kid, from among a wide variety of options and variations available within this hairstyle, you have to be mindful that your choice should be driven by the face shape your kid has.
Going with the short haircuts or slicked back look can nicely balance things off for kids with longer faces. On the contrary, a quiff or pompadour with a bit of cropped sides can compliment round faces in a much better way.
When planning on getting undercut hair, you do not really have to worry about the hair type your kid possesses. The simple reason is that the hairstyle works perfectly fine with just about all sorts of hair.
So, whether your kid possesses coarse, curly, thin, thick or Scandinavian hair types, you're good to go with this particular hairstyle.
One thing people prefer this hairstyle for is its low maintenance nature. However, being low maintenance doesn't really mean that you just have to give your kids a cool haircut and then forget about it for months to come.
In fact, the hairstyle would still need a refresh every couple of weeks at least. So, you have to keep that in mind that some maintenance will be required for keeping the hairstyle looking fresh, beautiful and trendy.
And, obviously, you have to keep experimenting with the top hair to make sure that your kid remains in fashion and looks as elegant as ever all the time.
Top 3 Most Famous Undercut Hairstyles 2023
With so many options available to choose from, you'd be overwhelmed with the variety in kids undercut hairstyles. So, which ones are you going to choose then?
Well, here we have listed the most famous choices among all the options to style undercut hair for your kids. Let's have a look.
Undercut Quiff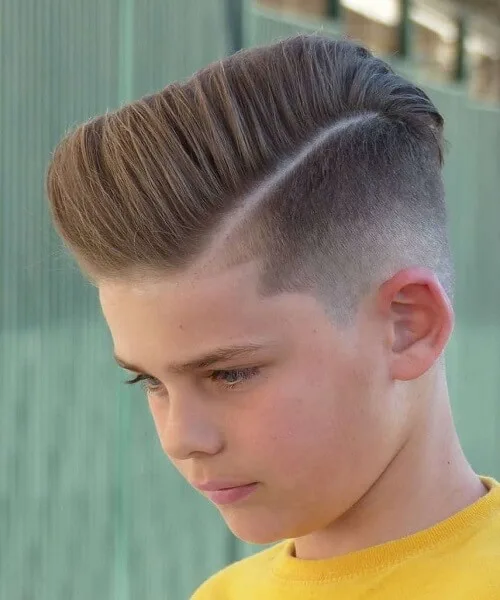 The Quiff hairstyle really is one iconic choice and you have quite a few variations of the look to choose from.
Your decision should be based on the type of hair your kid has and you can either go for a more relaxed hairstyle or something that's a bit slick and sharp. Even something a little beachy would work depending on the type of your kid's hair.
Slicked Back Undercut
This one really is the look for those hipsters. Yes, if you want your kid to look more hip and chic, this is the hairstyle you would want to go with.
Going classic with a slicked back look has always been a great choice and it gives a real gentleman's look to your boy's hair. However, when you add an undercut style to complement the classic slicked back look, it takes your kid's hairstyle to an altogether different level.
This particular style is more about that visual difference between hair lengths on the top and sides. You have to keep it longer on the top while trimming the sides so short that even the skin can be seen from underneath. For a perfect look, you often have to go with completely disconnected sides as it creates more of a chic hairstyle.
A pro tip here would be to make sure that you do not go very high on sides and the back using a clipper. Rather, ensure that there is enough length available for creating a thicker top.
Pompadour Undercut
Another cool look to achieve for kids, this one is characterized by that beautiful and classic Pompadour on top. There are actually a couple of sharp characteristics to this beautiful variation of the hairstyle that take this beautiful hairdo up a notch.
For making the hair swept backwards into a pomp and look really elegant, you have to make sure that you have it faded on the sides and back. Also, make sure that you go a bit longer on the top as well.
How To Get Your Kid A Perfect Undercut?
Before we get into the step by step procedure for giving your kid a perfect undercut, you must understand the fact that giving him an undercut style is something and then styling the look to perfection is something else.
We'll try cover both here but let's first try to understand how an undercut can be achieved. In fact, if you have some expertise, you can even cut your kid's hair that way yourself.
Alternately, tell the stylist what you're looking for. Either way, below are the steps that should be followed to achieve a perfect undercut.
Section Off The Hair On Top

In the first step, the top hair should be sectioned off from the sides. For this, dampen your kid's hair and make sure that it isn't too wet. All you need is a bit of control and you should keep that in mind while dampening their hair.
Now, the top hair should be parted on either side while combing everything in that top section towards center of their head. It is important to ensure that you have kept each side part at same height. Shave it on the sides and make sure that shaved part stops right where it goes past the head's round, a little above their temple area.
However, you're allowed to use your judgment here too. It's the line of disconnected haircut and it plays a key part in defining the overall look of your kid's undercut. Remember that the higher up you go with that part, the more likely it will be for your kid's haircut to resemble a Mohawk hairstyle.
Similarly, you need to create the part towards back of your kid's head while keeping the height same as that on the sides and comb the hair forward as well as out of way.
Ideally, you have to make sure that the back dips under the crown area. As far as the top is concerned, it should be parted into a very neat and even horseshoe style. It would be a good idea to use hair clips or apply some hair gel to keep things under control as you buzz off the back and the sides.
How You Can Style An Undercut To Perfection?
So, how can you get this beautiful hairstyle then? Well, that doesn't have to be a hassle either. Just follow a few steps just as described below and you will have a wonderfully pulled off look ready for your kid to flaunt. Here are the steps to follow:
Obviously, you have to start with newly-washed, fresh hair and it is very important that you get rid of any and all the excessive oil, product reside and dirt from your little one's hair. Make sure that you apply some top quality shampoo to your kid's hair before starting to style it.
Take a good pre-styling spray and spritz 15-20 pumps of it into your kid's hair for protecting against any heat from blow-dryer that will be used in the next step.
Besides, it can help you to add some texture and volume to their hair while holding it into place. Evenly distribute the product with the help of a comb.
Next, you will have to grab the blow-dryer, put it on the maximum heat setting and start creating a bit of extra volume with the help of a comb.
Keep alternating between drying his hair forwards and backwards and also tousle his hair with your hands to create better texture and volume. Use a comb for finishing it off and work their hair into the position as desired.
Now that you are ready to do some styling, grab an appropriate wax depending on the style you'd want to achieve with your kids' hair. A pomade would do great for the slicked hair and a smooth finish while you should use molding wax for making it look more natural.
Top Undercut Hairstyles For Kids
As mentioned earlier, there can be so many beautiful undercut hairstyles variations out there that you can style for your kids. Here we have listed some of the best that you could try for your kid this year and beyond.
Obviously, it's a timeless look that's not going to get out of fashion anytime soon and, therefore, you can style your kids' hair just the way you like.
To start with, we have kids undercut haircut. Obviously, the undercut is characterized by the sides shaved off but this fade haircut gives it a touch of sophistication with slightly longer hair on the sides and the back. Here are a few options that you can try.
Textured Pompadour With Undercut
This one will really give your little one more of a stylish, formal and timeless look.
The hair on the top is kept to medium length and it's all textured and swept backwards to create a perfect vibe. You can always style the hairdo with a hard part on the side and somewhat faded hair.
French Crop With Fade Undercut
If you want to give your little one something unique to flaunt, this is the hairstyle you should go with. Just keep it short and textured on top all cropped nicely for a perfect vibe.
The faded undercut on the sides really makes a unique style statement. It's pretty straightforward and it's still very different.
Layered Mohawk Style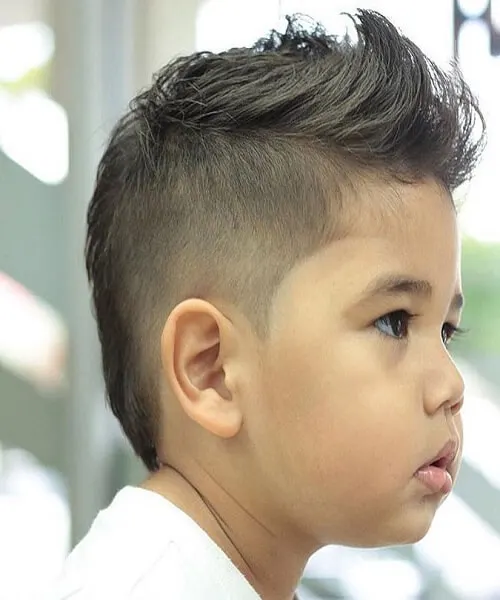 It's mentioned earlier that the styling of such hairstyles as an undercut is done mainly on top. Obviously, that's where you have all the volume and that's where you get the room to style your kids' hair in whatever way you like.
If you have left some length on top, it's advised that you go for a layered Mohawk with more of a forward swept spike on top. You can keep the sides disconnected from the top but it would be a good idea to blend it in slightly and have it faded.
Layered Side Swept Top With Fade Undercut
If you want more of a casual look, this is the hairstyle to go with. The natural, textured layers really look amazing on little kids and they make their naturally funky looks to be highlighted even more.
The hairstyle doesn't really require you to maintain it often and it's one of the perfect low maintenance haircuts for wavy hair. Faded undercut on the sides speaks volumes about itself.
Wavy Brushed Up Hairstyle With Undercut Fade
The fade is typical on the sides but this hairdo is actually complemented with the nice brushed up look given to the naturally wavy hair of your little one.
It will make the volume on top to make a cool vibe and the natural waves will be maintained quite easily this way. And, obviously, the waves add a unique touch to the hairstyle making it look awesome with some individuality.
Long Top
So sleek and elegant! If you want your little man to look like a gentleman, get him an undercut with a long top. The hairstyle is not only pretty versatile but also low maintenance.
If the length of the hair is the same all over the head, you can do the retouches at home, without going to the barbershop.
Braids with Undercut
Use the trimming machine to define the hairline and keep the sides and back in a short length. As for the top, use the longer hair to create a cornrow in the center of the head.
This will act as a parting between the braids that are oriented in a different direction. Spice things up with gold decoration.
Messy Haircut
Spiky messy hairstyles only require slightly longer crown hair and an undercut. Get a pomade or a hair gel on your hands when tousling the crown strands.
Messy Top Pony
A low fade undercut makes the ideal cut for a long top. Also, use short guides for the baby hairs around the forehead, especially when using the trimming machine. The longer crown hair you can pin in a messy bun.
Undercut with Design
Hair sprays are the best option for young guys who don't want to dye their hair to obtain a colorful rebel look. Go for an undercut with a longer top and lift the crown hair.
At the roots, use the hair spray to get a pop of color. You can even make things more interesting by getting a curved razor design on one side.
Undercut for Kids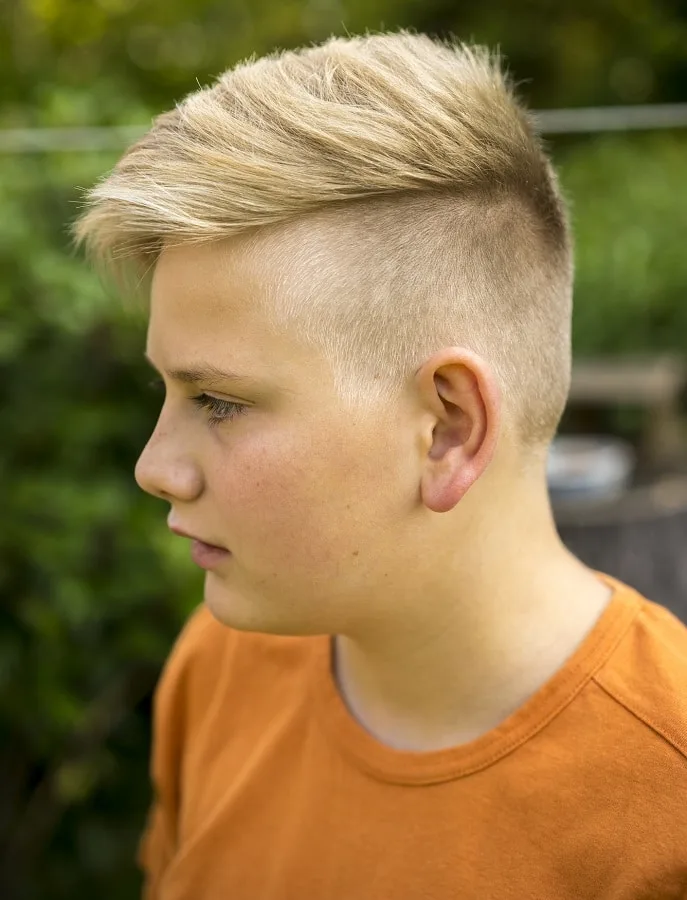 This haircut is so trendy and all youngsters want it. It is incredibly low maintenance and gives space to show your creativity. You can dye the longer top, comb it backward or on one side, approaching different styles.
Undercut for Curly Hair
Make your little man look cool with a gorgeous high fade undercut. Maintain the top quite long, allowing the hair to create the ringlets. If these locks don't have weight, the curls will be tight and bouncy.
Flat Mohawk
A mohawk looks gorgeous whether you style the hair up with strong fixing gel or if it remains flat, like the image above. Keep the hair long for the mohawk and opt for an undercut or a fade for the sides.
Box Haircut with Star Design
Box cuts offer height and create an illusion of an elongated face. It is a specific hairstyle for black kids with thick, coarse hair, and it doesn't require too much styling.
Create fades for the back and sides and cut the top hair in a box shape. You will also have space to create designs on the sides.
Curly Ponytail with Undercut
If your kid has long curly hair, getting him an undercut will greatly highlight those curls. This combination of lengths creates a visible contrast. He can wear the hair loose, braided or tied in a bun or ponytail, on one side.
Undercut Fade Hairstyle Options 2023
It is a fact that a typical undercut hairstyle is often associated with adults. However, you can have many beautiful undercut fade options to try as well for your kids.
The hairstyle requires some sharp, faded look towards the back somewhere around the nape area while you can have long hair on top which, obviously, can be styled in whatever way you like. Let's have a look at some of the hairstyle options you can consider for your little kid.
Classic Undercut
This one is all about achieving a perfect undercut half way through the back and trimming it tight right through to the bottom.
It can be covered up, however, with some layers falling over from the top but that's completely on your discretion as to if you'd like to cover it up or leave it just the way it is and comb rest of the hair upwards rather than bringing it down. Shape it up around the nape and it will look stylish and amazing.
Wavy Messy Top With Faded Undercut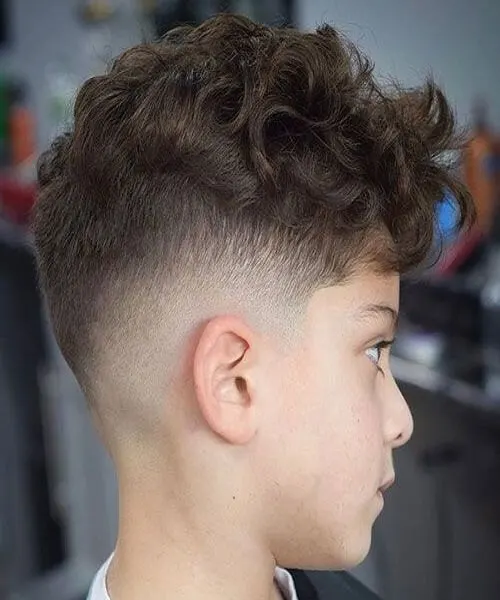 This one gets more of a boyish look with the top hair left unattended. Leave some length on top and make it to swirl naturally into beautiful wave.
The messy top balances out the clean undercut fade to perfection and, overall, the hairstyle really looks chic, elegant and stylish. You may even think of creating a messy bun on top or you can raise it all up just to signify the volume left there.
An arrow shaped surgical design at the back just around the nape area can lift the look even further and your kid will have a more stylish look to flaunt than anything else.
Classic Top Bun With Undercut And Wavy Design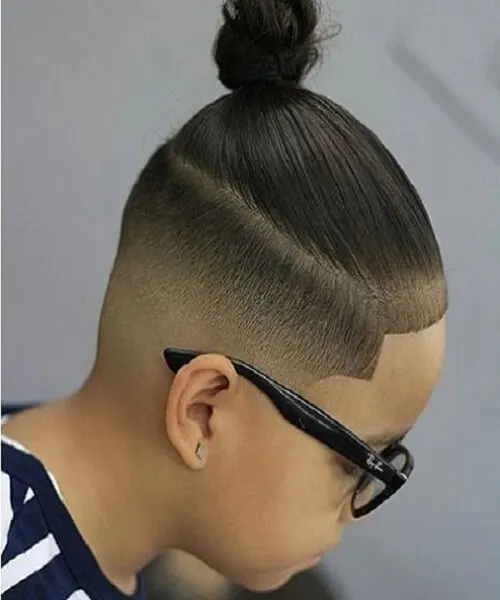 Another really beautiful and classic undercut fade style that would make your kids signify their sense for fashion, this one requires your kid to have some length on the top.
It can be achieved to perfection with a big beautiful bun on top. A typical undercut is created at the back with an element of style added to it through waves created surgically. The hair above that is beautifully braided into a thick braids that goes upwards and joins the bun at the crown.
Diamond-Shaped Undercut With Volume On Top
This beautiful style adds a unique fashionable touch to the look with an undercut achieved in an all-different shape. It is diamond shape achieved surgically with a surgical line running through the diagonal vertically.
That's probably the only style element that you should take care of and the hair on top can be styled in whatever way you like. One thing is obvious though, you have to keep it voluminous on top.
V-shaped Undercut With Casual Bun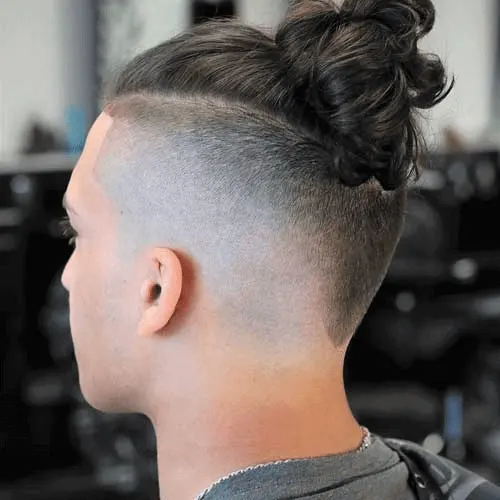 Yet another cool variation to the hairstyle, this one is achieved in a V shape with a surgical line actually defining the look and separating it from the top hair which is all styled upwards.
Make it a bit faded and it will make an even better statement. The longish hair towards the top is all taken to the top with a braid running through the center at the back and all ending up into a casual and beautiful hair bun around the crown area. Another cool hairstyle that works for longer hair, this one really looks cool.
Undercut Boys Hairstyle Options
The hairstyle is itself tailored for men and boys, so the variety you can have for boys is just unparalleled.
There are so many different ways in which top hair can be styled and from long and beautiful to short and cool, you can go with just about any option you like. Let's have a look at few undercut boys you can try out this year for your little one.
Casually Combed Back Top With Disconnected Undercut
Disconnected undercut always makes a statement and it's, probably, one of the most chic looks you could give to your little man no matter what the occasion may be.
The hairstyle boasts of some length on top that is casually combed backwards. They can always refresh the look by running the fingers through and it really looks amazing. Most often, the look is sported on casual events.
Long Slicked Back Top With Undercut Fade
If you want to go with something that is more organized and formal but still creates a unique sense of style, the long slicked back hairstyle will do it rather nicely. Make sure that the hair on top is kept to enough length that it can be stylishly combed back and then apply a good quality product to slick it all the way backwards.
It will add a bit of sheen to the hairstyle as well and the undercut fade on the sides will not only balance out the top but will also keep it looking as stylish as ever.
Curly And Wavy Top With Undercut
One of the hassles you might face with your kids' hairstyles is when they have naturally curly and wavy top. However, this beautiful hairstyle will make the job a whole lot easier for you as you can just let your boy grow it longer on top and keep the natural waves making them turn into a beautiful hairstyle.
Just leave the mess intact as that's what going to make a statement. A disconnected undercut will balance that out rather nicely as it will be pretty organized on the sides and it will look really cool too.
Short And Side Swept With Hard Part
If you want an all-out organized look, just keep it short, simple and sweet. Yes, nothing can look more organized than short side swept hairstyle with an undercut on the sides.
You can always apply some styling product to keep it textured, shiny and well in its place. A hard part on the side will complement the look to perfection and you can't really ask for anything more stylish for your little boy.
Thick Wavy Top With Undercut Fade
For boys with some naturally thick hair on top, this is probably the best choice to go with. Let them grow their hair into a thick wavy bulk on top and then give it a casually side swept look.
It won't just look natural but will also look stylish at the same time as well. Furthermore, the volume you will have up there is definitely going to make a statement for sure. Combine it with a nice undercut fade starting high on the sides and it will definitely make for a wonderful hairstyle overall.
So, what do you make of this beautiful, versatile and flexible hairstyle then? It's definitely one amazing style that is going to beat all others for sure.
From undercut for boys to beautiful undercut for girls hairstyles. you have a whole lot of options to style your kids' hair with. Yes, that obviously means that the hairstyle is both for little boys and girls and it works equally well for both.
In addition, being one of the best low maintenance haircuts, it's definitely not going to be a hassle for your kid to carry it. Just a refresh every couple of months and your kid will have a perfectly styled look to flaunt everywhere without having to worry about styling it again and again.
What else would you want from a kids haircut? Just go through the options above and see which variation you'd want your kid to sport this year!