Whether you are looking for haircuts for boys or you want some of the stylish hairstyles for girls, there is a whole new lot of stylish and kids cool haircuts that are going to debut this year.
Obviously, some of these hairstyles would be completely new while the others might just be achieved by slightly varying the ones we have seen over the years.
Whatever the case, this time around we are going to have some of the most amazing New Year hairstyles for boys as well as for girls.
Whether you want your little guys to flaunt a typical and casual look or you would like them to go for something more formal, the choice is yours and you just have to pick hairstyles that go perfectly with your kids' personality.
So, let's dive into the best and the most beautiful hairstyles for kids that will allow your little ones to look uniquely awesome this year.
Spiky Mohawk With Undercut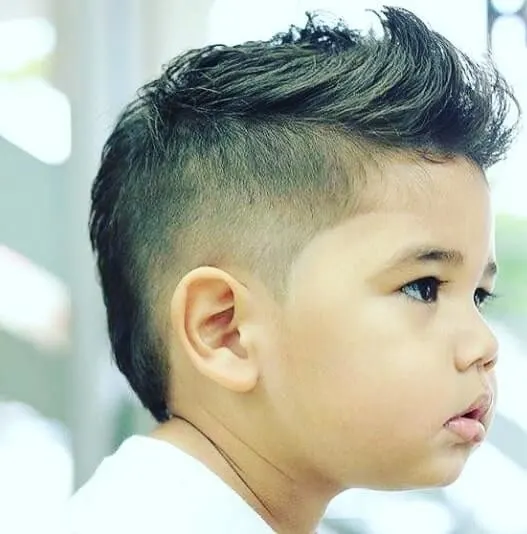 Source: Mobile_salon_by_tanya
You must have seen many beautiful looks with a typical undercut hairstyle but this one here is a bit different and more casual than anything else. The hairstyle boasts of some length on top that is styled in a beautiful Mohawk style and just looks amazing.
This Mohawk look is a bit unique in itself because it boasts of a spiky touch to the hair on top which is casually spiked up a little.
For the sides, you have a nice and simple disconnected undercut which allows you to emphasize more on the top hair where the styling is actually done. Overall, the hairstyle just looks amazing.
Side Swept Hairstyle With Edgy Front
Source: Hairbykristiannszabo
This is yet another cool look to achieve with naturally side swept hair. The hairstyle boasts of a casually side swept look on top with no clear side part at all.
Now, that's something unique because even the most casual of hairstyles often have a slightly clear parting on the side, if not a clean and clear one.
As for the stylish looks of this beautiful hairstyle, it's more about the curvy edgy locks at the front. The edgy fringe just nicely swirls at the front and it looks perfectly amazing.
Simple Side Swept Hairstyle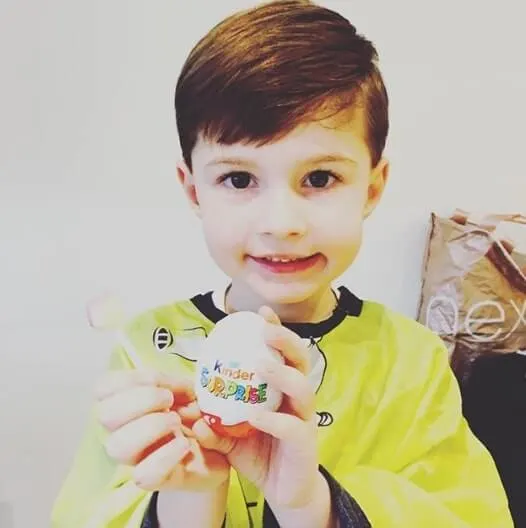 Source: Mobile_salon_by_tanya
Sometimes, as it happens, simple looks have a more stylish feel than something which is more intricate. Here we have a similar case.
This beautiful hairstyle is just perfect for nice and straight hair types and all it requires from you is to sweep all the hair to a side with a slight side part that is lower towards a side giving you wider hair lengths on the other side of the part.
There is some hair left at the front which falls over the forehead and makes for a perfectly amazing style with nicely cropped fringe. The sides can look good overall if given a nice faded look.
Casually Side Swept Hairstyle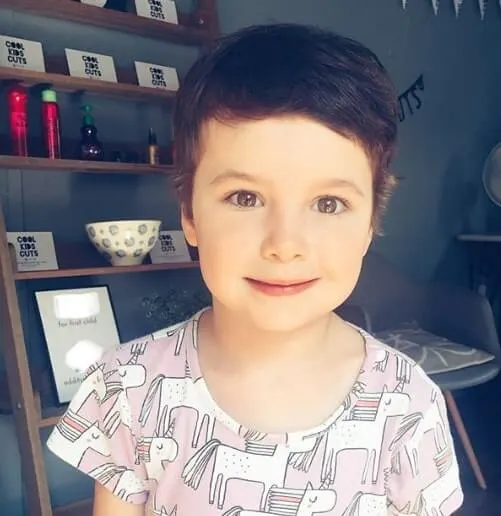 Source: Cool.kids.hair
If your little boy loves to break the rules and wants to have a hairstyle that is casual and is achieved with a bit of length on top, this is the hairstyle that you would certainly want to go with.
The hairdo boasts of casually side swept hair on top which is actually medium-to-long while the sides have a flat medium length that complements the top hair nicely and with a slightly casual touch. Overall, the hairstyle just looks amazing.
Hipster Hairstyle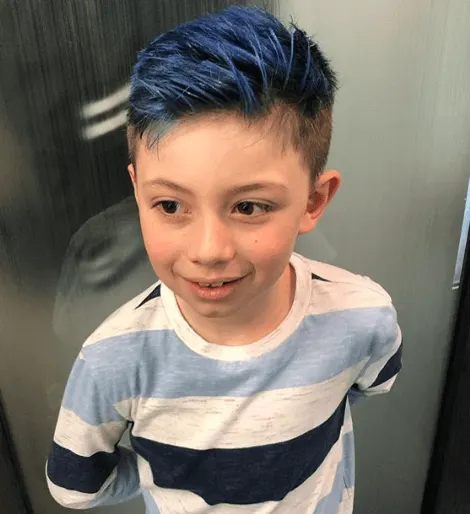 Source: Salonvogueatl
A hip and chic look is what we all desire and that's quite possible to achieve for our kids as well. Boys always love it when they sport a beautiful hipster hairstyle and, therefore, you should give them this wonderfully amazing style this year.
The hairdo boasts of a casually side swept look on top with some spiky strands just where the side part usually is.
The sides are given a nice high fade and it blends into the look rather perfectly. Dye it in a sharp blue shade on top and you have something really special ready for your kid to flaunt.
Casual Spiky Hairstyle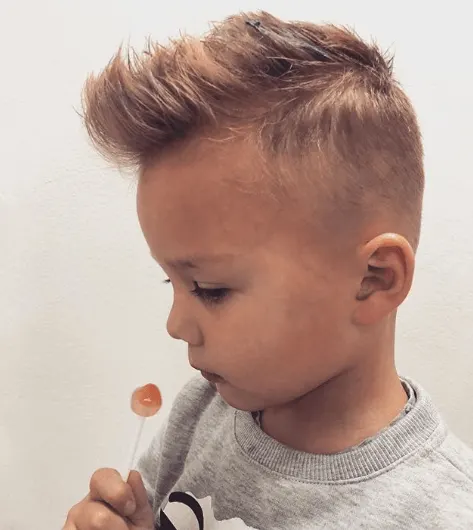 Source: Zusjehaaridee
One key element in most of the casual hairstyles for kids we have today is that they have a spiky touch to them and that's what sets them apart from the rest. Here we have a similar hairstyle that looks just astonishingly wonderful.
The hairstyle's centerpiece is that forward swept spiky hair on top which looks just astounding on blonde hair types and you would definitely want your boys to flaunt this cool hairstyle on any occasion.
The sides are kept a bit faded so that they do not draw attention and all the focus remains on the hair on top.
Textured Combed Back Hairstyle With Mid Fade
Source: Zusjehaaridee
This is more of a formal look that has a cool textured vibe to it. The hairstyle boasts of medium length hair on top that looks well-organized and nicely combed back due to the application of a strong hold styling product that gives it all the texture it has.
The hair gets faded as it moves down towards the sides and can be classified as a beautiful mid fade haircut. Overall, the top and the sides blend in nicely to create a well-balanced and stylish look.
Long And Casual Hairstyle
Source: Mrsbibididdybobiddibusby
Growing hair long all over is probably one of the coolest options to go with as far as kids' hairstyles are concerned and here we have something similar for you. This beautiful hairstyle requires the hair to be grown on top and sides at same lengths.
There is enough volume on the sides to cover the ears and a few casual edges are left unattended that really make a cool vibe.
Overall, the hairstyle doesn't require you to do much of styling or use a product to hold it all together, just let the hair grow and bring it all forward and towards the sides to achieve a perfect style.
Casual Forward Swept Hairstyle With Undercut
Source: Zusjehaaridee
As mentioned earlier, an undercut hairstyle could be achieved in so many different looks and it's up to you exactly how you would want to pull off the look.
This beautiful variation here really makes for the best kids cool haircuts as it's achieved with a different hair shade and it's casually perfect.
Just let the hair on top grow to medium length, let it be a bit edgy, and sweep it all forward rather casually to pull off an amazing look overall.
There is a perfect balance achieved with the contrasting hair lengths and the hairstyle would even work for casual parties and special occasions.
Side Swept Hairstyle With Hard Part And Design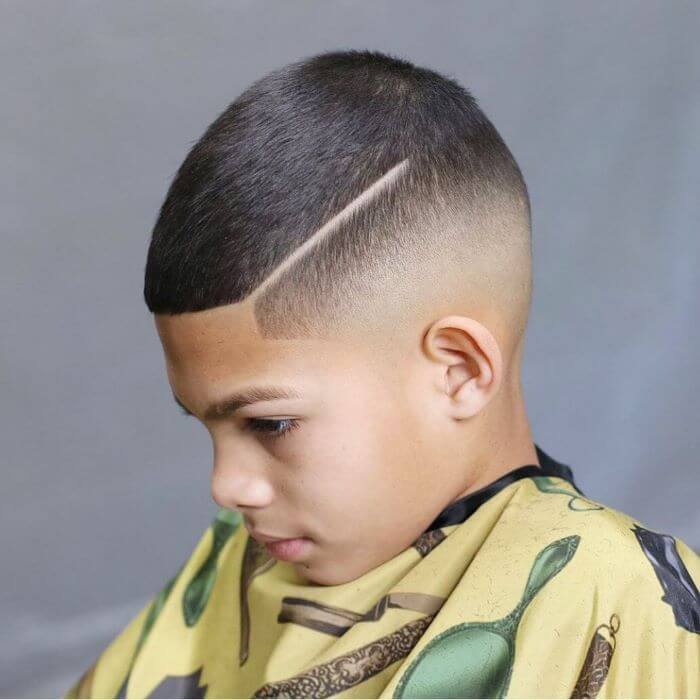 Source: Mzndl
This cool hairstyle really has some of the coolest elements to it. Firstly, it's medium length on top that is swept all the way to a side and that nice hard part is there to complement the look to perfection.
The sides have a wonderful surgical design that requires a bit of an intricate effort but it's well worth it to pull off a cool hairstyle. The hairstyle doesn't require too much of maintenance and would work wonders for busy moms.
Side Swept Short Bob Style
Source: Snipinto
When it comes to hairstyles for girls, bob hairstyles make for one obvious choice. However, you can always diversify the bob styles and go for different variations at different times.
This one here has some volume on top but it's short enough towards the bottom to be classified as a short bob hairstyle.
The hairdo simply requires you to get it in a perfect shape and then only run the fingers through to separate the strands from each other giving it a more voluminous and casual look overall. All the lengths are swept to a side while we have very short hair on the other side.
Long Combed Back Hairstyle
Source: Raisingcubs
This long and combed back look boasts of nice, edgy tips while the hair at the front form more of a combed back or quiff hairstyle look. The sides and the back have a cool undercut style and it really looks amazing.
You may have to dye the hair on top in a different color if you are willing to create a unique statement. If you're able to pull it off nicely, the hairstyle would look just amazing.
Short Bob Hairstyle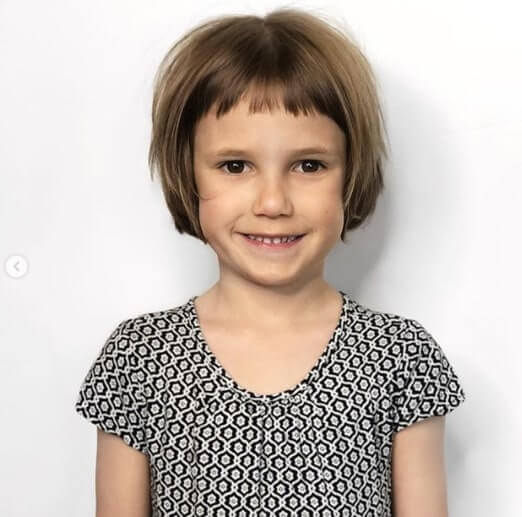 Source: Jetrhyshair
A typical short bob hairstyle, this one really is something you should opt for your little girls. The hairstyle is more about a typical bob hairstyle shape but keeps the lengths short so that it could be more easily manageable.
This beautiful look hair has something a bit different from what's typically classified as a short bob as it carries bangs that have been cropped short as well.
You can part it in the center or just leave it just the way you like and the hairstyle won't disappoint you at all.
Side Swept Fringe
Source: Strandedlifestyle
Side swept hairstyles for boys can also take so many different shapes and here we have a cool one for you.
The hairstyle boasts of medium length hair on top that looks just amazing as it is perfectly organized. The frontal fringe is swept to a side while given a slightly textured touch to it.
The hair on top is swept forward from the crown area but it moves to the side with the frontal fringe creating a unique look overall. The sides complement with an undercut that goes straight from top to bottom and makes it feel chic and stylish.
Colorful Side Swept Hairstyle With Fade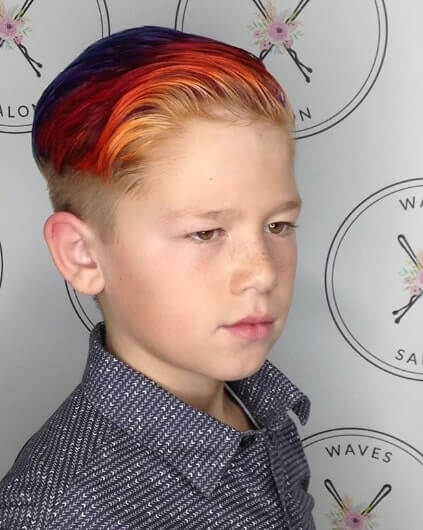 Source: Wavessalonoshawa
If you are looking forward to achieving a chic and stylish look for your little boy then this certainly is the hairstyle that you should go with. The hairdo boasts of colorful top which would look just amazing if you are able to pull off a perfect color combination.
Even if it's a single color, the hairstyle would still look perfect. The sides have a mid fade and you are sure to achieve a chic look overall.
Side Swept Hairstyle With Undercut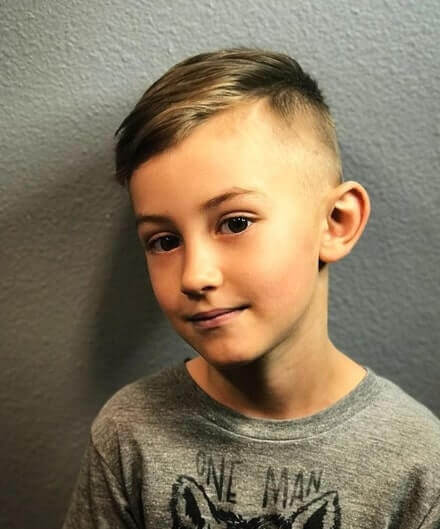 Source: Rubywoo78
A simple side swept look, this beautiful hairstyle requires you to get the hair trimmed shorter on top and nicely swept to a side.
That's all the volume you have to this hairstyle because we have a beautiful undercut on the sides that really looks amazing when you'll combine it with the hair on top. No maintenance needed, the hairstyle would not cause any hassles whatsoever.
Top Bun Hairstyles With Hair Bows
Source: Ayinthiahouston
When looking for kids cool haircuts that work best on girls, this one really stands out with all its uniqueness and cute vibe. There's just one centerpiece to the hairstyle and it defines it to perfection.
Bring all the hair back to the crown from all sides and form it into a beautiful and big hair bun right there. There are a couple of beautiful hair bows to escort the hair bun rather nicely and that is something which really makes a cool statement.
Even though the hairstyle would require a bit of time to pull off an amazing look overall, you'll appreciate the end result and so will everyone else. It's chic, unique and elegant.
Long Side Parted Hairstyle
Source: Mobile_salon_by_tanya
Long, simple and elegant, this beautiful hairstyle is all about simplistic looks. It's a go to choice when it comes to kids hairstyles for girls that make a statement without being too intricate.
All you have to do is to let your girl grow her hair to shoulder length and then sweep it all to a side.
The frontal fringe that is swept to a side will definitely make a statement. You can't ask for anything better when looking for simplicity.
Spikes With Undercut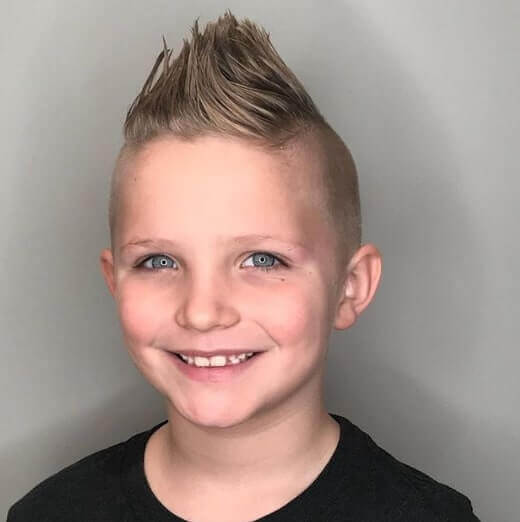 Source: Duncanbros.edmond
Looking for something funky for your little boy? This really is the hairstyle that you should give him.
The hairdo boasts of some length on the top while there is an all out undercut on the sides. The top hair looks really amazing when spiked up with the help of a styling product.
Remember you have to keep enough length on top so that you can achieve a stylishly cool long spiky look. Raise it all into the center and it will really look amazing. Your kid can flaunt this beautiful style anywhere he likes.
Side Swept Hairstyle With High Fade
Source: Zusjehaaridee
Another cool variation of the side swept hairstyle, this beautiful look is all about side swept long and beautiful locks that are all kept close to the head. There is no high quiff or, maybe, a pompadour style as the hairdo would look amazing in its own unique fashion.
There is a gentle side part that is still quite evident but, obviously, it's nothing like a hard part. The hair on the sides is given a high fade and it complements what's there on the top rather elegantly.
So, if you are planning to take your boy with you to a formal event, you should definitely go with this beautiful hairstyle.
Angular Textured Hairstyle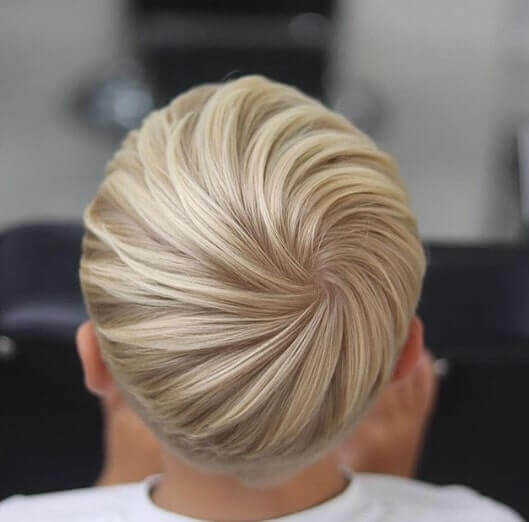 Source: Modernsalon
Textured hairstyles have been in the lime light of late and this beautiful hairstyle gives it a whole new touch. Making the hair to angle out in different directions starting at the crown, this beautiful look creates a unique vibe.
The nice natural texture on top makes for an exclusive look that can be worn both in daily routine and also on special occasions. If you are willing to experiment with the look, you can flatten it out too and get rid of the textures.
Long Side Swept Hairstyle With Trimmed Side
Source: Jacquilynnicole
Long hair always looks amazing and when little girls style it in a unique way, it makes a unique statement.
Parted on the side, there is long grown out hair all over but just a single side is trimmed short. It might appear a bit odd to many, but still it is one of the most unique and stylish looks around.
Even though there aren't many style elements to this look, the hairstyle is still quite low maintenance and won't require you to run after your kid for styling her hair or giving her a haircut every now and then.
Casually Side Swept Hairstyle With Edgy Fringe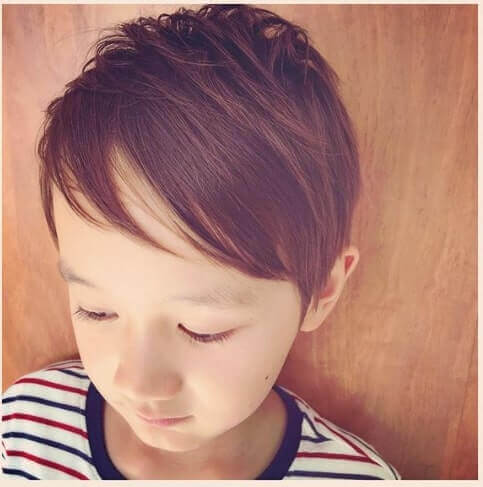 Source: Nipi_2
For boys who don't always like to have a hairstyle that requires too much of styling, this really is a perfect look to flaunt.
The hairstyle boasts of long-grown hair all around and it is swept nicely to a side while keeping it all tight and close. The frontal fringe actually makes a statement with its cute, unique, and edgy appearance.
The length on the sides is also kept the same as what you have on top. In fact, some strands on top are extended so much that they fall over to the sides eventually. Overall, it's a cool look that can work just fine for any occasion.
Bob Hairstyle With Rolled Fringe And Dyed Hair
Source: Kimicoopet
This beautiful variation of a typical bob hairstyle speaks volumes about its unique and wonderful look. Obviously, for achieving the look you have to get a typical chin-length bob hairstyle.
Dye it half way through in the color as depicted in the picture above and you have something that can make a unique style statement of its own.
Want some other style elements to be added to the look? Roll the frontal fringe over and secure it towards a side for a perfectly amazing look. Your girl will love it and so will everyone else.
Casual Forward Swept Spikes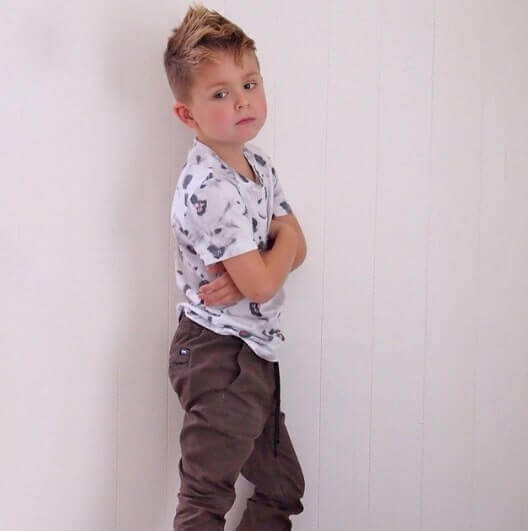 Source: Kye__hawkins
This casual hairstyle works perfectly fine even in the daily routine but you would like your little one to wear this beautiful hairstyle to parties and day outs with the family.
Even if his school code is a bit lenient, you might want to let him wear the hairdo to school as well. Whatever the case, the hairstyle has some amazing vibes to create.
The look can be achieved to perfection if you are able to get the haircut right. Just leave medium length hair on top and get him a nice and clean undercut on the sides. You may even go for a high fade haircut on the sides but that's completely your choice.
Once done with the haircut, just sweep his hair forward and up gently and give it a nice spiky look overall. The frontal hair can be made to fall over the forehead or you can also raise them up to make it an all out spiky hairstyle. The final look will be just amazing and your kid will surely love it.
So, these are some of the kids cool haircuts and they all have a unique statement to make. Your kid is surely going to look the coolest everywhere if you let him/her sport one of these beautiful hairstyles here.
Just keep in mind what the occasion is for which you would want to give him a haircut. And, even if you are looking forward to a routine haircut, make sure that you go with something that will be in accordance to the face shape and hair type of your kid.
After all, you would want him to look the coolest and there is no point in sporting a look that doesn't make him/her feel like that. So, now simply go through these options and see which of them you'd like to go with.