Ready to take on New Year 2023? Among all the preparations you have to do, it is important that you pay attention to your style and how you are going to look at the New Year Party. More than that, the style of your little girls matters too. You have to be picky about your girl's style and pay attention to how you will be styling her hair, outfit, and giving her an overall chic appearance. Every year, you can come across a plethora of New Year hairstyles and it is really important that you make the best picks to give your girl a new pop of style.
10 New Year Hairstyles For Girls 2023
Among all the amazing options for girls hairstyles, you can easily get lost and would find it hard to pick the best hairstyles for your little girl. So, let's make the job a whole lot simpler for you and run you through some of the best hairstyles for girls for this New Year Eve.
All-Over Curl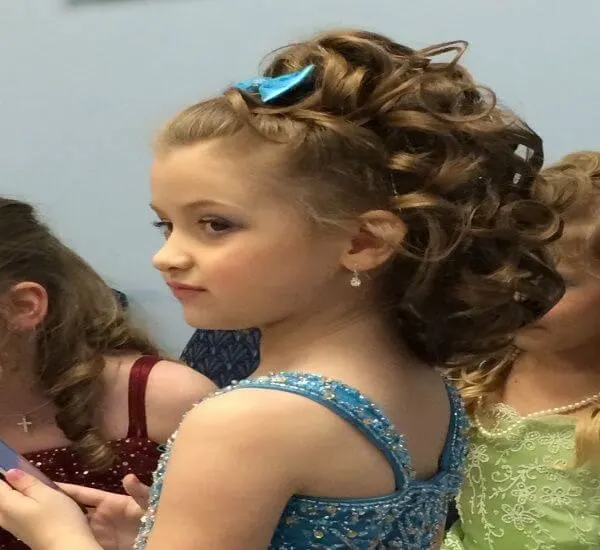 Those springy spirals tend to look fun, flirty, and just perfect for the New Year's Eve party scene. If your little girl has naturally curly hair, that's the best thing you could have for styling her hair. However, if you're going to do some styling with her straight hair to make it an all-over curl, you should use 1-inch tapered curling wand for giving a boost to her typical bob before misting with an adequate amount of hairspray so that the curls could be given a fresh look that remains throughout the party night.
Mixed Halo Braids
Source: Instagram
Braids are the first choice hairstyle for girls. But what if you have to give it a fresh look for the New Year Night? Don't worry; braids can be styled in any way you like for complementing a fancy occasion. Just have a look at this mixed halo braided hairstyle which is very much capable of giving your girl a completely fresh look. Make four sections out of her hair and braid the pieces on the front before coiling it around her head and pinning it away. The sections on the back should be twisted and the pinning process must be repeated again.
Mini Zigzag Parting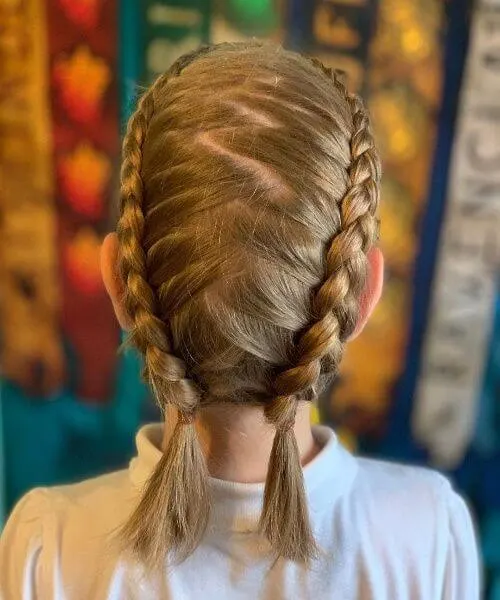 Source: Instagram
This really is a cute and simple look to achieve for the little girls on New Year's night. It's a popular childhood trend for years and it is not going anywhere in 2020 either. Parting the bangs with an angled part, and taking the rest of the hair back and on the sides just the normal way, this hairstyle could speak volumes about the simplicity and stylish looks of your little girl. It can make a perfect edgy look for those high-volume party hairstyles.
Princess Hair Bow
As cute as your little princess is, this beautiful bow hairstyle makes an equally cute statement for her on New Year's Eve. The hairstyle has unique vibes to deliver and makes a perfect choice on those party days. In fact, it will really make your little girl look like a princess. Taking a couple of strands on either side all the way to the back, and knotting it around in the center, make a beautiful hair bow while leaving the rest of the hair open and flowing naturally. A side bang falling over at the front makes a unique style statement too.
Disco Buns
If you want to give your little girl's routine space buns hairstyle a new look, this is the way to go about it. This is the Holiday Sparkle does it needs for the New Year parties. For achieving a cool look overall, mix some clear hair gel and your desired glitter before painting it onto her part with the help of a dye brush. Yes, that's a disco look you want your girl to have on New Year's Eve.
Cool Side Swept Hair Bun
Giving those Chignons a new Holiday style, this cool side-swept hair bun makes a perfect choice for a New Year girls hairstyle. A voluminous low hair bun can be a perfect choice for bringing her sweet side out on the New Year night. You can simply achieve this look by separating a 3-inch frontal hair section and pulling the remaining hair into a nice low ponytail on the side. Twist small pieces in the ponytail and pin it up to create a bit messy but stylish hair bun. After that, drape the frontal section loosely and frame her face before pinning it into the hair bun.
Side Braids
For those rocker girls, this is the latest hairstyle for the New Year's party and every little girl would adore this beautiful look. For styling purposes, use a styling wand of your choice for creating an all-over messy and wavy look before parting her hair on aside. Grab her hair from smaller side to work it into a nice, single Dutch Braid which wraps from just where the part begins to nape of her neck. Overall, it will present a pretty cool look.
Ribbon Braid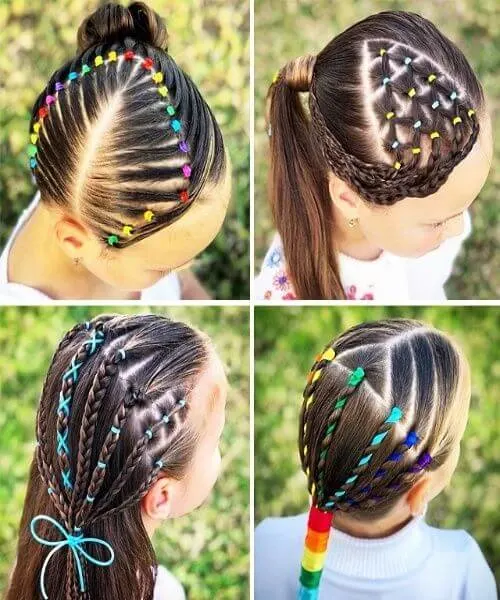 Source: Instagram
Ribbons make a perfect choice for the New Year parties with all the colors of the festive season evident in your girl's hairstyles. This beautiful hairstyle is no different either. For achieving this beautiful look, take some pomade and dab it onto her dry hair for giving it some grip. Now, grab some colorful long ribbon and simply wrap it up on top to resemble a typical headband and tie it at her nape. Gather all her hair to a side before braiding it and working the ribbon in just as you continue braiding. A colorful and chic look, this is what everyone would appreciate on the New Year's Eve.
Fishtail Bun
A cool and simple hair bun is a typical hairstyle for little girls but what if you can give it a little twist of style. Make a fishtail out of her hair at the back and then form it into a nice and cool hair bun at the back letting some braided sections pop out. The hair on the top should be kept messy for creating an overall stylish impact. The hairstyle makes a perfect choice for parties, especially, in the New Year.
Wispy Top Knot
In case, your plans for the New Year's Eve are completely casual, why not choose a nice laid-back hairstyle which is still festive enough to make a perfect hairdo for the New Year parties. Just twist up her locks and allow some strands on top to loosely fall around her face for creating a dramatic impact. Secure the rest of her hair into a nice and cool hair bun on top and make a perfect style overall.
Finding something new, stylish, and cool every year for New Year's Eve is something challenging, especially when you are looking for hairstyles for little girls. However, if you have the sense of styling and you can single out the best options from the top new trends, you'll be covered as far as your girl's styling needs are concerned. Check out these New Year hairstyles and make a pick!