Short haircuts are setting new standards in little boys and girls hairstyles for its simplicity. Most parents love short haircuts for kids because these hairstyles are not only easy to maintain but also give young boys a stylish and fashionable look.
However, just one thing you have to keep in mind is that just keeping the top short is not going to help you too much in giving your boy or girl a trendy look.
Rather, you have to be on top of the fashion trends and see how stylishly you could carve out something that really stands out and gives your kids a charming look and feel.
Here we have listed some of the best options you should consider for your little girls and guys to make the choice easier for you. Let's go through it and see what's trending.
Short Haircuts for Boy Kids
However, you have to be mindful of the fact that there are different requirements for different types of hair and you should be choosing your kids' hairstyles accordingly as well. Let's go through a few best short hairstyles for boy kids that work for different types of hair.
The Classic Crew Cut
The crew cut is a timeless and versatile short hairstyle for kids. With this style, the hair is cut short all around the head, creating a clean and neat look. The crew cut is easy to maintain, making it perfect for active kids. It suits boys of all ages and works well with different hair types and textures.
Trendy Mohawk
For a bold and edgy look, the Mohawk is a fantastic choice. With this style, the hair is shaved or cut very short on the sides, while the center strip is left longer and styled upwards. The result is a stylish and attention-grabbing hairstyle that adds a touch of attitude to any kid's look.
The Playful Pixie Cut
The pixie cut is a cute and charming short hairstyle that suits both girls and boys. It involves cutting the hair short all over the head, creating a youthful and playful appearance. The pixie cut is low maintenance and allows for easy styling. It's a great option for kids who prefer a short and sweet look that showcases their vibrant personality.
Simple, Short, Side Swept Hairstyle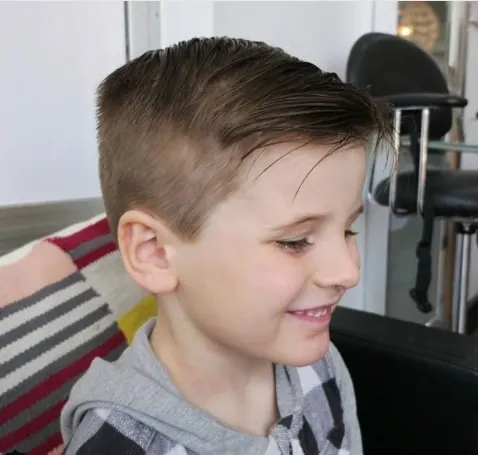 Probably the best thing you can do with thin hair is to style it towards a side. Keep it short and add natural texture to the hair as you sweep it with a wide-tooth comb.
Make sure that you have a nice side part and you give a high fade on the sides for keeping the look perfectly organized and stylish at the same time. Apply a bit of hair spray on top to make sure that it stays intact.
Side Textured Tapered Haircut

One of the best short haircuts for kids with fine and thin hair, this one might require you to keep the hair in short-to-medium length range. The key, however, is to take it to a side and then give it a perfectly textured vibe.
Make sure that it's slightly raised up as you take the hair to the side as it will add a unique touch of style to his hairstyle. Secure it into place with the help of a strong hold styling product and you're good to go.
Short And Spiky Side Swept Hairstyle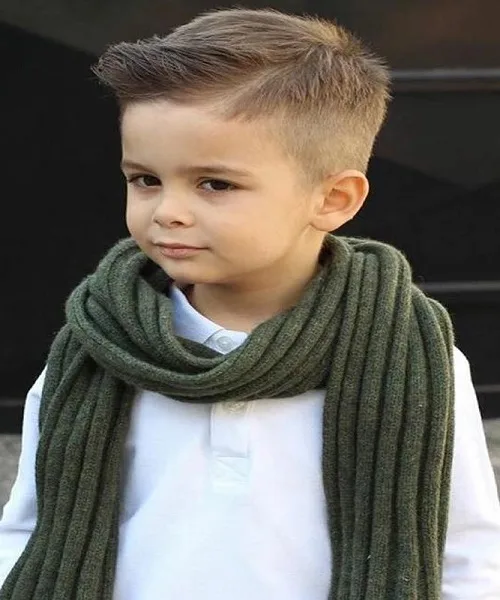 This really is another wonderful look to flaunt for kids with thin hair. It's a fact that thin hair can always be spiked up to perfection if you can apply a strong hold styling product to them. So, why not take advantage of your kid's naturally thin hair then?
Just keep it short and sweep it to a side while maintaining that spiky and textured look on top. Keep it faded on the sides and the hairstyle will really look amazing on your little one.
Ivy League Haircut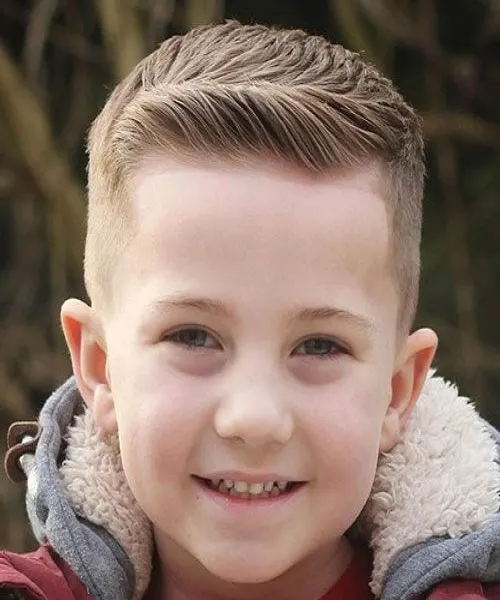 This beautiful hairstyle really makes a statement as it's very stylish and classic. The hairstyle looks quite smart and is very easy to achieve as well. The hairstyle is just perfect for the thin hair types.
Give it a close cut and the style will look very full on top and a skin fade haircut on sides can help emphasize the top even more. A perfect hairstyle with a perfect combination.
Short Combed Back With Skin Fade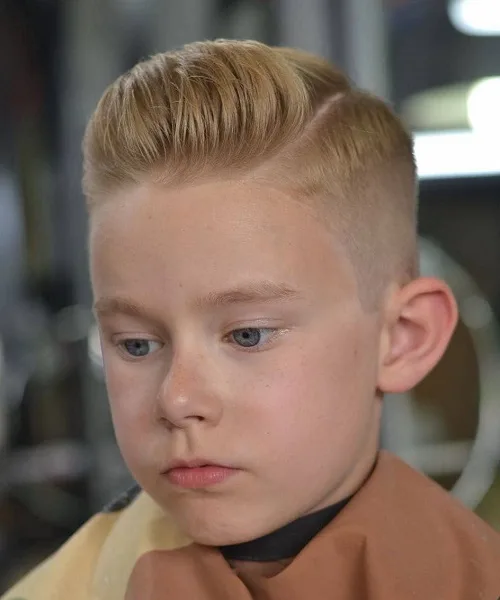 For a nice and organized look to be achieved with naturally thin hair, you should give your kid a combed back look with skin fade on the sides. Keep it short and it will look very organized and beautiful.
Short And Choppy Curls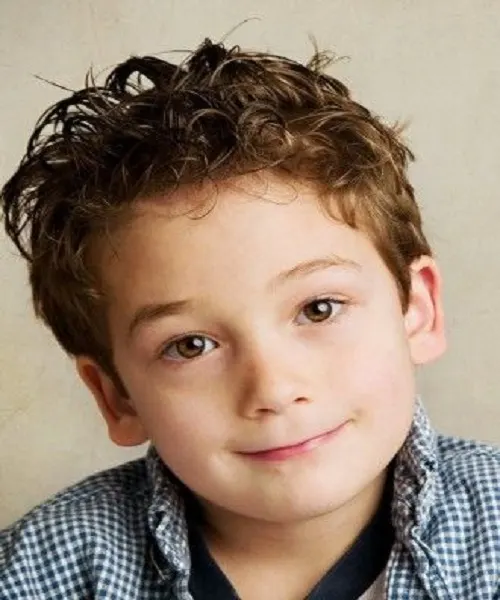 If you want to give your boy one of the best short haircuts for curly hair, this one is surely the right choice to make.
The hairstyle will effectively tame the curls of your little kid and will give him a more organized and stylish look. Get the curls cut shorter and keep them close to his head. You'll eventually be able to achieve huge texture on top.
Short And Messy Style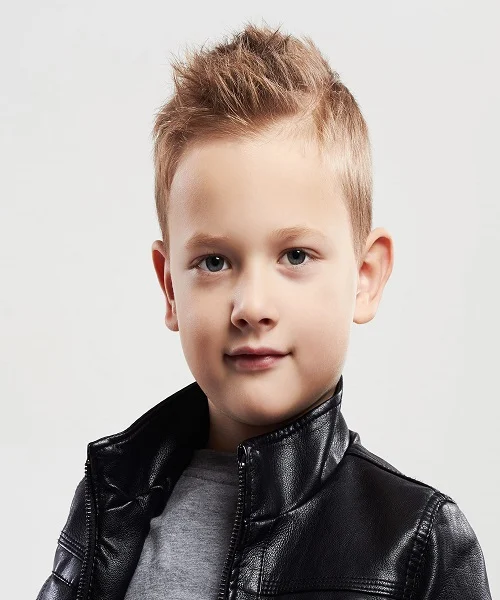 Want something more casual and stylish for your little guy? Just keep it short and make sure that it's messy on top.
You can always go for a fade on the sides as it can balance things out with all that mess you have created on top. Overall, it's a stylish look and works fine on any given day.
Extra Short Curls With Spiky Texture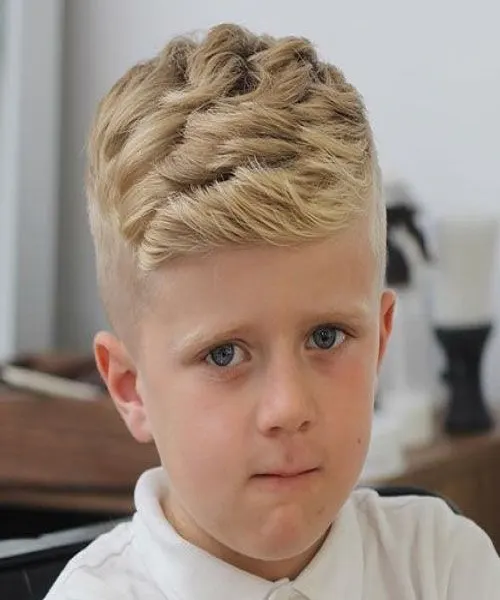 One of the top hairstyles you would like your kid to flaunt on any day, this one requires you to cut the curls way shorter so that some spiky texture can be achieved on top.
It really looks amazing and you can style it either with same length on the sides or go for a fade haircut to keep the nice and organized look going right throughout.
Tousled Top And Shorter Sides
This is one timeless look that can create a unique vibe for your kid on any day. The hairstyle boasts of some nicely tousled hair on top and it really looks cool with shorter sides.
Obviously, the curls get straighten out on the sides as it continues to get shorter there. Nevertheless, it creates an appealing feel.
Kids Short Haircuts for Wavy Hair
Wavy hair is slightly different from the curly hair type. Obviously, you're not dealing with the all out curls hair rather the hair is a bit rough and naturally wavy.
Some similar short haircuts would work for wavy hair as well but here we have listed a few of the best choices you could make for your kid. Let's run you through them.
Textured Crop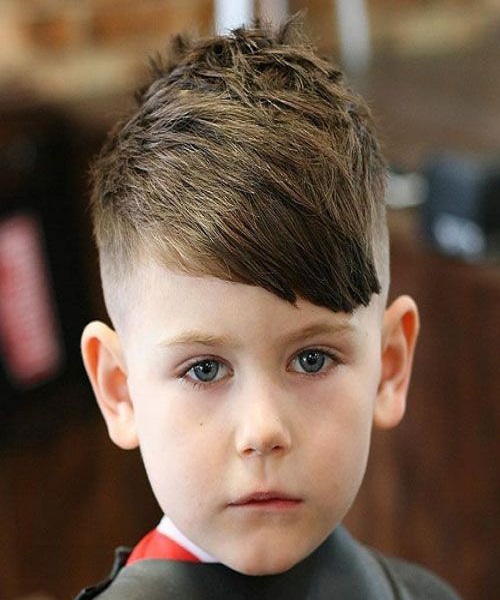 This year, the trend for textured crop hairstyles is about coming up with the texture and definition that is already there in the wavy hair type.
Keep it a bit layered and apply some texturing product to keep the natural wave going. Go for a mid fade on the sides and you have a perfect hairstyle ready for your little one.
Side Parted Hairstyle With Low Fade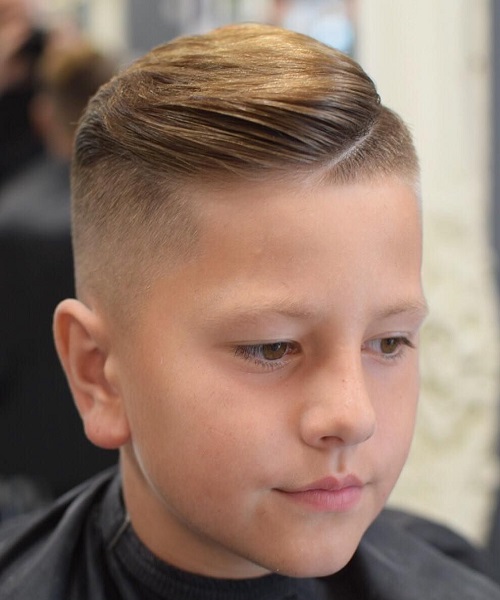 You can always take the naturally wavy look up a notch by styling it with a side part and sweeping the major chunk on top to a side.
Keeping it short will mean that you'll be able to achieve a couple of natural waves only but that's enough to keep it looking stylish. Add a low fade to the sides and that's the hairstyle you'd want to give to your little one for both formal and casual settings.
Slicked Back Waves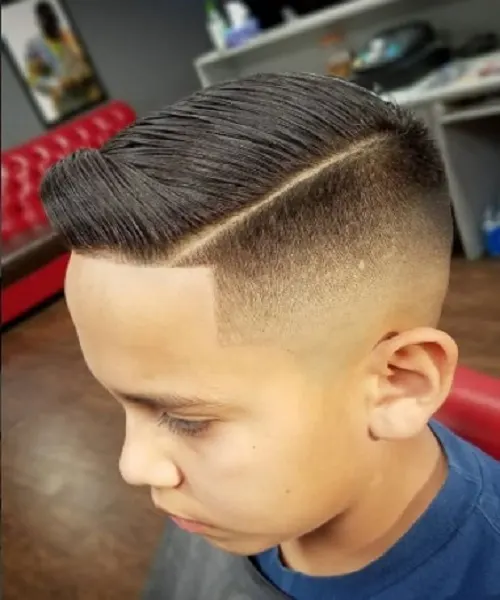 You may have heard a lot about the elegance and brilliance of slicked back hairstyles, but if you can give it a naturally wavy look, nothing can really come even close to that. You don't really need to apply a glossy hair product and slick it all back close to the head.
Rather, just keep it natural and simple and your boy will have a wonderful hairstyle to flaunt. Fade on the sides will balance it out perfectly as well.
High & Tight With Wavy Top
A look that features very short hair all over but those on the top have slightly bigger length. Obviously, you have to style it with a high fade on the sides. The top hair is kept naturally wavy and just brushed back to make those natural waves pop out in style.
The natural texture also looks really amazing and the hairstyle doesn't really need much of maintenance either. A perfect hairstyle for your kid on all fronts!
Short Forward Swept Waves With Skin Fade
When you have to keep the hair short and still let the natural waves make their way into the hair on top, this is certainly the best hairstyle you could give to your kid. The hairdo boasts of some natural waves achieved with forward swept hair on top.
The best part is that your kid will just have to run his fingers through and style it in whatever way they like. The skin fade on the sides makes a statement as well and it really blends in well with the overall scheme.
Kids Short Haircuts for Round Faces – Boys
Looking for the best short haircuts for round faces that would work for your little one better than anything else? Here we have a few options you may want to look at.
Short Spikes
Spikes hairstyles have long been popular among boys and men alike and they really make for the best and timeless look. For kids with round faces, short spikes would do the trick rather nicely.
Just make sure you keep enough length on top that it can be spiked up and you'll need to apply some styling product to pull off the look to perfection. Keep the sides faded so that the emphasis remains on the spiky top.
Side Parted Hairstyle With Short Side Swept Top
Side parted and side swept hairstyles work perfectly for round faces. Just make sure you have it short and nice with some natural texture achieved while sweeping it to a side.
It's quite a delicate look overall and can work on both formal and casual occasions. Add a bit of volume to the front for creating more modern and trendy look.
Short Brush Up Hairstyle With Mid Fade And Hard Part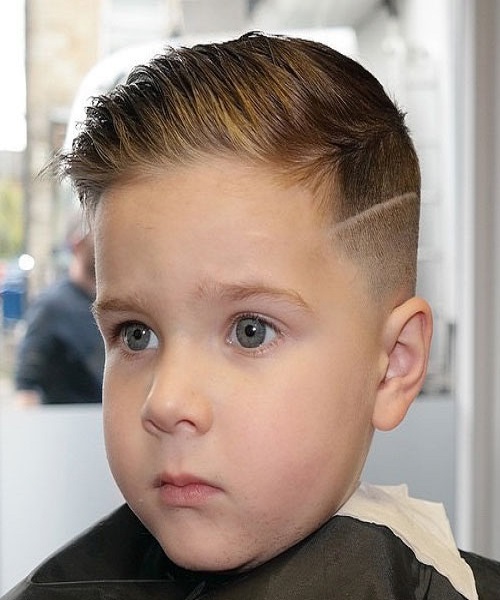 This really is one of the trendiest short haircuts for boys around. Just keep it short and simple on top, brush it up after applying a glossy styling product to add a bit of sheen and texture there and your perfect hairstyle is ready.
Sides have a mid fade and there's a hard part to define the look.
Spiky Top With Undercut
Another cool look that not only caters to the needs of organization but also covers it nicely for the round faces as well, this one really isn't too hard to achieve. Just keep it short and spiky on top and experiment with the direction of the spikes just the way you like.
It would be advised, however, to keep it going towards a side for a perfect look. An undercut on the sides complements it to perfection.
Spiky Top With Undercut
Comb over hairstyles have long been touted as the perfect choice for kids with round faces. So, you should definitely go with this beautiful look. Just make sure that you keep it short on top and comb it over nicely all the way to the back or a side.
Both the options would work perfectly fine. For more of a retro style, try not to go with a part on the side. Also, keep the sides and the back faded to make for an even better look.
Short Haircuts for Girl Kids
When it comes to short haircuts for girls, you are never short of options here either. The idea, again, is to make sure that her hair looks more organized and she gets a special vibe for all sorts of occasions and settings.
From short bob hairstyles to pixie haircuts, you have a variety of options to choose from and can really achieve something trendy and low maintenance with a bit of effort. Here we have categorized different types of short hairstyles for little girls. Let's have a look.
Short Bob
Girls with thin hair looking for short haircuts can't really find a better choice than this short bob hairstyle. It's one of most versatile looks out there which is quite low-maintenance as well.
Adding a touch of fun and sophistication, the haircut will give your girl a world of confidence. Just keep it short and not extend beyond the chin. The top can be styled in whatever way you like.
Bowl Cut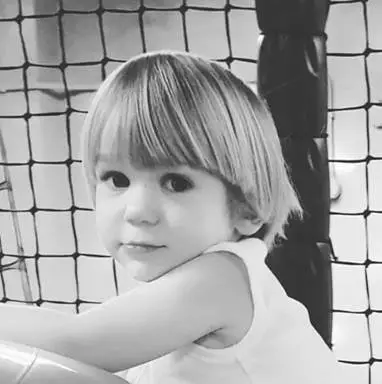 The rounded ends and the center part on top make bowl cut one of the most unique hairstyles around for little girls.
Typically, the head is buzzed lower down the back and the hair on top is trimmed at almost same length to cover brows as they rest on top of the cheekbones. The hairstyle will make your girl look stylish, elegant and beautiful.
Blunt Pixie
Pixie haircuts remain to be a top choice for girls among short haircuts and they really look cool as well.
A blunt pixie haircut would be a perfect choice for school, events and all occasions your girl would like to wear a stylish haircut on. Add a short fringe to naturally accentuate her brows and eyes.
Combed Back Pixie Haircut
Yes, you can style pixie hairstyle in whatever way you like and if you want to completely transform your girl's looks, you can go with this combed back hairstyle.
Simply dry her hair on top and delicately tease the hair using fine-toothed comb so that some volume can be added to the top. That's it, your girl is ready to flaunt her beautiful style.
Asymmetric Bob Haircut
Your best option to style your girl's hair in this beautiful style would be to go for a side part.
When styled with her naturally thin and fine hair, it will look more like a classical short bob hairstyle to a side of her face. However, it will grow much longer gradually. It really is a chic hairstyle and your girl will love it for sure.
Cutting hair short for girls with naturally curly hair is definitely going to make your job easier, especially, when it comes to organizing it and keeping it well-maintained for as long as you'd like.
Nevertheless, some curls will still look amazing and they will add to the personality of your little girl too. Let's check out how you can style your girl's curly hair in the best way with some top trending short haircuts for curly hair out there.
Curly Pixie
For girls with naturally curly hair, this one really makes for a great choice. The hairdo is quite effortless to achieve and can give your girl a beautiful facelift too.
Get the natural curls trimmed into a typical pixie haircut and allow the weight on top to make a statement. The hairstyle will really look cool on your little girl.
Brushed & Textured Curly Hairstyle
If you want to keep it short on top and do not want to go with an all out curly hairstyle for your kid, you can simply cut it short and brush the curls in a way that it gets relaxed.
After that, apply some texturing product and ensure that the look is kept intact, at least, for the entire day.
Tight Ringlets
Her beautiful tight ringlets really deserve a bit of applause and you should definitely allow her to show them off.
Try to make sure that she wears it loose but make sure that there's no over-powering effect. A stylish short Afro haircut would make a perfect choice.
Shoulder Length Curly Hairstyle With Bangs
If you classify shoulder length hair among the short haircuts then you should definitely try this beautiful hairstyle.
Just let her naturally curly hair to run to the shoulder length and add some bangs to it for giving it a contemporary style and a cool refresh. Everyone will surely praise the unique style of your little girl.
Short & Voluminous Curls Styled With Deep Part On The Side
The title describes this hairstyle very well, and that's all this one is about. You have to keep the top short and still voluminous enough to create an impact.
Style it with a side part that goes deep to achieve a winning style for your little girl. The hairstyle will work perfectly fine in both formal and informal settings.
Short Curls With A Vintage Touch
A bob hairstyle that is achieved with well-defined and tight curls always makes for a cool vintage aesthetic. It's that simple to achieve this wonderful hairstyle.
You can also experiment with the look to add a bit of contemporary vibes to it as well by shaving the sides off, but even if you go with the original style your girl will look really cool.
Now, let's come to the cool hairstyles and short haircuts for wavy hair that you can give to your little girl. Yes, as is the case with boys' hairstyles, many curly hairstyles would work for wavy hair too.
However, if you want to go for something more unique, here we have a few on the list for your little girl this year.
Wavy Lob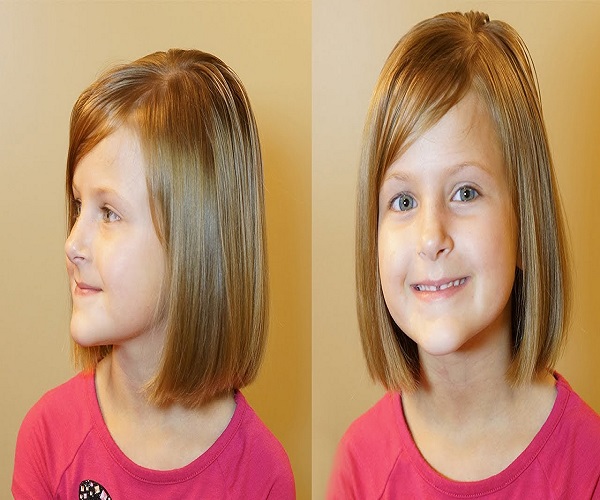 Even though a Lob haircut is a longer variation of a typical bob, it's still classified among the best short haircuts for girls. In fact, it's a go-to choice when you're planning to give her a hairstyle that is quite effortless to achieve and is very stylish at the same time as well.
For a perfect wavy look, it is advised that you style it with some loose curls. Whether you want to secure the look with some styling product or just want to leave it as it is, it'll work just fine.
Short And Wavy Bob
What about a typical bob gone short and wavy? Yes, it will look amazing on your little girl but only if the hair is cut to perfection. You can try some layering techniques for achieving a bit different thickness.
Adding layers right through to the ends will create a perfectly messy and bedhead type look which is going to make a unique statement on any casual day. It will surely make your girl look cute, playful and just amazing.
Inverted Wavy Bob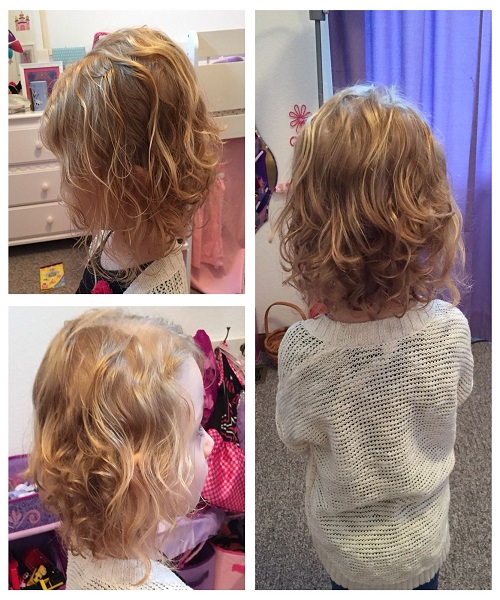 Why not give your little girl a look of a celebrity with an inverted bob hairstyle? Yes, this is one of the best short haircuts for wavy hair that's going to be trending this year.
The hairstyle is shorter towards the back while it has some length towards the front. The hairstyle is very low maintenance and doesn't need too much of styling either.
Wavy Pixie Haircut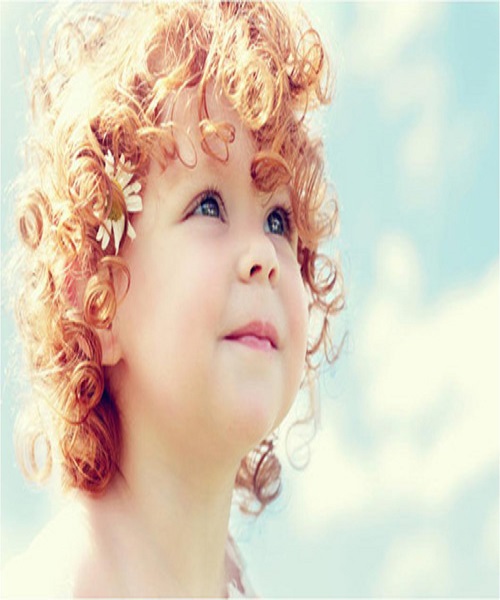 The Pixie haircuts can take whatever shape you'd like them to take. Whether you want to keep it short all around or prefer to go with some length towards the front, it will create a chic and sleek vibe.
For a perfectly wavy look, however, you can always give your little girl a beautiful party hairstyle. You can even achieve a perfect look by styling it with a beautiful side part and can even go for a straight back style. The choice is yours.
Short Thick And Wavy Hairstyle
For girls with naturally thicker locks, this is the hairstyle to go with. Give her a blunt cut and add long, subtle layers around her face. Light layering of the tresses makes a perfect choice for thick hair as it encourages the waves to stand out.
It is advised that you go with more of a voluminous look as that's going to create a unique, trendy impact giving your girl one of the best short haircuts around.
If you are looking for the best short hairstyles for little girls who are just in their toddlerhood or have simply grown past that age, you don't have any lack of options here either.
There are a variety of hairstyles that you can choose and here we have the top 5 of them for you.
Rounded Bob Hairstyle With An Angled Fringe
Whenever you're looking for short haircuts for little girls, you'll find some type of bob hairstyle on the list. This one with a fringe cut looks more of a tomboy hairstyle that has a little feminine touch to it.
Styled with bangs swept to a side, it conceals the ears and the forehead rather nicely. It really looks nice on little girls and makes for a perfectly unique vibe.
Bob Hairstyle With Braided Top
Another cool variation of the typical bob hairstyle, this one is unique in the sense that it features some cool braids on top.
The top is sectioned off from all sides and cool horizontal braids are created to add a touch of uniqueness and style to the hairdo. Accessorize it to secure the braids to perfection and add another chic element to the hairstyle.
Asymmetric Pixie Haircut
Even though the hairstyle features short hair for creating a beautiful pixie hairstyle but it's cut in an asymmetric fashion.
You can also name it as a cool side-swept pixie haircut and it really looks amazing. The hair is not cut in same proportion right throughout and this asymmetric look is just amazing.
Short Bob Hairstyle With Frontal Bangs
Combine a typical short bob haircut with some frontal bangs and you have a wonderful hairstyle ready for your little girl.
Frontal bangs falling over the forehead always look pleasing to the eye and they're just perfect for little girls. Just make sure that you get her a perfect haircut and then forget about maintenance and other issues like that.
Stacked Bob Hairstyle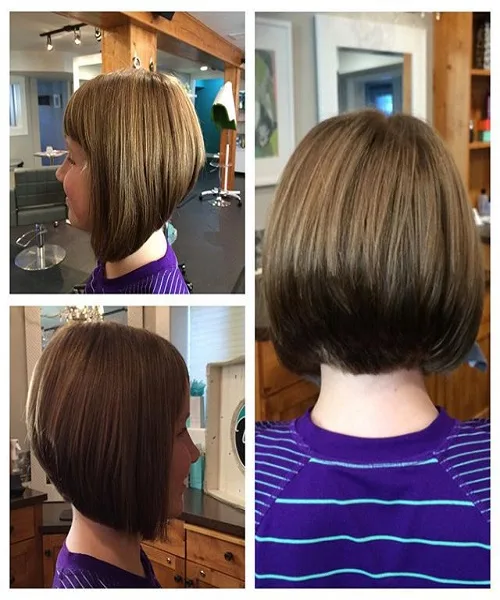 A stacked bob always makes a perfect choice for little girls and it will flatter the face shape of your little girl too. With some volume on top and the sides, the hairstyle will surely make her look cute.
A perfect look can be achieved with a center part on top and everyone will definitely praise your little angel for her cool style.
For little girls, there are a few options available when it comes to short haircuts for round faces and there are many that will be trending this year and beyond. Here are a few of them.
Short Bob With Dented Curls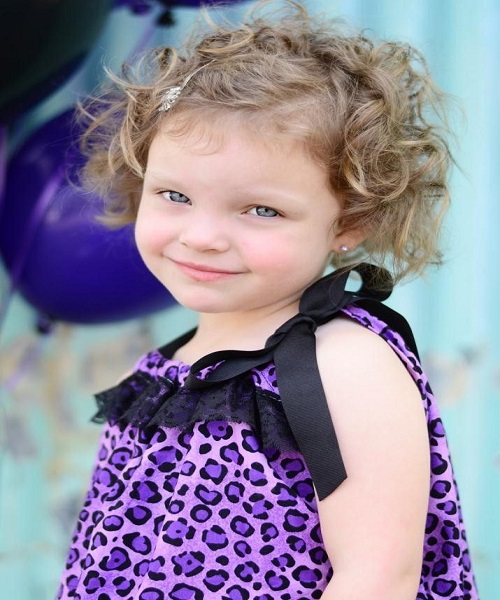 Quite a contemporary and chic look to wear, it's one of best short hairstyle options available for little girls having round faces.
The dented curls towards the tips really look flattering and they make for a uniquely beautiful vibe overall. You may even add subtle highlights as well to achieve an even better look overall.
Parisian Short Bob
This Parisian-inspired bob hairstyle variation makes for a wonderful choice as far as little girls with round faces are concerned.
The edges of the hairstyle are slightly feathered and it also boasts a side part with hair pinned up nicely. The hairstyle will definitely flatter her pretty round face and you don't need to have any doubts about that.
Edgy Bob With Dutch Braided Side
Looking for something that not just works for round face of your girl but also looks stylish as well? This one really is a perfect party wear that will create a unique statement for your little girl. The hairstyle boasts of a side parted look with one side of the bob left open and edgy.
On the other side of the part, a Dutch braid is created starting at the front and going swirling towards the back. This one will really look cool for your little girl.
Flapper Bob Hairstyle
Yet another cool hairstyle for little girls with round faces, the hairstyle has quite a reputation for making little girls look stand out.
The hairstyle is cut extremely short while the bob is rounded and is given a poker straight style. Add wispy bangs and it will look really amazing.
Textured Bob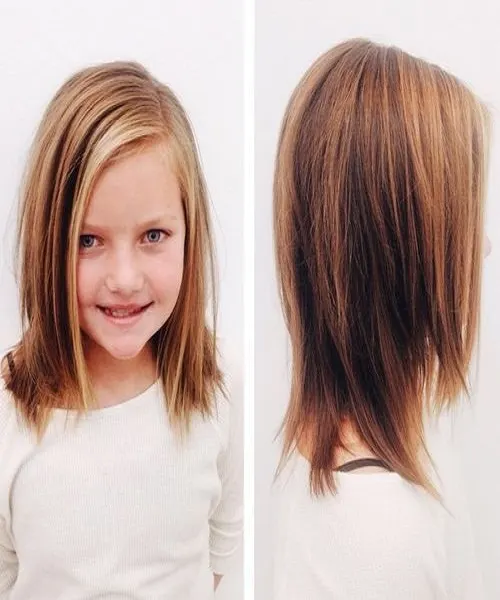 A typical wavy bob, this one really looks cool on little girls with round faces. Obviously, it's not an everyday look and rather the hairstyle makes a great choice for special occasions and parties. There is a side part with hair on top swept to a side as well to finish it off in style.
So, go for the most stylish short haircut for your boy or girl kids. The options are endless and you're sure to find something that will make your kid look standout.