Girls always look adorable in the short haircuts and they don't require too much maintenance either. So, what could be better than a hairstyle that is both practical and aesthetically pleasing? and gives you all the special vibes on those exclusive parties? In fact, there is a wide variety available in short haircuts for girls as well and you can find some amazing looks for your girl to sport on a party night. Let's explore all the options that are available to you.
Top-Notch Short Haircuts For Girls For Parties
From short wavy hairstyles to sleek bob haircuts, there are all sorts of amazing options available in short hairstyles for girls. You just need to understand which one is going to work for your little girl and when. To give you a feel of what some of the best short haircuts for girls look like, here we have a cool collection of some beautiful hairstyles.
Bob Haircut With Wavy Fringe
Nothing can be better than this beautiful and wavy bob haircut. The hairstyle boasts of some volume on top and it is swept elegantly to aside. The fringe is intentionally kept a bit longer so that it goes curling down to a side and makes a unique style statement. The wavy volume at the back looks equally good on this beautiful blonde bob hairstyle.
Vintage Bob Haircut
If you want more of a vintage look for your little girl on the special event that you guys are going to attend, this vintage bob haircut makes a perfect choice. The curving part which creates something in the middle of a center-parted and side-parted look with equal length hair coming down from the top makes a cool vibe. The nicely trimmed shorter hair at the back makes the hairstyle look more organized and stylish. It also makes a perfect choice for school hairstyles for girls as well.
Cool Pigtails Updo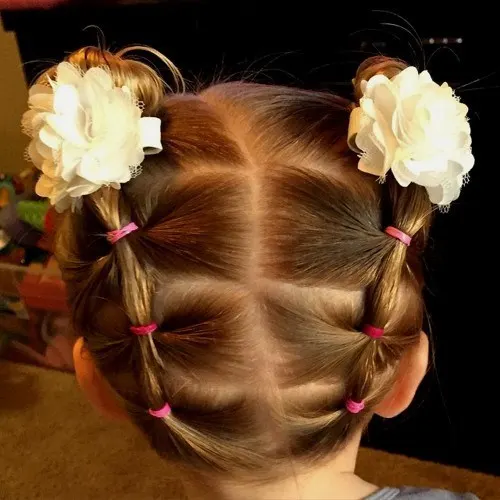 When you are after some of the most organized party looks, this hairstyle really makes the cut. Created with a typical center part, the hairstyle is made into an updo with rope braids starting at the nape of her neck and going all the way up to the crown area. Secure it right there with an exclusive hair accessory and it will make beautiful pigtails that everyone at the part would appreciate for sure.
Short Pixie Haircut
Instagram @sabrina.at.salon.ablaze
For girls who prefer having more of a boyish look, this beautiful hairstyle gives them what they want. One of the simplest looks to achieve, the haircut just gives her an astonishing appearance no matter what event she wants to wear it to. Just get her a typical pixie and simply sweep it all the way to aside. It creates gorgeous vibes and nothing less.
Short Spring Curls
Instagram @stylebyjennbetty
Short and beautiful, these spring curls look as amazing as your little girl is. The hairdo makes one of the best black girl hairstyles out there and it doesn't need too much of styling either. All you have to do is to let her curly hair grow on all the sides and then give it a simple, equal-length cut around the neck area. The shiny, spring-like look of her hair is just amazing. And, the best part is that you do not have to do any kind of styling and the natural look is simply awesome.
A-Line Bob For Fine Hair
For girls with thin and fine hair, it is always a major problem to come up with some of the stylish party looks. Obviously, you can't keep her hair in a properly organized shape all the time and it is really important to give her the best short haircuts for girls. And, this beautiful 'do makes a perfect choice here. The hairstyle resembles a typical A-line Bob haircut and boasts of a nice side swept look. The hair is trimmed short enough into a bob cut and doesn't really need too much of maintenance.
Hipster Haircut
The hipster haircuts are trending more than ever these days and for girls, they can make a perfect attention-grabber on any event. The hairstyle boasts of some unique styling elements just like the look we have here. This hipster hairstyle requires you to grow the hair long on one side while trimming it short, just like a pixie haircut, on the other. The longer side should be styled just as you would in case of a typical bob haircut and it will complete a perfect and gorgeous hairstyle overall. She can sport the look on any day, especially for parties.
Funky Ear Length Haircut
Call it a short bob or an ear length haircut, the beautiful hairdo is all about short and naturally wavy hair trimmed short enough be kept just around the ears. In order to add that funky touch to this beautiful hairstyle, you can add a tinge of color to it. It is one of the best low maintenance haircuts because you have to keep it wavy and messy all around.
Short And Messy Haircut
Instagram @noellesmaneevent
If you want to keep it slightly longer than most of the hairstyles listed above, here we have a perfect choice. This beautiful hairstyle is about shoulder-length hair that is given a nice wavy and messy look overall. Just part it in the center and you are up for a unique, messy hairstyle for any party.
Short Boyish Hairdo
If you have always wanted to sport no-mess hairstyle, this boyish look has certainly got you covered. The hairstyle boasts of nice and cool side-swept look with frontal strands trimmed very short. Nevertheless, you just need to run your fingers through and your perfect hairstyle would be ready for a blast.
Two-Toned Curly Hairstyle
You don't always have to get a haircut for styling it to perfection for a party night. Color it up, and it will give you the extra oomph you have been looking for. Just check out this beautiful and stylish two-toned haircut which gets a boyish Mohawk look on those beautiful naturally curly locks. However, what sets it apart is that two-toned look and it is a perfect attention-grabber.
Modern Purple Mullet
Mullet haircuts have long been known as the best hip and chic hairstyles for girls and they have all the great vibes to offer. This beautiful hairstyle we have here is a perfect reflection of just that. A side-parted look with a voluminous front swept nicely to a side and a beautiful layered back, all combine to make it a special hairstyle. The hairdo boasts of a nice purple touch given to it and makes amazing vibes for a party night.
Silver Pixie Quiff
The pixie haircuts can take any shape and form and they will still look amazing and beautiful. This beautiful hairdo we have here is a perfect example of that. The hairstyle is not a typical pixie by any means and is rather formed into a Quiff hairstyle that has some volume on top and is swept all the way back. The sides are, however, made to resemble a pixie look by trimming it short and giving it a nice faded look. To top it all, the beautiful silver tone makes it a real jewel. You can sport the look to a party, your office, or just about anywhere you like.
Curly And Messy Short Bob
If you want a perfect no-fuss hairstyle, this beautiful short bob is going to give you a look you'd have dreamed for. The hairstyle is a short bob in essence and the variation is given to a typical organized look by making it a bit messy and styling it by bringing the fringes forward. A curly and curvy back makes the hairstyle look even better. It is a no-maintenance haircut, literally, and you will actually have to make it look messier as much as you possibly can. The messy it gets the better and perfectly styled vibes it will deliver.
So, which of these beautiful short haircuts for girls do you think would best fit your overall look for the party night? There are some of the most amazing styles out there and being short doesn't mean it can't look stylish. You just need to ensure that your hairstyles are achieved to perfection and the short haircuts. you have chosen are achieved in exactly the same manner as they were meant to. For special vibes on the next party night, pick one of the beautiful hairstyles listed above.