Short haircuts aren't really considered some age-old tradition anymore and they are as much trendy and stylish as some of the latest long hairstyles that allow you to keep experimenting with the look and achieve something special on any day. Rather, short haircuts for kids are considered a perfect choice during the Summer months and with a huge variety of options available in short hairstyles one can never feel out of fashion. All you have to do is to ensure that you make the right picks for your little one and give them a trendy look.
Whether you are looking for short haircuts for boys or short haircuts for girls, you can come up with something that makes your kids feel comfortable, stylish, and elegant all at the same time. Here we have tried to single out a few options for you so that you can give your little ones that burst of style which they have always missed in their personality and looks. Let's find out what's on the list!
Trending Short Haircuts For Kids in 2023
The best thing you get with the short hair is that it's easy in terms of styling and it is always linked to a perfectly active lifestyle. If you have believed in the myth that short hair means you'll have to wear same hairstyle day in and day out, you've taken it all wrong. You can easily transform most of the short hairstyles from your daytime casual hairdo to something that looks stylish and elegant for an evening party. It's not just possible to find your little girl a beautiful short hairstyle; it is pretty easy as well. Here we have listed a top few options that you may want to consider for your cutie pie.
Short & Sweet Pixie Haircut
Yes, we know that those intricate buns and braids can be a fun option for little girls, but they can always benefit by keeping it short, nice, and simple with a beautiful Pixie haircut. In order to achieve that cool and fashionable flair, you can always coif her hair to a side. The haircut works just fine for any little girl from toddlers to teenagers alike. And, there are quite a few variations of the look that you can try on any day.
Vintage Bob Haircut
We have all rocked this short hairstyle for girls in our early years and it's making a strong comeback for little kids once again. Even though can get a lot of variations of the bob hairstyle to try with your little girl, but a vintage bob has its own unique charm and it just looks great. It looks more like a "bowl cut" hairstyle and leaves your girls' locks a bit longer on the top. Remember, there's an undercut underneath.
Updo With Twists
If you want to keep your girls' hair short while creating a bit of illusion making it feel like a long hairstyle, this Updo is probably the best hairstyle option for your little girl this summer. All you have to do is to pull her hair back into a beautiful updo that features cool twists or braids and a wonderful hair bun. Dress it up with a beautiful flower or add in some big hair bow and secure her loose strands in style. Some loose strands are bound to fall outside when you will try and work the shorter locks into classic long hairstyle. So, you need to have a solution for that.
Simple Side Braid
Why don't you just keep things simple and cute with this low maintenance haircut? Just twist a small hair section on the side or French braid it to perfection. Use a hair bow to secure her braided hair right on top of her ear. To top it all, as the hairstyle is very quick to achieve, it would work perfectly for busy and active toddlers – those who never like to hold still just to maintain a beautiful hairstyle that their mum has spent an entire hour on.
Layered Mohawk
Mohawks are just for boys? Probably not! Yes, you can always style your little girl's hair this way. It is created with some carefully layered locks on the top. You can give it an even edgier look by going with some eye-grabbing hue such as pastel pink, blue, or purple. Such short haircuts for little girls always work fine for those with thicker hair. Nevertheless, you can pull off a perfect style with just about any type of hair.
Straight Bob Haircut With Bangs
Haircuts for little girls often take the inspiration from the grownups. Even though you may have that temptation to give your girl's hair a platinum blonde dye, you may still take some cues from this very sleek and straight bob hairstyle which adds a bit of fun bangs too. The best thing about this hairstyle is the fact that it doesn't require you to go super short with her hair and allows for some compromise if your kids prefer short locks but you want to give her bit more feminine touch as far as her looks are concerned.
Simple Short Hairstyle With Clip
Some hairstyles can look stylish with a few add-on accessories and this one is among them too. For girls with not-so-thick hair, it is always a good idea to keep her locks short. Beautiful wispy flicks combined with some fancy hair clip are always going to add a whole new charm to the short haircuts for girls. Are you able to picture your little girl in this beautiful hairstyle right now?
Choppy Bob Haircut For Fine Hair
A short chin-length haircut for girls would easily be spiced up through beautiful choppy layers. It is short and it looks choppy to create a unique vibe. If you can spritz it up with some dry shampoo, you'll be able to get a perfect messy look and some extra volume as well.
Blonde Layered Crop
Blonde hair looks great on girls of all ages and ethnicities. However, if you don't have the naturally blonde locks, you can always incorporate some blonde shades into your dark brown hair base to brighten things up a little. It will also be a great way of giving some edge to those beautiful short locks against the long bang. If you can keep it slightly messy, that would make the hairdo look even better. The hairstyle works perfectly fine for girls with round faces as the full cheeks are slimmed down by the side-angled bang.
Highlighted Faux Hawk
Who said faux hawk is only for boys? It makes a wonderful hairdo for girls as well. In fact, a highlighted faux hawk look is something every young girl would love to flaunt. If you wish to experiment with something a bit edgier and aren't ready to get a complete hairstyle transformation because of the strict dress codes at school or any parental restrictions, this is the hairstyle you'd want to give a try to. It can make a fun hairdo for a weekend and can also be transformed into your appropriate week day hairstyle pretty easily with that long bang. All you need to do is to brush the bang down.
There can be many more amazing variations of the short haircuts for girls that you could try in everyday routine or on parties. The ones above certainly make the best of the lot and can create a unique vibe for you any day. In fact, some of these are good enough to make perfect school hairstyles for girls too.
Short Haircuts For Boys In 2023
With so many short haircuts for girls, what about boys? Well, when it comes to the best short haircuts for boys, you can mimic many of the same hairstyles that work just fine for the young boys and the adults. They can give a unique charm to your toddlers and they'd look as amazing as they can ever get. In fact, if you are looking for some of the coolest low maintenance haircuts for boys, you really stand a good chance at it by keeping the hair shorter and trying different styles to make sure that it fits perfectly to the personality of your little boy. Here we have shortlisted a few options for you and you're definitely going to love them. Let's check out!
Short Haircut With Puffy Top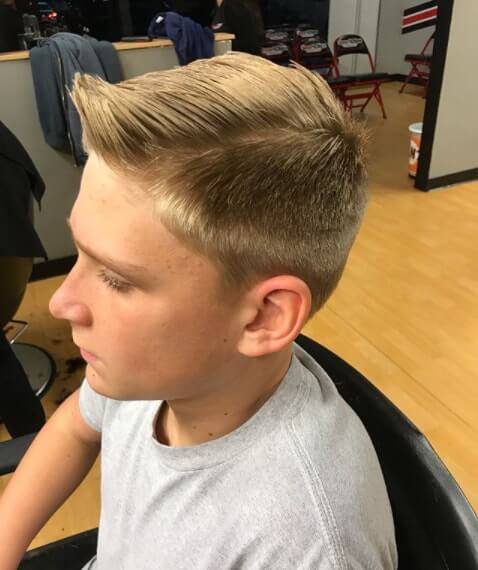 It's a pretty formal look and it's going to give a touch of style to your little guy. What's best about this particular hairstyle is that the frontal hair is kept to medium length to make for that puffy look on top. You can style these locks into side-shifted or upward bangs and they'd look amazing for sure. However, if you want something funkier for the special occasions and parties, you can always style the look a bit differently. Nevertheless, it remains one of the best short haircuts for boys available today.
Messy Frontal Bangs With Undercut
Undercuts are always wonderful and they classify among perfect short hairstyles for kids. Basically, it is all kept short, and sometimes even tight to the skin, on the back and sides. To add to the style of this look, you have messy bangs on top. Overall, the hairstyle looks really flirty and it still qualifies among the trendiest of looks for little boys.
Short And Layered Haircut
For moms who do not want to style their kids' hair too much and just want an ever-ready haircut, this layered hairstyle makes a perfect choice. For this one, you can always keep the back and the sides short and it will really look cool. The hairstyle has some natural attraction to it and those layers on top really look fantastic.
Crew Cut
You can't take crew cuts out of any list featuring short hairstyles. They really make the best choice for anyone looking to keep it short and nice no matter what age group they may belong to. You can style it with a cool pattern that will make the hair on top feel really impressive. The hairstyle really makes a perfect attention grabber. The hairstyle will bring all eyes to your kids as soon as their hair is revealed and it's quite a low maintenance look at the same time as well.
Short Dreadlocks
For Afro kids with medium hair length, short dreads are always going to make a perfect choice no matter what occasion they want to style their hair for. Dreads are pretty small and they have a wave-like look and feel. The point in the upward direction and make a blunt statement, popping out from all parts of the head. Usually the sides have either been shaved off completely or they've been closely trimmed. It's an exclusive hairstyle for African American kids.
Mushroom Haircut
It remains among the cutest of looks for kids and it really helps them make a statement. Often called as the bowl haircut, it is all about leaving that 'bowl of hair' on top. In fact, it's an inverted bowl that is laid nicely on the top. For kids with blonde or golden hair, this one really makes a perfect choice as it will give them a whole new look and feel. The haircut is pretty easy and just about any hairstylist can do it to perfection.
French Crop
French Crop really turns out to be a perfect classic hairstyle for little kids and it doesn't require too much of maintenance either. The haircut is short and allows you to get the top hair cut in so many different ways. You may like to go with blunt cut for a perfectly neat outlook. Alternately, you want to get him a perfect point cut to give him more rugged look and feel. It even makes a perfect hairstyle for accentuating his natural curls.
You may style this beautiful hairdo in whatever way you like. It could also be formed into a spiky look with a bit of wax or gel. Overall, it's among the low maintenance haircuts and doesn't require you to do too much of styling.
Taper Fade
Taper fade makes a popular choice in short haircuts for boys. In fact, it is the sides that are kept too short with a taper fade and a kind of contrast is created with the short hair on top to highlight them better. The hairstyle needs a product to be applied to create a more natural and textured finish. The hairdo also includes a side swept look at the front. It is recommended that you use some matte product to achieve a perfect texture, flow, and volume. If you are looking for something simple-to-style and easy-to-achieve, this hairstyle makes a perfect choice.
Comb Over With Hard Part
Comb overs don't always have to be too long. In fact, you can achieve a similar look with nice, short hair as well. You might be surprised to have this hairdo on the list of short hairstyles for boys, but really deserves to be there. A cool look can be achieved with a fade on the sides. The type of fade is your choice as everything would do nicely here. The hair on top can be trimmed short and combed over with a styling product. Added texture on top can make the hairstyle look even better.
Curly Fringe With High Fade
Take any short haircut for boys and you'll find some sort of fade in it. Just have a look at this beautiful high fade that makes a perfect every day look for boys with curly hair. Yes, curly hair may be hard to style and manage but curls can also give you a nice unique texture which puts them a step ahead of all the other hair types when it comes to styling. A Skin fade achieved on the sides and a nice and long curly fringe hanging of your forehead, the hairdo makes all the trendy vibes and is certainly a perfect choice for you on any day. What's even better about this look is that the hairstyle also gives some movement and volume with no rigidity at all. So, that makes it a wonderful look to go with even for school boys. What else would you want?
The list of short haircuts for kids and girls can go on as much as you like. In fact, you'd be stunned by every other look that you may come across because these hairstyles have their own unique style statement to make. It is just the matter of making the right picks and we have done that for you with our short list of short haircuts given on top. Just figure out which of them is going to work for your little girl or boy and give them a perfect hairstyle to flaunt on any day without too many maintenance requirements.