Years in and years out, Quiff Haircut has been a popular choice among kids and boys looking for a cool hairstyle option. There have been a lot of variations to the haircut that we have seen over the years and it has really made great vibes in each of these cool looks.
From formal to casual, from messy to slicked back, you can name any option to style your kids' hair and you will find a perfect Quiff matching your specific needs.
This year again, the hairstyle is making a comeback with a boom. Let's discover more in detail about this beautiful hairstyle and see what it is all about.
The Quiff Haircut in 2023
It's been quite a few years since we have seen Quiff hairstyles worn by little boys and it became so popular when the teenagers started wearing it more often.
The hairstyle represents more of a rebellion look which screams confidence. The hairstyle takes up a lot more space and it helps your kid stand out everywhere with his gorgeous looks.
The hairstyle, basically, requires your boy's hair to be piled upwards which makes it naturally prone to flopping forwards and demanding regular attention.
In fact, that's the reason behind that iconic appeal a quiff is often labeled with. It won't be wrong to say that the quiff hairstyle has really changed the entire course of the hair-story for kids.
Is It A Pompadour?
There have been lots of arguments about how Quiff hairstyles are different from all those classic haircuts out there like pompadours.
Generally, a classic quiff isn't that showy and that's what sets it apart from the top-heavy pompadours that have been associated with many top celebrities over the years.
Even though there's nothing that can completely differentiate the two types of hairstyles from one another, typical quiff hairstyle usually has short hair on the back as well as the sides. It gets longer on top and the front is swept up-and-backwards.
However, you can keep this hairstyle messy, brushed, or straightened to make it more versatile and letting your boy sport a lot of different styles that are actually a quiff at their core.
One thing that makes pompadour and quiff hairstyles similar is that they take your kid's hair upwards and away from his face. However, a pompadour is generally glossier and it's very precise as well.
The quiff hairstyles mainly focus on forelock while in some cases the rest of the hair stays relatively flat contrary to the pompadours.
When you are going to get your kid a quiff haircut, ask the barber to give him a tapered haircut with lots of length up top. You'll end up with a perfect hairstyle and everyone would love it for sure.
Choosing The Right Quiff Haircut For Your Boy
When you are about to choose the quiff hairstyle to suit your little man, there are a few factors that you should take into consideration. One major factor to consider is their face shape which, obviously, is the case with choosing any other haircut as well.
To be fortunate, there's some up do that exists for every little guy, but it is particularly good for the ones planning to elongate their otherwise round faces.
There's a bit of structure and prominent angles to rounder faces and, therefore, square-shaped hairstyles having a bit of height would look flattering on them. A classic hairstyle with casual part on a side or a quiff hairstyle would make a perfect example of such hairstyles.
Just make sure that you are a bit cautious if your boy has a thin face. Taking the hair higher up will make his face feel more elongated and angular. Rather, you should go with something shorter rather than one that goes towering high.
As most of the Quiff haircuts need fading or shaving at sides for emphasizing what is there on top, you may not find them as great a hairstyle for kids with slightly bigger ears.
What's great about quiff hairstyles is that, based on their shape and tightness of the sides, it will look much different on whoever wears it. If you want to go with something modern, you should definitely have a fade on the sides to finish them off in style.
Quiff hairstyles are good enough to work with most of the hair types, except the really curly and extremely ones or those that are very fine.
Movement can add texture and, therefore, wavy hair would make a perfect choice when you have to create a bit of messier and textured look. Nevertheless, straighteners can always be used for achieving more of a classic quiff hairstyle.
Top Quiff Hairstyles For Kids
Now that you are well-versed with what quiff hairstyles are all about, here we have listed a few coolest quiff hairstyle variations for you to take a look at and see which of them you'd want to style your kid's hair with the next time you're planning on giving him some cool kids haircuts.
Casually Textured Quiff With Mid Fade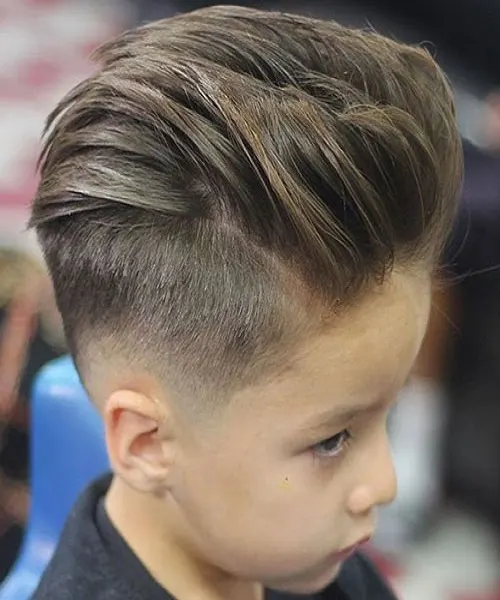 This really is one of the most trending variations of the quiff hairstyle this year. The hairstyle boasts of some length on top while it is trimmed really short on the sides.
The length on top is given a perfect combed back look with naturally casual texture added simply by running the fingers through the hair on top.
The undercut on the sides gets faded mid way through and it is completely separated from the length on top. Overall, it's a perfectly balanced look and it makes for a cool style on both formal and informal occasions.
Short Quiff With Low Fade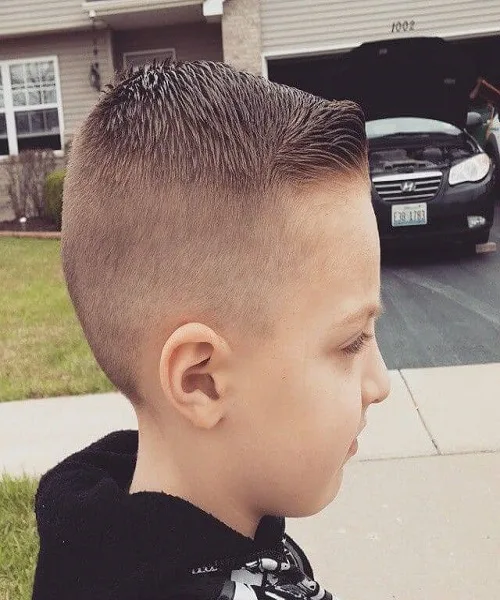 Quiff hairstyles do not necessarily have to be long and it is your choice exactly what length you would want to keep it to depending on the trend and what suits your little one.
This one is a nice and clean quiff hairstyle variation that is achieved with very short trimmed hair on top and sides. The hairstyle boasts of some naturally textured side swept hair on top and a short frontal quiff complements it to perfection.
Going down the sides, the hair is trimmed even shorter and we have a nice high fade that looks pleasing to the eye in the overall scheme of things.
Slick Haircut With A Quiff, High And Tight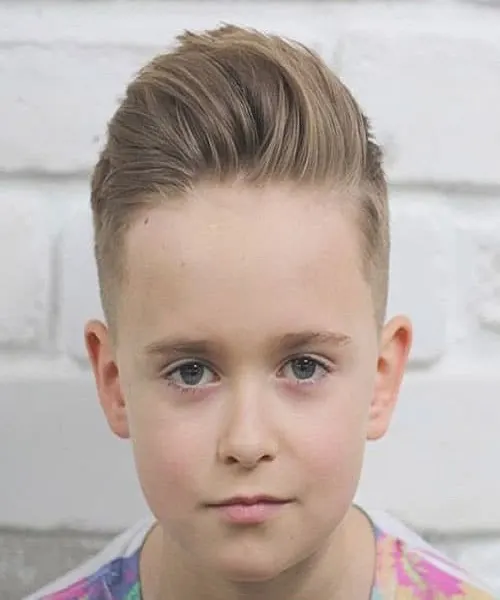 Gaining some length again, this variation is a perfect combination of long hair on top and a fade haircut on the sides. The length on top is nicely slicked and textured going all the way to the back.
The hair on the sides, however, gets a high fade which balances out the look to perfection. You can style it on any day and everyone would definitely love the style your boy would be carrying.
Angled Quiff With High Fade And Hard Part
As mentioned earlier, a quiff can be styled in as many ways as you would like. The hairstyle we have here is a perfect reflection of that. The hairdo boasts of some length on top with the frontal hair made into a perfect quiff.
However, it slants backwards as you move further towards the crown and achieves the least possible height around the crown area.
The sides are given a perfect high fade and it blends into the overall hairstyle rather elegantly. A high fade makes it look even better.
Forward Swept Hair With Frontal Quiff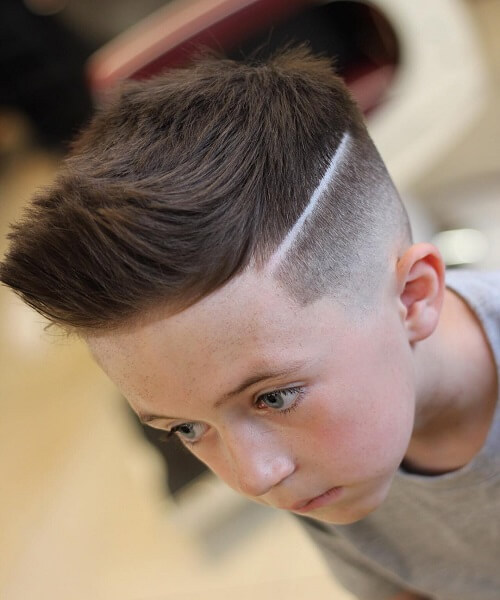 Most of the quiffs we have seen so far take it either to the back or to a side making a puffy look at the front. However, this one takes a completely different approach to a quiff hairstyle.
The hairdo brings the hair forward starting at the crown area and raises it all up at the front making a perfectly stylish raised quiff at the front.
The sides are given a disconnected undercut which is complemented with beautiful surgical lines. The hairstyle doesn't require too much of maintenance and works just fine on those semi-formal occasions.
Quiff With Lots Of Volume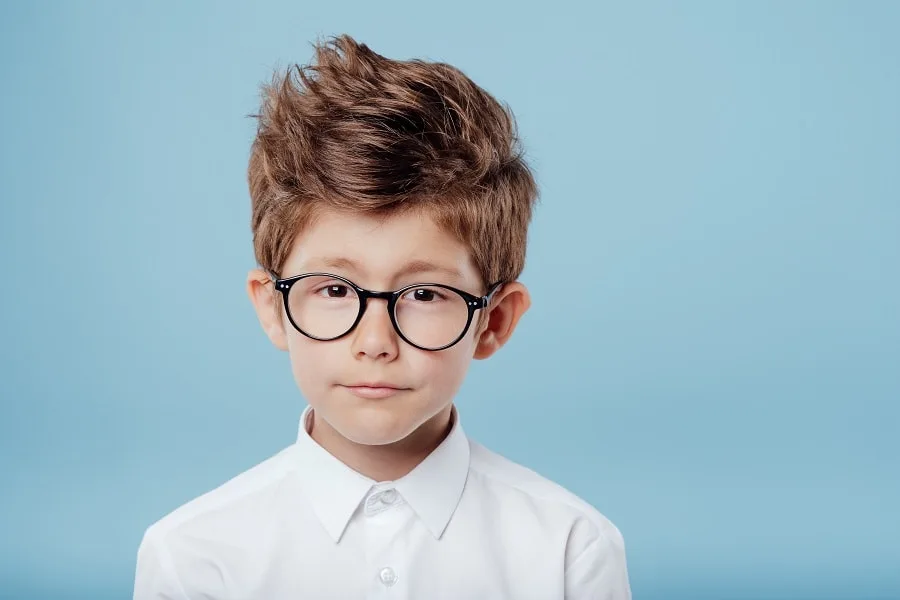 There's some extreme volume to this quiff haircut for boys. The hair stands very tall and sweeps to one side in feathery spikes, and the hair on the sides of the head is cropped and messy for a very nice, youthful, fun look.

Quiff Centerpiece Look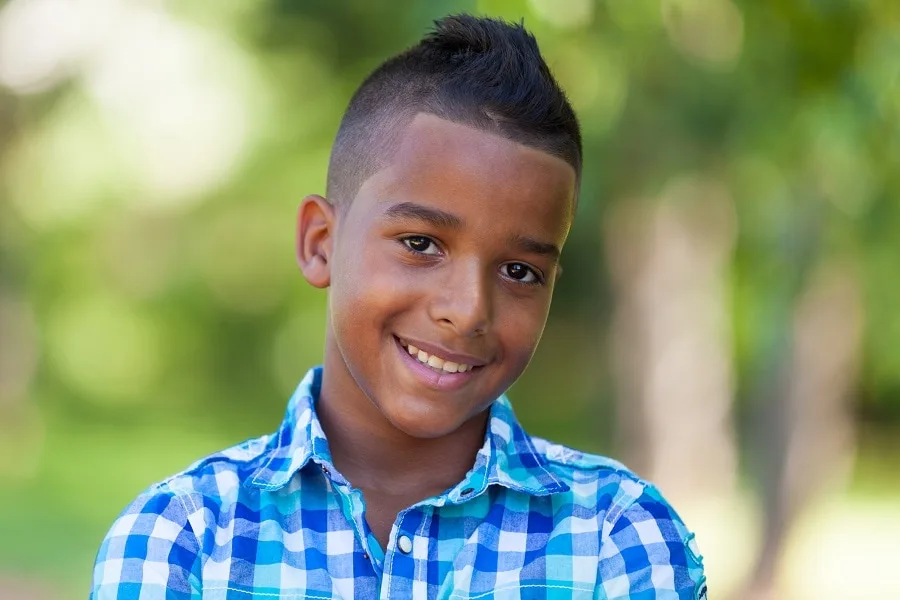 In this quiff haircut for boys, the quiff is the only thing that catches the eye, as the rest of the hair is shaved to a number 1 haircut with a slight fade on the sides. The hairline is very straight, and some of the hair around the hairline is shaven so the quiff starts further back.

Soft Side Sweeping Quiff Look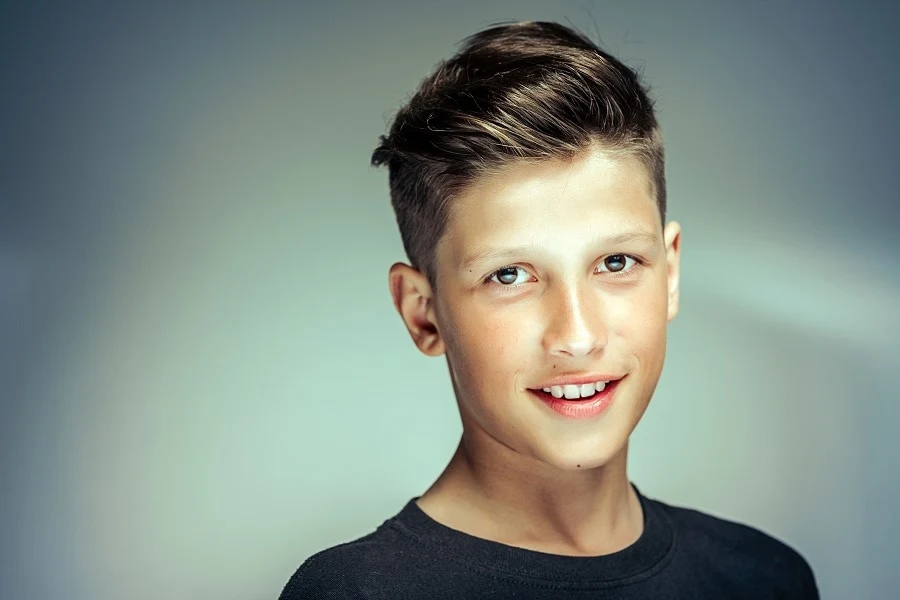 This quiff look is grown-up and soft. The hair sweeps to one side in the quiff, and the sides of the hair are longer than bristles but still short enough to see some of the scamp poking through around the ears.

Spiked Front Quiff
The front of this quiff is spikey to deliver a bad-boy twist to this quiff look. The hair on the sides is a little long and gelled down. It's perfect for a little boy who wants to look tough yet charming.

Sleek Sideways Quiff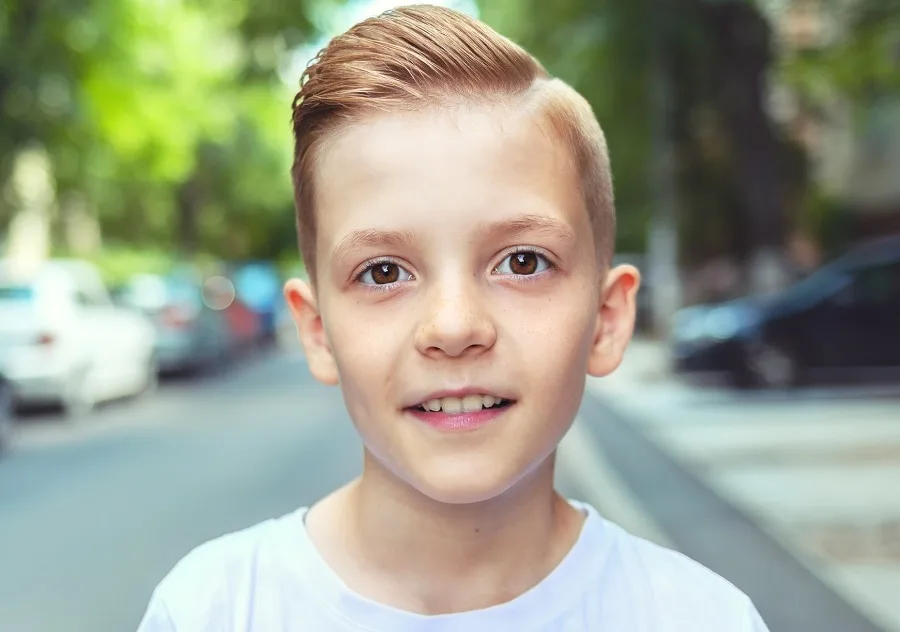 This quiff is very sleek and is pushed to one side, accentuating the hard part and the soft sides of the hair. It's a look that'll require careful styling every day, as there's not a single hair out of place.

Pompadour-Inspired Quiff
This quiff is not a pompadour, but it takes inspiration from it. The hair has a lot of volume and is very sleek as it's pushed back, but there's less tightness than with a pompadour look. However, it's still a very chic and modern look that your boy can rock.

Fluffy Fallen Quiff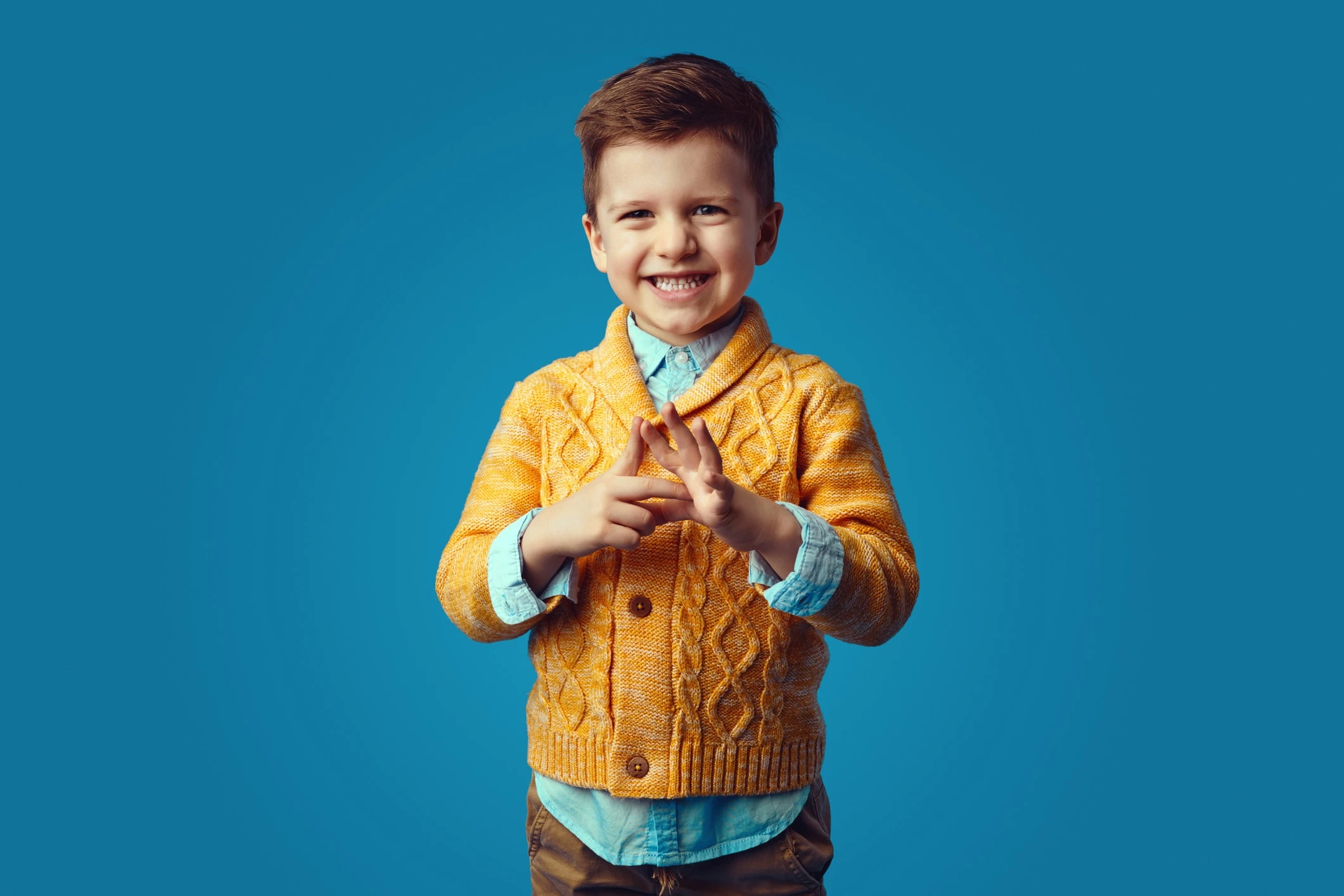 This quiff is very fluffy and falls forward so it brushes the forehead a little. It works well for thick hair, and there's a lot of texture and volume to it.

Mohawk Style Quiff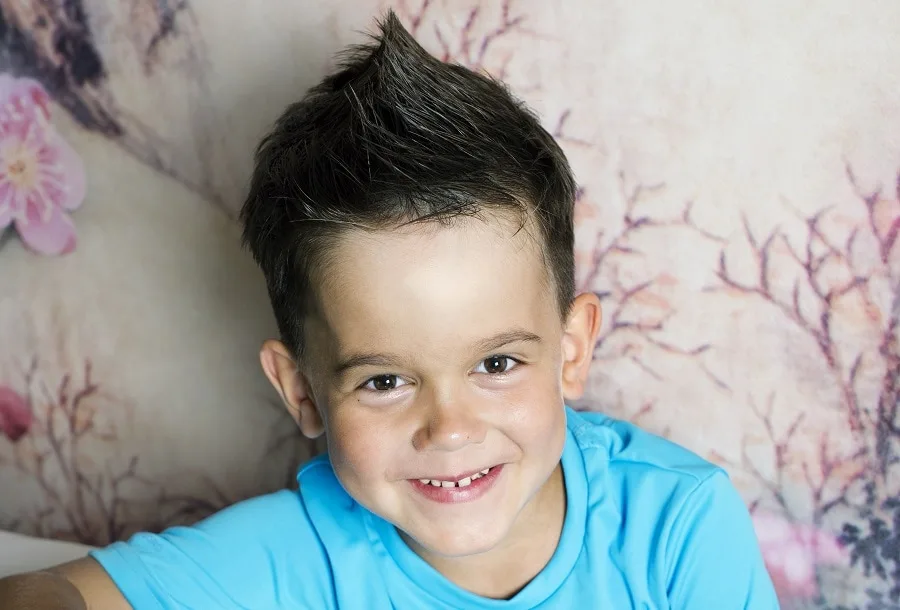 This quiff has a mohawk style to it as the quiff is spiked in the center of the head. The sides of the hair are nice and long with a slight fade.

Softly Spiked Quiff
If your little boy wants soft hair as well as some spikes, this is a very good look. The sides of the hair are smooth, but the quiff is spiked tall and stands out very well.
Edgy Combed Over Quiff With High Fade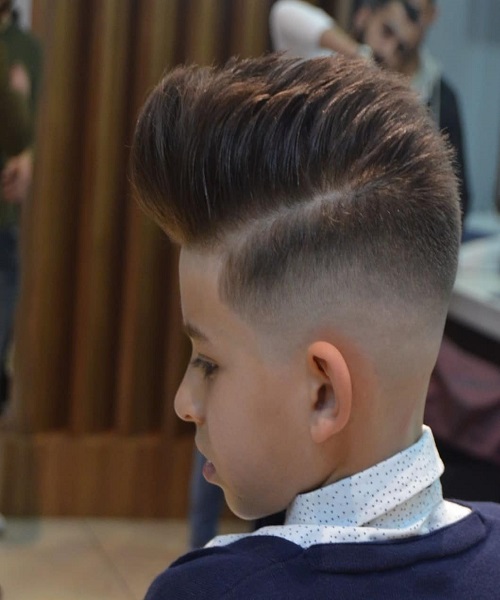 If you really want your little boy to look more like a rockstar, this is the hairstyle you would want to go with. The hairdo boasts of some length on top that is given an edgy and combed back appearance before being held into place with the help of a styling product.
Go for a high fade on the sides and you have a perfectly balanced look that will give a fantastic feel no matter what occasion your boy wears it on.
Combed Back Quiff With Undercut Fade
A slight variation from the one above, this quiff hairstyle works really fine as an everyday look. The hairstyle requires your boy's hair to be grown long on top and then combed all the way back. The undercut fade on the sides really makes for a perfect hairstyle overall.
Your boy can wear it on any day and in all sorts of settings be it formal or casual. Such versatility really makes it one of the best go to hairstyles for boys.
Textured Quiff With Side Part And High Fade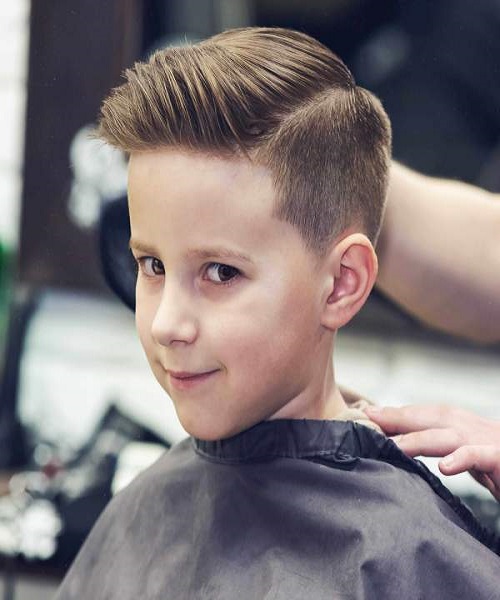 Looking for a formal hairstyle that speaks volumes about its beauty and elegant looks? This is the perfect choice that you'd love and so will everyone else.
The hairstyle requires medium length hair on top and can be styled into a perfectly textured, low quiff hairstyle that is defined by a cool and casual side part and a nice, clean high fade on the sides.
The texture added to the quiff really makes it one chic hairstyle for little boys and it will work best for the most formal events he will have to attend.
Casually Textured Quiff With Side Part
This beautiful quiff hairstyle boasts of a natural, casually textured quiff that is perfect swept to a side and back. One of the best haircuts for boys, it's characterized by that casual side part and a high fade on the sides.
The centerpiece is, obviously, that formal hairstyle on top and it makes a perfect vibe giving your boy a cool haircut to flaunt.
Voluminous Frontal Quiff With Side Fade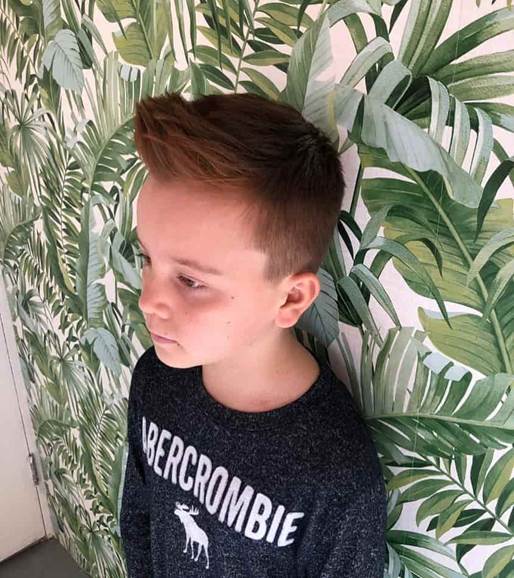 This beautiful variation of the quiff hairstyle boasts of some volume on top and it really looks pleasing to the eye as the frontal quiff goes up.
The hair behind is made to come forward from the crown area and it looks really cool as it blends into the volume at the front. The sides have a perfect fade haircut which complements this hairstyle even better.
Messy Quiff With Undercut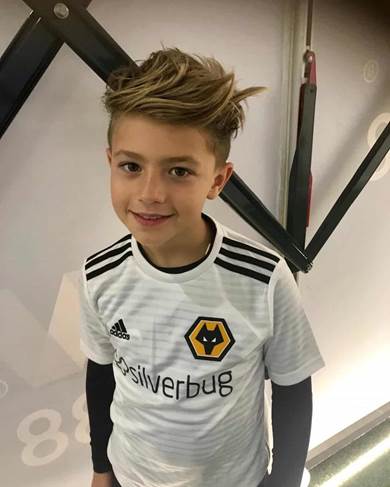 If your little boy loves to style his hair in a way that reflects his personality to perfection, this might be the right choice for him.
Overall, it's more of a carefree look that boasts of some volume on top and it's left all messy. The natural texture speaks volumes about this beautiful look and the undercut balances things out rather elegantly.
A perfect mix of tidiness and messy looks, this hairstyle would work perfectly for your little one no matter what the occasion is.
Casual Quiff With Lineup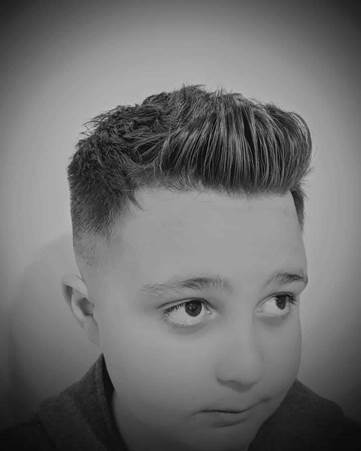 This beautiful hairstyle is about that naturally messy look that is given to this casual quiff. However, what makes this hairdo stand out is that line up style which makes the faded sides look as elegant and unique as ever.
The texture brought forward and the frontal hair combed back really makes for a perfect combo which is going to speak volumes about the hairstyle.
Lean & Textured Side-Swept Quiff
One of the simplest hairstyle variations to achieve, this beautiful hairstyle is about keeping the hair short-to-medium length on top and then creating a perfectly textured, side-swept hairstyle out of it.
The sides have a nice fade which blends into the overall style rather elegantly. The hairstyle makes for a wonderful school-boy look and it works out for little boys really well.
Tight Textured Quiff With Undercut
If you want a classic quiff hairstyle for your boy, this is the one you should be after. The hairstyle looks amazing on blonde kids who have really thin and fine hair.
Just get it cut to medium length and apply lots of styling product before combing it to a side and back and letting the frontal texture speak out loud about the wonderful style.
This tightly textured look is further enhanced by that undercut fade on the sides and it really looks amazing overall.
Short Quiff For Wavy Hair
There are only a few perfect hairstyles that work best for the wavy hair and keep it all in style. However, if you don't have any issues keeping it short-to-medium length, this hairstyle is going to work for your kids.
Just make sure that the frontal hair looks a bit longer and more voluminous than those behind and it is perfectly wavy at the same time as well.
The sides are given a wonderful line up haircut and it blends into the mix rather nicely. The hairstyle would work for school and for all sorts of formal events as well.
Flat Quiff With Undercut
This is another cool variation of a typical quiff haircut. The hairstyle boasts of some length on top which is made into a flat quiff that is combed back tight to the head.
The natural texture of the hair is maintained quite nicely and a good gentle hold product would do the job to perfection. The undercut is also quite different as it starts higher up and is not like any other conventional disconnected undercut.
So, if you are able to pull out all the style elements in the hairdo perfectly, you really are up for a wonderful hairstyle that will make your kid look different and elegant.
So, which of these beautiful hairstyles are you going to give to your boy this year? All these quiff variations have something special about them and they will work for your kid in all sorts of settings.
What's even better is that there is some variation of this hairstyle that would work with the kind of hair and face shape your boy has. Let him 'Rock n Roll' with a perfect hairstyle that suits him.