Girls are cute and adorable, right? What about black girls? Well, the statement can't be any truer for black teenage girls as well. They have their own unique type of hair and the styles that can be achieved with that particular hair type are immense. Furthermore, the black color tone itself is a sign of unique beauty and the teenage girls look adorable in their true ethnic sense of style. If you are looking for the best cute hairstyles for black girls with natural hair, you are certainly no short of options as there are plenty of them around. You just have to decide which hairstyle you are going to wear on a particular occasion and if you are able to make a perfect match then you are certainly going to rock the event.
Hairstyles for Black Teenage Girl with Natural Hair
Here we have listed the 20 best cute hairstyles for black girls and you should definitely check them out before looking for more elsewhere.
Swirling Cornrows
Source: Courtneys.hair
Cornrows really make for an obvious choice for black girls with those fine kinky locks, and this one here is a perfect example of that. The hairstyle boasts of nicely crafted swirling cornrows that start from one side of the head and go swirling around the other where it falls nicely over the shoulder. The hairstyle makes for a chic and stylish look and it works wonders for black teenage girls.
Side Swept Hairstyle With Waved Bottom
Source: Roni_hair444
Even though black girls don't usually have this straight hair, but if you do have such reasonably straight locks then this hairstyle is probably the best option for you to go for. In fact, even if you have to get it all straightened, you should definitely go for it. The hairdo actually boasts of nice side swept hair that gets a double wave going towards the bottom. It really looks amazing on teenage black girls.
Side Swept Hairstyle With

Cornrows
Source: Courtneys.hair
Braiding is also one of the obvious choices when you are thinking about how to style kinky hair. However, this beautiful hairstyle gives you sort of a mix of the two. The hairstyle features an angling center part with long and open kinky hair on one side and tightly braided hair on the other. It's quite a unique look and has some special vibes to create.
Long Open And Naturally Curly Hairstyle
Source: Moneybaggmaya_
When you have cool and nice naturally curly hair, why not leave it just the way it is? You can always add some shine to the hair with some styling product and once you have done that, just leave it like that for a refreshing look. That amazing shine will definitely make your day.
Center Parted Hairstyle With Pigtail Buns
Source: Tiwaterin
Early teenagers love pigtails and that's what this beautiful hairstyle is all about. When you have kinky and rugged locks, pigtails really make for a natural choice. And, the pigtail buns created with nice and beautiful kinky locks look just amazing. The hairstyle works perfectly for casual days and even for school. You must give it a try.
Center Parted Hairstyle With Braids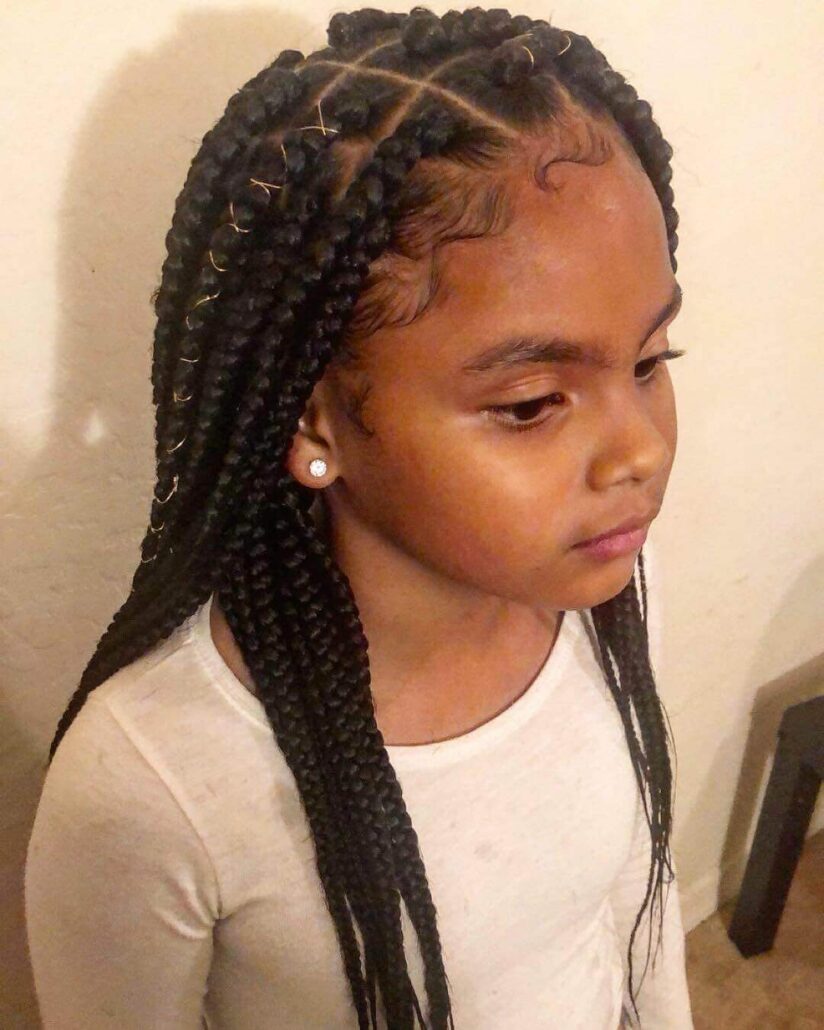 Source: Bebeautifulbybrittney
Yes, braids make an obvious part of most hairstyles for black girls and this one is no different. Just part the hair in the center and start braiding layers of hair on all sides of the head. Make sure that these braids keep getting thinner as you move towards the tips because that will make them visually appealing. Add in some ribbons or strands to make the braids even better. It will look amazing overall.
Short Bob Hairstyle
Source: Beautybymonnie
Even though Bob Hairstyles are usually restricted to straight and fine hair, if you have the luxury of that then you can achieve the look with slightly rugged but straight hair of yours as well. It's a typical short bob and you don't have to do anything fancy with it. Just part it in the center and let the hair fall over on all sides as they reach the chin length.
Swirling Cornrows With Braided Bun
Source: Braidmeupshawnie
This really is the look you would want to achieve for the next party night as it looks chic and elegant. The hairstyle requires you to achieve cornrows in a rounded pattern all over the head and make the layers to meet at the crown where they can be turned into a thick braided bun. The hairstyle looks awesome and will attract all eyes towards you for sure.
Cornrows With Beaded Braids
Source: Auniquecreation_
We have had a similar hairstyle on top of the list, but this one is slightly different. Yes, you have to achieve nice cornrows in the same fashion and make the braids to fall over to a side. However, what's different for this hairstyle is that you have to add colorful beads towards the tips. It will look amazing and will surely make for a perfect hairstyle on any day.
Cornrows With Braided Ponytail
Source: Bebeautifulbybrittney
If you are looking forward to something funky and special, this is the look you should try to achieve. One of the best cute hairstyles for black girls, the look works perfectly not only for casual days but also for special events. All you have to do is to achieve cornrows on top in the same pattern as shown in the picture above and then roll it around the ponytail right where it begins at the crown. The raised ponytail will create a more than perfect look and when a touch of color is added to it, it's surely going to make you rock. The hairstyle really has a special touch to it and you will enjoy sporting the look for sure.
Cornrows With Long Braided Layers
Source: Bebeautifulbybrittney
This is yet another cool hairstyle that features beautiful cornrows on top. Remember that there is some distance kept between several layers on top and the long braids are made to fall on the sides. One of them is covered with a colorful ribbon to add a unique touch of style to the look.
Braided Bob Hairstyle
Source: Bebeautifulbybrittney
Have you ever thought of a bob hairstyle that is braided all the way through? Well, this beautiful hairdo gives you a perfect style and allows you to make your wish of sporting a Bob haircut come true. Just part those kinky locks in the center and start braiding in layers that curve forward to give a perfect bob touch to the look. This hairstyle for teenagers has volumes to speak and it's something really unique for black girls as well.
Kinky Combover
Source: Hairby_zhania
The combover hairstyles have long been making waves in the world of fashion but we haven't seen many teenage black girls sporting the look ever since. Just look at the picture above and see if you would like to wear this hairstyle on a casual day? In fact, it's one of the simplest looks to achieve as you will only have to comb it all over to the back and just let it be. Keep the length to the shoulders only and the natural kinky look will speak out volumes for sure.
Center Braided Combed Back Hair With Braided Crown
Source: Kieshathestylist
This cool look is all about nice and cute braids. The hairstyle boasts of tightly combed back hair on top and it is parted right in the center with a thin and cute small braid. There is sort of a thick braided crown that starts at the front but instead of going around the head, it goes down towards the back and turns into nice braided pigtails. Towards the tips, the pigtails are swirled and they are made to look just amazing. The hairstyle works fine for both casual days and special events.
Long Braided Lengths With Cornrows On Top
Source: Bebeautifulbybrittney
There are similar hairstyles added on top as well but this one is slightly different in the way cornrows are achieved. The ones on top are made at an angle going towards the side while two frontal layers are made to cross each other around the center before they are joined to make one. As the cornrows leave the top, they are made into braided layers that fall nicely over the shoulders. They way they get thin towards the tips makes them look really cool.
Center Parted Kinky Locks With Pigtails
Source: Princessskyyamore
Pigtails are amongst the go-to hairstyles for black teenage girls and you can always experiment with the look. Whether you want to go for long braided pigtails or create nice pigtail buns, the hairstyle is certainly going to make great vibes. This beautiful hairdo here requires you to create nice and kinky buns on top after parting the hair in the center. Once you have created kinky pigtail buns, you can accessorize the hairstyle with colorful ribbon accessories to lift it up a notch. It looks and feels amazing.
Tight Braided Hairstyle
Source: Kieshathestylist
Another really cute look on the list, the hairstyle boasts of nice and tight braids achieved on top at different angles. In fact, it's the angle that makes the hairstyle look cute and interesting. With several angling parts, you can always pull off a unique and beautiful look. The hairstyle works out perfectly fine for special events and will catch the eyes around for sure.
Intricate Braided Hairstyle With Double Ponytails
Source: Dee_k_hairfusion
This is a cool look to achieve and it is quite different as well. The hairstyle boasts of thin braided cornrows all over the head which angle in different directions. Two braided ponytails are achieved to add a further touch of uniqueness to the hairstyle. One of these two ponytails is a raised one achieved just around the crown while the other ponytail is a typical one that is created lower down towards the back of the head. The tips of these ponytails are beaded and they look elegant and unique as well.
Kinky Blown Out Hair With Colorful Bow Hairband
Source: Andreemarieinspires
Cute, stylish and elegant! What else you would want to call this cool hairstyle? It is certainly a top pick for special occasions, parties and events. The hairstyle boasts of long grown out kinky locks that is parted towards a side and gives a blown out look spreading nicely in all the possible directions. The colorful ribbon bow hair band further accentuates the look and it creates amazing vibes too. Accessorize yourself with some cool glasses and jackets, and you can't ask for anything better.
Chin Length Bob Hairstyle
Source: Beautybymonnie
Yet another bob on the list, the chin-length bob is usually popular among girls with straight and fine hair. However, it will work nicely even with slightly rugged hair of black teenage girls. Just get it in a perfect shape and then experiment with the look by side parting it on top and making the tips to swirl outside. It is a perfect routine look that won't require any maintenance at all and will be styled any time without any styling gear required.
Colorful Pigtail Buns With Braided Back
Source: Hairontheweeekend_
Whenever you get a chance to add color to your hair, it makes you look as stylish and elegant as ever. This beautiful hairstyle is no different and it does exactly that for you. The hairstyle boasts of tight braids all over the head with all of them coming to join at the pigtails where nice hair buns are achieved. You can add lots of colorful ribbon while creating the braids so that they cover the entire pigtail buns and give a feel as if you have colored hair with which you have achieved the buns. It looks gorgeous and you will surely impress many with this cute look of yours.
Style your kinky, rugged and otherwise bland hair in any of these cute hairstyles for black girls and you will definitely create amazing vibes on any day. No matter what event you are going to attend, you will surely find a hairstyle that will suit your needs. Even there are many everyday looks that you can sport casually everywhere you go. Just make your picks and see how amazing you are going to look with these cute hairstyles.