A great way to give your little girl a fascinating and fun hairstyle would be to accessorize her hair with colorful beads and try to braid it in all the creative ways possible.
The toddler braids with beads always offer a glam look as well as an attractive feel for just about any occasion. Whether you are looking for a formal hairstyle or something informal, you are always going to get a braided and beaded alternative for that.
It's not quite difficult to achieve these hairstyles either because you will only need to have a bit of patience and practice to come up with a proper hairstyle for your little girl.
Toddler Braided Hairstyles With Beads For Little Girls
Whether you want summer hairstyles braids or a box braided look, there are all sorts of options available.
Here we have some of the best toddler braids with beads that would work best for your little girl and will definitely give them a glam look regardless of the occasion they want to attend. Let's have a look.
Beaded Cornrows
Just have a look at the way braids have been installed on the beautiful African girl.
The braids are created in cornrows which look chic and amazing. Keep it a bit above her ears and incorporate colorful beads into the braids to achieve that gorgeous vibe.
Black Braided Hairdo With Beaded Tips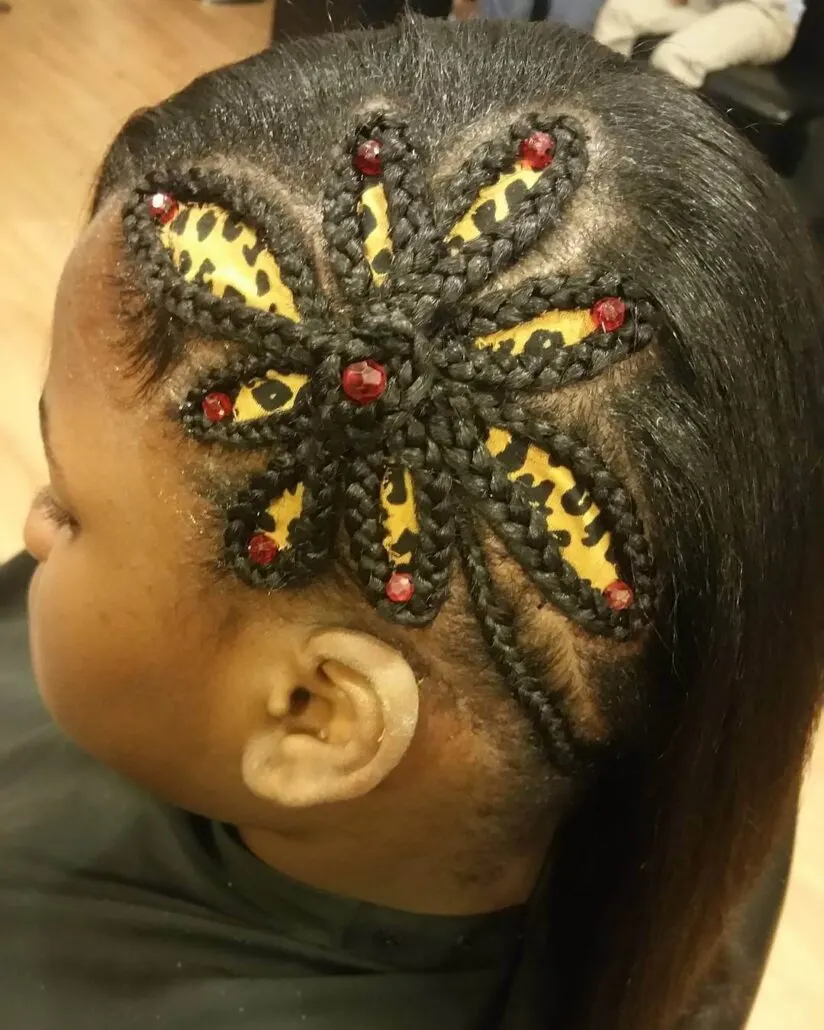 Another beautiful hairstyle for little girls incorporating braids and twists with beaded ends.
The hair at the front is styled to achieve gorgeous cornrows while the back is left loose with twists that hang freely boasting colorful beads.
Braided And Beaded Ponytail For Black Kids
If you have always wanted a hairdo that would make your little girl look endearing, this is the one for you.
This beautiful braided hairstyle boasts of colorful beads and the ponytail serves as the focal point for this one. It's quite effortless and easy to achieve.
Heart Shaped Braided Hairstyle With Beads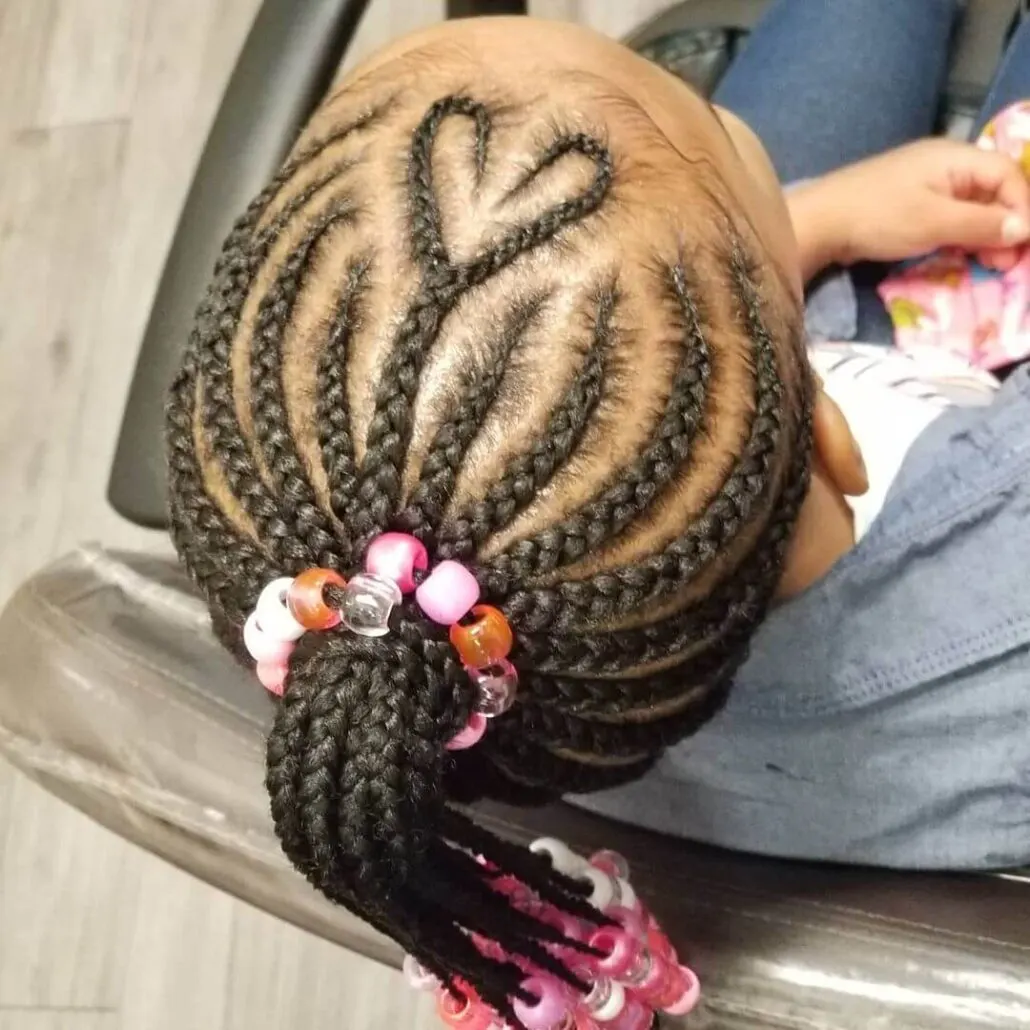 For little girls with African American origin, this hairdo is a perfect choice too look exciting.
The hairstyle features inventive braids that are accessorized using colorful beads. The unique heart-shaped patterns really create cool vibes.
Pigtails Braids With Beads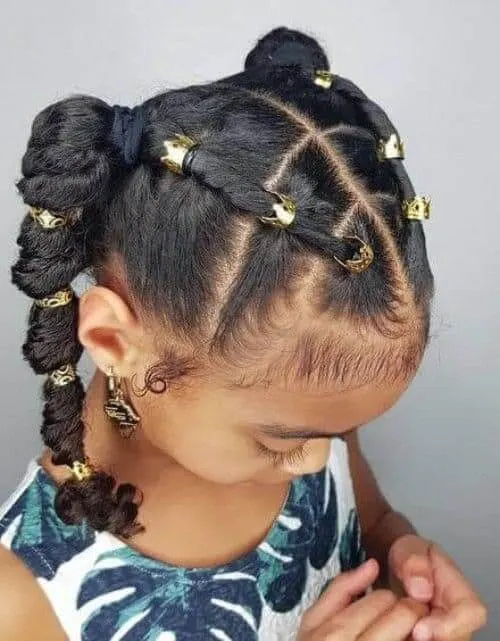 Braided hairstyles are often created in the pigtails form to give little girls a unique touch of style and fashion but even that can be beaded for an extra spark.
Just section it off into three different sections and secure the braids like pigtails. Add some colorful beads to it for a perfect finished look. It really looks gorgeous.
Braided Ponytails
You can adapt these stunning cornrows to your baby girl's age, making her look like a gorgeous doll.
First, you need to create the parting in the middle of the head and, for each section, braid the cornrows towards the back. Decorate the knits with the and pale pink beads and style two high ponytails.
Hairstyle with Braided Bangs
These braids with multicolored beads will create such a gorgeous frame for your baby's face. You can also choose to style braided bangs so the knits won't be on sight way while playing.
She will certainly get all the attention with this beautiful toddler braids with beads hairstyle.
Multicolored Hairstyle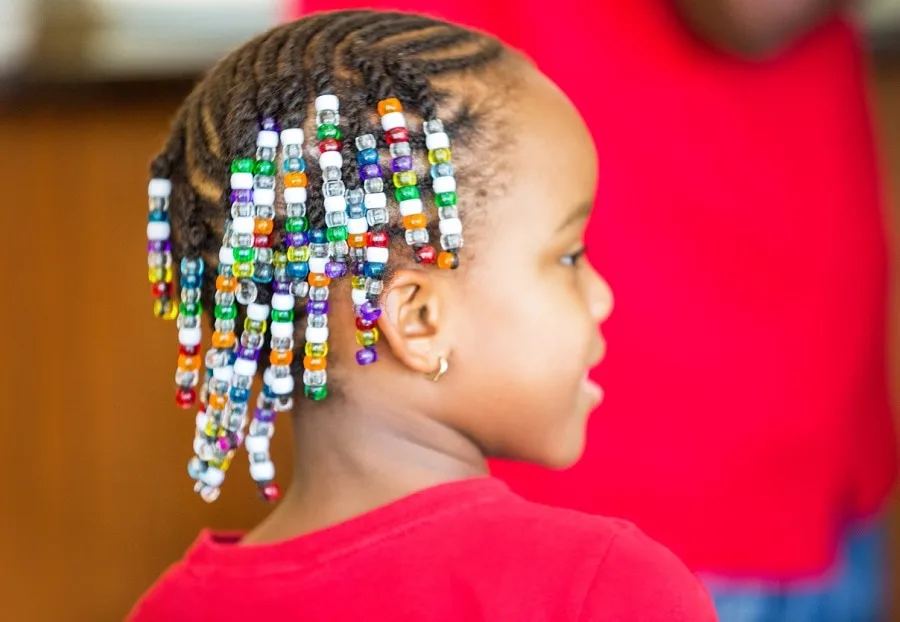 If you and your baby girl love attention and colorful toddler braids with beads, you will both fall in love with these knits.
Create cornrows and for the tips, and use about ten beads for each knit. Mix colors like purple, yellow, red, green, blue, and white for the beads.
Abstract Cornrows
This hairstyle requires a lot of patience and vision. First of all, split the mane into two sections: the upper and the lower part. You will start braiding from one ear to another for the top section and attach the beads at the ends.
Double Braided Ponytails
Section your kid's hair in two parts. For the top section, start the braids from the edges and go towards the top, while for the lower part, create cornrows from one side to the other. Secure the braids and use black beads for the ends of all those knits.
Squared Parting
Sectioning is a very important step in creating these braids. Following the brick pattern, create squares for these box braids.
These toddler braids with beads will look exquisite, especially if you use the upper section to style space buns. Your daughter will certainly adore them!
Heart-Shaped Braided Hairstyle
What a great way to show your toddler how much you love and cherish her! Use cornrow braids to create a knitted heart on top of her head. Also, style two high ponytails and decorate each braid with multicolored beads.
Ghana Braids
For those who prefer thick braids and want to use beads for highlighting the volume and glamour, Ghana cornrows braids would be a perfect choice. Adding those beads between her braids would give her a fun and chic look.
Diagonal Braids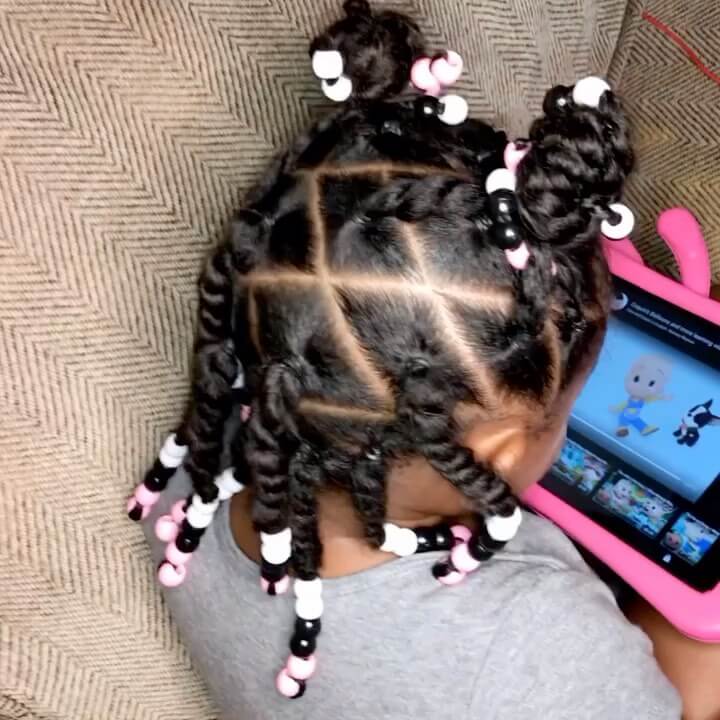 The variety in braided hairstyles is just immaculate and the style keeps winning hearts for little girls all the time.
The hairstyle offers a profound expression of African culture as well as its vibrant spirit. Add more glamour to the hairdo by beading the tips.
Short Box Braids
If you are looking for braided and beaded hairstyles, you must look forward to having some variation and versatility.
If you've been styling her hair with heavy updos, try some light and intricate braids now, at least for a change. She is definitely going to enjoy this new look and will feel amazing when colorful beads would be added to her hair.
Curved Cornrows
Halo braids are so cute, especially when a little girl wears one. Start braiding from the forehead or on one side and create that stunning hair crown. On the way, you can also include two curved smaller braids.
Dope Braids Hairstyle
Part your girl's hair into equal pieces and start braiding from the hairline towards the top. Once you are done with all the cornrows, you will obtain stunning toddler braids with beads that can be tied into a bun.
Knotless Braids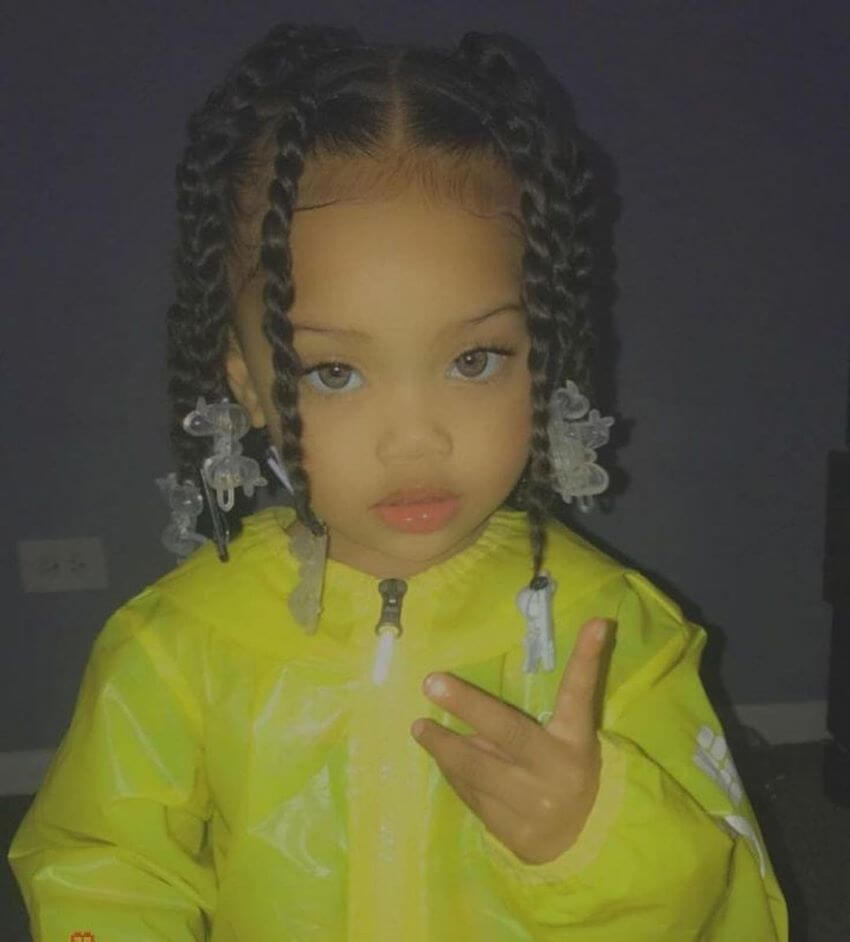 This is probably the best toddler braids with beads out here, and we think your girl is going to adore it!
It features rope braids that have gorgeous decorations at the ends. You can personalize this hairstyle according to your daughter's tastes.
Knot Less Box Braids
These knotless braids have a stunning pattern and the parting is done in such an ingenious way, with interfering kinits.
At the ends, add three pink and white beads, and once you are done, you can move back to the top part. Use a white thread and connect two braids, building a shoelace pattern.
Protective Braid styles
This one is a common choice among kids hairstyles for black girls and you can give it a whole new twist by adding some beads to the tips.
They will give some personality and individuality to this beautiful hairstyle and will make it personal to your little girl. Achieving cornrows in a curved fashion rather than straight will make them look alluring.
Beads can be added to just about any haircut and all you need is some creativity and an out of the box approach.
Find some of the best toddler braids with beads for your little one and she's definitely going to love it. Pick a few from the above list based on her hair type and face shape to give her some individual sense of style.