Summer is around and you must be looking forward to a whole new routine for your entire family. The biggest change you would anticipate is definitely going to be in the way you style your cute little girl. In fact, styling her long hair in a way to keep her feeling cool amidst the scorching summer heat is going to be your top challenge. Don't worry; there are some amazing summer hairstyles braids that you can look forward to this year and even beyond to give your little girl a cool stylish refresh.
She can carry these braided hairstyles even after the summer vacation when she resumes school. But for not, you should have no problems whatsoever giving her these braided hairstyles.
10 Summer Hairstyles Braids For Girls
Most little girls love animated movies and it's quite likely that your little angel might have already been inspired by the Elsa's braid. The braided hairstyle has received immense popularity among girls of all age groups and your girl might be a fan too. But that inspiration doesn't mean that you shouldn't look elsewhere. Here we have listed 10 best summer braids for girls that will definitely make your little one look and feel gorgeous.
Twisted Braided Ponytail
Whether you are looking for hairstyles for school or something that you can try out on her in casual routine, this simple ponytail is going to work wonders for you. The beautiful ponytail allows you to add some delicate style to her practical looks by simply twisting accent braids around her typical ponytail.
Here's how to do this one.
Brush her hair so that you can get rid of any tangles and knots and then form a typical high ponytail.
Grab a 3" hair section from her hair on the back and start braiding it. Don't stop until you reach the end.
Secure her braided ends using hair elastic.
Starting high on top, twist her braided hair around the ponytail 3-4 times.
Get rid of hair elastics which you had used in her braid.
Tie braided hair and the ponytail at the bottom using hair elastic and you will have a perfect finished look for her to flaunt.
Half-Up Crown Braids
Source: Country_cuts_salon
Creating braids in her hair doesn't really mean that you should be tying all her hair into some severe and tight hairstyle. Some experimentation can be done with braid's positioning so that a whole new look can be achieved. Consider this half-up braided hairstyle to give her an angelic look that she's going to love.
Here's how to achieve this hairstyle.
Brush through her hair and get rid of all those tangles and knots.
Spritz it up with a bit of texurizing spray.
Part it up on a side.
Grab a 3" hair section from the side where there is more hair.
Create French Braids through these 3 hair sections and make them go towards the back. Make sure that you are adding more strands into it from top of her head as you stitch this braid.
Keep French braiding around her head's circumference.
As soon as it reaches close to her forehead on opposite side, use bobby pins to secure it into place.
Loosen it up a little to create more volume into the finished look.
Braided Crown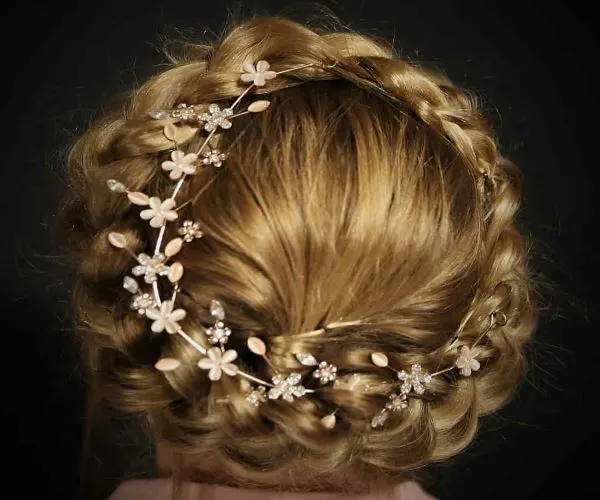 Source: Stylin_hair_02
Here we have another beautiful braided hairstyle that is a little different from the one above but still boasts of a braided crown shape. This one is a perfect choice for your little princess. This subtle look is going to give her that real princess feel for sure.
Let's find out how you should be styling it up.
Part her hair right in the center.
Now, part it horizontally from behind the ears and separate the locks on the front from those on the back.
On each side, tie a couple of ponytails using her frontal locks.
Make a little gap on right ponytail in the hair that lies just above that hair elastic. This can be done simply with the fingers.
Flip the ponytail up making it go through that gap for creating a topsy tail.
Repeat the two steps above on right ponytail now.
Braid both these ponytails you have just created and secure their ends using hair elastics.
Use the braids to tie a knot towards the back side of her head in exactly the same way as you do with shoelaces.
Flipping right braid's end over that of the left one, secure it using bobby pins on opposite side.
Do that same step with left braid as well to finish it off to perfection.
Knotted Braids
Source: knotted_braids
Dutch Braid, French Braid, Fishtail Braid, you must have heard of them all. What about learning some new braided hairstyle then? It's definitely going to impress everyone around. The knotted braids have an element of uniqueness to them and they are extremely functional at the same time as well. They won't unravel or loosen up as she moves through her day.
Let's learn the art of achieving this wonderful look.
Spritz her hair with a bit of texturizing spray .
Part it all down in the middle and divide her hair vertically to form a couple of sections.
Grab a hair section of 2-inch from frontal area of left section and split that up into a couple of more sections.
Use those two sections to tie just one knot in the same way as you do with the shoelaces, and pull it tight to make sure it rests against the scalp.
Add 1-inch hair sections to tails of the knotted hair and repeat the above step until her knotted braid reaches nape of the neck.
Use hair elastic to secure her knotted braid.
Repeat steps 3 through 6 for finishing it off.
Invert Hearts Braids Ponytail
Source:Pinterest.com
Get rid of that pack of the hair elastics that you had just bought for keeping your little girl's hair tidy. This beautiful hairstyle would ensure that her hair stay put throughout the day and looks as gorgeous as it can ever get. The pull-through braid is extremely easy to achieve and it really creates that oh-so-cute vibe with the unique inverted hearts.
Here are the steps to follow for achieving this wonderful hairstyle.
Brush through her hair to get rid of all tangles and knots before tying it into a cool high ponytail.
Divide her hair horizontally into a couple of sections so that there's a top and a bottom section at the end.
Make a couple of sections from that top section.
Flip the two parts of top section underneath the one at the bottom before tying the two sections together using hair elastic.
Now, the bottom section will be the top one.
Repeat steps 3 through 5 and reach to the tips of her hair forming a beautiful braided ponytail.
Next, tug the braid apart and loosen up a little to add some extra dimension.
Pin the bow at base of the ponytail and you have a perfect finished look ready for her to flaunt.
Ribboned Milkmaid Braids
Source: Glitzybraids
So, does your little girl love athletics? Do you always find yourself in a bit of bother whenever you have to dress her up before the sports meets? Here is this wonderful hairstyle that you are going to love and so is everyone else. This unique take at the milkmaid braids is definitely going to add some adorable looks to her and it's also going to keep her locks out of the face.
Here's how you should be styling her hair step by step.
Put her hair to a side.
Cut a couple of ribbons, keeping both of them twice as long as her hair length.
Divide her hair vertically into a couple of sections, keeping one of these on either side of the face.
Tie the hair towards the left side into a low ponytail on a side using a ribbon.
Join both the ribbon ends with the hair, dividing the ponytail into three strands.
Just braid her ponytail all the way to the ends, securing it using hair elastic.
Repeat the steps 4 through 6 on other side as well.
Make the left braid go across on top of her head and then pin it up close to the right ear.
Do the same with right braid as well.
Grab short piece of ribbon, put it around the braids on left side and tie beautiful ribbon bows around these braids.
Repeat this same step on right side for completing the hairstyle.
Braided Hair Buns
Source: its.jessica.d
Want to keep your girl looking as cool and young as ever? These beautiful braided hair buns are going to do a perfect job for you. They are surely going to make your girl look and feel like an innocent little angel which she really is. These beautiful buns won't just add to her personality, they are going to keep the hair out of her face as well and will keep her looking neat and cool.
Here you have some simple steps to follow for achieving this look to perfection.
Part her hair right in the center and divide it vertically into a couple of sections.
On each of the parted sides, tie a cool ponytail using all the strands in these sections.
Make a couple of sections out of the ponytail on the left side.
Twist the two sections and intertwine them with one another right to the end before securing it using hair elastic.
Repeat the above two steps on right ponytail.
Roll those ponytails up into cool hair buns and eventually secure these buns on her head using bobby pins. The finished look will really create some amazing vibes.
Triple Flower Braided Sides
Source: Flower.braids
Does your cutie being love flowers? Are you ready to revamp her style for the next wedding? Here we have one of the best easy hairstyles to do yourself for a wedding, and your girl is surely going to rock this one if you achieve it to perfection. The flower braids always look gorgeous on girls and they will complement her fancy wedding dress nicely as well. Simply follow the steps below and give her a more than perfect hairstyle.
Part her hair right in the center.
Grab 2-inch hair section from above the ears on your preferred side, and make three sections/strands out of it.
Start braiding and do it right to the tips before securing its ends using hair elastic.
Now, pancake a side of the braid you have just created.
Start at the ends and roll the braided hair into a cool flower shape before securing it using bobby pins to a side on her head.
Continue with steps 2-5 on a couple of more hair sections picked from just next to that initial flower braid you have earlier.
Spritza bit of light hold spray and finish it off perfectly.
Accented Fishtail Ponytail
Source: faithbecerrabeauty
It is just amazing to find out actually how many wonderful hairstyles one can do simply by doing some experimentation with their girl's hair. This beautiful and cool hairdo involves some cool placement of fishtail accent above the ponytail your little girl is wearing. It can even makes one of the best quick and easy hairstyles for school and will also allow her to indulge in all the activities she loves during the summer season.
Let's try and figure out how it's achieved.
Grab a 4" section from center of your little one's forehead and use hair elastics to tie it together.
Divide the ponytail into a couple of sections.
Create fishtail braids using these two sections by picking up thin hair section on the outside alternately and adding this section to other section from the inside.
Secure ends of this fishtail braid using hair elastic.
Leave fishtail braid to a side now and tie all the locks on her head into a cool mid-level ponytail.
Grab a thin hair section from the ponytail for wrapping it around base of the tail so that the elastic used to secure the ponytail is concealed effectively.
Place this fishtail braid right on top while pinning it up at her ponytail's base for finishing off a perfect hairstyle.
Viking Braids
Source: viking_mood
You may have remembered Viking as a manly figure, but the effect can be implemented into your girl's braids as well. If you have always find Halloween a stressful time, and had to worry a lot about costume planning for your little girl and shopping around for that, this is a perfect choice for you. The hairstyle would look amazing with her warrior princess costume. The Viking braids are messy and the look a bit edgy and cute all at same time. It may need some expertise, however, to achieve a perfect style. Here's how you can achieve this look.
Crimp her hair using hair crimper to start off.
Use rat tail comb to make a couple of vertical partitions through her hair and make three equal sections. Clip a couple of them up.
From the section on the left, close to her forehead from the right, grab a small hair chunk before dividing it into three equal sections.
Spritz it with some texturizing spray all around as it will give some hold to it.
Rub a bit of hair gel in between your fingers before applying it to smoothen up those flyaways and set her braids into place.
Dutch braid the three hair sections by flipping that side section underneath the middle one and adding some more locks into the braided hair in every subsequent stitch. Make sure that you add hair only from the hair section you're currently working with.
As soon as the braid has gone beyond her ear, just let it loose.
Now, repeat the step number 3 through 7 on other two hair sections as well to form the braid.
Brush through those loose locks towards the bottom side.
Spritz some hairspray for preventing braids from working loose throughout the day.
All these summer hairstyles braids are definitely going to work wonders for the summer hairstyles of your little girl. You need to be spot on with your choice here and she is definitely going to rock your chosen style. Make sure that you choose a hairstyle for her according to the occasion and the one that is going to accentuate her looks further. Experiment with the looks described above to come up with something special of your own if you want to. But if you don't, you're still going to be fine with either of these braided hairstyles for girls. Make a pick now!