We all loved Frozen when we first saw it and it had lots of memorable moments as well. Everyone loved the main character of Elsa Queen and the hairstyle she wore became popular among the masses as Elsa's braid hairstyle.
If your little girl also watched the movie, it goes without saying that she'd also have been impressed by the signature braid hairstyle Elsa wore in it. And, if she insists on wearing the same look, or any of its variations, you can always style her hair like that with a little bit of effort.
Let's first check out how to create that type of signature braid hairstyle and then get into some of the variations of the hairdo that you could style your girl's hair with.
How To Create Elsa's Braid?
To be precise, you could give your little girl this wonderful hairstyle in a couple of steps. The first one requires you to create some volume in her hair and then creating a French braid in a typical Elsa's style. And, obviously, she needs to have that much hair length as well.
Here is how you can create volume in her hair to start with.
Start by brushing her hair and ensuring that it's all dry, clean, and completely tangle free. If your girl has got curly hair, you'd be able to easily work with it by blow drying it or straightening it all before you begin.
Create some texture with the help of a texturizing product sprayed throughout her hair and then scrunched with your fingers. It will improve the volume as well as the wavy look of her hair.
Now, take her top hair section and part it from rest of her hair. Next, add a volumizing product and make sure that it's put along her root line. Repeat the same step by taking smaller sections from the top.
Next up, take the hair section on top and part it from the hair beneath. Back comb her hair at roots using teasing comb. Repeat the process with several sections on top of her head to ensure that you backcomb at root. Now, use smoothing brush for brushing hair back lightly so that it can smoothen out those out of place teased pieces.
Finally, for creating extra volume like we saw in the Elsa's hair, a bump has to be created on top of her head. Take smaller hair section from the center and twist it slightly for giving it a bit of lift. Repeat the same with a couple of small hair chunks on right and two on left. These sections should then be twisted towards center of her head so that there may not be any kind of hair part whatsoever. Make sure all twists you have created join each other in the center and push up slightly to give her a bit of volume. Use bobby pins to secure these twists together. The bump would be ready now.
Next, you need to create a French Braid in exactly the same manner as with Elsa's hair. Here are the steps to follow.
Grab a section of hair at the crown area and create three equal sections out of it as you start French braiding.
Add hair from the left to the left section as you braid and cross it over the middle section.
Add hair from the right side to the right section as you braid and cross it over the middle section.
Keep braiding by following the above two steps right to the tips of her hair. Make sure that you grab bigger sections from either side so that it looks exactly like Elsa's braid which is bigger and a bit messy at the same time.
Finish it off in the front by going under the middle section which is commonly the case with the Dutch braid.
Use elastic to secure it at the bottom.
Finally, pull out the sections of the braid slightly to loosen it up a bit and make it look much more relaxed. It will make the braid look bigger and more voluminous.
Elsa's Braid Hairstyles
Now that you know how to create Elsa's braid, it's time that we take you through some of the variations of the hairstyle and give you a sense of how you can style her beautiful braid into different cool hairstyles. Let's have a look.
1. Elsa's Braid On Brown Hair
Source: Samanthaatvohana
This is a perfect look to achieve when creating an Elsa braid and if you can make it go over the shoulder it will look gorgeous and will reflect the same style worn by the Frozen Queen. A loose and messy look is what this beautiful hairstyle is all about and it is braided to perfection. The hairdo looks even more beautiful on brown hair.
2. Typical Elsa's Braid
Source: Melodyreign
This is a typical braid that is a signature style of the Elsa Queen. However, it is a bit more loose and messy on top and you can always keep things under control by going for a little bit more organized look to make sure that your girl's style resembles exactly what was depicted in the movie. The braid is slightly thinner moving down the bottom which is actually a variation of the original style for girls who do not have that much volume to their hair.
3. Elsa's Braid With Braided Crown
Source: Caelieelaine_hair
This cool variation of the hairstyle boasts of loose and messy hair all around while the braid is created typically just as described above. A different touch of style is given to the hairdo by making that loose braid to go swirling around the head, lower down the nape area, and forming a sort of cool crown shape. It will look gorgeous on your little girl and she can let that crown go loose anytime to make it a typical braid worn by Elsa in Frozen.
4. Centered Braid Variation
Source: Good_hair_vibe
This variation of the Elsa's style boasts of a typical braid that the girl had worn in the movie but it comes down from the top and goes all the way back rather than falling over the shoulder at the front. The braid also starts in the center at the front bringing all the hair from the sides to join it right there.
5. French Braid With Color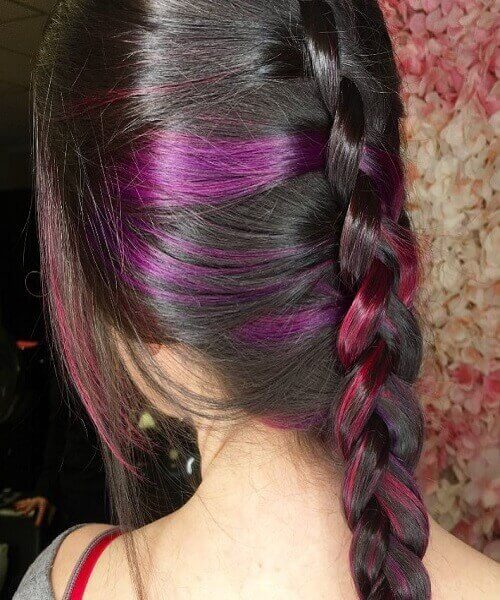 Source: Ashes
This French Braid hairstyle is characterized by some color which really makes it look unique and standout. The hair on top and the sides is styled loose to achieve a more casual look while there is a couple of color shades incorporated into it to make the hairstyle more funky and gorgeous.
6. Diagonal Braid
When your daughter has such thick, gorgeous hair, you can give her all the hairstyles she wants, including an Elsa braid.
Start from one corner of the forehead and knit the hair until you reach the nape area. Pull off the edges to give it more volume.
7. Pink and Blonde Braid
A small piece of pink Jumbo hair will give value to any braid, and your daughter will absolutely adore it. It is a great replacement if you don't feel like dying your kid's hair at an early age.
8. Jumbo Braid
Get an ombre Jumbo braid that mixes blonde and an electric blue to style this Elsa's braid for kids. Start from the top of the head and decorate the final knit with some tiny flowers or snowflakes.
9. Elsa's Braid for Wedding
Some brides want to look sharp and neat, and others prefer more relaxed messy looks. If you are one of them, this Elsa braid is perfect for your big ceremony.
Build a loose French braid and decorate it with some bridal, special hair jewelry.
10. Frozen Queen Braid
It is not mandatory to use hair or extensions to get an Elsa braid. You can also use threads in different colors.
While braiding your little princess's natural hair, feed in the knit with these threads. Don't forget to add an icy frozen tiara to complete the look.
11. Double Elsa's Braid
If Haloween is near, get your daughter that Elsa costume she always wanted. Also, get a bundle of golden blonde hair that you will split into tho sections.
Create two Dutch braids on each side, starting the top and following the hairline. Meet them at the nape and braid them into a bigger knit.
12. Ribbon Braid
Ribbon braids look so sophisticated and they only require some patience and, of course, a ribbon.
Use two sections of hair and constantly feed in these parts with more locks of hair while twisting them. Add the small ribbon, and you've got an exquisite look for your girl's hair.
13. Multicolored Braid
Every little girl dreams at some point of becoming a princess. And since Elsa is now the big sensation and you can find Frozen branded stuff everywhere, you're just one step away from this statement: "Mommy, I want hair just like Elsa's!"
And what can you do? You get rainbow Jumbo hair and help your little girl become a Disney princess.
14. Braids and Roses
This amazing construct inspired by Elsa's braid doesn't feature ice but spectacular roses and gypsophila.
Create a French fishtail braid and pull off the edges to make the knit look more natural, messier. Attach the flowers here and there, and you'll get a hairstyle that is also perfect for weddings or summer parties.
15. Pale Blue Elsa's Braid
If your daughter is irrevocably in love with Frozen, she is definitely talking all day about this animated movie.
Helping her get Elsa's braid will probably be the best surprise, so order a bundle of pale blue Jumbo hair and start creating the knit. Imagine just how happy she will be!
16. Thick French Braid At The Back
Source: Solntseva_Hair
Girls with naturally voluminous hair can style their hair with this beautiful hairdo. It reflects a perfect braided style worn by Elsa in the movie as it's thick and slightly loose at the same time as well. The only difference from the signature look is that the girl is wearing it at the back rather than making the braid fall over her shoulder at the front.
17. Elsa's Braid For Shorter Hair
Source: Megboss
If your girl's hair is very much voluminous but it is not that long as you would have wanted, you can still give her a touch of Elsa's style. This beautiful hairdo makes a perfect example of that. It's combed back at the front and made into a thick and voluminous braid that goes all the way to the back leaving the strands at the tips a bit messy. Due to short length of hair, it's not made to fall over the shoulder at the front. Nevertheless, it still looks amazing.
18. Loose Braided Hairstyle
Source: Kmhealthcoaching
Another variation of the Elsa's braided hairstyle, this one makes more of an everyday look that your girl can wear at home. The major reason behind that is it's a lot messier and created loose rather than the thicker braided style we have seen above.
19. Elsa's Braid With Braided Top
Source: Hairwithfaris
Another cool variation on the list, this beautiful hairstyle reflects Elsa's hair in its own unique manner. The major difference here is that the braid starts right on top rather than where the crown is. Nevertheless, it still looks amazing and creates a perfect vibe as it falls over her shoulder.
20. Elsa's Braid With Hair Accessory
Source: Dian
Another cool look given to Queen Elsa's hairstyle, this beautiful hairdo features a loose French braid starting on top from a side and going all the way back to the nape area. Here it is secured into a cool braided hair bun which makes it more of a unique variation of the hairdo. There is a hair accessory used on the side of the bun making it look even better.
So, which of these Elsa's braid hairstyles do you think make the most stylish look? In fact, which of these would you prefer to style your girl's hair with? No matter which options you choose, we have given the entire step by step procedure of creating the braid for you. Just follow it precisely and make slight variations for achieving a perfect braided hairstyle for your little girl.