Little girls love braids and they are a go-to hairstyle for black girls. However, you need to be creative to come up with new hairstyles for girls every other day. Fortunately, there are endless little girl braids ideas that you could try out and they need very little effort to master them. This versatile hairdo could be implemented in as many ways as you might think of.
Creative Little Girl Braids Ideas 2023
To find out the best child braiding styles for every occasion, here we have listed some of the top-rated options from the stylists. Do check out!
Angle Cornrows With Hair Accessories
This cool hairstyle features cornrows created at an angle and as it leaves the head on the sides, it's accessorized to perfection. The ribbon bands add a touch of elegance to this already attractive look.
Cornrows With Braided Bangs And Short Ponytail
If your girl loves ponytails, this is the hairstyle to go for. One of the best little kids braiding hairstyles around, this one boasts of nice side-swept bangs and has a cool short ponytail towards the back created at the crown.
Wavy Cornrows On Top
This cool look is amazing for girls with blonde hair and it takes a few minutes to achieve only. Accessorize it a little and it will look gorgeous.
Braided Hairstyle With High Side-Swept Tails
This cool look is about horizontal braids achieved with nice side-swept high tails. There's a braided ponytail at the back as well.
Braided Hairstyle With Pigtails
This beautiful braided hairstyle makes an ideal choice for parties and special occasions. The pigtails look amazing.
Side-Swept With Thin Angled Braids
This sleek and elegant hairstyle makes a perfect look for parties and even works in everyday routine.
Braided Cornrows With High Bun
Want a hairstyle with a cool focal point? This one makes the cut for you. Accessorize the bun with some colorful ribbons or rubber bands and you have one of the best child hair braiding styles ready for you.
Horizontal Cornrows With Accessories
If you are looking for a cool hairstyle with lots of colorful accessories, go for this one. It's a special everyday look.
Voluminous Braids With Pigtails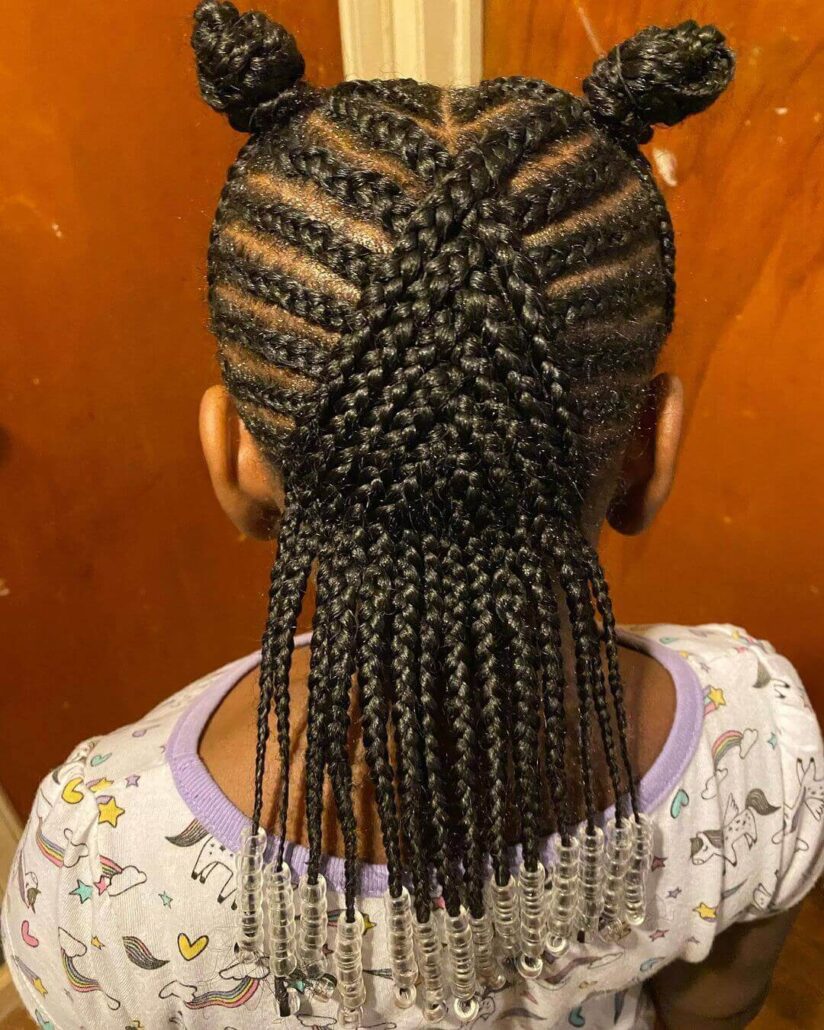 These voluminous braids are amazing. A unique look at the back further accentuates this beautiful hairstyle.
Combed Back With Halo Braid
This cool hairstyle with a thick halo braid makes an amazing look for a fun day. A big colorful bow clip at the back makes it even better to look at.
Center Parted With Colorful Braided Ropes
These rope braids make an iconic hairstyle out of something ordinary. A center-parted look with thick braids on either side of the part defines this wonderful hairstyle.
Center-Parted Long Braids
This beautiful hairstyle is all about braiding it all over the head and parting it in the center.
Cornrows With Thin Braided Pigtails
Love braided pigtails? Accentuate them further by knitting colorful ribbons through them just like the hairdo above.
Kinky Rope Braids
These braids look elegant with their thickness and color. It's a perfect low-maintenance haircut for girls.
Cornrows With Halo
Cornrows formed into a nice halo braid, this hairstyle boasts of a nice colorful ribbon twirled around the halo. Looks gorgeous indeed!
Cool Patterned Cornrows
This beautiful hairstyle looks nice and has a hair accessory towards the back to secure the look.
Thick Braided Tails
This unique look redefines the hairstyles with braided tails. One on each side of the head, it looks amazing.
Pigtails With Braided Pattern At The Back
One of the best little kids braiding hairstyles around, this hairdo boasts of some pattern and color incorporated into it. The hairstyle features two braids starting at the crown and going wide apart with a green ribbon weaving them together before they go back up and form pigtails on either side of the crown with a red ribbon weaved in between.
There can be many other amazing little girl braids hairstyles and you just need to think of a few unique implementations. Otherwise, you can just stick to these beautiful braided hairstyles above and figure out which one your girl is going to sport next. There is always a perfect match!