Ponytail remains a popular choice among girls hairstyles and there can be a lot of cool variations of the look. It's such a versatile hairdo that it can be styled in so many different ways and can give a perfect look to all types of hair.
Depending on where your girl has to wear the look and what kind of appearance you'd want to achieve, you can choose from a wide variety of hairstyles with different types of ponytail hair incorporated into them.
Here we have listed some of the best options that you'd want to style your girl's hair with on different occasions. Let's check out.
Cute Ponytail Hairstyles for School in 2023
Ponytail braid remains a popular choice among ponytail hairstyles for girls and it is primarily achieved with thick and kinky hair.
The look has a more organized vibe and it can make a perfect everyday vibe. Here are some of the best picks among ponytail braid hairstyles.
Ponytail Braid Hairstyles for School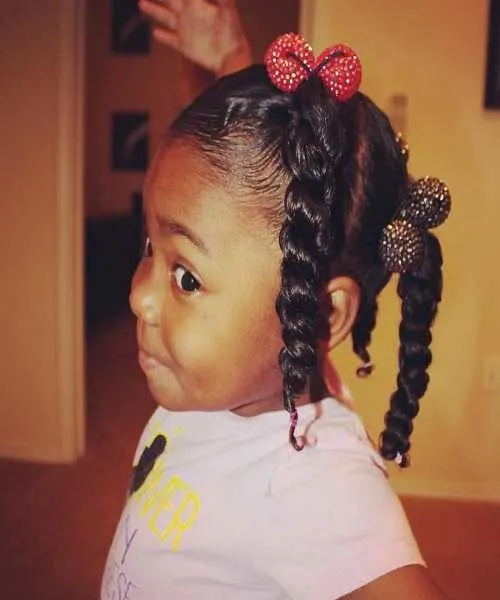 For black girls with short, shoulder length hair, this beautiful hairdo makes a perfect choice. The hairstyle requires the hair to be combed back and styled into multiple ponytails.
One can fall over to a side while there can be braided pigtails as well. The hair on top is sectioned horizontally halfway through as well. A few hair accessories are also used for securing the look to perfection.
Ponytail Braid With Cornrows
Another cool braided look, this hairstyle is just tailor made for black girls with naturally kinky hair. The cornrows is created starting at one side of the head and it goes swirling around before being secured into a high ponytail.
There are a few strands wrapped around the tail just where it starts. Besides the frontal cornrows, there is another pattern that starts just above the ear on the left side and goes to the other.
Overall, the hairstyle makes a perfect ponytail braid and it would be an ideal choice for school going girls.
Slightly Angled Cornrows With High Ponytail
This is another unique take at the beautiful cornrows style. The hairdo is perfect for girls with kinky hair that is grown too long and makes a perfect ponytail.
This one is a bit funky as it is created with slightly angled cornrows on top and the high tail is secured with colorful ribbons knitted into then. Yes, that perfectly knitted look makes a unique style statement and it can even work fine on special occasions as well.
Voluminous High Ponytail With Braided Back
This really is one glam look that makes for a perfect party hairstyle for girls. The hairstyle can be achieved with naturally voluminous and long hair that is formed into a nice high ponytail.
For achieving a perfect hairstyle, make sure that the hair is all swept to a side and is secured into a high tail towards a corner of the head.
The reverse braid created at the nape of the neck and going all the way up to where the tail is secured. Keep the tips wavy and voluminous and it will look amazing overall.
Straight Cornrows With Accessorized High Tail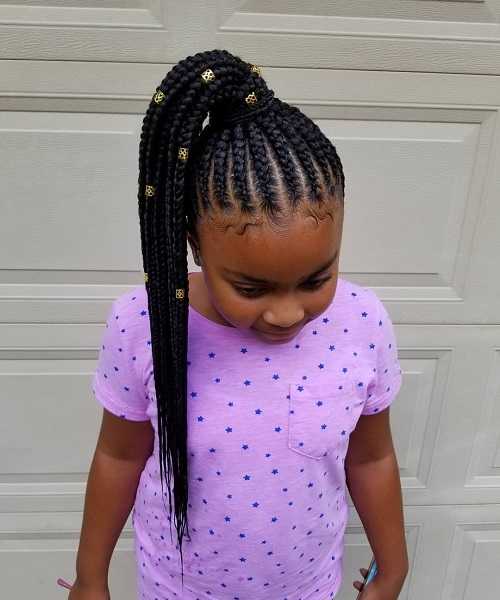 This is another cool look achieved with naturally kinky and thick long hair. The hairstyle gathers all the thick braids at the crown and wraps it around into a beautiful raised ponytail.
It is then accessorized with some beautiful jewelry that makes the hairstyle look chic and elegant. The braided tail gets thinner as it moves down to the tips and falls over the shoulder. Overall, the hairstyle looks chic and elegant and it makes a statement for your little girl.
Fine Cornrows With Short Tail
Another braided look for little girls, the hairstyle features very fine cornrows this time and that's probably one of the two major differences this hairstyle has from the other ones above.
The second one is that the hair is very short and the raised side ponytail doesn't even fall below the ear. The colorful accessory used to secure the ponytail adds another cool element of style to the hairdo. Overall, the hairstyle is just amazing and makes for a perfect everyday look.
High Ponytail Hairstyles for School
When it comes to styling ponytails for little girls, a high ponytail really makes a perfect choice not just for school but also for a cool everyday hairstyle.
The hairstyle can be achieved with all sorts of different hair types but it looks the best on long and beautiful, straight and fine hair. You can always experiment with the hairdo by adding unique elements of style to it and here we have a few examples for you to look at.
Combed Back Hairstyle With High Ponytail
Not as high as you may have expected, the hairstyle still qualifies for a perfect high ponytail. It is achieved with long and fine hair that is combed all the way to the back and is formed into a beautiful high tail just around the crown area.
It is quite simple to achieve the look and it doesn't require you to put in too much of effort into achieving a perfect hairstyle. Secured with a rubber band, the hairstyle looks cool and you also have the option to accessorize it if you like.
High Wavy Ponytail To A Side
When your girl has the luxury of beautiful straight and fine hair, you don't have to worry about styling it at all. A beautiful ponytail here or there and she is definitely going to have a wonderful hairstyle ready for her.
Just look at this one, for example. Beautiful side swept hair at the front and nice high ponytail on the side, it really makes for a perfect vibe both at school and at home.
The hairstyle owes its uniqueness to that beautiful wavy touch to the ponytail towards its bottom and the length of the hair that is a bit shorter compared to many other hairstyles on the list. Nevertheless, it looks gorgeous for sure.
High Ponytail With Braided Top
This beautiful hairstyle is another unique look your girl could achieve with her naturally straight and long, beautiful locks. It's a perfect party hairstyle that would create a unique vibe of its own.
Even if you are looking for some of the best prom hairstyles for your little girl, this one would make a perfect choice.
The hairstyle boasts of cool braided top with a central braid starting at the front and going all the way to the crown where it forms a knot and gives birth to a high ponytail which looks awesome with its unique, wavy and voluminous touch. Overall, the hairdo is just perfect whenever you are looking to style something special.
High Tail With Side Braid And Combed Back Top
This is another cool variation of the high tail hairstyles as the hairdo combines a few style elements into one beautiful look. It is combed back on top while there is a typical French braid on the side and it all joins together at the crown to form a cool high ponytail.
The ponytail gets a little bit of twist halfway through and looks just gorgeous on little girls no matter what the occasion may be.
Whether she wants to wear it to school or to a major event, the hairstyle would do a perfect job no matter what. Just make sure that it's all combed nicely and there are no tangles or curls left behind anywhere.
Simple and Easy Ponytail Hairstyle for School's Girl
You may also find some of the coolest variations of the ponytail hairstyle that could be achieved with both short and long hair.
Whether you want to create the tail starting high on top or want to achieve something with her short hair, the options are endless and it's your choice which of them you'd want your little girl to flaunt. Here we have a few cool variations of the hairstyle for you to consider.
Short Bob With Short High Pony
Bob haircuts have long been considered a popular choice among women for their kids' school but these hairdos can be styled with a cool pony look as well making them more stylish and unique.
The hairstyle can be achieved best with naturally straight and beautiful locks cut to the chin length and combed slightly backwards. A short, high pony at the crown defines the elegant style making it look unique than most typical Bobs out there.
Combed Back Hairstyle With High Pony And Twisting Braid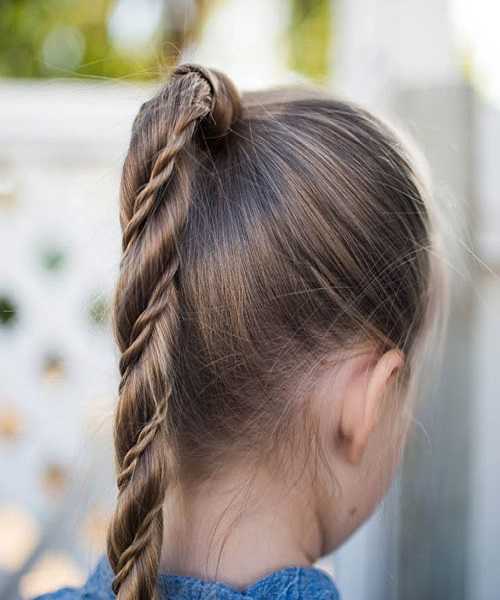 Yet another cool look to achieve with long ponytails, this beautiful hairstyle is pretty simple to achieve and creates a unique and beautiful vibe.
The hairdo is about combing it all back and tight to the head on top while a high tail is created just around the crown area. It is made to look awesome with a fine braid going twisting around it all the way to the bottom.
The hairstyle is unique and it's very simple to achieve. So, you don't have to put in any extra effort whatsoever for achieving the look.
Side Swept Hairstyle With Voluminous Side Ponytail
Having the luxury of long, beautiful, and lustrous hair is definitely a blessing in disguise and not every girl has that.
So, if your girl has that type of beautiful hair, you should definitely give her a cool hairstyle like this one which is quite different from the typical 'dos around as well. This one is actually about combing the hair on top towards a side and using colorful elastic to secure the tail on a side.
The natural volume of her hair will definitely make it look amazing and when it falls over her shoulder, it creates amazing vibes.
High & Tight With Fine Braid In Ponytail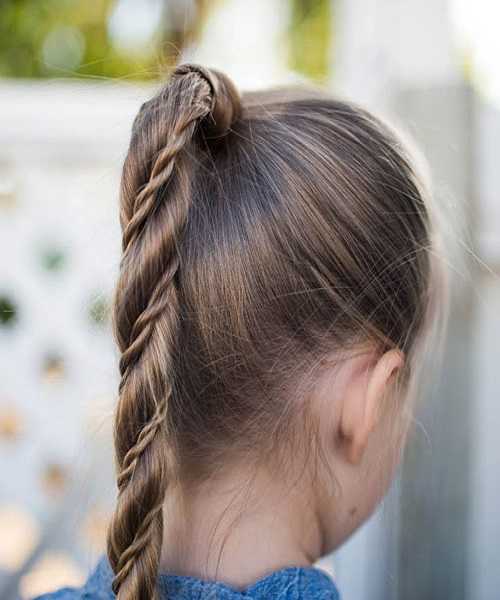 A beautiful high and tight look is what every little girl loves to flaunt because of its tidiness and beauty that lies inside.
This cool hairstyle is just a perfect example of such hairstyles and it adds a unique element of style to the hairdo as well. The hair on top is all combed back tight to the head and the ponytail goes high starting at the crown.
It's kept together with its natural texture to create a more cohesive look and the fine braid is knitted into it in a unique style to make a statement of its own. The hairstyle looks and feels amazing overall.
Combed Back With Wrapped Ponytail
This combed back hairstyle is quite sleek, simple, and elegant and it creates a unique statement as well. It's one of those beautiful 5-minute 'dos and there is nothing so intricate about it. Just comb it back tight and wrap a few strands around the ponytail just where the crown is.
There is no need of any accessories at all for securing the ponytail and it still looks and feels amazing. The ponytail is voluminous and it looks gorgeous as it falls over.
Loosely Textured Combed Back Ponytail Hairstyle
Another combed back look, this one actually features a wide fringe that goes back after being swept to a side and ends up wrapping around the ponytail.
The rest of the hair on top is combed back and it is loosely textured to achieve a perfect 'do. The tail is long and voluminous and it's nicely spread out as well. Overall, it really looks amazing and creates a perfect vibe. The hairstyle is not too hard to achieve either.
Combed Back Braided Hairstyle With Low Ponytail
This hairstyle is pretty much similar to the ones above in the fact that it is also combed back low and tight but what sets it apart is that beautiful braid which starts at the front.
The braid is created at an angle and it starts on one side of the head and goes all the way back to the other before being secured around the nape of the neck. A few strands are used to wrap around the ponytail and secure it in style.
The tail is quite voluminous and it really looks amazing as it spreads going down to the bottom. The volume and natural texture creates its own unique vibe.
Center Parted Hairstyle With Bubble Tails
This beautiful hairstyle is here to redefine the gorgeous pigtails and it does that to perfection. The hairstyle boasts of a nice center part on top, which itself seems a bit casual as it's not dead straight, while the hair on either side of the part is turned into cute bubble tails before being secured with the help of elastics.
The hairstyle may not be the tidiest of looks around, but it does have that element of cuteness to it. Your girl can even wear the hairstyle to school if the school code allows for it.
Bob Hairstyle With Top Pony
This is a cool and stylish variation of a typical bob hairstyle and it has its own unique vibe to it.
The hairstyle requires you to section her hair off on top and bring several strands from front to the back while securing them midway through with colorful rubber bands and eventually forming a high ponytail right in the middle.
The bob hairstyle looks cool in its own but the short tail that falls over to a side makes it look even better and gorgeous overall.
Neat Combed Back Ponytail
This neat and cool look is about combing the hair tightly backwards and then forming a ponytail just below the crown.
A layer of strands is wrapped around to create a perfectly chic look while the voluminous tail falls all the way down at the back making its own unique style statement.
Its natural texture is kept intact and it's very much put together to create more of a cohesive look overall. The hairstyle speaks volumes about itself and can easily beat all the modern hairstyles out there. It's clean, cute, and elegant.
Side Swept Hairstyle With Angled Braid And Ponytail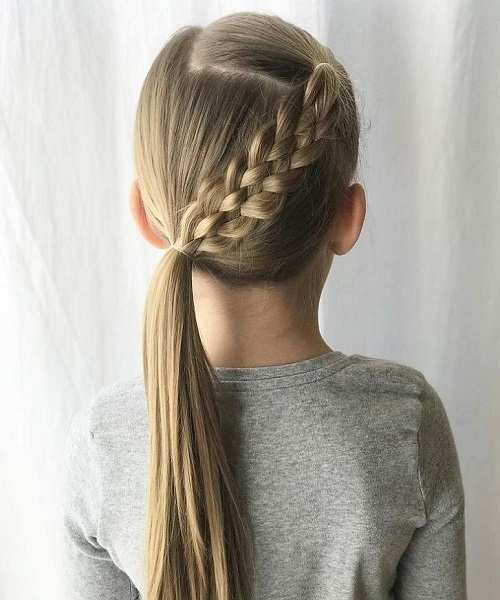 If styling her hair differently everyday has been a challenge for you over the years, try this beautiful hairstyle and she is definitely going to love it.
The hairstyle boasts of nice and straight hair that is combed to a side and is characterized by a perfect side part before it is braided at one side around the crown area and a thick triple braid goes to the other side at an angle and is secured around the nape.
From there on, it is made into a long, textured, and beautiful ponytail that has its own unique vibe and makes a perfect style statement. You can't ask for anything better when looking for something stylish and well put together.
Combed Back With Reverse Braid And Curvy Tail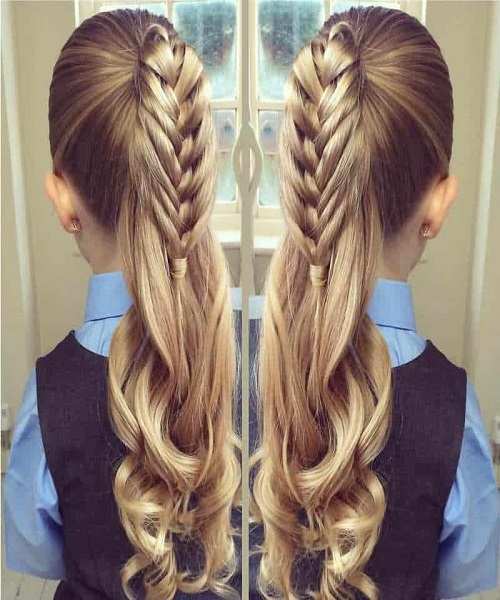 All the style elements locked into one, this beautiful hairstyle has much more to offer than what you might initially think.
It boasts of a nice and tight combed back look on top with hair from all sides of the head brought together at the crown. After securing it right there with the help of elastic, a cool braid is initiated and which is achieved more in reverse braided pattern and it sits elegantly over the long ponytail.
The ponytail underneath the braid becomes more evident at the point where the braid ends and it announces itself elegantly with nice, voluminous curves that make an amazing style statement. Have you ever seen a ponytail hairstyle as versatile as this one? Probably not!
Loose On Top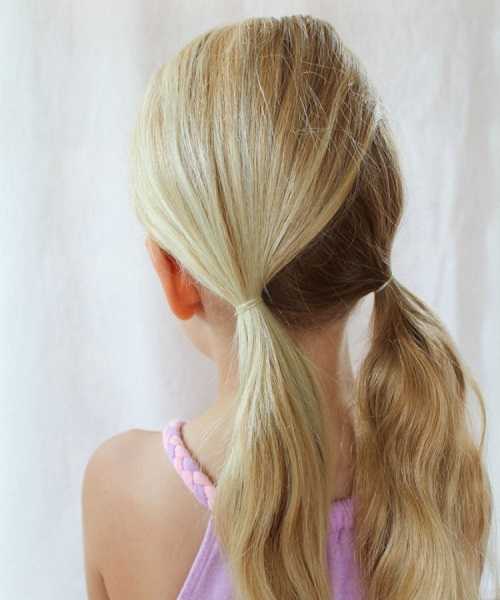 A simple and sleek everyday look, this beautiful hairstyle requires you to comb her hair backwards but it also necessitates that you keep it a bit loose on top.
So, make sure that you don't go as tight as you would with the other hairstyles on the list. Another thing different about this hairdo is that you should bring the hair towards a side as you comb it back rather than taking it to the crown and forming a typical tailed look.
On either side, at the nape of the neck, secure the hair with elastics and make it into long, voluminous, and wavy ponytails. One side is layered over the other at the back and it just looks amazing and quite different from many other variations of the look.
Combed back Braided Hairstyle
This gorgeous combed back look features an inherent side part which separates the hair combed towards a side and the ones taken all the way back to the crown.
The side swept hair is textured and is braided with a swirling braid that ends at the crown where the wrapped ponytail starts.
Even the ponytail is complemented with a braid as well that sits on top of it elegantly. The tips of the tail are curled nicely and made to create a unique style statement. It really looks nice with the amazing color dye.
Side swept look
This is another unique take at the typical combed back ponytails. It boasts of a nice side swept look at the front with the back section all combed back to the crown.
The side swept locks are then braided and taken back to the ponytail which looks elegant it its own simple and elegant style.
There are a couple of parallel braids coming from the other side of the head as well and they are also secured into the ponytail making the hairstyle look gorgeous overall.
Frontal bangs
If all that you want is to give your little girl a completely unique style of her own, this hairdo would definitely do the job to perfection. It, primarily, boasts of a typical boy haircut but has long strands on one side of the head which actually sets it apart from those typical boy hairstyles.
The hair on top is casually swept to a side with frontal bangs falling nicely over the forehead. The longish hair on the other side is turned into a beautiful ponytail that stands elegantly and makes a statement.
Add a cool hair accessory to it and it will look even better. Overall, the hairstyle is more of a casual one and may not be the best pick for special and formal events.
So, which of these beautiful ponytail hairstyles do you like the most? Are there any variations of the typical hairstyle that you would want to introduce to your girl next time she asks for one?
Do you find any of these perfect ponytail hairstyles for school? Well, these may not be the only options you might have and you can keep looking for even better hairstyles featuring a unique ponytail for your little girl.
You can even get creative and come up with your own variations of the hairdo that would suit your little girl more than anything else.
Just grab a few ideas and get your girl a beautiful hairstyle that is not just unique to her but also creates wonderful vibes no matter on what occasion she chooses to wear it. Happy Styling!