Achieving the best school hairstyles for your girl is always a challenge, especially when you have to beat the clock every morning. In addition, you have to make sure that you play by the rules and only style her hair in a way that she doesn't breach the school's dress code. So, you have to be very calculative with your choices and a minor glitch here and there would not only ruin your efforts but will also subject your girl to a penalty imposed by the school management. And, when it comes to school hairstyles for medium hair, this challenge grows even bigger with you requiring to come up with a more sophisticated, elegant and plush style that fits into the school's regulations perfectly.
So, if you are in search of a hairstyle that is trendy, you should just go through the list we have prepared for you here and learn you can tackle the medium length of your little girl's hair.
School Hairstyles For Medium Hair
Let's explore the options you have for styling medium length hair for school. From simple to chic, we have all sorts of stuff lined up for you here. So, start exploring and see which of these options is going to work for your little girl.
Cute Braided Hairstyle For School
Source: brogan_paul
It's a shoulder-length hairdo that looks amazing with nicely carved out braids on top. To style this hairdo to perfection, you might need lots of hairpins as they will be helpful in securing the hair in their place. Wearing this hairdo at school, your girl will definitely impress everyone who is around. The hairstyle is quite trendy and won't look out of date either.
Beautiful Ponytail With A Braid
Source: ellesalonltd
Ponytail hairstyles look really beautiful and they have their own unique vibe. However, what we have here isn't some ordinary ponytail hairstyle. The tail here is accompanied by that magnificent braided look which can be achieved either on top or the sides. If you are good at braiding hair, this hairdo would not take much of your time. But if you are not, you are definitely going to need some outside support. The hairstyle also neglects all those bangs while focusing on making her hair look appealing and precise.
Side Braided Hairstyle
Another cool option among the school hairstyles for medium hair, the hairdo has a unique take at braids balancing off those lusciously long and beautiful hairs. Girls and women who have medium hair length can create braids and tie them together on a side while keeping it all loose on other side. It is quite a unique technique and for proper implementation, you need to pull and braid her hair on a side while further letting the rest of her hair to lie loose on other side. Your girl will look the most adorable of the lot at school wearing this wonderful hairstyle.
Shaggy Bun For Girls
It may be quite a messed up look on top, but it is trending the most among school girls. All the attraction this hairstyle borrows comes from that bun on top. It pulls together all those shaggy hair and ties them to form the bun. Just make sure that the bun isn't too tight and is achieved a bit loosely. It is loose enough that it seems as it's just going to collapse. It is, however, secured in a way that it stays intact right there.
Side Swept Layered Bangs
The hairstyle works perfectly fine for those red-heads. Yes, the red-headed girls can always carry such looks to perfection. For this hairstyle, the hair has to be layered quite well while pushing that fringe towards a side for covering the forehead partially. The hairstyle doesn't require you to do anything extra ordinary except giving your girl a red dye on top. So, it is one of the simplest school hairstyles for medium hair that you can try with your little one's hair.
Expressive Colors
Here is a cool, flattering hairstyle that basically boasts of some wonderful colors. In fact, that's the only major requirement for the hairstyle as well. Make sure that you go with the appropriate colors for your girl's school hairstyle and ensure that it fits perfectly to their specific needs. Try to get rid of her existing boring look and set her hair loose like never before. She is definitely going to make a statement with this wonderful style.
Side Ponytail
For girls with medium hair length, side ponytails have always made the simplest and the easy hairstyles for girls. And, it continues to impress even today. The hairstyle is also perfect for the busy moms too who don't want to spend too much of time in styling their girl's hair and can't spare more than a few minutes every morning to do the stuff. In fact, this wonderful hairstyle can be styled on the go as well. All you have to do is to tie her hair in a classic manner and put the ponytail above either of her shoulders to look amazing. The hairstyle speaks volumes about itself and will give her a look to remember.
Loose Braid
Braids have always been a trendy look to achieve for little girls, especially for school. To achieve this particular look, you have to braid her hair towards the back and also push it to one of the sides. Some efficient styling needs to be done at the front forming beautiful loose bangs. So, what do you make of this wonderful hairstyle? Is it the simplest of looks you can try with your girl's hair for school?
Half Up Half Down Prom Hairstyle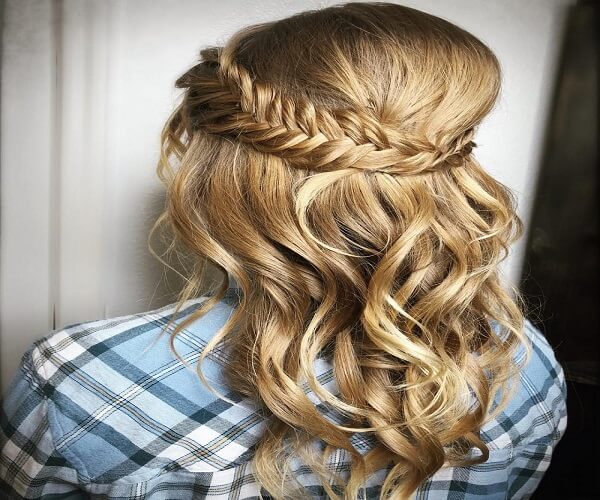 Prom hairstyles are for the special occasion and, therefore, they need to be special as well. And, there are quite a few amazing options for girls with medium length hair. Girls who have shoulder-length hair, at least can achieve any look as they like and it would be a lot easier for them to maintain it without any hassles whatsoever. This particular hairdo looks pretty much similar to a beautiful half up and half down hairstyle and its frontal section is divided symmetrically so that it falls carelessly and covers her ears.
If you have always been on the lookout for some of the best hairstyles for your little girl, these school hairstyles for medium hair listed above are definitely going to make a statement. You can make every single bit of your effort count and the hairstyles will definitely create a gorgeous vibe for her. Try out and see how it works for you.