When it comes to little girls' hair, some parents prefer long flowing locks, while others opt for neatly trimmed, shorter styles for a sleek and organized look. But have you ever considered the charm and versatility of medium-length haircuts for your little girl kid?
With medium-length hair, your child can enjoy the best of both worlds – a stylish appearance with just the right amount of length, combined with a cool and organized vibe.
In fact, there are countless adorable medium-length haircuts for your little girl that can truly elevate their personality. Get ready to discover the perfect hairstyle to add a whole new level of charm to your little girl's look. Let's dive in!
Medium Length Hairstyles For Little Girls
Starting with the best hairstyle variations for girls, here we have some of the coolest designs that every little girl would love to flaunt. From typical bob haircuts to shoulder length hairstyles, all sorts of variations are listed here and you would definitely love giving your little girl one of these beautiful hairstyles.
1. Zigzag Parting with Braids
Add a unique twist to your little girl's medium-length hair with a zigzag parting and braids. Instead of a straight part, create a playful zigzag pattern using a comb. Then, braid small sections of hair on either side of the parting, securing them with colorful elastics. This style adds a fun and whimsical touch to your little girl's look.
2. Bubble Ponytails
Create a fun and bubbly hairstyle for your little girl by styling her medium-length hair into bubble ponytails. Divide the hair into sections and secure each section with an elastic, leaving gaps in between to create "bubbles." To enhance the look, wrap a small section of hair around each elastic to hide it. This playful and unique hairstyle is sure to make your little girl the center of attention.
3. Mohawk Braid
Give your little girl a cool and edgy look with a Mohawk braid. Part the hair down the middle and create a French braid on each side, starting from the forehead and working towards the back. Once the braids meet, secure them with an elastic, leaving the rest of the hair loose. The Mohawk braid is a unique and fashionable hairstyle that will make your little girl stand out.
4. Twisted Crown
Create an elegant and intricate hairstyle with a twisted crown. Divide the hair into two sections, twist each section away from the face, and secure them at the back with bobby pins, creating a crown-like effect. This style gives your little girl a regal and sophisticated look, perfect for special occasions or formal events.
5. Waterfall Braid
Enhance your little girl's medium-length hair with a beautiful waterfall braid. Start by French braiding a small section of hair near the temple, adding new strands of hair from the top while dropping the bottom strand to create a cascading effect. Continue the braid diagonally across the back of the head, securing it with an elastic. The waterfall braid adds a touch of elegance and romance to any hairstyle.
6. Flower Bun
Transform your little girl's medium-length hair into a stunning flower bun. Gather the hair into a high ponytail and divide it into several sections. Twist each section and wrap it around the base of the ponytail, securing it with bobby pins to create petal-like shapes. This intricate and creative hairstyle resembles a blooming flower, making your little girl look like a princess.
7. Fishtail Braided Ponytail
Combine the elegance of a fishtail braid with the simplicity of a ponytail for a unique and stylish look. Gather the hair into a ponytail and secure it with an elastic. Then, create a fishtail braid by dividing the ponytail into two sections and crossing small strands from each side. Secure the end of the braid with another elastic for a polished finish.
8. Twisted Side Sweep
Create a sophisticated and eye-catching hairstyle by sweeping the hair to one side and securing it with twists. Start by parting the hair to the desired side and divide it into two sections. Twist each section away from the face, bringing them together and securing them with bobby pins at the back. This elegant side sweep adds a touch of glamour to your little girl's medium-length hair.
9. Braided Updo
Elevate your little girl's medium-length hair with a stunning braided updo. Begin by creating two French braids on each side of the head, starting from the temples and working towards the back. Once the braids meet, gather the remaining hair into a bun at the nape of the neck, securing it with bobby pins. This intricate updo is perfect for special occasions and formal events.
11. Center Parted Wavy Haircut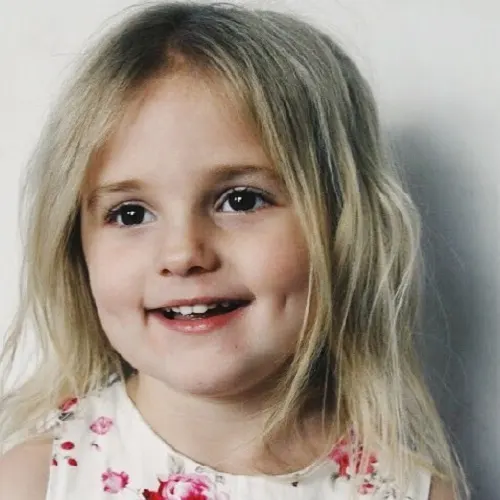 Source: Esmeandsavannah
Wavy hairstyles always look amazing on little girls but the key is that you should get the hair cut to perfection. This one here is quite a carefree look and your girl will definitely attract everyone with this everyday hairstyle. It's simple to achieve as well and you just need to get her hair trimmed to an appropriate length just above the shoulders before parting it in the center on top and allowing all her hair to fall over to the sides. The natural waves will really look gorgeous. The hairstyle suits even better on the girls with blonde hair.
12. Center Parted Cornrows Style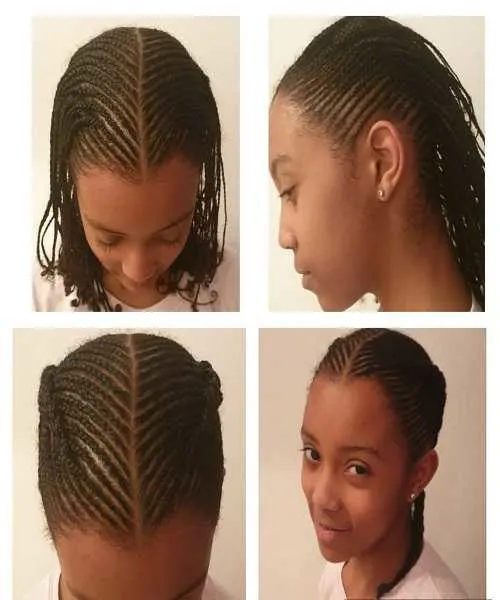 Source: Young_Naturalz
Cornrows remain a popular choice among black girls hairstyles and it can give a more organized and clean look to those otherwise kinky and unruly hair. So, your girl wants a perfect hairdo, give her this beautiful hairstyle. Just part her hair in the center and start braiding the cornrows at an angle. Make a thick braid on either side that goes above the cornrows and adds a statement piece to the hairstyle. You can either secure the locks into a ponytail or leave them open into a bob haircut style falling over the shoulders. The choice is yours.
13. Short Bob Hairstyle With A Statement Hair Bow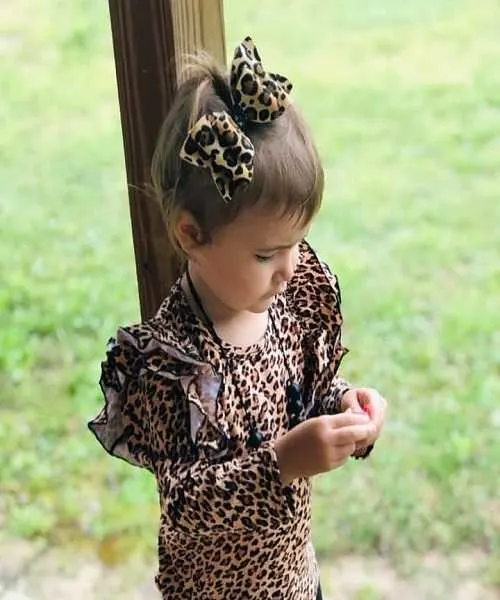 Source: Mackenziegracebowco
A hair bow can always make a wonderful addition to any typical hairstyle which may even look quite bland otherwise. Take this one, for example. The hairstyle is nothing but a nicely trimmed short bob hairstyle which doesn't have too many style elements to it. However, the addition of a big statement bow on top that matches the girl's dress really makes this hairstyle pop and it looks amazing on the little girl.
14. Combed Back Hairstyle With Flower Bun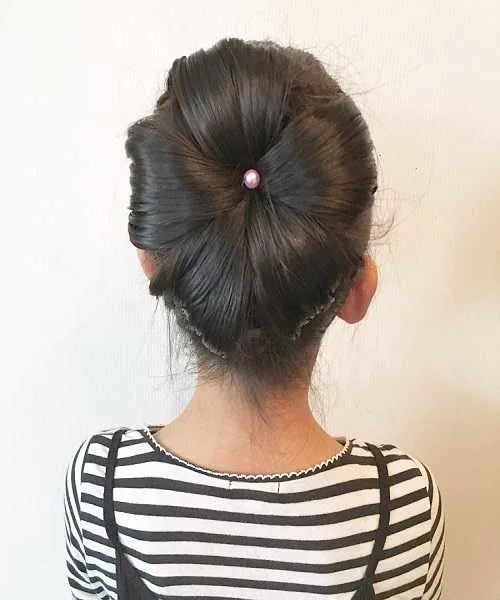 Source: Ymbook
For girls with medium to long hair, a combed back look makes for the obvious choice and there are lots of options you have when it comes to adding a unique and stylish touch to her hair. This beautiful, statement, flower hair bun at the back makes a perfect example and it's not that hard to achieve either. Just comb her hair back, secure it around the crown area, and take thick sections of hair to form beautiful petals of the hair bun. Secure it into the center with a simple hair pin and give your girl a more organized look than ever.
15. Messy Side Parted Hairstyle With Pigtails
Source: Alice_and_christina
A perfect medium length hairstyle for your little girl, this one is also very simple to achieve. Just give her hair on the sides a perfectly edgy vibe going towards the bottom. Sweep the top hair to a side and keep the frontal bangs looking as messy as possible. Secure the pigtails on either side with the help of colorful and glimmering hair bow accessories to make the hairstyle look perfectly awesome. The edgy cut of the hair on the sides will give the pigtails a similar touch as well. She is definitely going to rock the look no matter how messy it may be on top.
16. Combed Back Hairstyle With Bangs And Ponytail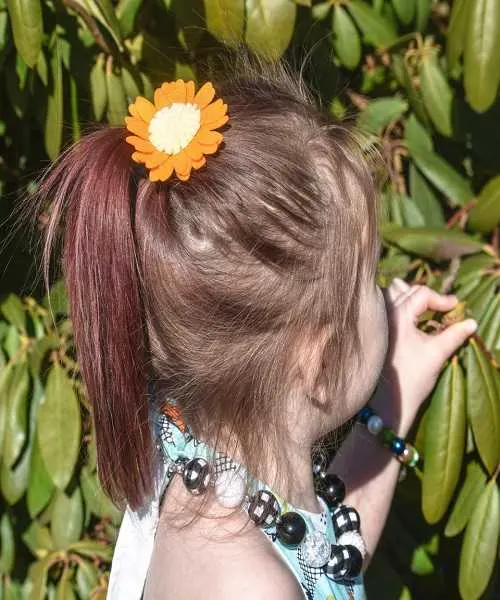 Source: Smalltownfamilydream
This beautiful medium length hairstyle is about combing the hair on top and the sides backwards while leaving the frontal bangs intact. Sweep the bangs to a side to give them a perfect look in the overall scheme of things. The combed back hair is secured around the crown area with the help of a colorful flower accessory and that's where a cool, raised ponytail starts. Obviously, the ponytail doesn't run too long and it just ends just below the nape of the neck to complete a perfect hairstyle.
17. Naturally Textured Side Swept Bob Hairstyle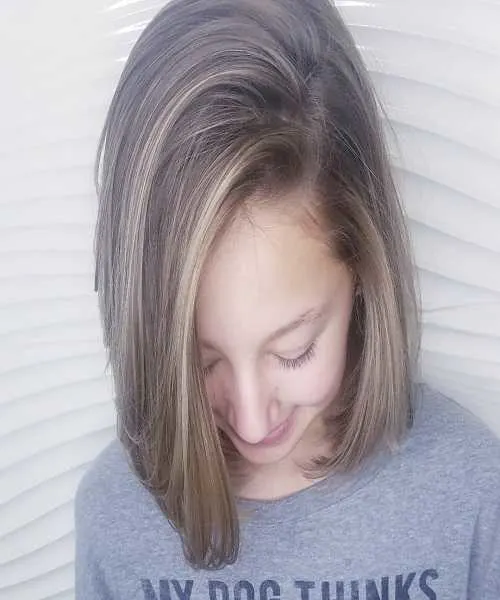 Source: Locksofsteele
If your girl has got the luxury of long, beautiful hair with natural texture to it, you can always make a perfect style out of it. Just trim it into a shoulder length bob hairstyle and see how things turn up. Sweep the hair on top towards a side with a gentle side part and it looks amazing. The tips of the frontal fringe should be curved backwards with a styling tool to blend it nicely into the rest of the hair.
18. Bob Hairstyle With Choppy Bangs
Source: Bgqbeauty
A cool variation of the bob haircut, this medium length hairdo boasts of nice, choppy bangs at the front. The rest of the hair is perfectly straight and is trimmed into a typical bob haircut with layers getting an impression as if they were coming forward. Spread it all around and it will look really cool on your little girl.
19. Center Parted Bob Hairstyle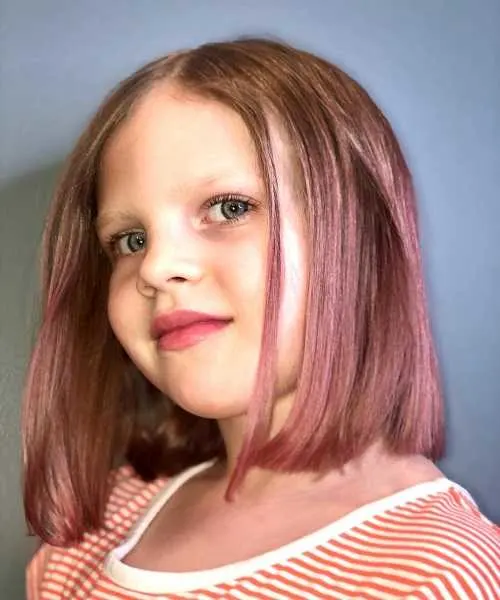 Source: Christybruski
This hairstyle is a perfect choice for those red-headed little girls who want to keep it to medium length and still make sure that their hair looks stylish. The hairstyle is all about getting a perfect haircut and, once you have that, styling her hair isn't going to cause you any trouble at all. Just part it in the center on top and let her hair flow freely.
20. Casual Short Bob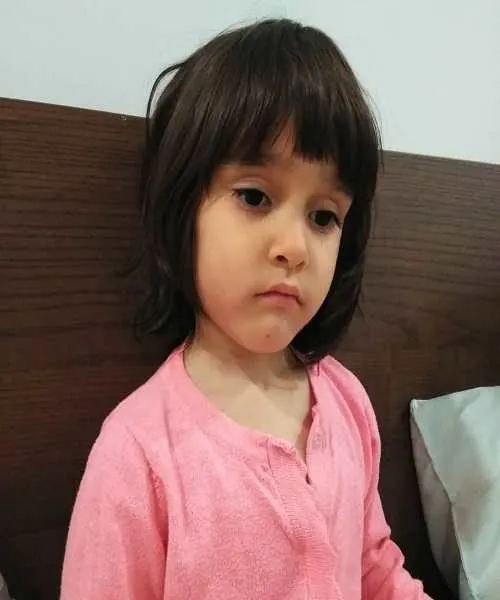 Source: Arelysca
This is an everyday look that will really give your little girl a perfect vibe. Cut the bangs short and make them fall over the forehead while keep the rest a typical short bob hairstyle. The hairdo will look cool whether you keep it messy or perfectly trimmed and combed. The hairstyle really suits cute little girls.
21. Side Parted Hairstyle With Inverted Waves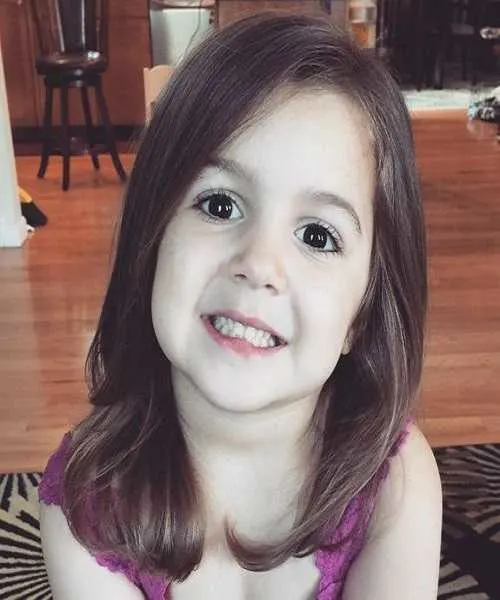 Source: Tamara McNelly
Obviously, your best option would be to keep it all open and just style it in a way that it remains in place and looks stylish at the same time. Go for a casual part on the side and let the natural texture run throughout her hair. Make the wavy hair to get an inverted touch just as they reach the shoulder length. The hairstyle would look gorgeous on your little girl and it won't require you to put in too much of effort either.
22. Blown Out Kinky Hair
One of the best black girl hairstyles out there, this hairdo is just tailor made for the naturally kinky hair type. All you have to do is to allow your girl to grow her natural hair to medium length and make sure it spreads equally in all directions. Just let it stay open and part it in the center on top, she is surely going to rock the look.
23. Medium Length Hair With Edgy Tips
This beautiful, layered medium length haircut for girls looks awesome on girls as they enter the teenage. The hairstyle would work for girls with naturally straight hair that is a bit on the thicker side. So, if your girl has that kind of hair, just go for it. The hairstyle requires you to part her hair on a side and let all the volume fall over to the other. Make sure that the layers end up in a more edgy fashion so that it creates a perfectly casual vibe overall. The natural texture of her hair will also add to the overall look manifolds.
24. Combed Back Top With Naturally Textured Sides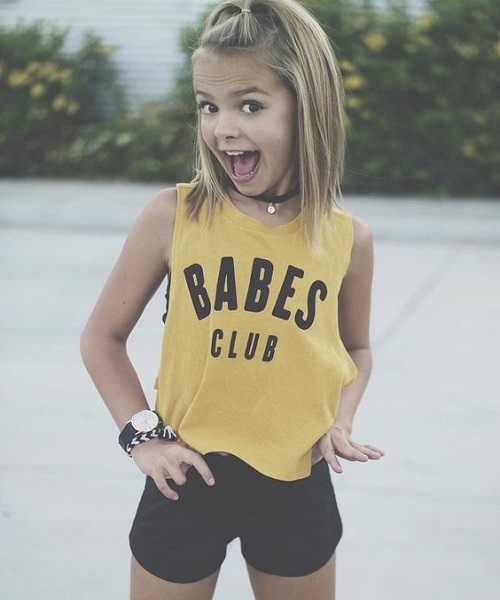 A wonderful look given to a typical blonde girl hairstyle, this one boasts of shoulder length hair all cut in an edgy manner with the natural texture kept intact. The hair on top is combed back making a frontal section of hair that is secured into place with the help of a rubber accessory. It then forms a slight tail through which all the hair spread in all directions and blend into the open hair on all sides. The natural texture would look amazing on your little girl.
25. Casual Side Parted Bob
This is another low maintenance haircut for girls and it is more about getting her hair cut to perfection. Once you have that perfect haircut for your little girl, the hairstyle won't need much of styling. In fact, it will be about keeping natural, rustic look intact to give her a more carefree hairstyle. The frontal fringe has to be kept long enough that it goes all the way to a side and blends into the rest of the hair seamlessly. Maintain the casual texture of her hair and also let a couple of strands fall over her forehead casually to make for a perfect hairstyle overall.
Medium Haircuts With Bangs for Little Girls
One of the best options little girls can have with medium length hair is to go with medium haircuts with bangs. There is quite a lot of variety available in this particular type of hairstyles as well and here we have listed a few cool options for you.
26. Chin Length Bob With Center Part And Bangs
Bob hairstyles can get all sorts of different shapes and if you are able to give her a perfect chin length bob, nothing can beat her style for sure. The hairstyle boasts of some volume on the sides that looks really cool and amazing when given a slight inward curve. There is a casual center part on the top and the frontal bangs look just amazing when blended into the overall style. This hairstyle is a perfect choice if you are looking for the best kids hairstyles for school as well.
27. Short Bob With Bangs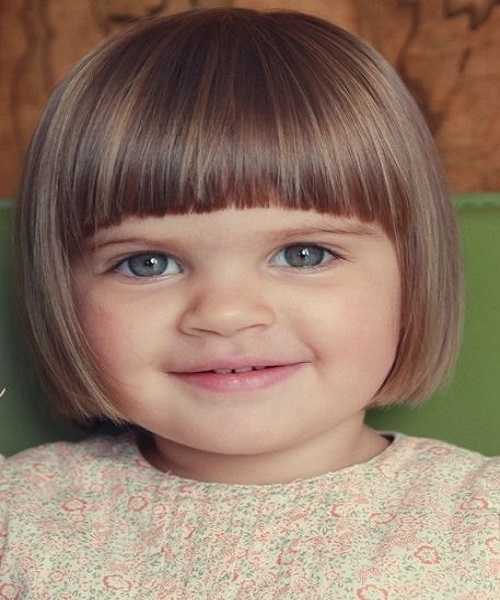 Source: Addie Renee
This short bob is a perfect variation of a typical bob hairstyle for girls that could be achieved with short bangs covering her forehead. The hairstyle boasts of chin length hair all coming around her face and escorting it rather elegantly. The hairdo really looks awesome and cute on girls with round faces. There is no part on top and it's nicely spread on all sides to create a perfect party style for your little girl.
28. Angular Bob Hairstyle With Braided Hair Band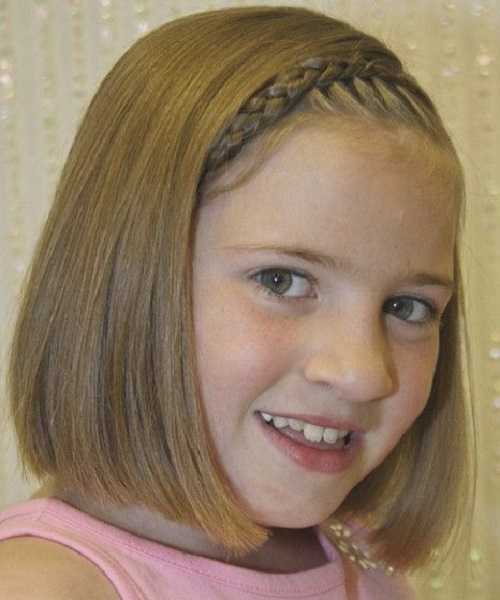 One of the most unique, cool and elegant hairstyles around, this one boasts of a typical bob hairstyle look that makes a different angle at the front. The frontal layer of bangs is given the same length as the bob and it angles outwards with the rest of the hair behind that layer following it up. The tips are all trimmed nicely to give it an even length all over. A unique style statement is created with the help of that braid created horizontally right on top. Starting from one side and ending on the other, it makes more of a braided hair band that just looks awesome on your little one. The hairstyle takes the bangs to the sides and it's not a typical look which features bangs falling over the forehead.
29. Short Choppy Bob Haircut With Bangs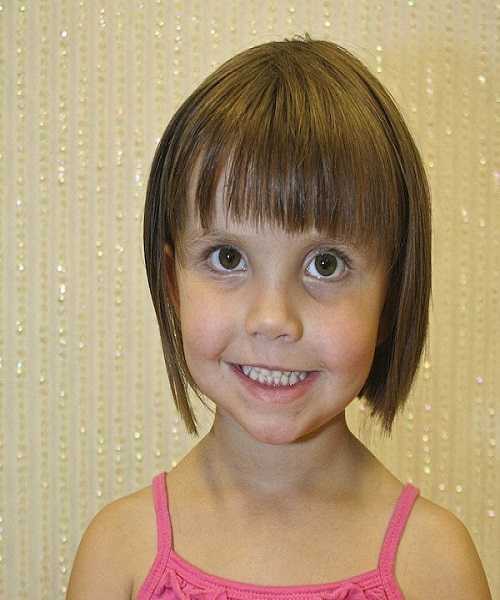 This one takes a different approach to a bob haircut by giving it more of a choppy vibe. The hairstyle features short, chin length hair that just look awesome on little girls. The frontal bangs are given an uneven cut making them look and feel completely different. There is no parting on the top and it spreads nicely in all possible directions.
30. Bob Hairstyle With Bangs And Hair Accessory
This really is one of the coolest hairstyles on the list that features bangs as well. More of a short bob, it keeps the length an inch shorter than the chin but it covers the face nicely on all sides. The hair on top splits with the bangs made to come forward first covering the forehead while the rest of the hair behind is given a side parted look. The frontal locks on the longer side of the part are made to curve forward half way through and it ends up into a classic fringe falling over her cheeks. There is a flower clip to secure it into place right on top.