Kids always look cute and adorable when given a perfect hairstyle according to their personality. However, where things get difficult is when the parents have to keep a balance between their casual and school look. Yes, it's often hard to make sure that you find kids hairstyles for school that won't just work with the dress code of your kids' school but also add a stylish vibe to their personality so that they are the most attractive kids around wherever they go. Yes, it's hard to find that perfect balance.
Easy Kids Hairstyles for School (2023) Step by Step
You don't really need to worry, however, because there are quite a few cool hairstyles for boys and girls that will make them a real rockstar not just at the parties but also at their school. One obvious thing to remember is that you need to look separately for boys and girls to come up with the hairstyles that suit them both in their casual routine and also at school as well. To cut the hassle for you, here we have some kids hairstyles for school that you need to look at.
What are Some Easy Hairstyles for School
Let's first get into some of the coolest looks that you can give to your boys when styling them up for school. Mostly, the best boys hairstyles for school are actually kept a bit shorter so that they can create a perfectly organized vibe. So, let's check out what options are available.
Crew Cut – A Quick Hairstyle for School
If you want a perfect mix of style and organization then this really is a perfect look that you'd want your boy to flaunt at school. One of the classic hairstyles that is still relevant today, crew cut really makes a perfect vibe. The hairstyle is achieved by cutting the hair short to almost an inch and giving it a bit of textured look on top. You can always go for the faded sides to add a clean touch to your kids' overall look. This really is one of the best kids hairstyles for school that works for boys even in 2023.
Side Parted Hairstyle With High Fade
Simple side parted hairstyles make an obvious choice for kids when you are looking for hairstyles for school. But, obviously, you would want to add a touch of style to lift that pretty formal haircut your boy has to the next level. You can always go for a hard part if you want to make it look even chicer. Otherwise, a simple side part with a bit of added sheen to the side swept locks would do the job rather nicely.
Combine it with a clean high fade and you have a more than perfect look for your little boy to flaunt at school. Even his teachers will love it and appreciate the style.
Comb Over Hairstyle With Undercut
Comb over hairstyles have always made for the best and most organized kids hairstyles for school and you can go for it now as well. In fact, it's one of the trendiest looks to achieve for little boys in 2023 as it maintains a perfect balance between formal and casual style. Leave just enough length on top so that it can be combed over nicely and then gel it up so that it sticks right there.
A side part and a complementing undercut can add a whole new touch of style and elegance to the look while still making sure that it remains more on the formal side. Your kid will look adorable in this gentleman look and everyone around will surely fall in love with him too.
Textured Quiff With Tapered Undercut
Quiff has always been a popular choice when it comes to kids hairstyles for school that work for boys, but you can take it up a notch this year by styling it with a nice tapered undercut and adding a bit of texture on top. Textured hairstyles always make the most flirting hairstyles for boys and your kid will definitely love it. A clean vibe created by that beautifully tapered undercut is something that you are surely going to love.
Fury Slicked Back Hairstyle
You may have known the simple slicked back hairstyles by now that use a heavy supply of gel or some other styling product to achieve a look that sticks right there. However, this fury slicked back look is a bit different and it works for most school dress codes as well. You have to slick your kids hair back at an angle and make sure that there is enough wide texture on top to achieve this look to perfection.
A nice undercut on the sides would complement it to perfection and you would definitely love it for sure. Your kid will look amazing in this style and everyone will definitely fall for him.
Kids Hairstyles For Girls
So, that's enough for boys for not, but what hairstyle would you like to give to your little princess for school? Yes, there are quite a few kids hairstyles for school that are just perfect for little girls and also for their dress code at school. Here's a look at top 5 of them that you should be trying out this year.
Buns & Bows
Yes, buns and hair bows always make for a clean and well organized look for little girls and you shouldn't shy away from them. Even in 2023, these hairstyles for girls are just perfect for school as they have just enough of stylish and well-organized looks. Just part it into the center and achieve different bun styles on top and you'll have your little princess ready for school.
Long Ponytail With A Statement Bow On Top
While some schools may be too strict to allow this, some of them are quite lenient as well to allow for a colorful statement bow to be worn with a long ponytail hairstyle. You may want to add a touch of elegance to the ponytail by incorporating a small braid into it and it will just lift the entire hairstyle up a notch. Tightly combed back hair on top will further add to it for sure.
Milkmaid Braids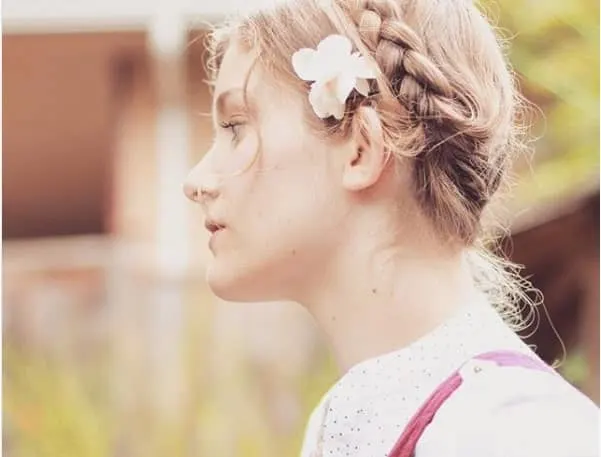 This princess-worthy look is just perfect for your daughter and you can simply achieve it by creating a couple of hair sections on top with a center part and then braiding it before wrapping the braids around the head for forming a beautiful halo. Your little girl will love this regal look for sure. And, if you want to make sure the school management doesn't object on it, try pulling out some of the strands at the front. It will certainly make it look just perfect.
Crown Braids
You have to admit that braids make for one of the best and most popular kid's hairstyles for school that girls can wear even today. However, in summer months, those long and heavy braids can quickly become irritating for your little girl. If you want to avoid that situation, you can simply twist the braids into a beautiful makeshift crown and it will work like magic to give her a perfect hairstyle.
Short Bob Hairstyle
When it comes to hairstyles for little girls, bob haircuts really makes for one of the best looks around and it looks so cool on them too. Your little girl will love it for sure. It's just about getting the haircut right and doesn't need any kind of styling whatsoever on a day to day basis. So, you can give your little girl just what she needs to be pretty and save yourself some good amount of time every morning when you dress her up for school. A couple of nice clips and pins can add a touch of style to the hairdo but that's not compulsory at all.
So, how do you like these kids hairstyles for school? Yes, there can be lots of other options to try out for both boys and girls but these really are some of the best hairstyles around that will make them look stylish and work best for your kids' school dress code as well. Why not try these for a start?