You always have to be cautious when choosing haircuts for boys as you can't take a chance to go wrong here. There is a huge variety of boys haircuts around and many new hairstyles come in trend every year.
So, you have to make the right picks every time so that your boy gets the best hairdo and it adds a whole new charm to their personality.
If there is one haircut, however, that is evergreen it's the crew cut because it never goes out of fashion. In fact, it suits most boys no matter what their facial features and hair type may be.
In addition, there are so many cool variations of the hairstyle available, despite its short hair length that you can give your kid a new style every now and then and it will still look amazing.
Top 14 Modern Crew Cut for Kids
So, here we have listed some of the cool variations of the hairstyle that you can try this year and your boy is definitely going to love it.
Crew Cut With Frontal Spikes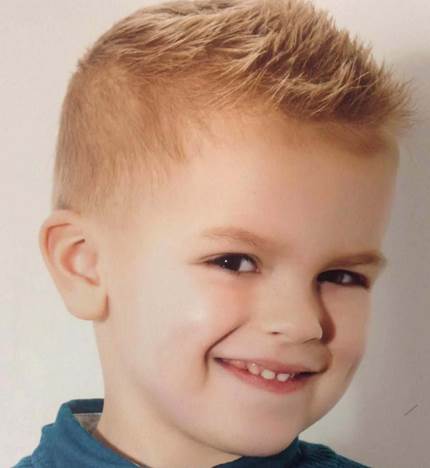 If you don't want to go for a typical, bland hairstyle which primarily features short forward swept hair, this is the look you'd want your kid to sport.
The hairstyle boasts of that same typical length, but it is slightly spiked up from the center to the front.
You may need a bit of styling product to spike it up to perfection and to keep it looking great right throughout the day. There is a fade on the sides and it seamlessly blends with the hair on top.
Crew With Combed Back Front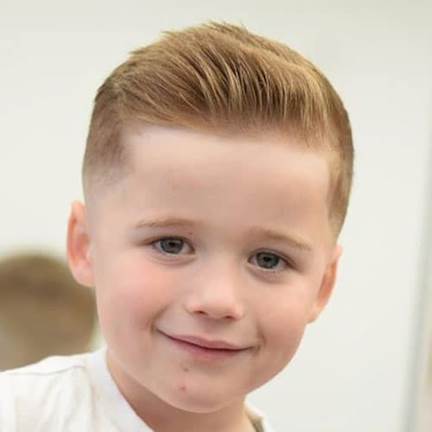 This beautiful variation of the hairstyle requires you to keep it a bit longer towards the front and then comb it backwards to achieve a perfect style.
The sides have a high fade on the sides and it blends with the hair on top to perfection. The top hair is also given a slightly side swept look making it have a unique and beautiful vibe.
The hairstyle won't need too much of styling effort either and will just look amazing as it is.
Short Crew With Surgical Design
This beautiful hairstyle looks more of a buzz cut with very short hair all around. Everything on top and the sides is trimmed short enough that it's very tight and close to the head.
There is a cool surgical line just around the temple area and the sides are faded going down the bottom. Even though it's not a typical crew hairstyle, the variation is still considered in the same family and it is quite easily achieved as well.
Just get the hair trimmed to the right length, have a surgical line placed to perfection and you have a beautiful hairstyle ready for your little one. What's even better is that it doesn't require any maintenance whatsoever either.
Spiky Crew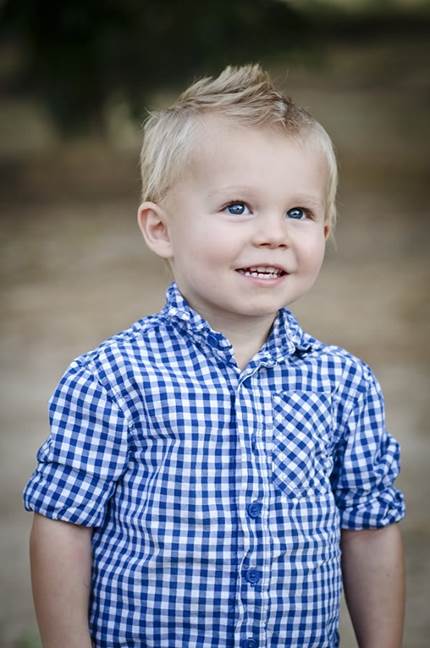 This cool variation of the beautiful hairstyle boasts of a typical crew style as far as haircut is concerned.
However, a different overall look is achieved by spiking it up in the center. The sides have almost the same length as on top, but it is sort of parted on either side.
Short Crew Hairstyle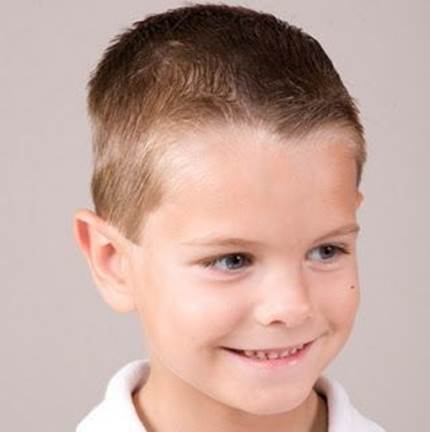 This cool variation of the look features forward swept hair on top and a cool look is achieved by sweeping slightly longer frontal hair to a side. The hair on the sides is faded and it gives a cool touch to the hairstyle overall.
There are not many style elements to the look, and it's quite easy to achieve. Obviously, with not many styling elements to the look, it is quite easy to maintain as well.
Forward Swept Crew Hairstyle
One thing you have to keep in mind about the crew haircut variations is that the hairstyle is very simple in its entirety and even the original look doesn't require too much of effort and the same stands true for this one as well.
All you have to do is to sweep it all forward and let the natural texture speak for itself. The difference here from the ones above is that the sides are kept slightly heavier and it's not faded at all. Just style it up casually and it will look really cool and awesome.
Crew Haircut With Spiky Fringe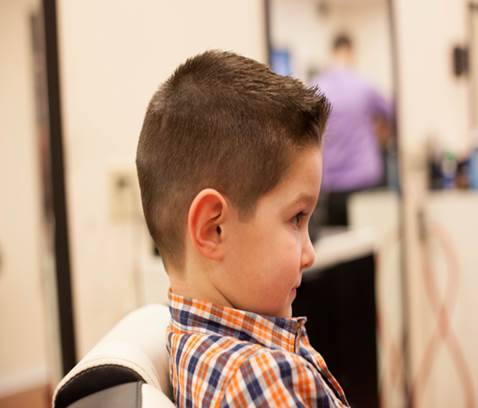 This really is the closest look to the typical crew haircut style as the hair is trimmed short and then swept forward before giving it a spiky look at the frontal fringe.
The hair on the sides is nicely faded and it blends to perfection with what's on top. Overall, a perfectly balanced hairstyle that's good enough for school as well as any special occasions, the hairdo will take only minutes to style and will surely make a perfect style statement.
Crew Haircut With High Fade
Here again, all the style is in the haircut itself. You have to keep it all short and close to the head while the hair around the crown area is slightly spiked up.
The sides have a nice high fade that complements the hair on top to perfection. The combination of two contrasting lengths makes for a unique and cool vibe overall.
It's up to you whether you want to keep the frontal hair swept forward or would like to sweep it to a side.
Casual Side Swept Crew Haircut
Crew haircut can be as simple as this one here. The hairdo boasts of a short length on top and there is a nice high fade on the sides as well.
This time it is a little disconnected from the top to make sure that it really looks cool and creates an acute contrast which is quite likable. The casual touch given to the hair on top speaks volumes about the hairstyle.
Short Forward Swept Crew Cut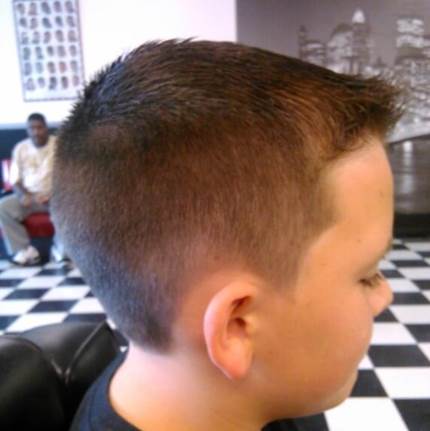 This is another cool variation of the look. The hairstyle requires you to get your kids' hair cut to a typical crew cut style and then sweep it all forward starting at the crown and going all the way to the tips.
The sides have a nice high fade and it really looks amazing with whatever is there on top. You may need to apply a bit of styling product to keep it textured and fresh on top ensuring that it looks as good even after an entire day out.
Side Swept With Hard Part
You may want to differ that the hairstyle we have here is not a typical crew haircut. Yes, you may be right but this one is a crew haircut in its essence. The hair is cut in very much the same fashion.
The only difference, however, is that it is kept tight to the head and swept to a side. The hard part really makes a statement while the fade on the sides complements it rather elegantly.
Edgy Crew Haircut
This beautiful and edgy look is just perfect and it makes for quite a unique crew hairstyle. The look is achieved with naturally short and fine hair that is all swept forward and given a textured appearance.
The edgy and spiky top makes it stand out from the rest. Overall, it's a pretty balanced look and it makes for its own unique vibe.
Short Spiky Crew
Slightly longer than a buzz cut and very much in range of the typical crew cut, this hairstyle seems to be a mix of both. It boasts of an edgy and spiky look all around.
The hairstyle is simple and doesn't really require any maintenance at all. You don't even need to run the fingers through for styling it as it's just about the way hair is cut.
Short And Tight With Clear Front
This beautiful hairstyle is about creating a simple buzzed up look that is about keeping the hair short and tight on top.
There is a nice high fade on the sides which complements the look perfectly while the frontal hair is cleared up in a way that it has clear edges. Wearing it with a smile, your boy will surely look cool and amazing in this hairstyle.
There is no better look to flaunt for little boys than a typical crew cut. The hairstyle is all about simplicity given a new touch of style and fashion. In fact, it's an evergreen hairstyle that never goes out of fashion.
Above all, it doesn't require any maintenance at all and once you have given your boy a haircut it won't need any more styling at all.
And, with such a wide variety available and so many variations of the hairstyle to try out, it's your choice which look you would like to prefer. So, which one are you going to try with your little boy next? It's time you decide!