As your kid starts growing up, you become more and more concerned about his haircuts and hairstyles. In fact, it's quite likely for boys to make their own fashion statement. And that's quite achievable if they start experimenting with their haircuts and hairstyles.
There are plenty of cool haircuts for boys out there and you can easily play around to choose one for yourself or your kid if you're choosing on their behalf. So, let's get through this list of cool hairstyles.
Faded haircut with side-part
Faded haircut with side-part is really one of the cool haircuts for boys, especially toddlers. The hair remain intact and there's almost no possibility that your child gets to mess it all up. The hairstyle is quite easily achieved as well.
Crew Cut
If you're into short hair, crew cut really looks cool on young ones. The hair is kept clean, cute and non-messy.
Besides, this haircut really is a cool option to have in summers. You, typically, have to go to the professionals for getting this haircut because it needs a lot of care and precision.
Short Dreads
For boys having medium length hair, short dreads really make a wonderful choice. Dreads tend to be wave-like and small. They stand around your head and point bluntly upwards. On the sides, this hairstyle is closely trimmed or shaved completely.
As far as hair length is concerned, it needs to be somewhere around medium-to-long for achieving the style. Typically, it suits best to African Americans and is one of the best cool haircuts for boys.
Short & Curly
For kids having naturally curly hair texture, leaving cool short curls right on top turns out to be a great way of showing them off.
It's usually hard to actually maintain the curls and that's probably the reason they're left on top only rather than allowing them to reach around the neck. It is also important that edges are done neatly making curls to stand out.
Quiff Haircut For Boys
Quiff really adds a sense of style to your young gun. With a Quiff, hair become noticeable and can be quite bold or subtle which actually depends on how you want it.
To achieve a Quiff hairstyle, you need to have longer hair up top and, particularly, towards front side. The hair towards the back and sides tend to be shorter.
If you go for classic Quiff, there'll be more hair left on the top and to the front while they get shorter towards back and sides.
Skater Haircut
In skater haircut the hair on the front fall over your forehead rather fashionably to give you a cutesy style like a eboy haircut.
This haircut is usually carried really well by older boys rather than toddlers because they really have to watch out for their hair. So, if you're looking for cool haircuts for boys, go for this one.
Messy Fringe Haircut
If the motive is to find a proper haircut for covering broad forehead rather stylishly, and without having those 'girly' bangs, Messy Fringe works great.
It's a modern hairstyle for boys that requires hair to be kept to medium length on top. For getting a proper look, hair should be tousled around the crown to some extent.
Spiky Updo Haircut
Spiky hair turn out to be really appealing as far as cool haircuts for boys are concerned. When done well, the hairstyle can really make the boys look cool and groomed.
Hair length should be kept reasonable and you have the option of pointing all disproportionately or in a single direction. Whatever way you style them, your hair will look great.
Classic Toddler Haircut
This hair lets your hair adapt according to your scalp shape almost completely. Generally, the hair are kept to optimal length.
This hairstyle is quite common among toddlers as it doesn't require much of styling, especially, when the hair is cut properly. The haircut is so straightforward that even the moms can do it at home.
Combed Back Hairstyle
This one is probably the simples of all hairstyles your young boy can have. If something more formal and 'Godfather' style is needed then you should definitely go with combed back hairstyle for your kid.
It only needs you to have some pomade or gel with medium or strong hold and you can use the comb to style your hair backwards.
Hair must be cut at short-to-medium length both on top and sides. As for the back, the hair is kept short there.
Disproportionate Fringes And Short Sides
Fringes can be a great way for styling kids' hair because little boys wear them the best. As for this hairstyle, we don't just keep fringes at front hair but on entire head letting them to point at various angles.
If fringes are cut appropriately, you're almost there to have a wonderful haircut. They have to be pointing out everywhere to create more of a disproportionate look. Overall, the look is great and one of cool haircuts for boys.
Spiky Fringe with Side Line
It's an alternative to porcupine spikes that were in the trend during 1990s. All you need is some mousse for getting that cool and spiky look. Hair should be kept short on top, but must not be cut too short.
Remember that the fringe will only remain intact if you're using a good mousse or gel to keep it intact. Overall, it's a cool haircuts for boys that will be appreciated everywhere.
Flipped Side Bangs Combined And Undercut
If you don't want the bangs to fall on forehead to achieve a better groomed look, they can be done sideways as well. Believe it or not, side bangs look more alluring on little kids.
Combine it with a cool undercut and you have a great combo for your young gun. It is important, however, that the bangs are sorted carefully so that you can comb them into the side bangs before trimming rest of your hair into undercut.
Mushroom Cut
It's one of really cool haircuts for boys that is quite popular as well. It used to be a big hit back in 80s and is here again with a bang. Many moms today go for mushroom haircut as it looks quite appealing on little boys.
It, basically, comprises of hair that are cut evenly from center on edges of scalp. Besides, there's sort of low fade as well.
Wavy Shag
If your young one has ever had shaggy hair, you'd already know how great and cool it looks. And if you have had hard time managing the curls then wavy shag is the way to go.
You may need some gel for styling purposes, however. Keep the volume of hair consistent all around so that you get a casual and messy look that's stylish as well.
Also make sure that hair are tousled with fingers and are then dried using a blow dryer or a towel.
Side Swept Haircut For Boys
Side swept hair is what you normally style your kids' hair in the young age. In fact, it looks cool on all the face shapes and doesn't take much of time in styling.
Just swipe the hair to the left or right and create a natural looking side part. Top rated hair products can be used to add volume to your hair as well.
Samurai Cut
A man bun is a stylish way of carrying your long hair but it's not just restricted to the grown-ups.
You can always make that cute little samurai of your boy, tying the hair up and making a small bun or ponytail. He'll surely love it and ask you to find out more cool haircuts for boys.
Ivy League Hairstyle
Just as the name suggests, Ivy League Hairdo gives your little boy a classy and elegant look. The hairstyle requires the hair to be kept slightly longer than what you normally have in a crew cut. To be precise, hair length is kept around 0.5-1.5 inches.
To make it even more stand out, taper the hair on sides and back off to varying lengths. The hair can also be brushed up rather than the sides.
Johnny Bravo Haircut
It's a cute hairstyle for little boys that suits perfectly to all the face shapes. However, your kid needs to have thick or medium hair for it to work. A gel or moisturizer can be used for making sure that hair on top stick together.
Long Side Bangs
It's one of the cool haircuts for boys having long hair, and works particularly well for toddlers.
It's combed to front with the bangs extending to sides and kept long. Overall it looks appealing and is an amazing hairstyle for your young gun to have.
Mushroom Haircut 2
Quite a common haircut for kids, Mushroom haircut looks so cool. In fact, you may even have had it in your own childhood and would've better known it as bowl haircut.
Apparently, you look like wearing a 'hair bowl' that is inverted on your head. For kids or boys having blonde or golden hair, it's a perfect haircut choice to make. Besides, it's fairly easy and just about any hairstylist can do it.
Long Layered Haircut
This haircut can be easily acquired by boys having long hair and it gives them a casual, yet smart, look overall. The hair can be brushed on all the sides and some of them can be left hanging down on forehead while some can cover tip of ears.
Whimsy & Classic Curly Hairstyle For Boys
If you have natural curls, you'd really look attractive in this whimsy & classic curly hairstyle.
Cut just only several inches above hair roots, this hairstyle gives you a gorgeous overall look. You can easily flaunt the hairstyle if you have thick hair volume on top.
Mohawk
Probably the funkiest and one of the best cool haircuts for boys and kids alike, Mohawk gets the inspiration by natives of Mohawk tribe. Those folks, typically, shave the head off and only leave a hair strip right in the middle behind.
So, it's a perfect hairdo for kids who love to look different, unique and adventurous. Besides, it's pretty easy to have this haircut as well.
Faux Hawk For Kids
Yet another modern haircut for kids and boys, Faux Hawk is more of a tapered haircut having faux hawk. The only difference is that you have shaved sides. Some quality gel or styling product may be needed for adding more of a personal to this hairdo, though.
Side Swept Long Hair For Boys
Source: cutthroat_barbershop_and_ink
Just as the name suggests, you have long hair that are swept to a side. However, the hair length is kept such that they cover the eye to the side they're swept. Adding a tinge of color will make the overall look even more attractive.
Hipster Haircut For Boys
Source: _ashleighwilson_
Hipster is another trending haircut for toddler boys that remains in vogue for good part of the year. It suits the best to those who have oval-shaped face.
Shaved on the sides, you leave a tip prominent only. Styling can be done with a good quality wax.
Long Hairstyle Having Side Parted Bangs
Source: melissaditsas
It's amongst the latest cool haircuts for boys that is trending as well. However, it's fairly easy to style as well with long hair brushed to the sides and back. The strands go below your neck and you have a side part with the bangs.
Long Hair With Textured Waves
Source: tortugaro
Here again, we keep the hair long. However, textured waves are created to make them look different, elegant and stylish. You part your long hair from the center while the sides are kept to look a bit messy.
Skater High Hairstyle For Boys
Source: eddie_wise_
A creative hairstyle for cute little boys, this haircut requires tapered hair in middle that are brushed up with the help of vent brush for creating crown layers.
Gel can be applied in the process and then hairspray can be used for final styling touch.
Short Pompadour
Source: allinthepalms
Pompadour isn't just for men but even the kids and boys can achieve a gorgeous look by wearing this hairstyle.
The concept of short pompadour, however, is that you have tapered, brushed back hair with the help of texturizing product as well as a good hairspray to achieve the final look.
Long And Messy Haircut
Source: janeysap
The boys having long hair really look great by wearing this long and messy haircut. The hairstyle can be achieved by brushing the hair to all sides while the extra long strands are kept to the sides only.
Little Boys Textured Haircut
Source: cath.and.max
Perfectly suited to cute little boys with 3 years of age, this is one of the cool haircuts for boys that requires the hair to be cut unevenly with the help razors and the thinning shears.
Texture is added with the help of gel or a wax. No need to comb as you can obtain ultimate style simply by moving your hands through the hair pointing them in different directions.
Medium Length Hair, Spikes and High Fade
Source: paintedshadessalon
It's a perfect hairstyle for teenagers that requires the hair to be kept to medium length and then brushed upwards for creating the spikes. The sides are also kept to same length as they fall over your ears.
Framing Fringe
Source: beth_perkins_photos
For boys having elongated face and broad forehead, fringe is the best way to cover things up. For achieving the look, you have to set the fringe right after taking a bath and the front top hair should be brushed forward.
Just make sure that the fringe is combed properly to have a smooth touch without having to overdo it.
Source: pjabreu
This cool undercut gives your kid a really cool look overall with a hard side part and beautiful side swept hair on the top.
Source: nathanielmarklafera
A beautiful undercut with long hair on top create more of a pompadour style look. The hard side part really looks amazing as well.
Source: the.801.barbershop
This one is a simple and straightforward haircut that doesn't has anything fancy about it. The haircut still looks good on anyone who loves to wear something simple.
Source: 1m_hair_studio
This faded undercut with a spiky touch on top is one of the cool haircuts for boys and creates a perfect image of your young one.
Source: strandshairnbeauty
Short hair always look amazing and this one with surgical design is a perfect hairdo for your kid and he can wear it on elegantly on just about every occasion.
Source: lelehayes
This simple haircut for kids looks cute and elegant.
Source: laurenvanblunkhair
This short sides haircut with somewhat longer hair on top and a straight fringes left at the front creates a simplistic yet cool look.
Source: lakwaflevis
This one is a short hairstyle for kid with textured hair styled using a styling product.
Source: essexhairgoddess
This is a rough look but will really look cool on a boy who loves to keep the locks longer on top. There are faded sides that complement the look further.
Source: tiger_and_butterfly
This undercut with a fade and longer hair on top is one of the wavy kids haircuts that create a modern look. Suit him up and he'll really rock the look.
Source: thejoyofhairandmakeup
This cute little pompadour style is perfect for formal look and can be worn on any occasion. The hair on top are kept longer and styled to a side with a simple side part.
Source: womamanyc
The carefree look of a cute little boy is always something to cherish. Hair is kept almost the same length on top and on sides.
Source: altaft20
This cute little undercut with a hard side part and longer hair on top swept to a side will give an authentic style to your kid.
Source: hiuspallo
This is a cute mohawk style with undercut and surgical design on the sides. Your kid will really love the look.
Source: misslisaann
It's a simple haircut with hard side part and faded undercut on the sides. The look is quite simple yet elegant.
Source: kristynofsavvysalonanddayspa
This mohawk look with undercut is a cool style and can be worn by any kid regardless of age. It's really considered one of the best cool haircuts for boys.
Source: mandigivens_hairstylist
Undercut with side swept hair on the top, this one really looks amazing on your little kid. It gives a unique and cute look overall.
Source: mandigivens_hairstylist
This hairstyle suits those with fine hair as the locks on the top are kept longer and swept to a side with nicely shaved undercut to complete the look.
Source: glory_hair_studio
The long hair on the top and nicely trimmed sides and back make this look really appealing.
Source: infinityhairbyev
Your kid will rock in this beautiful, neat hairdo that boasts of a hard side part and longer side swept locks on the top.
Source: karendcraig404
This is a rough look with long and rough fringes on the top. The hair on the sides are kept normal length to create a perfect style.
Source: loxhairstudio_
The boys here sport a beautiful undercut with a spiky style on the top and surgical design on the sides. Overall, it's a cool look.
Source: tikishair
This is a simple side swept look with faded sides. It looks cool on teenagers with an expansive look.
Source: its_all_about_your_hair
The cute little faux hawk here is a perfect look for your kiddo. If you care looking for the best cool haircuts for boys then nothing can be better than this.
Source: hairstyle_para_hombres
This one is a cute hairstyle for medium length kids hair that sports a short fringe at the front and overall looks great.
Source: emma_kate_hair
This spiky haircut looks adorable on just about any toddler and will give a perfect look.
Source: razor_raikes_1965
If your kid loves a neat hairdo, this hard parted hairstyle will look amazing. The hair are combed back to create a neat look and overall it's a great hairdo to have.
Source: salonutopialkn
This one is a simple boys haircut that doesn't have much special about it but looks great if your boy wants to sport a carefree look.
Source: karendcraig404
A beautiful long hairstyle with side swept hair on the top, this one is a perfect hairdo for school going boys.
Source: delaneybrothers
The love of the two boys is quite evident in this picture and the cool short hair styles look amazing.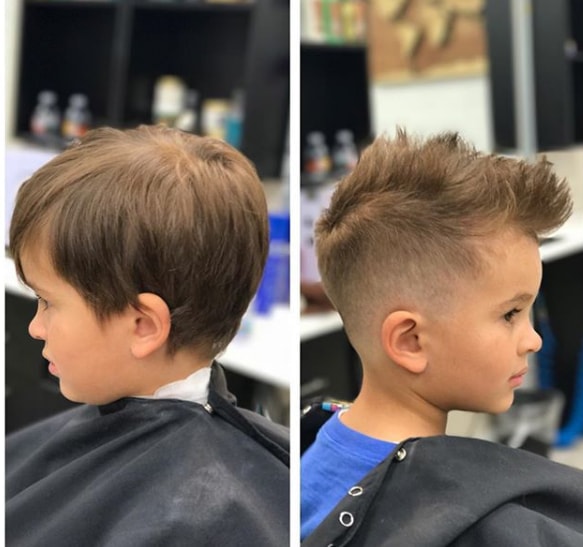 Source: blenddfamous
The before and after look of a cute little boy who loves sporting a faux hawk hairdo. The new look is amazing and he's ready to impress many today.
Source: byefeliciagardner
Source: vjbarbersnz
The rough look on this hairdo is what every teenager would love to wear. There's volume on top and sides are kept short to create a perfect look.
Source: juliadickinson
Longer locks on the top are side swept and the sides are kept shorter in this haircut to create a cute and simple look for the young boy.
Source: melangesalon
If you love to wear something neat and elegant, this haircut is the one of the best cool haircuts for boys that is tailor made for you. Use some styling product to keep hair in place.
Source: thesalonbydw
This cool pompadour looks just perfect on this young man and the sides are kept short enough to make the pomp stand out.
Source: snipitsnashville
Another simple hairstyle for kids that is all about neatness and definition. The look is so cool that anybody would fall in love with the boy anytime.
Source: connsmetology
If your kid loves to have a funky look then this long on top hairdo with an undercut and some streaking at the front would work fine for him.
Source: rachelcrewshair
This is one of the cool haircuts for boys with faded sides and side swept hair on top. Three surgical lines close to the ear add a funky touch to the overall look.
Source: sherilyncutshair
The textured long hair on top in this haircut look amazing. Sides are kept short to give your kid a perfect look.
Source: hairspirationsby_chelsea
Who doesn't like long locks? Has your kid always wanted the same as well? If so, give him this wonderful hairstyle and he'll rock the look.
Source: hair_with_britt
If you talk about toddler boys haircuts, there is always something funky and special, just like this haircut we have here. Check out the spiky look on top and short hair to the sides with surgical lines.
Source: mikelsessions
Cool spiky mohawk is the style to go with for your little kiddo. Just like this little kid, he will really rock the look.
Source: jellybeanshairdesigns
This crew cut look is just perfect for any kid out there. There is an undercut with slightly combed hair on top.
Source: troy_does_hair
Another look for the faux hawk haircut, this cool haircuts for boys can be carried anywhere and is perfect for every occasion.
Source: myneighborshair
Another haircut with surgical design, this one is a cool look for anyone with curly hair.
Source: tawniefades
Slicked swept hair with a hard part and undercut. This one looks really cool.
Source: everymanbarbersuk
This office boy look is just perfect for any boy out there. There's a side part and razor is used to make a design at the front.
Source: hilals_hairlounge
It looks more of a dual side part with longer side swept hair from top to the other side. The surgical line creates a cool impact.
Source: salonstylush
The longer swept back look is too creative and too cool for these young kids and they seem to be getting along with it quite well.
Source: kristen_kutz_
This comb over haircut with an undercut is a perfect look to have in your teenage.
Source: theforeignbarber
The spiky hair on top and faded undercut on the sides really looks cool.
Source: lazerliza
This little mohawk style is a perfect look to give to your kid for any occasion.
Source: electricballs_
Longer combed back golden locks with a hard side part really make for a perfect haircut for kids.
Source: carlimaehair
These are three different haircuts and all of them look cool for the kids and should be your choice too.
Source: king_kai_8official
Curls gone rogue? This one is the cool haircuts for boys with long curly locks. Just grow length as much as you'd like and and style the hair to a side while keeping them to fall on the shoulder.
Source: barberjohn73
This one is stylish, old school look yet it looks so cool and modern. There is an undercut and long locks on the top that are swept elegantly to the back.
Source: belabeliux
This stylish little mohawk will give your kid a rocking look.
Source: hair_by_marisalee
These are some cool haircuts for boys each with a different touch. The hair length is kept to medium while hair on sides are kept short.
Source: sherilyncutshair
Long and combed back hair on the top always look cool and that's exactly what we have here.
Source: vanxcutz
This is a cool and clean look that can suit every school going boy and still keeps them stylish.
Source: britishmasterbarbers
These are some combed back hair alterations that you can try with your kid as well.
Source: hatchet_the_barber
Pompadour style on the top and cute surgical design on the sides, this haircut creates a unique undercut for your kid.
Source: maggieroberts219
Spiky hair is always in trend and combining it with an undercut will create a perfect look for your boy.
Source: the.801.barbershop
This one also features long and combed back hair on the top. The hair is evenly cut to create a more organized look.
Source: hairbyerenkaru
Another hairstyle with surgical design, cool haircuts for boys can't get more stylish.
Source: sherilyncutshair
Undercut combined with long combed back hair on top creates a timeless look. And, that's what we have got here.
Source: barberjohn73
This is a different look which keeps long hair on top and also on the back however, faded sides add the element of style.
Source: _trisha_kott_dapper_dame_
The unruly curly locks of your kid can be given an all new style with a cool mohawk look where sides are faded into an undercut.
Source: cheyanne111293
A simple and straightforward look, this hairstyle keeps medium length hair and lets them to sway everywhere.
Source: oceansbarbers
Longer hair on top with and undercut to complete the look, this hairstyle can be a dream for any growing boy.
Source: meawdavis
A clean and organized look of this undercut and medium textured hair on top is perfect for any event.
Source: queenhaircut_unisex
Medium to long hair on top can be styled in just about any way you may like and the complimenting faded undercut completes a gorgeous look. An example is given here.
Source: lattitudespencentre_
This is another cool undercut style that has longer locks on the top and are styled perfectly to the back. The hairdo looks gorgeous on just about any boy.
Source: kidshaircut
This cute little boy is wearing a cool mohawk look that is adding a touch of style to his personality.
So, these are some of the best cool haircuts for boys and ideas that you can try out on your kid as well. There are plenty of hairstyles and looks that your kid can wear and all you have to do is to choose the best for him according to his face and overall personality.