If your teenage son's hairstyle has been the same for a while, and you believe he could use a change to express himself through his appearance, now is the perfect time to explore different hairstyles for teenage boys.
Haircuts for teenage boys are more than just a statement; they play a crucial role in boosting confidence and self-esteem. Whether your teen wants to go for a casual or bold look, there are plenty of hairstyles that will suit their face shape, hair type, and style.
Here we have assorted top 5 teen boys haircuts that are going to rock this year. Let's try to find out how these looks are achieved.
Top Hairstyle Ideas For Teenage Boys
Here's a guide filled with trendy and stylish hairstyles for teenage boys. Check below!
1. Crew Cut for teenage boys:
Hairstyles for teenage boys often start with the classics, like the Crew Cut. It's short, clean, and easy to maintain. The barber cuts the hair short on the sides and slightly longer at the top. The Crew Cut is perfect for active teenage boys who need a fuss-free style. It suits various face shapes and is popular in schools.
2. Undercut with a Pompadour:
The Undercut with a Pompadour brings a vintage flair to Hairstyles for teenage boys. The sides are cut short or shaved, while the top is left longer. The hair at the top is then styled into a pompadour. This style is trendy and adds a sense of personality. It's ideal for teenage boys who like a retro touch and have thicker hair.
3. Teen Boy's Surfer Waves:
Capture the carefree spirit with Teen Boy's Surfer Waves, one of the go-to teen boys haircut ideas for summer. It features medium to long wavy hair that looks as though you've been hitting the waves. Use a sea salt spray to achieve the natural wave. It's great for teens who love a laid-back, beach-inspired look.
4. Faux Hawk:
The Faux Hawk is edgy and fun. It's less dramatic than a Mohawk but still packs a punch. The sides are shorter, and the top is styled upwards. Use some hair product to hold the shape. It's perfect for teenagers who love to express themselves through their style.
5. Buzz Cut with a Fade:
A Buzz Cut with a Fade is an excellent low-maintenance option among Hairstyles for teenage boys. The hair is cut very short, almost to the scalp, with a gradual fade on the sides. It's clean, sporty, and timeless. Teenagers involved in sports often go for this style.
6. Side-Swept Fringe with Undercut:
The Side-Swept Fringe with Undercut is modern and trendy. The hair on top is kept longer and swept to one side, while the sides are undercut. It's a cool style for teenagers who want to stand out and have straight or wavy hair.
7. Textured Quiff:
Textured Quiff is versatile and fashionable. The hair on top is styled into a quiff with added texture. Pair it with short sides for a clean finish. Teen boys with thick hair can rock this style, great for both casual and formal settings.
8. Teen Boy's Messy Bedhead Look:
The Messy Bedhead Look is one of the effortless teen boys haircut ideas. It's all about creating a "just got out of bed" style. Use some light product to mess up the hair and add texture. It's perfect for teenagers who prefer an easygoing, rocker style.
9. Ivy League Cut for Teenagers:
The Ivy League Cut is a polished choice in Hairstyles for teenage boys. It's similar to a Crew Cut but with a slightly longer top. The hair can be side-parted or styled forward. It's suitable for formal events and gives a scholarly appearance.
10. Angular Fringe with Tapered Sides:
With Angular Fringe and Tapered Sides, the hair on top is cut at an angle and the sides are tapered. It's modern and unique. This style suits teens with sharp facial features and straight hair.
11. Curly Top with Mid Fade:
For teenage boys with curly hair, the Curly Top with Mid Fade is ideal. The curls are left to flourish on top while the sides are faded. It's stylish and highlights the natural curl pattern.
12. Quiff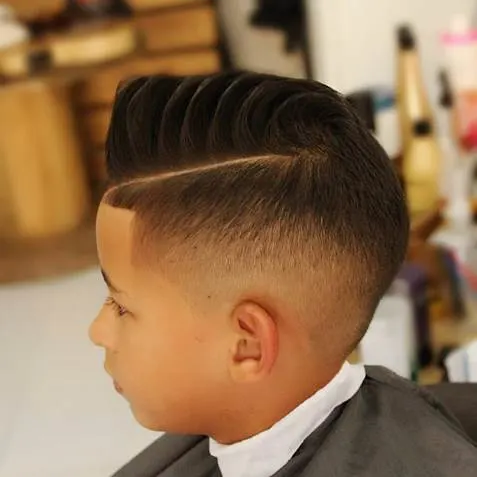 Recently, we have seen quiff hairstyles becoming a lot more popular. The hairstyle looks awesome on boys who want to have a classy look. While the hairstyle is noticed more than any other hairdo, you can modify it either into a bold or subtle look. For keeping it a bit subtle, it is recommended that you go with short quiff while if you want to make things go bold then you should try a long or messy quiff.
For achieving the look, choose a top stylist and make sure that the hairstyle is done to perfection. The hair on top is kept longer while it should get shorter on the sides. On top of the head, you should go up and back while styling the hair. It will look gorgeous.
13. Undercut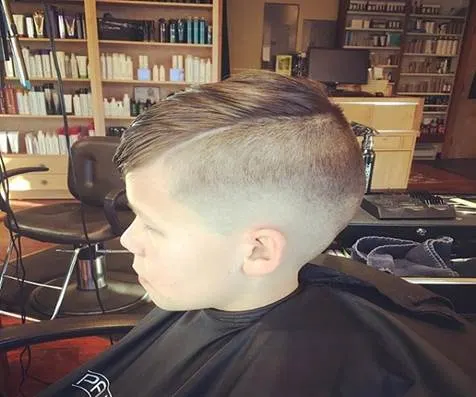 This year, undercut will be making a huge impact on the fashion scene. The hairstyle has been around for years and it is worn in a variety of different hairstyle options on top. It requires the hair to be cut shorter around the back and the sides and ensures that the hair on top is kept longer. Probably, the best option you have to wear such teen boys haircuts would be to go with slicked back hair on top. Nevertheless, you can style it in other ways as well.
For achieving a perfect look, tell the stylist to give you an undercut style. Most of them would be familiar with how this style is achieved. If they don't understand, ask them to keep some longer locks on top while buzzing the sides off using mild clippers.
14. Crew Cut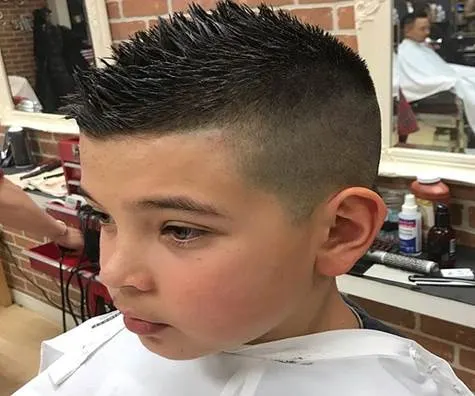 Crew cut remains a classic, timeless look that is making a comeback with a bang. One of the top hairstyles for boys, this beautiful short hairstyle is perfect for athletes and gives you a similar vibe even if you aren't one. The hairstyle will also make your face look much defined.
The hairstyle requires you to buzz it off on top using clippers at different lengths. It actually depends on the specific area on your head where you are clipping it off. You can use #4 – #6 on top of your head while keeping the frontal locks to longest length. Keep trimming it shorter as you move towards the back side.
You should use #2 – #4 on back and sides to trim it even shorter. Go for some gradual tapering right to the nape of the neck.
15. Pompadour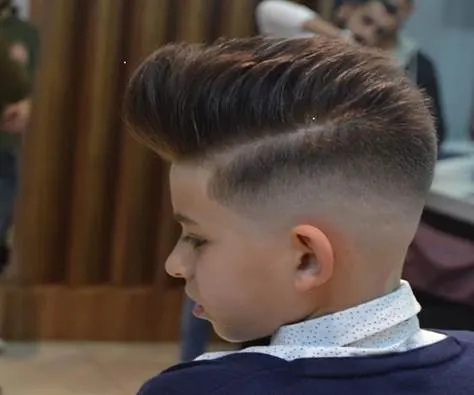 Another classic look that teenagers will be sporting more than any other hairstyle this year, the Pompadour is making a comeback again. The hairstyle makes for the best teen boys haircuts and gives a dapper and slick look. There is length all over while the hair gets longer towards the top. Styled in a slicked back look, the hairstyle is still not kept tight and looks more "poofed" than anything else.
It's a high maintenance haircut that requires you to put in a significant amount of gel on your locks. It works perfectly for round faces, stronger cheekbones, and shorter foreheads. The hairstyle makes a perfect choice for teenagers with an undercut and a side part.
Get your hair trimmed shorter on the back and the sides while there should be some length on top. Apply quality pomade before slicking the top hair all the way to the back.
For getting a perfect pomp, put the free hand on top and push it forward while combing frontal hair upwards. Use some hairspray to fix it if required.
16. High & Tight Haircut
This is a beautiful military-style, short haircut that creates a perfect vibe. Many might confuse it with a butch haircut but it is completely different. The butch is shorter all over whereas this one is cut longer on the top while keeping the back and the sides shorter.
This really is one of the best teen boys haircuts for African Americans and it works perfectly fine for boys who want their hairstyle to be strong and noticeable.
To achieve the look you have to trim the sides and the back using #1 clipper attachment. The hair on top is kept relatively longer than typical butch cut style. Sometimes it is cut using scissors which makes it a bit longer and it is styled easily. Typically, a #6 – #8 attachment is used to clip off the hair.
17. Slicked Back with Side Part:
The Slicked Back with Side Part is classic and refined. The hair is slicked back with a distinct side part. It's great for special occasions and suits teenagers who prefer a traditional style.
18. Teenage Boy's Man Bun with Undercut:
Last but not least, the Man Bun with Undercut combines long hair and an edgy cut. The hair is pulled into a bun, and the sides are undercut. It's a bold choice for teenagers who like to make a statement with their hair.
There have been many teen boys haircuts that have made great vibes over the years. The trend is shifting gears now and we are seeing some of the typical, classic looks making a comeback this year. See which of the above hairstyles you would want to sport this year. They'll all make a bold statement!