Short faux hawk haircuts have become increasingly popular for kids and boys in recent years. This edgy and stylish haircut offers a unique and bold look that can make the boys stand out from the crowd.
A short faux hawk haircut or short fohawk haircut resembles a mohawk that is shorter on the top but without shaving the sides of the head completely.
This style guide demonstrates how even the youngest fashion enthusiasts can rock this haircut, balancing playfulness with a dash of punk spirit. Whether for everyday school life, formal occasions, or just playing around, these hairstyles promise to deliver a look that is cool, contemporary, and customizable.
Benefits of Short Faux Hawk Haircuts for Boys
Short faux hawk haircuts for kids have gained popularity due to their trendy and fashionable appeal. Here are a few reasons why they have become a popular choice for young boys and girls:
Versatility: Short faux hawk hairstyles offer versatility in styling. They can be worn casually for everyday activities or styled more elaborately for special occasions.

Expressive and Individualistic: Faux hawk haircuts allow kids to express their unique personality and sense of style. It gives them a chance to stand out and embrace their individuality.

Low Maintenance: Short faux hawk haircuts require minimal maintenance compared to longer hairstyles. They are easy to style and maintain, making them a convenient choice for parents and kids alike.

Confidence Boost: Sporting a trendy and stylish haircut like a short faux hawk can boost a child's confidence and self-esteem. It gives them a sense of empowerment and pride in their appearance.
How to Style a Short Faux Hawk Haircut for Boys/Kids
Styling a Faux Hawk hairstyle, especially a short one, is a straightforward process that requires minimal products and tools. Here's how you can style a Short Faux Hawk for kids and boys:
Start Fresh: Begin with freshly washed and dried hair. Use a volumizing shampoo if possible to add some extra lift to the hair.

Section the Hair: Divide the hair into three sections – the top, left side, and right side. Use hair clips or bands to secure the side sections, leaving the top section loose.

Create the Hawk: Now, push the hair on top toward the center of the head, creating the Faux Hawk shape. You can make it as neat or as messy as you like depending on the look you're going for. For a short Faux Hawk, trim the sides of the head to about a quarter of an inch, or shorter depending on preference. Leave the hair on the top longer, around one to two inches. The goal is to create a noticeable contrast between the top and sides.

Style and Define: Using a comb, define the style more by combing the sides down and the top into the preferred shape. Use a good quality hair wax or pomade. Scoop out a small amount, rub it between your palms to warm it up, then apply it to the longer hair on top. You can also use hairspray to make sure the style stays in place all day.
Short Faux Hawk Hairstyles For Kids and Boys
Here we have listed some of the coolest variations of the faux hawk haircut that you can achieve with short hair. Let's have a look.
1. Buzzed Sides Faux Hawk
This style brings out the punk in every kid. The buzzed sides dramatically contrast the longer hair on top. This short faux hawk for boys shouts individuality and coolness, making it an excellent choice for active, sporty boys.
2. Curly Faux Hawk
Who said curls and Faux Hawks don't mix? The curly short faux hawk for kids takes advantage of natural curls, making the style pop. With shorter sides and curls swept up in the middle, it brings together a fun mix of texture and height.
3. Faux Hawk with Design
This faux hawk that is short adds a creative spin by incorporating a design on the sides. Popular designs include lines, stars, or tribal patterns. This style guarantees your kid stands out on the playground.
4. Tapered Faux Hawk
A more subtle take on the short faux hawk for boys, this style gradually tapers the sides rather than sharply contrasting the top and sides. It's ideal for a kid who wants a less dramatic but still stylish look.
5. Short and Spiky Faux Hawk
This faux hawk is all about texture. The spiky short faux hawk for boys gives an edgy and dynamic look. It's best for those who aren't afraid to be bold and different.
6. Colored Faux Hawk
Add some uniqueness to the short faux hawk for boys by adding temporary hair color. Whether it's a dash of their favorite color or a rainbow, this faux hawk will undoubtedly grab attention.
7. Long Top Short Faux Hawk
In this version of the short faux hawk for boys, the hair at the top is left longer than the traditional style. The extra length allows more room to play with the style and adds a unique flair.
8. Undercut Faux Hawk
The undercut faux hawk gives a trendy twist to the traditional style. The sides are cut very short or shaved, while the top is styled into the faux hawk. This short faux hawk for boys is modern and edgy.
9. Front Swept Faux Hawk
The front-swept faux hawk is ideal for boys with bangs. It features a short faux hawk for kids where the hair at the top is swept forward, creating a more casual yet trendy look.
10. Pompadour Faux Hawk
A fusion of two trendy hairstyles, the pompadour faux hawk combines the volume and elegance of a pompadour with the edginess of a faux hawk. This faux hawk that is short maintains a classy, yet rebellious vibe.
11. Undercut Faux Hawk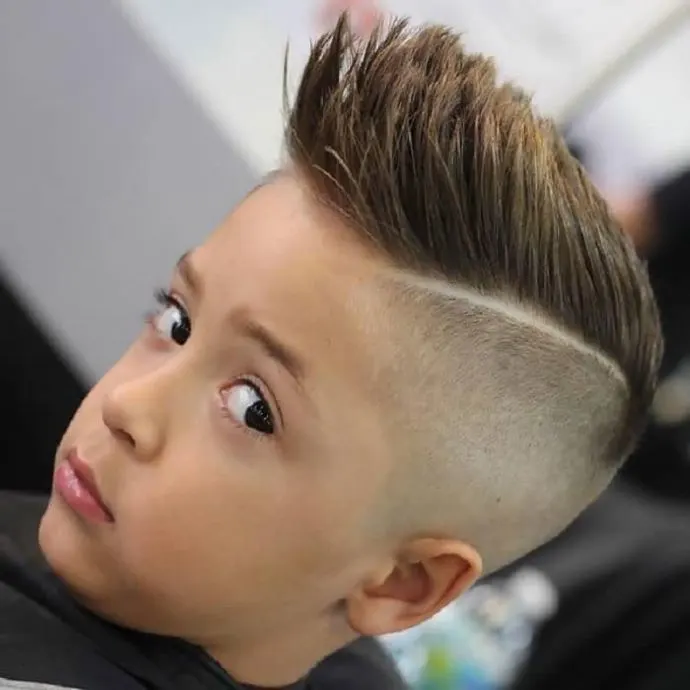 A typical faux hawk held flat on top with undercut giving a clear touch to the sides, this hairstyle is simple and elegant. It makes amazing vibes on any day and can be a perfect choice for boys of all ages.
12. Short Faux Hawk With Shaved Undercut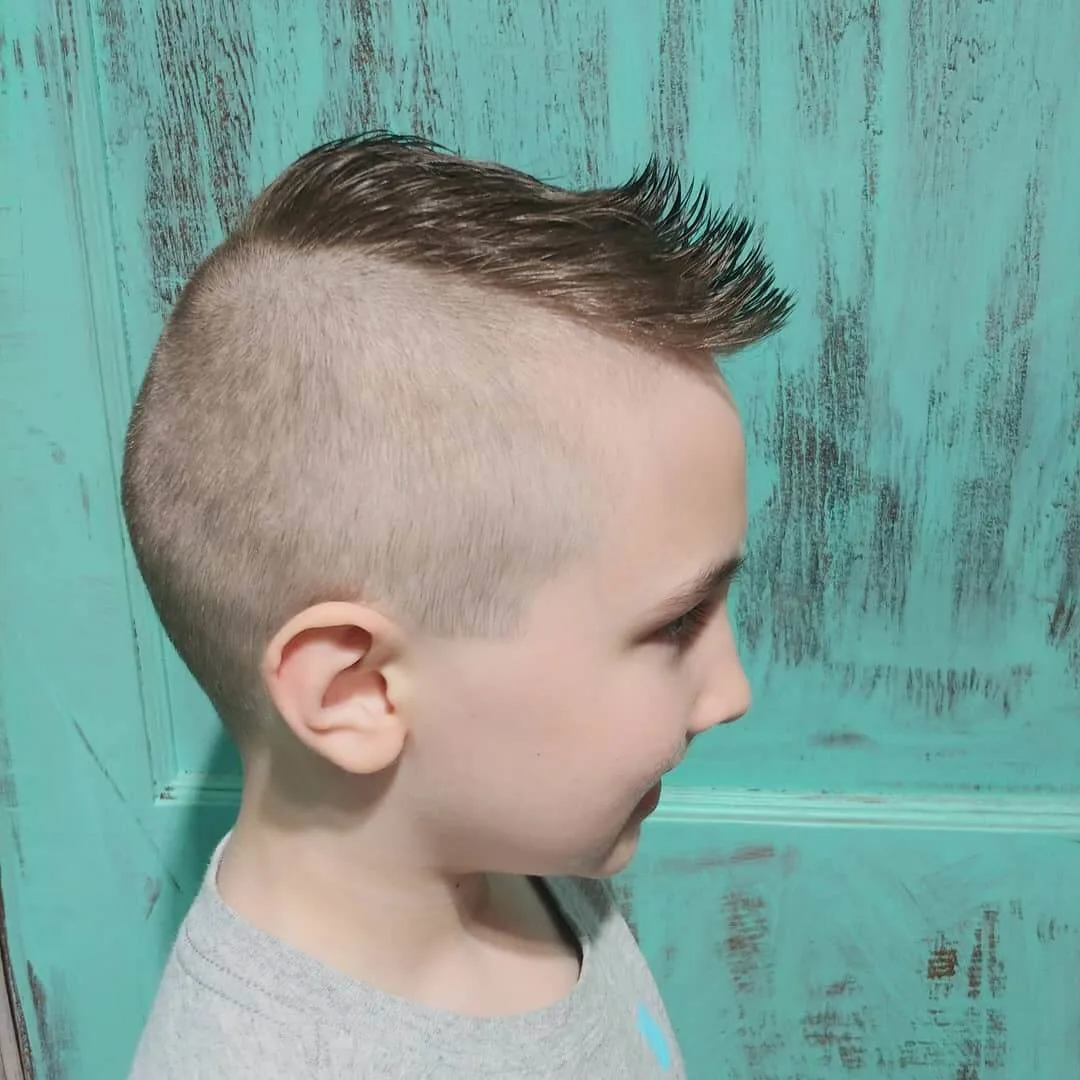 This beautiful hairstyle takes things to the next level by going for a shaved undercut on the sides. Let the skin see through and maintain a beautiful style on top. It will look gorgeous.
13. Forward Swept With Short Sides
This beautiful forward swept look is just amazing. The hairstyle boasts of nice and short hair on top with everything swept forward and spiked at the front. Short sides blend into the look rather nicely.
14. Spiky Faux Hawk
This cool variation of the beautiful look has something special about it. The hairstyle boasts of spiky hair on top and looks gorgeous. Sides are kept in proportion and are managed well.
15. Faux Hawk With Temple Fade And Tail
Another cool variation of the faux hawk hairstyle for boys. This beautiful look is achieved by keeping the hair very short on top and achieving a nice temple fade on the sides. The look is elevated further with the help of that little tail at the back. Overall, it just looks gorgeous.
16. Textured Top With Faded Sides
Faux hawk given a flat top look, this beautiful hairstyle maintains textured hair on top. The hairdo boasts of a cool faded look on the sides and makes a perfect choice for boys any day.
17. Faux Hawk With Tinge Of Color
Faux Hawk with color and fade, what better combination you'd ask for a stylish look? The hairstyle makes gorgeous vibes and it is perfect for both a formal and a casual setting. So, whether you're headed to your office or to a party, you can wear this beautiful hairstyle without any problems whatsoever.
18. Textured Spikes
Another hairstyle with texture on top, this one actually boasts of some spiky look on top. The hairstyle has amazing vibes to deliver with a fade on the sides.
19. Spiky Faux Hawk For Thin Hair
If you've got thin hair to deal with, you can achieve a perfect look with some texture on top by applying a little styling product. The hairstyle can give you a perfect look on any day of the year if you know exactly how to style it the best.
20. Wavy Faux Hawk
This cool look is a perfect choice for kids with naturally wavy hair. The hairstyle boasts of a stylish looks that brings the locks into center and spikes them up. The hair on the sides have a nice faded look. Overall, it looks just amazing.
You can pick any of these beautiful variations of the cool short faux hawk hairstyle. It all depends on your personal preferences and the type of hair you have.