There are all sorts of beautiful kid's hairstyles out there, but not every one of them will give an extra bit of oomph to the personality of your little rockstar.
For a look that will allow your little boy or girl to stand out from the crowd, kids' mohawk haircuts are an impressive choice. There are many cool variations of a kid's mohawk hairstyle, so we'll help you pick one that best suits your little one!
Cool Kids Mohawk Haircuts For A Rocking Look
Mohawks can be as stylish as you like. The key is to tailor them to your kid's facial structure and shape them to perfection.
Half Mohawk With Disconnected Undercut
This beautiful implementation of a Mohawk hairstyle features a spiky look halfway through the head. The disconnected undercut on the sides complements the long hair on top beautifully.
Rocking Mohawk
This cool summer look is perfect for parties and casual gatherings. Just let your boy grow his hair long and shave off the sides. Take a palm-full of hair gel and spike it all up.
Classic Mohawk
A classic Mohawk can be an ideal summer haircut for boys if you want to give them a cool look with a touch of style.
Colorful Mohawk With Flash Design
A typical Mohawk revamped with a cool blue tint for summer, this hairstyle delivers awesome vibes. To give it an extra bit of oomph, a flash design is created on the sides with a razor.
Stylish Mohawk Spike
A simple no-fuss hairstyle, this one requires you to spike it all up in the center and secure it right there. You will have to use an extra bit of styling product to achieve this perfect look.
Long and Curly Mohawk
For little boys with long hair, a kids mohawk is one of the cutest haircuts they can rock without you having to chop off those beautiful locks! Just shave or clipper the sides and leave the long hair natural – no product needed!
Smooth and Spiked with Swirls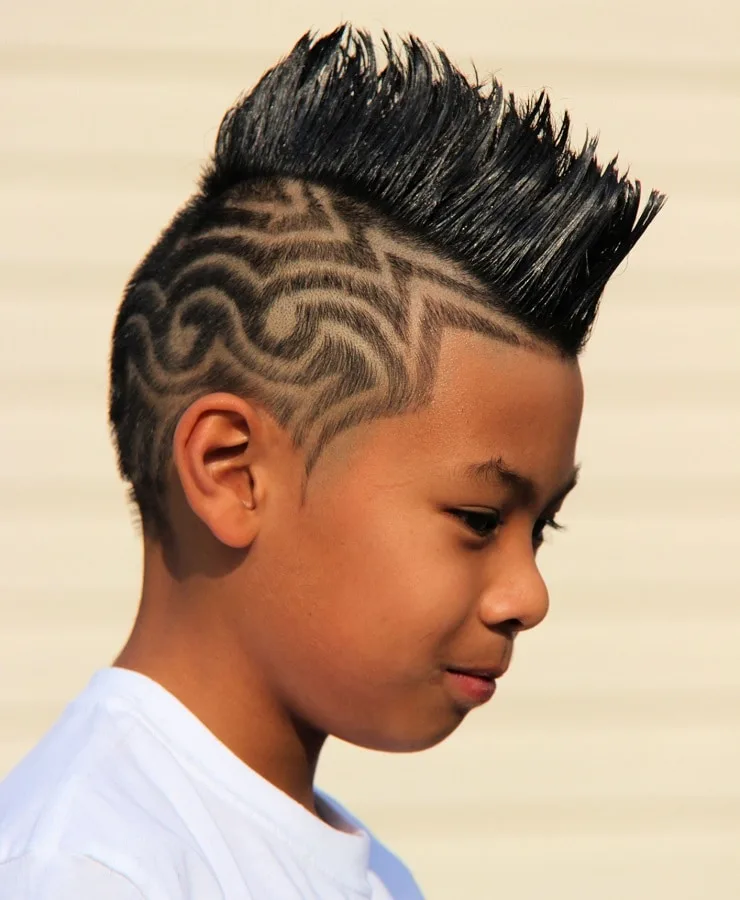 If your little boy wants to feel like a superhero, give him a kids mohawk haircut that leaves room for plenty of detail! He can ask his stylist to shave in swirls or zig zags to accent a smooth perfectly spiked mohawk!
Long Piecey Kids Mohawk with Color
A kids mohawk with bald sides is super easy to maintain and the styling up top is very easy. When the hair is cut, leave at least three inches in length, then use gel to finger comb the hair into these piecey-looking sections. If your little boy wants to, he can choose to add his favorite color (like the green seen here) for even more pizzazz!
Kids Mohawk Fade for Long Hair
We're feeling some punk-country vibes from this kids mohawk haircut! Instead of both sides of the head being shaved, just one side gets the clip! The hair is parted off center and combed smoothly. The result is a handsome yet badass kids mohawk!
Buzzed Kids Mohawk with Shaved Detail
We don't think there's a little boy out there who would say no to this kids mohawk haircut! The length is very short and it's also wider than most traditional mohawks. The shaved lines on the sides will express your little boy's playful personality.
Blonde Kids Mohawk for Natural Black Hair
For boys with natural black hair and thick curly texture, a kids mohawk haircut is the edgy update he'll love to show off those curls! A bald fade mixes with a high fade here and the blonde color as well as shaved lines give the look extra style.
Twisted Kids Mohawk
Another handsome option for little boys with natural black hair is a twisted kids mohawk haircut! Hair is left fairly long, but sides are still buzzed short to frame the little twists lined down the center of the head.
Rat Tail Mullet Kids Mohawk
Where do we start with this crazy kids mohawk? It's perfect for little boys who like really long mohawks! His hair will need to be several inches in length to get this height. From the high buzzed sides to the colorful spikes, this kids mohawk is the definition of wild!
Blonde Kids Mohawk and Bald Fade
A high bald fade is the key to making a kids mohawk haircut look handsome and trim for picture day! The mohawk is a manageable short length with just a tinge of blonde on the ends for contrasting color.
Short Mohawk for Black Boys
An electric green is just the color for a black boys mohawk! This style of kids mohawk haircut is about an inch in length and its shape is less spiky, more perfectly flat.
Braided Mohawk With Horizontal Cornrows
A beautiful hairstyle for black kids, this stylish look requires you to braid their hair all the way to the tips. The braided layers in the center are all combed back to create an unconventional Mohawk look.
Curly Mohawk
A cool way to put his curly hair in order during the summer months, this stylish Mohawk features a faded undercut on the sides and boasts some curly volume on the top.
Red Mohawk With a Curly Fringe
This Mohawk looks amazing with a beautiful red shade on the top. The unconventional curly fringe on the top gives it a cool, unique look.
Extravagant Long Mohawk
This stylish Mohawk boasts a unique extravagant look, particularly due to that perfect color contrast. There is some volume on the top, and the sides are trimmed short to create a Mohawk.
Casual Mohawk With A V-Shaped Back
This casual Mohawk is a perfect summer look for the everyday routine. The hair at the back is given a unique v-shaped cut, while a few strands are allowed to fall over casually.
Spiky Mohawk With Long Hair
This cool spiky Mohawk is a perfect hairstyle for summer, but it will take a little extra time and effort to perfectly achieve this look.
Short Forward-Swept Mohawk
This beautiful forward-swept Mohawk looks stylish and unique. The color highlights add a touch of interest to this hairdo.
Short And Wide Spikes
This stylish look with the sides shaved off makes a perfect summer haircut. The hair in the center is kept short and wide to give it a more organized look.
Casual Sideways Spikes
A casual spiky look, this hairstyle is easy to achieve. You just need to run your fingers through the spikes to tilt them sideways.
Crazy Mohawk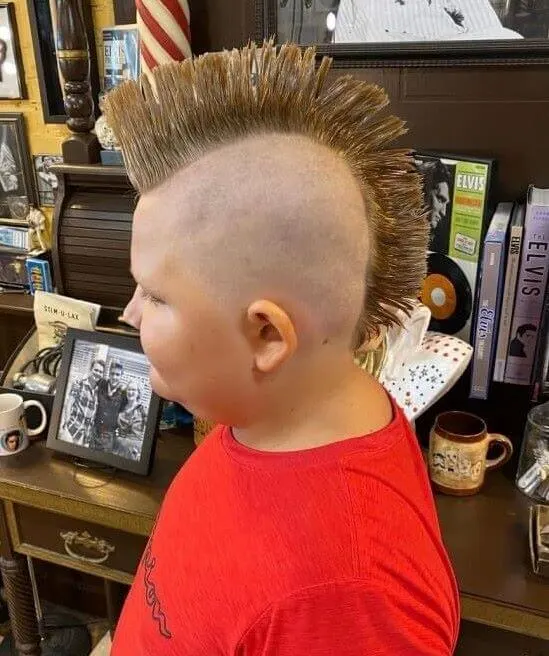 This crazy hairstyle is both cool and stylish. It's pretty simple to achieve with a thin layer of hair spiked up right in the center.
Kids Mohawk haircuts never look bland and outdated. You just need to tap into your creative side to come up with a cool new variation. Pick one of the stylish Mohawk hairstyles above to bring the little Rockstar out of your kid.