A always makes a cool stylish hairdo that lends kids a more authentic and classic look. The hairstyle is more organized than anything else and makes sure you don't have to spare time every now and then for maintaining it.
In addition, the hairstyle makes a perfect choice for school events and parties and is well-received everywhere else.
Short Pompadour Hairstyles for Kids To Try This Year
Every year we see new variations of the Pompadour hairstyle and they all have a unique touch to them. Here we bring you some cool unique hairstyles that will be trending this year. See which of them you'd like to try on your kids' hair.
Pompadour With High Fade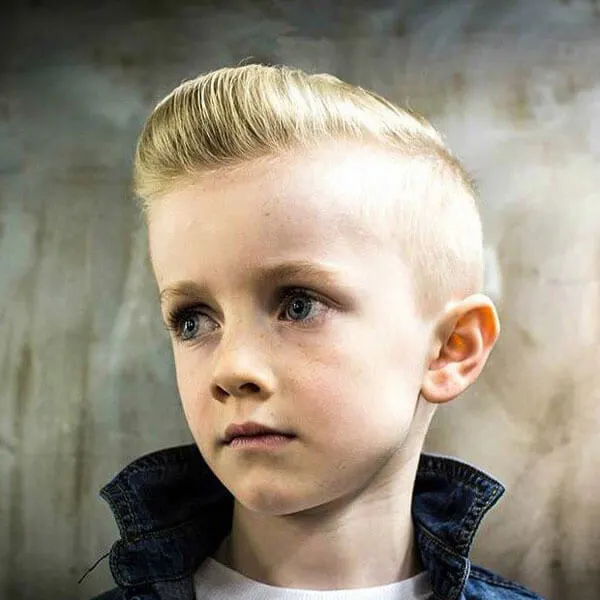 This unique pompadour hairstyles look focuses on more volume at the front while the sides are trimmed short into a high fade. Everything blends in perfectly to create this gorgeous look.
Side Slicked Pomp With High Fade
This pompadour is short too but it takes a cool and stylish look with the help of those side slicked hair on top. The sides have a typical high fade.
Side Swept With Hard Part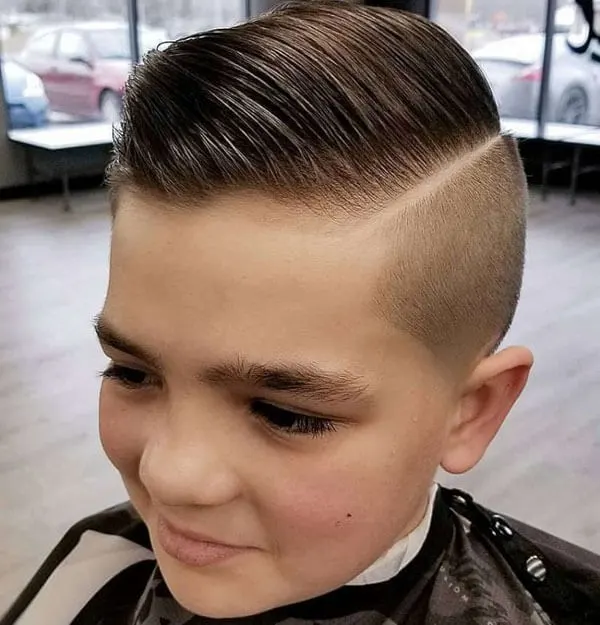 Not exactly a short pomp, this hairstyle can still be classified in the same family of hairdos. The hair on top is swept to a side and is held in place with a styling product. A cool hard part and closely trimmed hair on the sides makes it a perfect choice.
Boys Pomp With High Skin Fade
This cool look requires more volume at the front and less towards the back to create more of a slant on top. The hair on the sides is trimmed into a high skin fade to balance it off to perfection.
Side Pompadour With Disconnected Undercut
This is the perfect implementation of a short pompadour and it looks gorgeous. The hairstyle boasts of a nice side-swept look and a simple part on the side. The disconnected undercut lends it all the style it has.
Wavy Pompadour And Hair Design
Nothing looks better than a wavy hairstyle and the same stands true for this gorgeous hairstyle as well. The hairdo boasts of some volume on top which is formed into a nice wavy pompadour hairstyle. The sides are given an undercut while there is a hair design to complete the look as well.
Side Swept Short Pompadour
This is, probably, the coolest look you can give to your little boy this year. It will need a bit of styling product while you can simply comb it into a short pomp look for creating gorgeous vibes.
Classic Pompadour
A classic pompadour hairstyle always speaks volumes of itself. A nice textured look is created with the help of a styling product while the sides are trimmed short right to the skin. It looks gorgeous overall.
Pompadour With Drop Fade And Tapered Sides
A typical pompadour on top and cool tapered sides with a drop fade, a startling combination it creates. Try out this beautiful hairstyle for a casual routine or for parties and it won't disappoint you on any day.
So, looking for the best short pompadour haircut variation for your kid? What about these beautiful hairstyles on the list above? Try them out and achieve a perfect look for any day.