Have you ever wondered about any hairstyle that never goes out of style? Bow hairstyles for girls are one such timeless trend that has captivated hearts for decades.
From the silent era's silver screen stars to today's Instagram influencers, the bow has remained an enduring symbol of femininity and style. Intrigued? Let's dive into the fascinating world of bow hairstyles for girls!
What is a Bow Hairstyle?
Bow hairstyles involve creatively manipulating the hair into a shape that resembles a bow, just like the ones used in gift wrapping or clothing accessories. It can be styled at various places on the head – at the top as a part of a high ponytail, at the back in a bun, or at the sides for an asymmetrical look.
The most traditional bow hairstyle is typically a high or mid-level ponytail that's looped through a hair tie, leaving enough hair to form the two halves of the bow.
The remaining hair from the ponytail is then pulled over and in between the two loops to create the center of the bow, often secured with a bobby pin. Before we explore the variety of bow hairstyles, let's understand why they make such a popular choice.
There's something eternally elegant about a bow. It instantly adds a touch of whimsy and charm to any hairstyle. Plus, who doesn't like to feel like a princess now and then?
Bow hairstyles are not confined to any specific age or event. They can be as playful and relaxed as a Sunday picnic or as sophisticated and chic as a gala dinner.
With some practice, creating bow hairstyles can be surprisingly straightforward. And the best part? The possibilities are limitless!
How to Create a Basic Bow Hairstyle?
There are actually a couple of methods you may want to try out for giving your little girl a perfect bow hairstyle. Here is the step by step procedure for both these options.
Gather Your Materials
Before you begin styling your hair, it's important to have all the necessary materials at your disposal. You'll need a brush to smooth out your hair and remove any tangles. A hair tie is essential to secure your hair in a ponytail, and bobby pins will help in holding the bow in place. Lastly, having a mirror is crucial as it allows you to see what you're doing and ensure that your bow is symmetrical.
Prepare Your Hair
It's always easier to style clean, dry hair. So, wash your hair and let it dry completely before you start. Brush your hair thoroughly to ensure it's free from knots and tangles. This step is key as it ensures a smooth base for your bow hairstyle, preventing any irregularities or bumps.
Create a Ponytail
The first step in creating your bow hairstyle is to gather all your hair into a ponytail. You can choose a high, mid-level, or low ponytail based on your preference. Ensure it's tight and secure with a sturdy hair tie. This will act as the foundation for your bow.
Make the Bow
Pull your hair halfway through the hair tie on the last loop, leaving a sizable loop. This will form one side of your bow. Remember, the size of your loop will determine the size of your bow, so adjust accordingly.
Create the Second Loop
Once you have one loop done, split it into two equal halves. These two loops will serve as the two sides of your bow. It's important to ensure they're even for a symmetrical bow.
Secure the Bow
The rest of your hair that's hanging from the ponytail will create the middle part of your bow. Pull it back over and in between the two loops, then secure it using a bobby pin. This gives the appearance of a single strip of hair dividing the bow, enhancing the bow-like appearance.
Final Touches
The last step is all about perfecting your hairstyle. You may need to adjust your loops to make sure they're even and secure any loose strands with bobby pins. To give your hairstyle longevity, consider using a hairspray. This will keep your bow in place throughout the day, maintaining your stylish look.
Now you're all set! The beauty of this hairstyle is that it offers endless room for creativity. As you get more comfortable with the basic bow hairstyle, you can start experimenting with more complex variations like the bow bun or the braided bow hairstyle. Have fun and happy styling!
Making Half-Up Bow
If you want to try the other variation, here are the steps you need to follow.
Here again, start with well-brushed and smooth hair. Half-up bow is going to be an easier option for those with straight hair. However, it can still work with wavy or curly hair too.
Pull her hair into a cool half-up looped hair bun. Gather the hair into half-up ponytail kept tight, right above her ear tips. Wrap small hair tie to encircle the ponytail. In the final wrap, pull the ponytail only halfway through to pull off a perfect looped bun.
Divide hair bun into half and create a couple of loops. There will be a loop on right side and another one on left side.
Fan these loops out before using bobby pins to secure them to her head.
Create flipped ponytail in half-up style now. Grab the ponytail which sticks out from underneath the loops. Make a hole through her ponytail between her head and the elastic. Sticking your finger through that hole, catch her half-ponytail before pulling it down right through that hole.
Set her style using hairspray and secure the final look.
Top Bow Hairstyles For Little Girls
Now that you know how to achieve cool hair bow styles for your little girl, here we have listed some of the best options around so that you can decide from a variety of options to style your little one's hair for special occasions. Let's have a look.
1. Classic Bow Bun Hairstyle for Girls
The Classic Bow Bun is a stand-out "bow hairstyle for girls". Exuding elegance and grace, it's perfect for occasions where a sense of formality and charm is required. In this style, the hair is gathered into a high ponytail, looped and fashioned into a bow shape, then secured with bobby pins.
2. Half-Up Bow Hairstyle for Girls
One of the more enchanting bow hairstyles for girls is the Half-Up Bow Hairstyle. A bewitching fusion of a chic hair bow and cascading locks, this style works beautifully on medium to long hair. The top half of the hair is secured into a ponytail, with the hair in the ponytail formed into a bow, while the rest flows freely.
3. Bow Ponytail Hairstyle for Girls
The Bow Ponytail adds a sprinkle of whimsy to an everyday look, and is a delightful bow hairstyle for girls who prefer to keep their hair tied back. The ponytail gets an upgrade with the inclusion of a well-crafted hair bow.
4. Braided Bow Hairstyle for Girls
One of the more unique bow hairstyles for girls is the Braided Bow Hairstyle. A creative combination of braids and a hair bow results in an interesting fusion of boho-chic and classic elegance. Half of the hair is braided up and styled into a bow, creating an impressive hairstyle.
5. Double Bow Hairstyle for Girls
In the Double Bow Hairstyle for girls, twice the number of bows equates to double the fun. This style involves creating two bows instead of one. A playful and charming look, it works especially well on longer hair lengths.
6. Bow with Curls Hairstyle for Girls
The Bow with Curls is an exquisite bow hairstyle for girls, where soft, cascading curls are paired with a high bow. The outcome is a tender and feminine look that's perfect for special events.
7. Low Bow Bun Hairstyle for Girls
The Low Bow Bun Hairstyle is another stunning variant of the bow hairstyle for girls. Here, the bow is fashioned at the nape of the neck, adding a twist to the traditional low bun. This style exudes an understated elegance, suitable for formal settings.
8. Side Bow Hairstyle for Girls
A cute and charming twist is the Side Bow Hairstyle for girls, where the bow is crafted on one side of the head. This asymmetrical style is just right for casual occasions, adding a bit of fun to the everyday look.
9. Bow Hairstyle with Bangs for Girls
In the Bow Hairstyle with Bangs for girls, the face is beautifully framed by bangs while the high bow makes a statement. This hairstyle combines the trendiness of bangs with the classic bow, creating a stylish look.
10. Space Buns with Bows Hairstyle for Girls
The Space Buns with Bows is a fun and quirky bow hairstyle for girls. In this style, the hair is divided into two sections, each twisted into a bun and accentuated with a bow. Perfect for girls who like to express their unique personality through their hairstyles.
11. Center Parted Hairstyle With Bow Pigtails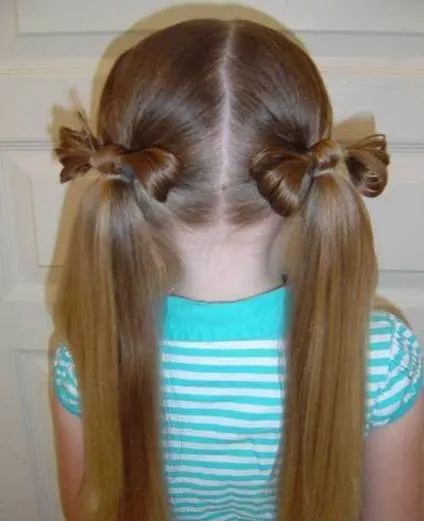 Don't get confused with the name here as this one doesn't feature the bow-shaped pigtails. Rather, the hairstyle is achieved by parting her long beautiful hair in the center and then creating fine hair bows just above the nape area before letting the tails run long and open right down to the tips. It will look amazing on your little girl for sure and it's not that hard to style either. All the effort you'll have to put in would be in terms of creating the bows only.
12. Combed Back Hairstyle With Statement Bow And Twisted Tails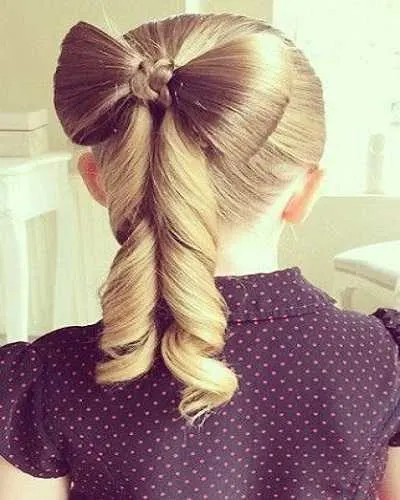 Another chic look that works perfectly fine for any special occasion, this one is about combing all her hair back while keeping it tight to the head. Create a big statement bow just around the crown area and leave the rest of the hair below to form voluminous swirling and twisted tails. There are a couple of tails and you shouldn't bother creating one extra, of course.
13. Combed Back Hairstyle With Statement Bow And Wavy Back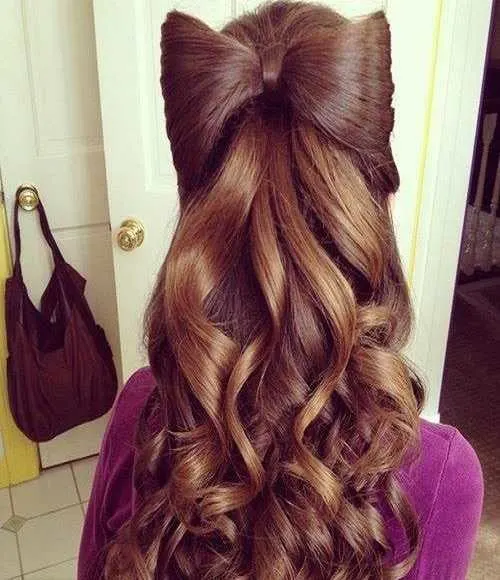 Another combed back look, this hairstyle is a perfect choice for anyone with long, beautiful, and voluminous hair. A statement bow with wide edges is created just where the crown is and it really looks amazing. The long and beautiful wavy layers come sprawling from beneath the hair bow and it will look amazing for sure. A chic party hairstyle, this one can beat any stylish hairdo quite easily.
14. Bow Bun Hairstyle With Frontal Bangs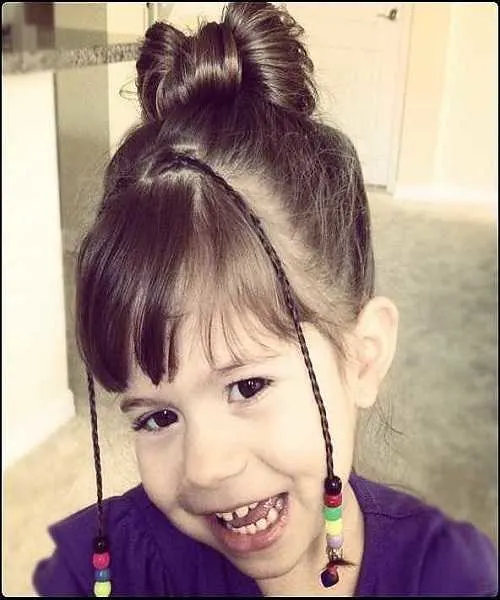 This is a perfectly stylish look for school going girls and it is pretty well organized as well. The hairstyle requires you to part her hair on top horizontally half way through. Next, bring the frontal hair forward to make cool looking bangs falling over the forehead and comb the rest of the hair back. Create a couple of fine, thin braids just where the horizontal part is and let these thin braids fall over to either side. Bead the tips to make them look awesome. Coming to the main part, create typical thick hair bow around the crown area and ensure that it is secured into place to perfection. The hairstyle will really look awesome.
15. Combed Back Hairstyle With Stylish Hair Bow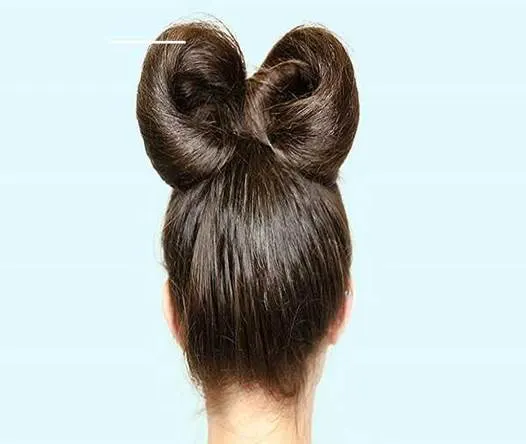 This cool hairstyle is quite unique, in fact. The hairdo requires you to do a simple step first. Bring all the hair from to and the back to the crown and comb it all tight leaving no loose strands anywhere. Now make a statement bow hairstyle in a unique shape as if it were to reflect the shape of the 'digit 8'. Use accessories to secure the look into place and let your girl flaunt the beautiful hairstyle everywhere.
16. Combed Back Bow Hairstyle For Fine Hair
This is another beautiful combed back look that requires your girl's hair to be combed back tightly all the way to the back of the head. It is secured into a simple bow hairstyle around the crown area and a couple of layers are made to come out from underneath the bow forming a cool twisting style that is secured in its place with the help of a strong hold styling spray. The hair at the back is combed nicely through into straight and fine open layers. Overall, it looks just amazing.
17. Tight Side Combed Hairstyle With Statement Bow
This beautiful look is a bit different from a typical combed back hairstyle. The hairdo boasts of side combed hair with no side part. In fact, all the hair from a side is taken and combed tightly going towards the other at an angle before securing it into a statement bow around the crown area. Even the bow is not in the center but created at an angle. Remember, it's a typical basic hair bow and it makes a unique statement.
18. Hair Bow For Black Girls
Source: Michelle Jones
Black girls often find it hard to come up with a stylish hairstyle for them. Probably, the most obvious choice they have to go for cornrows or braided hairstyles. But now, you can incorporate a cute hair bow into the mix and it will really look amazing on your little girl. Knit together a tight braid at the front and take it all the way to the back before creating a unique hair bow with her kinky locks around the crown area. A braid on either side of the head would also make a great choice and all you have to ensure is that it's secured perfectly into the bow as well.
19. Statement Bow With Long Messy Back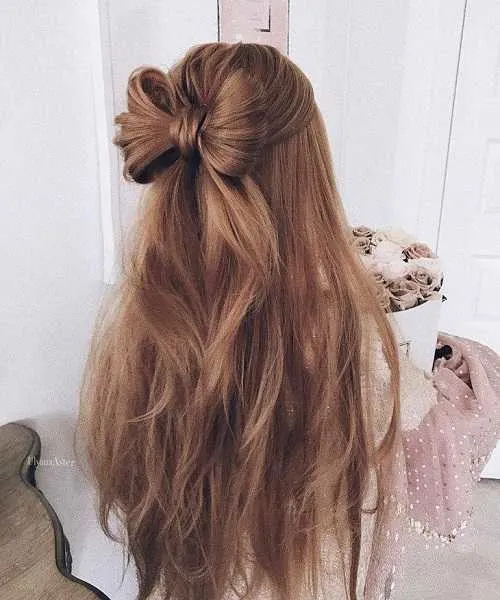 This beautiful hairstyle is a bit of a mix of clean and messy looks and it will really make your little girl look gorgeous anywhere and on any occasion. Just comb it back stylishly on top, making several textured layers, and create a beautiful bow style around the crown area. The rest of the hair on the sides and the back is allowed to flow freely and is given more of a messy vibe. The hairstyle won't need much of maintenance and it will really look cool on your little girl.
20. Combed Back Hairstyle With High Bow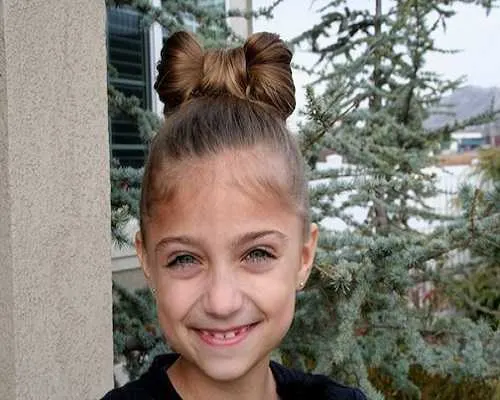 Another perfect combed back hairstyle for girls, this one boasts of fine hair combed back tight to the head before ending up into a high bow hairstyle just at the crown. It will look really cool and it's not that hard to achieve either. All you have to do is to create a basic bow and ensure that it is a little high up at the back of the head so that it is clearly visible from the front. The rest is pretty basic and won't be much of a hassle.
21. Tight Combed Back Hairstyle With Big Bow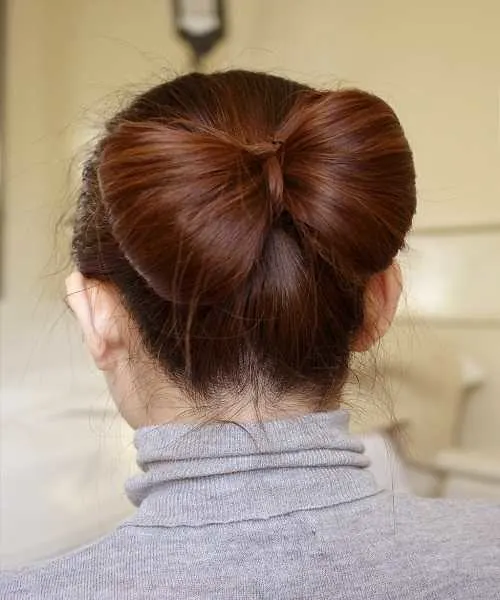 For little girls with naturally fine and thin hair, this beautiful hairdo would do a perfect job. The hairstyle boasts of tightly combed back hair making a flat-headed look overall. A puffy, beautiful hair bow at the back really makes a unique statement of its own and it looks amazing on your little girl too. The look isn't too hard to achieve and it's not too hard to maintain either. Overall, it's a perfect hairstyle for little girls.
22. Bow Hairstyle For The Red-Heads
Source: Bow Haircut
For red-headed girls, finding a cool hairstyle that can lift their overall style is always a challenge. However, with this simple and stylish hairstyle, they can always achieve a wonderful hairdo. The hair at the front is sectioned off from the rest behind and it is made into a nicely side swept fringe. Everything behind the frontal fringe is combed back tightly and a bow is created around the crown area. It is similar to the high bow style we saw earlier on the list and this time the color of the bow makes it look even more exotic.
23. Short Combed Back Hairstyle With High Bow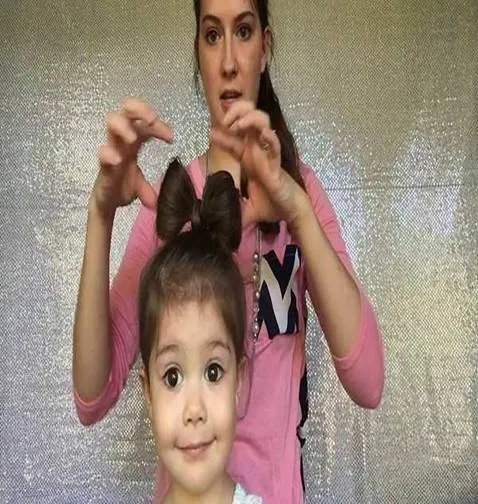 Another hairstyle with high bow, this one really makes for a perfect pick for school. The hairstyle boasts of medium length hair on top that's combed back nicely before making a cool, high bow and it really looks and feels amazing. Create a simple basic bow and there is nothing special you have to do to achieve this beautiful hairstyle.
24. Side Combed Hairstyle With Angled Bow
This side combed hairstyle is achieved by applying a styling product that adds some shine to her hair and then combing it all the way to a side. Form a cool hair bow at an angle just around the crown area to achieve a perfectly stylish look overall. The hairstyle has its own unique and stylish touch to it and it looks really cool on girls with naturally blonde hair.
25. Braided Hairstyle With Low Bow
You have seen many hairstyles on this list with high bow peeking up from the back, but this one is an altogether different look that your girl would love wearing on a special occasion. The hairstyle boasts of a combed back look at the front while it features nice and cool braids on either side of the head going all the way to the nape of the neck. These braids end into a cool and shiny statement bow just above the nape of the neck. A few lose strands are allowed to come out of the bow and they really look cool.
26. Combed Back Hairstyle With Slightly Messy Bow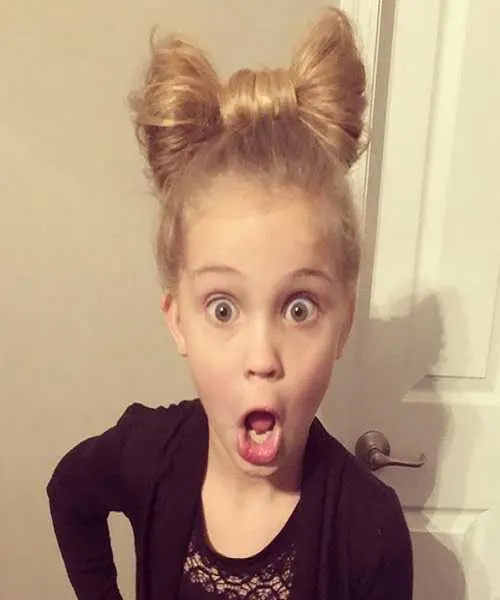 Bow hairstyles are aplenty and most of them feature a nice, clean, and elegant bow on top. However, this one comes with a different take to the hairdo. The hairstyle boasts of casually combed back hair on top and forms a big bow at the crown which is a bit messy compared to many others we have on this list. It makes for a quick hairstyle on a casual day and creates its own unique vibe.
27. Casual Side Swept Hairstyle With Bow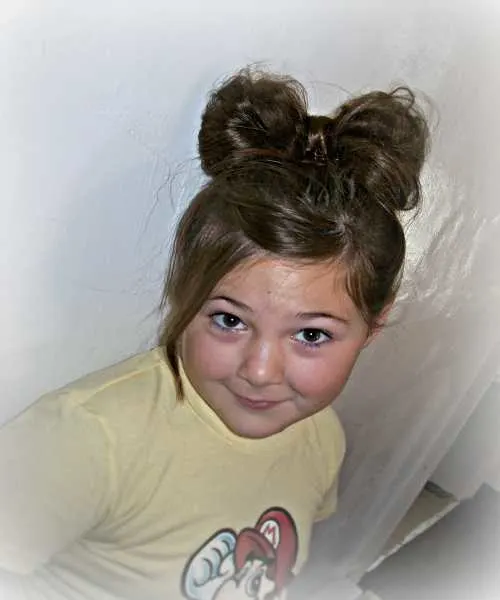 Yet another cool and casual hairstyle that makes for a perfect everyday look for your little girl, this one boasts of side swept hair on top. The side sweep is achieved with a casual part and there is nothing so evident. A fringe on the side is allowed to fall over her cheeks and it really makes a unique style statement. The centerpiece, however, remains that hair bow created around the crown area and it will really look amazing on your little girl.
28. Braided Hairstyle With Double Bow
Now, how unique is this one? All the hairstyles on the list feature a single, iconic, statement bow mostly around the crown area but this hairstyle boasts of two slanted hair bows adjacent to each other. Combed back on top and angle parted at the back, the hairstyle features thick braids on either side of the parting at the back as well. These braids end up into the slanted braids just at the crown and give it a perfect look both at the front and at the back. A chic and elegant hairdo, this really makes a wonderful party style for your little girl.
So, with all these amazing hair bow styles available for your little girl to flaunt, you probably have the biggest collection of party hairstyles for your little one to choose from. Just make a pick that will elevate her personal style and the aura and charm of her personality to the next level. Everyone will praise her for her style and you as well for making a perfect selection for her.