Girls are always adorable and they look the cutest when they have worn some of the most beautiful hairstyles out there. In fact, it's the hairstyles that make them more attractive and can also change their appearance from day to day. But how often do you want to have one of the most intricate hairstyles for girls out there? Yes, there would be very few such instances. Most of us are always on the lookout for easy hairstyles for girls that can actually be achieved within minutes and can still create a more than perfect vibe. Obviously, there would be a different hairstyle to go for different face shapes and hair types, but still you can find lots of hairstyles for girls for all differing requirements.
So, do you have any easy hairstyle ideas in mind or would you like us to throw a few at you? In fact, here we have some of the best hairstyles that you could try on different occasions and see how they work in your favor. Most of these hairstyles won't take more than a few minutes for you to achieve and you'd definitely WOW everyone with your amazing style no matter what event you are going to attend.
Combed Back With Heart Braided Ponytail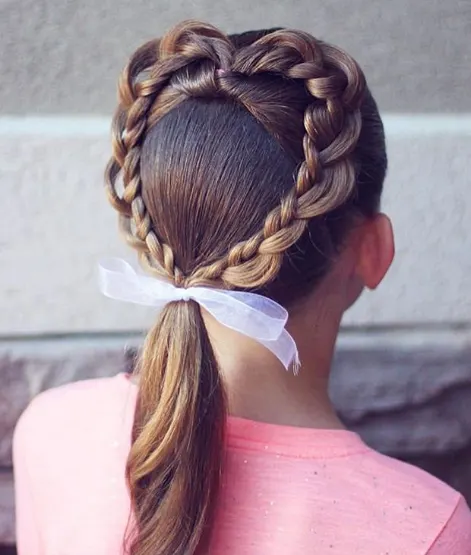 Source : Brownhairedbliss
Braids turn out to be among the most obvious choices for girls when they are looking for some of the cutest hairstyles out there. However, braided hairstyles can range from the simplest to the most intricate ones and you have to be mindful of your choice when you are deciding on one. When it comes to the simplest and easiest of choices, this one with heart braided ponytail at the back makes for a great choice.
The hairstyle requires you to comb all your hair back tightly before you could create a knot towards the back and start braiding the heart-shaped crown. Once the heart shape is achieved with the braided hair, create a simple plain ponytail at the back and that's it. You have successfully achieved an amazing look and it doesn't really take a whole lot of your time.
Cross Braided Hairstyle With A Bow At The Back
Source : Paisleyspetals
This is another cool hairstyle that you would want to achieve and it doesn't take a whole lot of your time either. However, it's still not that plain and bland as the one above. There is a puffy and textured look at the front which sets it apart from the rest as far as the frontal hair is concerned. A couple of frontal layers of strands are taken to be braided and made to cross over each other as they go at the crown and are formed into a beautiful plain hair bow. The rest of the hair at the back is left plain and open to create a cool vibe overall.
Center Parted Hairstyle With A P-Shaped Braid
Source : Mi_princesa_samara
When you are looking for simple braided hairstyles for girls, you can go as easy as you like. This one is a simple and open center-parted hairstyle that is made to look elegant and stylish with the help of this unique and simple P-shaped braid. Actually, there are two braids that exist in this hairstyle with one long braid starting at the crown and going all the way to a side. The other braid starts right where the first one does but it goes into a circular shape and joins the first braid at a side to form a perfect P shape with the braided look. You can always accessorize it up to achieve more than perfect style for yourself.
Braided Anchor With Open Back
Source: Paisleyspetals
This is another cool and simple hairstyle that has most of the hair left open and is still made to look stylish and beautiful. The hairstyle boasts of a few short braids on top that combine together to form a nice anchor shape. There is a small and thin braid right in the center that goes along the center part and then there is a thicker one starting from the left and going all the way to the other side swirling from the front. With other braids blending in nicely and a couple of bow clips coming parallel to each other to secure the look, you can have your hairstyle completed. The beautiful ponytails and the open back make it work wonders.
Combed Back Hair With Braided Pigtails
Source : Callmepilya
Combed back hair always look nice and elegant and this beautiful hairstyle is just that. In fact, it's a lot simpler than many other hairstyles on the list and can be achieved to perfection within minutes. The pigtails can be braided easily and they are more towards the back rather than around the crown. The overall look is simple yet elegant.
Combed Back With Thick Braided Ponytail
Source : Paisleyspetals
Yet another simple combed back hairstyle on the list, this one is actually all about that thick braided ponytail at the back. The hairstyle doesn't feature a simple braid and rather has a thick braided one that looks more like a double braid and creates an amazing vibe. The thickness continues to decrease going towards the bottom and the hairstyle just looks amazing overall. It doesn't take too much of time achieving the look either.
Combed Back Hair With Parallel Swirling Braids
Source : Justbraidhair
This is another cool look to feature on this list. The hairstyle boasts of a typical combed back hairstyle which is actually accentuated with the help of these parallel braids that start at one end and go swirling towards the back. The braids are thin and fine and present a wonderful look overall as they end up into a small bun at the back. There is a white flower accessory right over the bun that further makes it look amazing.
Combed Back Hairstyle With Ponytail And Braided Design
Source : Paisleyspetals
Simple, unique and elegant! That's probably the best definition you could give to this beautiful hairstyle for girls. The hairdo boasts of all combed back hair and a thick ponytail and is actually accentuated with the help of those beautifully swirling braids on top that join in at the ponytail. There is a heart shape created with the short braid just before it joins the ponytail.
Pigtail Buns With Sectioned Top
Source: Paisleyspetals
This is a unique hairstyle that can be achieved within minutes and still looks better than many other intricate hairstyles for girls out there. So, if you want to pull out a unique and elegant look quickly, this is the one you should go with. The frontal hair is sectioned off nicely with the help of accessorized layers which then go on to join the thick pigtail buns around the crown. Overall, it looks just perfect and nothing can beat the amazing vibes.
Thick Side Braid With Open Back
Source: paisleyspetals
If you are looking for the best easy hairstyles for girls, you'd probably not be able to find anything better than this one. The hairstyle boasts of nice and thick L-shaped side braid that defines it to perfection. There's open hair towards the back that is given a nice shape with a bit of trimming. All you need to achieve for pulling off this amazing look is to that beautiful and simple braid and you're done.
Combed Back Hairstyle With Doughnut Bun
Source: Josieweeks.thecrazyone
If there is one hairstyle that doesn't need any kind of effort whatsoever for pulling it off, it's this one. All you have to do is to comb the hair back and up, gathering it all around the crown and running it through that doughnut bun. It will look perfect and won't take more than a few minutes to achieve the look.
Parallel Braided Hairstyle With Thick Wavy Ponytail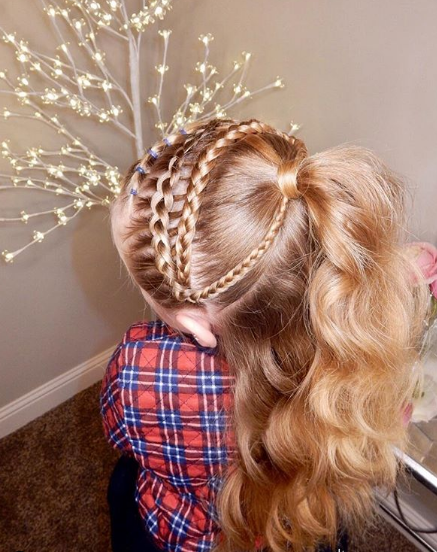 Source: Paisleyspetals
Even though this one is a bit intricate, still if you are good at braiding it won't take you much time to achieve the hairstyle. There are a couple of parallel braids on top and there's a thin one that goes swirling towards the back of the head, before knotting around the ponytail right where it starts. The thick wavy ponytail at the back makes all the difference to the look achieved at the end.
Braided Crown With Swirled Layers At The Back
Source : Hair_styles_by_j_bendigo
This hairstyle will take least effort if you can quickly roll things over. You have to comb it all backwards before creating a braided crown on top and using a roller tool to create swirling layers towards the back. It looks simple yet elegant overall.
Dense Wavy Hair With Thick Horizontal Braid

Source: Paisleyspetals
Dense, thick wavy hair always creates an amazing look. What if you can add a bit of texture at the front, even better! This beautiful hairstyle gives you just that. You have a nice and thick horizontal braid on top that falls over to a side and then there is a thin horizontal braid that keeps the waves together towards the back. What sets the tone for this entire hairstyle is, however, those cool and thick wavy lengths at the back. Just amazing!
Cross-Angled Braid With Open Long Hair
Source: Paisleyspetals
Braided hairstyles can be achieved in just about any way you like and you can pull of amazing looks with them. However, to keep things easy and quick to achieve, just keep the number of braids limited. To get a sense of style, try this angled braid that literally serves as a diagonal to your head and divides the hair into two parts. There is also a slight part towards a side where a layer of hair is beaded to add a further touch of style to the look. The rest of the hair is left open all around and it looks just amazing. Believe it, the hairstyle won't take more than 10 minutes to achieve.
Center Parted Hairstyle With Thick Braids And Pigtails
Source: Megs.beauty.project
This is another cool look that you would want to achieve and it is quite easily achievable as well. Usually sported by little girls, the hairstyle boasts of a center part and thick braided hair on either side which end up around the nape before turning into open pigtails. It looks just amazing overall.
Side Parted Hairstyle With Hair Design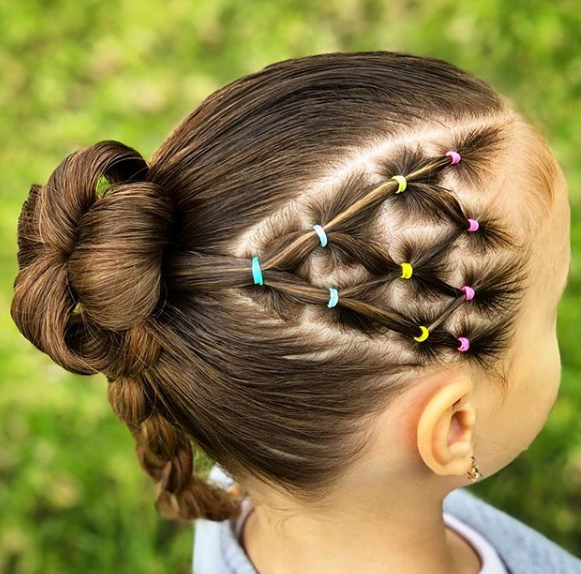 Source : Hair2pearl
This is a cool side parted hairstyle that you won't get to see too often. The hairdo boasts of a hair design achieved by layering the hair on a side and using colorful bands to secure the look. Those beautiful diagonal boxes on the sides look just amazing with the colorful bands. There is a short braid towards the ponytail and a cool flower bun secured at the crown. Overall, it's a gorgeous look that isn't too hard to achieve either.
Braided Top With Thick Braided Pigtails
Source: Braidsbyalexa
Pigtails turn out to be a go to choice for girls who prefer organization more than anything in their hairstyle. Those looking for easy hairstyles to achieve would find it great if they are good at braiding hair. The hairstyle can be achieved with a couple of braids at the front that come swirling back and a couple of them starting midway through at the top and ending up into long pigtails. Just make sure that you choose the starting points of the braids to perfection and keep the thickness right as well to pull off a look that works rather nicely for you. Overall, it's a perfect look for a casual day!
Combed Back Hairstyle With A Bun
Source :Liv_to_dye
A simple yet elegant hairstyle for girls, this beautiful hairdo is all about open hair all around. However, it's given a clean touch by combing all the hair on top backwards and a sense of style is imparted into it by achieving a beautiful bun just where the crown is. There is a bit of texture added to the hair on top that is combed backwards to make it look even better. The hairstyle works both for casual day outs and events and you can easily achieve it when you are in a bit of a rush.
Thick Braided Hairstyle
Source : Braidsbyalexa
This hairstyle simply requires you to bring together all the hair and achieve a swirling braid starting at a side. Once you have braided it all up successfully, you can cover the braid with red and white ribbon to complete a wonderful look overall. It's organized, it's easy and it's still elegant to look at.
So, these are some of the most amazing easy hairstyles for girls that would work for you on different occasions. Each of the hairstyles has some "WOW" element to it and they can't just be achieved quickly but are also very pleasing to look at. If you want to combine ease with style, pick one of the beautiful hairstyles on the list and you are good to go. What are you waiting for then? Pick one and keep experimenting with the looks to come up with something even better.