Braids are considered among the most intricate hairstyles out there for girls. Even though they look quite presentable and stylish, most girls try to avoid these hairstyles just because they take too much of time to achieve. However, it shouldn't necessarily be like that and there are many braids hairstyles easy that you would be able to achieve within minutes and without much of hassle. All these braids hairstyles for girls would require from you would be to take a few strands, make a simple braid and you're good to impress everyone around.
So, if you've been looking for the best braided hairstyles around that won't take much time to achieve, here are a few recommendations for you that you should definitely consider trying once at least.
Long Wide Braid With Ponytail
Source: Beckybraidy
This beautiful hairstyle is about achieving a perfect braided look at the back. The braid is achieved with a bit of wide hair pattern and it's just a short section at the back. As soon as the braid reaches the nape of the neck, it's knotted around and formed into a beautiful long and open ponytail that has volumes to speak about its style.
Tightly Knotted Braided Ponytail
Source: Beckybraidy
Braided hairstyles look amazing when pulled out to perfection and this one here is a perfect example of that. The hairstyle boasts of simple combed back hair that is formed into a tightly knotted short braid at the back which opens up into a short ponytail. Most of the hair at the back is left open and the braid sits nicely right above. The hairstyle looks amazing on beautiful, long and voluminous hair.
Side Braided Ponytails With A Long Ponytail At The Back
Source: Pequeinados
Easy braids for girls can be achieved in a variety of different styles and here we have a beautiful style to achieve. The hairdo can be achieved within minutes by simply center parting the hair on top and braiding a layer of strands from either side to form beautiful ponytails on the sides. The ribbon bows just where the braids start really make a great style statement. The ponytail at the back further accentuates the look and makes for an amazing style overall. Just make sure that you have perfectly matching colorful ribbons to make the style look more harmonious.
Combed Back Hairstyle With Thick Braided Ponytail
Source: Beckybraidy
Combed back hairstyles always make a perfect combination with braids and here we have another similar look. The hairstyle features all combed back hair at the front and the sides which is formed into a nice and thick braided hairstyle just above the nape and goes into a beautiful ponytail at the back. The braids end up half way through in the ponytail and the rest is simple, open hair that makes a unique statement. Secure it with a rubber band and it looks perfectly cool.
5. Center Parted Hairstyle With Fine Braids And Pigtails
Source: Pequeinados
This cool look can be achieved within moments if you know how to do all the braiding of little girls' hair. Just part it in the center and you have start braiding midway through the head. Take the braid forward and then make it go all the way back into beautiful pigtails. It will look just amazing. The hairstyle gives a sense of organization and it works to perfection for school girls.
Combed Back Front With Angled Braid
Source: Pequeinados
This is one expansive look that can be achieved to perfection with a single long braid at an angle going right through the center. The hairstyle is achieved with a simple combed back look at the front which forms a nice angled braids starting right at the front. It goes all the way back to the center of the head and looks amazing. In fact, it makes more of a ponytail that is created separately from the hair at the back. The back hair is made to curve outwards towards the tips to make for an elegantly stylish vibe.
Fishtail Braid With A Knot
Source: Beckybraidy
Bring the hair from all parts of the head to the crown and start braiding it right there. Achieve a cool fishtail braid, which requires a little effort on your part, and make a beautiful cylindrical knot half way through. Form it into an open ponytail from there on and you have a cool look for your little girl that she can wear to school without any hassles whatsoever. The hairstyle really looks amazing overall.
Angle Parted Hairstyle With Thin Braids
Source: Pequeinados
Part your little girls' hair in the center creating a unique angle as depicted in the picture above before forming a couple of nice and thin braids – one starting at the front while the other starting towards a side halfway through the head. The hair on the sides should make more of a long bob appearance or they can simply be long shoulder length hair left open to cover the face rather nicely. So, with a couple of thin braids, you can achieve braids hairstyles easy and it won't take a long time for you to achieve the look either.
Center Braided Crown With Hair Bun
Source: Pequeinados
This beautiful hairstyle is about a nice crowned look achieved by bringing frontal hair back and creating a nice and beautiful braid in the center. There is a nice hair bun towards the back just below the crown and it makes for a more organized and chic look than ever. There are a few strands at the front that is left sort of unattended but they're actually there for a reason. If you talk about the overall vibe, nothing can actually beat the looks of this beautiful hairdo.
10. Braided Crown With Side Ponytail
Source: Pequeinados
Even though it says crown in the title, but the hairstyle is not about that typical crown shape achieved all around the head. Rather, it boasts of nicely braided layers starting at each side of the side part. One of these braids goes towards the back a bit higher on top while the other is a bit laid down and it makes for a cool look when these braids join at the back, a little on the side. A few strands roll around and make a nice knot to secure the look perfectly below which we have an amazing, voluminous ponytail. It's just perfection and nothing else.
Cool Braided Hair Band With Nice Ponytail
Source: Pequeinados
Combed back hairstyles with a bit laid back appearance always make a statement and that's exactly what we have here. The hairdo features all combed back hair on the top with a nice layer of braided hair starting at a side, forming a cool hair band, and going all the way swirling to the back creating a perfect style statement. There is another braided layer of layer that starts just where the other braid started. However, it comes towards the back from the same side and does not really make a headband or any other style element like that. Both the braids join together just around the crown and they are secured with a beautiful, colorful band to form a voluminous ponytail at the back. That's a perfect look you can pull off any day of the month. And, how much time would it take you to style a couple of braids? Not much!
Center Parted Hairstyle With Braided Pigtails
Source: Braidsareback
Girls with long hair often find it hard to achieve a perfectly organized look. However, braided pigtails make for an amazing vibe and they are just perfect for girls with long hair as well. The hairstyle can be achieved very quickly and it won't take too much of effort to achieve the look either. Just part it in the center on top and start braiding on each side at the front and take it all the way back to form nice braided pigtails. The hairstyle looks amazing and gives more of a school-girl vibe. You can't really ask for a better and more organized look than this one.
Combed Back Hairstyle With Y-Shaped Braid
Source: Braidymom
This beautiful hairstyle is all about that nice shaped achieved with the braided hair. It's all nicely combed back at the core and then we have a couple of tightly knit braids starting at the front at opposite sides and coming all the way to the crown to form a nice Y shape by joining the long braided ponytail that goes down to the tip from there on. Overall, the hairstyle looks perfectly cool and isn't that hard to achieve either. Just have to know the mastery of braiding hair.
Combed Back Sectioned Hairstyle With Angling Braided Ponytail
Source: Braidymom
This combed back hairstyle requires you to nicely section off the hair on top horizontally with a cool and thick braid starting at the front from one side and moving over the frontal section to go to the other side. It then swirls around and joins the long and thick braided ponytail that starts a bit above the nape of the neck. The ponytail can be made to fall over a shoulder then to form a nice style statement.
Side Parted Hairstyle With Thick Central Braid And Ponytail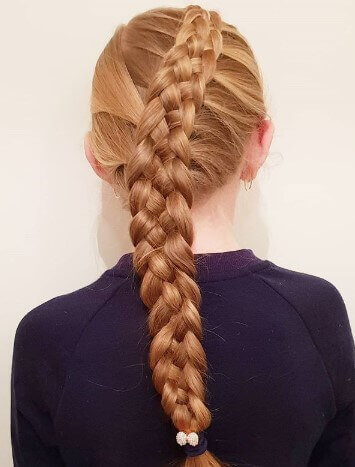 Source: Braidymom
This beautiful look is all about parting the hair from a side and then combing it all backwards. The strands are, however, made to look a bit separated and it's not all flat combed back look. The centerpiece of this beautiful hairstyle is a thick central braid that starts at the front and keeps getting thicker as it moves over the head and goes back to form a beautiful ponytail. You can always secure the look with a nice hair accessory while leaving the tips opened and not braided at all. It will surely make a perfect style statement and is a beautiful hairstyle that you can wear almost anywhere. It will take a bit of effort to achieve the look, but it won't take too much of your time.
Long Open Hairstyle With Braided Crown And Signature Bow
Source: Svetavold
One of the simplest looks to achieve on the list, this beautiful hairstyle is all about nicely combed long and straight beautiful locks. The hairdo requires you to simply take a few strands on either side at the front and make it into beautiful crown braid that joins together at the back and is further accentuated with the help of a big signature bow clip in your favorite color. Choose the bow clip wisely though as it's going to define how your hairstyle will appear.
Wavy Combed Back Hairstyle With Fishtail Braid
Source: Braidymom
Even though naturally wavy hair is a bit hard to style, the only obvious choice you have is to start braiding for achieving something awesome within no time. The hairstyle boasts of nice wavy combed back hair on top with a cool layer of twisted hair that starts at the front and goes all the way to the back before being formed into a fishtail braid starting at the nape. Overall, the hairstyle just looks gorgeous and it's the look you'd want to give your girl for school.
Bob Hairstyle With Top Knot
Source: Nisahairstyles
Who says you can't experiment with the typical bob hairstyles? Even though the bob itself is available in a variety of authentic variations, it is possible for you to bring in some creativity of your own as well. This hairstyle, for example, requires you to get your girls' hair cut into a typical long bob before creating edgy bangs at the front and then combing hair on top backwards to achieve a cool top knot at the crown. The hairstyle will look so cute and it will have an amazing vibe to create.
Center Parted Hairstyle With Long Braided Pigtails And Bow Accessories
Source: Littleblondiesbraids
This is a beautiful look that is all about cute and long braided pigtails that have been accessorized with the help of bow clips. The hairstyle looks amazing on girls with naturally brown hair if you choose bow accessories in matching colors as well. To pull off a perfect look, just part it in the center and bring all the hair on the sides to the top before you start braiding the pigtails at the front. The lengths of pigtails running all over the head always create a perfect look for little girls to flaunt.
20. Combed Back Hairstyles With Knotted And Wavy Back
Source: Irresistibleme
This last hairstyle on the list is, especially, a party look that has something special about it. The hairstyle boasts of a nice combed back look at the front while there are a couple of thick layers of hair that are taken from the sides and then made to twist at the back, forming sort of a knot. The rest of the hair at the back is given a wavy look all over and it seems really nice and attractive. So, if you're looking for a quick and elegant party hairstyle, this is the one that you should definitely try out. It will create some amazing vibes for sure.
So, whenever you thing of having braids hairstyles easy, these beautiful and amazing hairstyles listed above should be on top of your list to try as they all look really attractive. Furthermore, obviously, they are very easy to style and you can pull off a perfect style within minutes. So, whenever you are in hurry and want a hairstyle that really makes a statement, you can count on these beautiful hairstyles and let them give you an appealing personality.