Kids often look beautiful in curly and wavy locks. Be it a girl or a boy, wavy hair really bring the cuteness of your child out and takes their style to the next level. And, if your kid has wavy hair but you are short of ideas on wavy hair, you don't really need to worry as there are lots and lots of them available today.
85 Stunning Wavy Hairstyles for Kids
You just have to make sure that you choose the best ones around that will suit your child's face cut and bring out the best overall look. Here we have listed some cool that you can consider for your child. Let's take a look.
Beach Waves
Source: tunatunaliofficial
It's a nice hairdo for boys not really looking to go with short or long hair. If your little one has those naturally blessed thick waves, beach waves is the perfect haircut they should go with. The hairdo should land clean around neck and the ears. As for the sides, they should be kept around an inch whereas top hair should be 2-3 inches in length. The top hair should also be blend with bottom perfectly with the help of scissors and comb. This haircut doesn't really need layers as well and can be styled easily with a  bit of mousse.
Naturally Curly Haircut
Source: bitesizeimages
If your boy has got those naturally curly locks, just allow them to shine in their all natural look. For achieving the look, leave the hair to around 2" length all over. You may have to use scissors for getting back of neck as well as around ears cut nice. However, the overall hair length should remain the same. Pull-out technique should be used for cutting the hair and ensure that you keep curl in your mind while measuring length. The final look can be achieved with little mousse.
Loose Curls For Little Girls
Source: brookeshairdiaries
Curls are really great for your little girl in 2018 and hair hairstyle can't get any cuter than this loose curls hairdo. Loose curls can be styled in variety of different ways including edgy broken spirals to windswept wave and can be spread around shoulders. Medium length or long curly hair can be given half-up style which you can adjust for matching their image and style.




Mini Pompadour
Source: cjdutton
A perfect style for your little hipster, Mini Pompadour is one of the great wavy hair that falls in unique toddler kids haircuts category. To have the cut, start using number 1 clipper head all around ears and lower neck. As hair go up, use clipper head number 2 and number 3 for creating blended look. Use scissors to cut hair on the top. The frontal hair should be kept long enough such that they can be slicked backwards to achieve the final look. For styling purposes, hair on the top should be teased for getting desired height. Besides, you should use some mousse, hair wax or gel for smoothing out that puff and keeping it in place.
Braids Hairstyle For Girls
Source: tewebraids
Braids never go out of style and they look equally well on young girls and kids. Your cute little girl will really look cool in this hairdo and there is a whole range of hairstyles available as far as braids are concerned. Try keeping the loose braids that look more individual just like the one in the picture. You can also get as creative as you may want to bring the best out of your kids' wavy hair. Braids can even be added to medium length or bob style hair for giving them a trendy look.
Shortened Texture
Source: kidcuts
It's a haircut for your boy kid and it requires very less maintenance. Perfect for little ones having thick hair, keeping the textured hair short will add a lot of grace to your little man. To achieve the look, use number 4 clipper head on back and sides and choose number 6 or number 7 for the top. You should also use clippers for blending purposes as well. Use scissors around ears and on the neck for creating clean finish. Loose-hold gel can be used for styling purposes, however, it works fine otherwise as well.
Pompadour Quiff Ponytails
Source: art_de_cheveux_by_skevi
Though Quiff and Pompadour hairdos are popular with men, this one is a unique hairstyle for little girls that will give them some personality and charm. Try bubble ponytail and style it at the top like a Pompadour Quiff. It will definitely create a hip, unique and chic look overall.
Shortened Curls
Source: kinda.koky.mohamed
Though keeping the curly locks long enough can create a great style, cutting your kid's curls short can still allow for a cool looking hairdo for your kid. The style normally looks cool with the black ethnicities having curly locks. However, it works fine for just about any kid having curly, thick hair. To achieve the look you can use number 3 clipper head all over your kid's head and number 2 or number 1 can be used around ears as well as lower neck. This will make the curls to stick closer to head and still maintain that curly vibe.
Curly Faux Hawk
Source: kidcuts
You can also go for curly faux-hawk hairdo for your kiddo if you'd want to maintain those shortened curls. The look can be achieved with number 3 clipper head used down the center of his head. Number 1 and number 2 clipper heads should be used on the sides for creating a perfect blend. To style this look, use some mousse, wax or gel and add some texture to the short curls.
Pixie Curly Cut
Source: zandra_zane
If you have already been thinking about bob haircuts and chin length long bob for your little girl, why not choose a pixie haircut. It's a perfect example of short and wavy haircuts for girls having curly hair and features longer hair on top while the sides are kept shorter. It's probably the ideal choice for thin and curly hair.
Tame The Mane
Source: kidcuts
It's a cool style in wavy hair that works perfectly for boys who have more hair as compared to what they can actually handle. Though it can be hard to handle thick and curly hair but if they are correctly styled then you probably don't need to cut everything out for taming them. Number 2 clipper head can be used at bottom while blending it up with number 3 head as you go upwards. After shaving everything right up to upper hairline, leave hair on top long. Scissors can be used for trimming and layering the curls at desired length. You will still be able to keep some thick hair right on top and the ones at bottom will be controlled and trimmed.
Wavy Lob Combined With Bangs
Source: de.ja.hue
If your girl has thinner hair and allow for easy styling, try this hairdo for size. It works fine with naturally wavy hair as well. Layers will add volume and structure to the hair and will give an elongated look to the face. Messy bangs also add edgy touch to the finished look.
Shrunken Dreads
Source: salon_ollae
Dreads work just fine for just about anyone whose hair is thick enough, it's used best for the black ethnicities quite often. The texture you have in the hair of black people is really different and needs to be dealt with care. But these hair can really handle dreadlock hairdos very well and look awesome on kids. Try this smaller dreadlock hairdo to give a stylish look. Plus, it's easy to maintain as well.
Wavy Hair With Side Part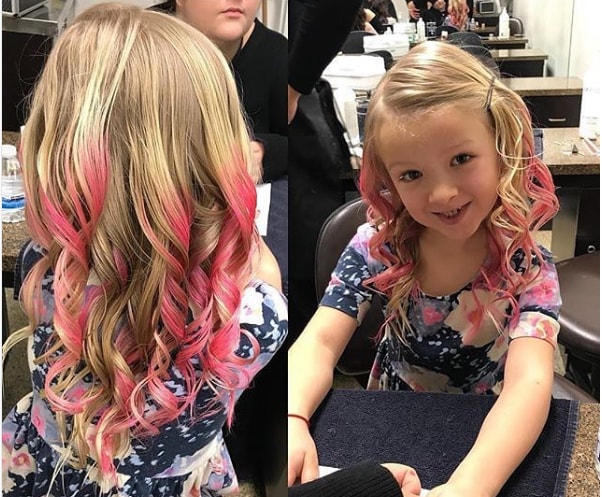 Source: tricociuniversity
Keep the hair short and style it to one side and your kid will look like a hero from an old movie. This hairdo gives a unique style of its own to your kid and draws as many eyes as you may like to him. The look is simple and clean and very much stylish as well.
Tiny Pompadour
Source: barbearia.yagoalbuquerque
Tiny Pompadour is also a cool hairstyle for little kids with wavy hair. The hair is cut short to a length where there is almost no curl but wavy look can still be achieved. Comb the hair on the backend of the top forward and frontal hair can be simply combed to a side creating short cute waves. Your little one will really look amazing in such wavy hair. The overall look is so cute and you'll love it.
Here are beautiful Picture :
Idea # 16
Source: _Erickdelarosa
The carefree messy look of her curls is just awesome. Your kid can also sport this beautiful hairstyle if she has long wavy hair.
Idea # 17
Source: _Erickdelarosa
Another beautiful wavy hairstyle with curls added at the bottom.
Idea # 18
Source: Letyourcurlsshine
Don't seem to find any cool way of handling your boy's curls? Just let them grow and sport this beautiful hairdo.
Idea # 19
Source: Lee_yunseo
Messy curls are always one of the best wavy hair and nothing can match the look.
Idea # 20
Source: feathergirl_27
Does your girl have straight, fine hair? Add these beautiful waves to her long locks and see how stunning she will look.
Idea # 21
Source: Hairstyle_para_hombres
Messy waves on top can really make young boys look adorable as well.
Idea # 22
Source: hairmakeuplucy
This beautiful look of the curly waves at the back is complemented with a stunning braided crown and styling accessory.
Idea # 23
Source: Cosmoprofbeauty
Let your kid get rid of her long locks and add beautiful wavy patterns to her short bob style.
Idea # 24
Source: angelisinspired
The beautiful curly waves look messy and elegant just like she has it.
Idea # 25
Source:Bebezudocaiolombardi
Messy wavy mohawk hairstyle is one of the best wavy hair for boys.
Idea # 26
Source: mrscorncob
Style her long locks beautifully with a well-chosen accessory and curly waves towards the bottom.
Idea # 27
Source: Kaleidoscopinlife
Long hair on boys look cool no matter how you style them. This bob style with wavy touch really is one of the amazing wavy hair. 
Idea # 28
Source: Pearlsandpetunias
Curly, wavy, messy, call it whatever you like but this kid is sporting a wonderful look.
Idea # 29
Source: Hair_by_cayley
Long curls with waves look adorable. And that's exactly the case with this boy.
Idea # 30
Source: hairwithsutton
Ever thought of experimenting with the pigtails? Try out this wonder look by creating hearts and adding beautiful waves at the bottom.
Idea # 31
Source:Ulianna48
This little girl looks so adorable in back combed hairdo with beautiful waves at the back.
Idea # 32
Source: Sincereannon
Messy and wavy hair to create a carefree look, the boy really rocks it.
Idea # 33
Source: Hairbyvgrace
Undercut with waves on top really makes the boy look cool and amazing.




Idea # 34
Source: hairstyles_by_jane
What a cute and unique look we have here, sectioned ponytail with beautiful heart shaped short braids and long wavy ponytails at the back. You can't ask for more.
Idea # 35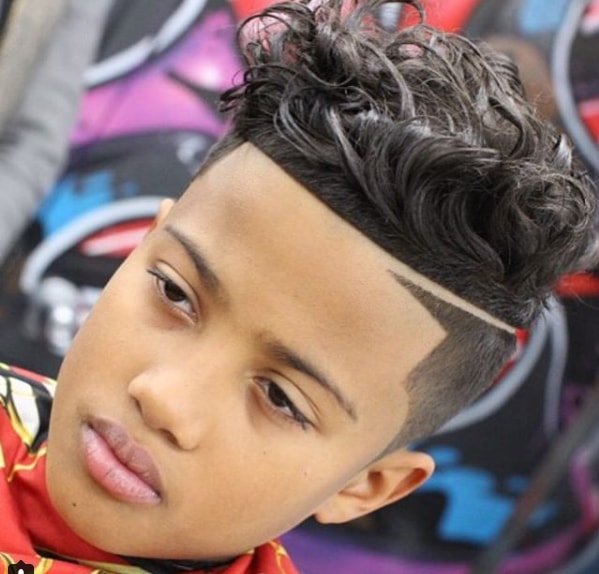 Source: kidcuts
Curly and wavy hair are always cool and this sort of flat top up do with hard parted undercut really makes it amazing.
Idea # 36
Source: Makaylakbeauty
This beautiful blunt bob wavy hair is a perfect look for any girl.
Idea # 37
Source: kidcuts
If you are looking to give an organized touch to your boy's unruly curls, try this side parted undercut and make him rock the look.
Idea # 38
Source: curious_strands
Another beautiful, but a bit different, look for braided crown style and wavy long locks at the back. It really is adorable.
Idea # 39
Source: Valhalla.hstudio
If your girl doesn't has those beautiful long locks, volume and grace can still be added to her hair by styling them beautifully in this style and letting a wavy fringe fall over.
Idea # 40
Source: oolasp
Wow, what a beautiful braided ponytail it is. The wavy look further adds to the style.
Idea # 41
Source:Barbearia_seville
The beautiful casual look of this kid works wonders. It's the magic wavy hair can do for your hair.
Idea # 42
Source: kidcuts
This is a beautiful forward swept Quiff hairdo and looks adorable on kids. Sides are kept short, however.
Idea # 43
Source: kidcuts
Looking for the best and the funkiest of wavy hair? Try this long tail mohawk hairstyle with surgical designs on sides. Nothing can be funkier than this look.
Idea # 44
Source: l.j.harper
Now, this is one hell of a beautiful look. Who says girls can't wear bows? They can have a wonderful bow style with wavy long locks flowing freely downwards.
Idea # 45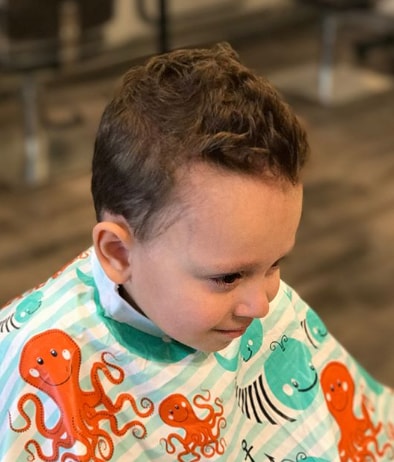 Source: Rmhairbeautique
Short and messy hair on top, This is one of the finest haircuts for kids with wavy hairs.
Idea # 46
Source: quinn_ryan5
Long beautiful locks can be sported with some amazing wavy hair at the back. It's really a timeless look for girls.
Idea # 47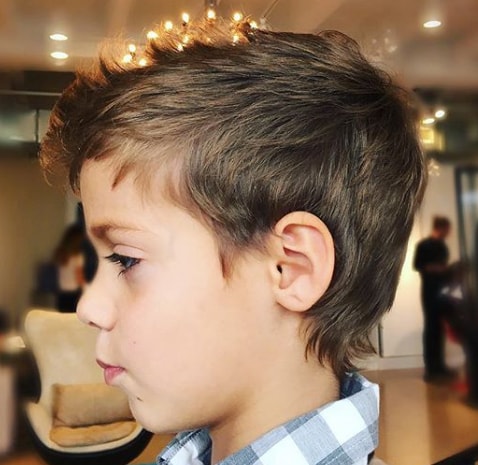 Source: By_inga
Simple medium length haircut for boys with beautiful waves to complete the look.
Idea # 48
Source : Vickk_thebarber
Long wavy hair on top can always create a beautiful impact and is complemented with an amazing undercut here.
Idea # 49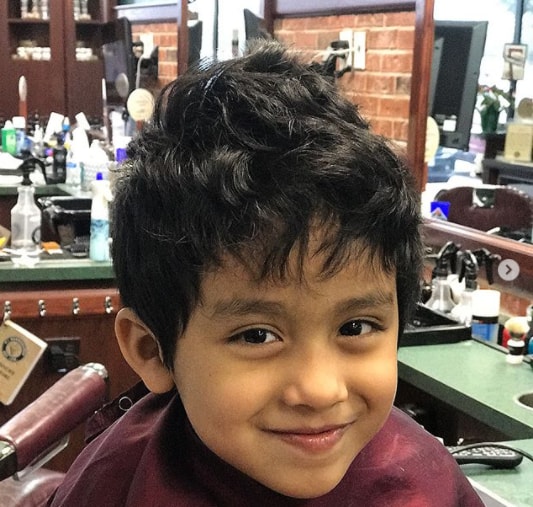 Source: Johnnybthebarber
Messy on top and fringes falling over, this hairdo really looks cute.
Idea # 50
Source: deezahair
Another beautiful wavy kids haircuts with shoulder length hair sporting cool waves. There is braided crown style on top as well.
Idea # 51
Source: La_rosy15
This wavy hairdo features a spiky look on the top while there is undercut and surgical design to add to the overall elegance.
Idea # 52
Source: sandraetruben
Wavy long locks always look adorable just as the case with this cute girl.
Idea # 53
Source: Showshaircut
Creating waves in long hair for boys only requires rolling your fingers through and you'll get a beautiful style.
Idea # 54
Source: beautybyricky
For girls, styling their long locks like this with beautiful curly waves towards the ends is a popular style. This one takes it up a notch by adding a band at the top and styling the puffs differently.
Idea # 55
Source: Sydneepeacock
Medium length boys hair can't be styled better than this with waves. You can also give this beautiful style to your kid. This look really is among the coolest haircuts for boys 2018.
Idea # 56
Source: sandraetruben
Long ponytails with braids styled in a unique way create an amazing look overall.
Idea # 57
Source: imson17
This is a casual, carefree, wavy look and create your macho image.
Idea # 58
Source: Sydneepeacock
This wavy fringe and messy look is great for any kid and is considered among the best wavy kids haircuts.
Idea # 59
Source: yasmina_elias
Curly wavy bob hairdo is a perfect look to achieve for little girls. Accessorize it with a cute flower clip and it will look even better.




Idea # 60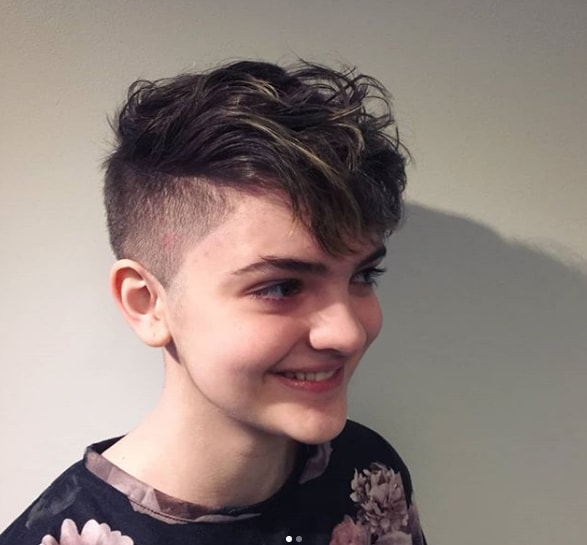 Source: campushairdesignuvic
This undercut with wavy, messy, fringe is beautiful and makes kids look standout from the crowd.
Idea # 61
Source: fancydiarybyjk
The wavy kids haircuts can't get any stylish than this. There are beautiful waves created at the back and some amazing touch is given to the waves at the top to make a beautiful crown.
Idea # 62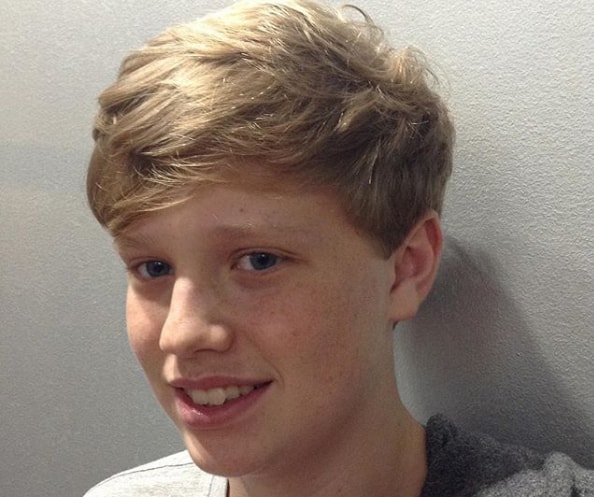 Source: salonutopialkn
This is a simple look that doesn't have much detail into it but still it looks elegant and stylish.
Idea # 63
Source: Maestribarbearia
Keep the short messy hair on top and achieve wavy look with this beautiful hairdo.
Idea # 64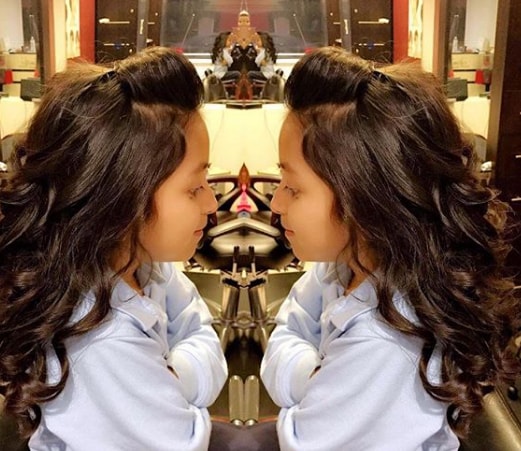 Source: Emilysbeautysalon
Beautiful combed back hair on top and stunningly beautiful waves at the back really make this hairdo a classic one for girls.
Idea # 65
Source : Barcode9
Styling these messy fringes to create a beautiful wavy look is so easy.
Idea # 66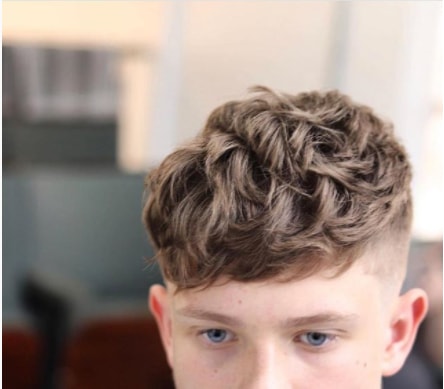 Source :  Jose.a_barber
These messy waves with undercut look beautiful on any boy.
Idea # 67
Source: Sophie_dolled_up
Ever seen this curly, wavy bob before? It's one of the best wavy kids haircuts and looks quite adorable.
Idea # 68
Source: Pigtailsturkeycreek
This short bob haircut is for every little girl with curly textured hair and looks great with all those waves.
Idea # 69
Source: Cookiecutters
This cutie pie looks so beautiful in curly, wavy hair with small pigtails. Overall look is so adorable.
Idea # 70
Source: Callramona
Styling these curly waves to perfection is never easier but nothing can match the end result for sure.
Idea # 71
Source: Annaarcherartist
This little boy with wavy hair couldn't have asked for something better. Complemented with an undercut, the look seems unique and adorable. Surgical design adds further elegance.
Idea # 72
Source: Michelineshairstudio
This beautiful wavy look comes natural to many kids and keeping it intact is the key.
Idea # 73
Source: Hotspothairsalon_mary
Style a braided band like this girl and add waves to the ends to achieve the beautiful final look.
Idea # 74
Source: drawingout
The naturally wavy texture of the hair can be maintained to have this beautiful wavy kids haircuts.
Idea # 75
Source: Shanebalthazar
Rolled using a styling tool to create shoulder length waves, the style makes it easier to carry the long locks.
Idea # 76
Source: Bettyboop
Short blunt bob with waves is a perfect style to go with on any occasion.
Idea # 77
Source: sabaibarbers
These side parted long wavy locks look so cute on this boy. Style your kid's hair in same manner to achieve a great look.




Idea # 78
Source: Lamar.floripa
This cute little girl looks stunning in the wavy short bob haircut. Those curly fringes falling on the forehead seem pretty amazing.
Idea # 79
Source: Blogdoisencantos
Side swept curly hair really make for one of the coolest wavy kids haircuts. If your girl has long curls, let her sport this beautiful look.
Idea # 80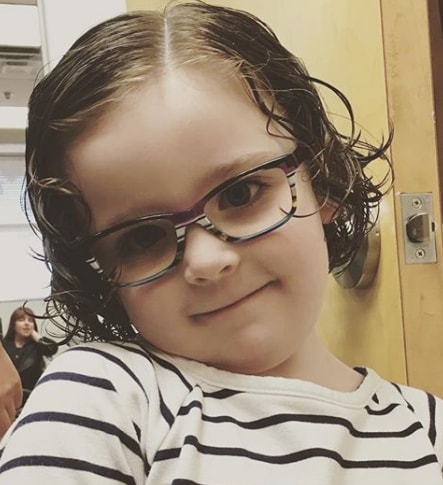 Source: Glutenfreeh
This side parted short bob gives a causal look to your kid and will still look amazing.
Idea # 81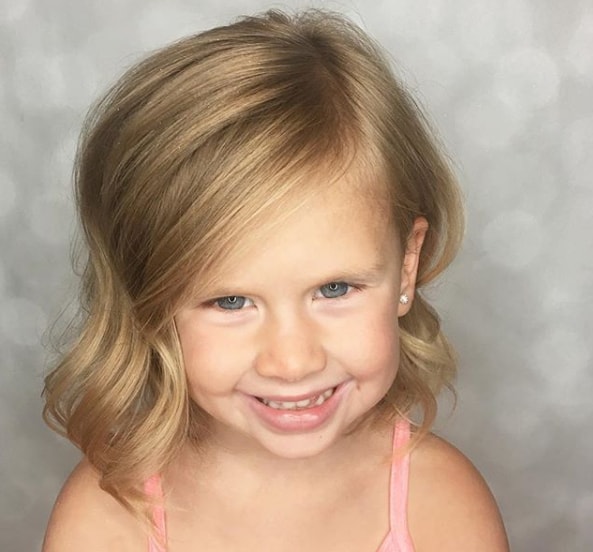 Source: blisshairbystef
The blunt bob here with beautiful waves to the sides portrays real beauty and elegance.
Idea # 82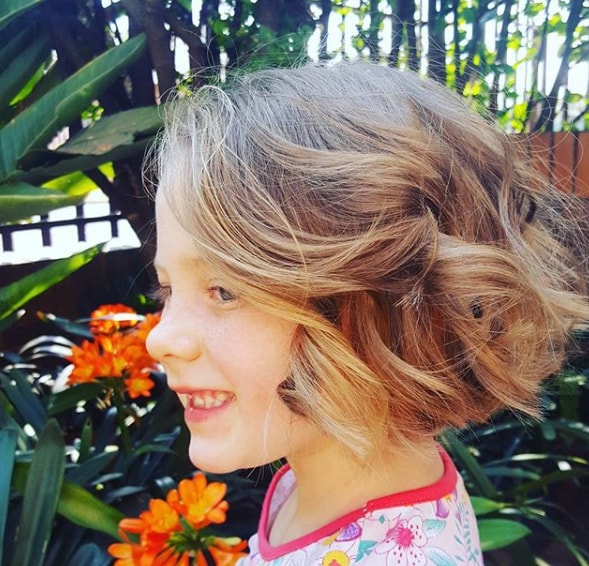 Source: tarynexplores
Another blunt bob with beautifully crafted waves, this one will make your girl look standout.
Idea # 83
Source: plastica_yas
See how a beautiful look can be achieved from those long curly locks to have an elegant wavy bob hairdo.
Idea # 84
Source: Barbershopconnect
This wavy top and undercut really make a deadly combo for boys.
Idea # 85
Source: Barbershopconnect
This undercut with more of wavy flat top is a perfect choice for guys having curly hair.
So, these wavy hair will really look stunning on your kid and it's just the matter of choice as to which look you'd want him to sport. The options are aplenty, so choose wisely.