The summer is here, and you must be looking for some new fuss-free hairstyles for your little girl. Kinky hair? No problem! You can find so many amazing box braids for 7 year olds to give your little princess a refreshing, cool look this summer.
Want to explore some new box braids hairstyles? Lets have look first on some of the box braid extension that you can buy easily to make more unique your hairstyle. Here we have some trending new looks for you.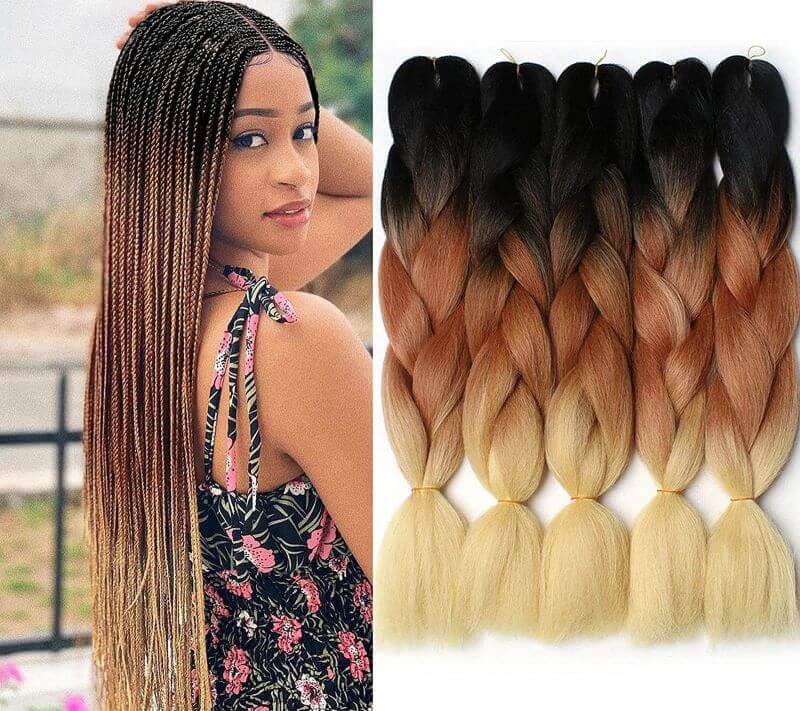 Trending Box Braids For 7 Year Olds
From simple to funky, here we have some wonderful hairstyles for little girls that will be trending this year. Let's check out!
Side-Swept Box Braids
For long kinky hair, this box braids hairstyle makes an ideal choice. Swept all the way to a side, the hair is braided into thick layers and falls over the shoulders. It gives a stunning look!
Box Braids With Color
This hairstyle features a stylish side-swept braided look elevated with a tinge of color. It can be further styled with golden accessories to achieve a cool look.
Wide-Parted Braids With Colorful Beads
One of the coolest box braids hairstyles for black girls, this beautiful hairstyle is tailor-made for long, kinky hair. It boasts stylish braids with two-toned frontal bangs, and the colorful beads add a bit of drama to this cool look.
Long Braids With A Massive Top Bun
A cool hairstyle for your cute little girl, this one boasts long braided hair with a tinge of color. The highlight of the hairdo is that big bun on the top.
Purple Braided Hairstyle With Top Knot
A funky look for your 7-year-old, this hairstyle gives a cool vibe. It's further beautified with a stylish top knot.
Shoulder-Length Hairstyle With Horizontal Braids
This simple hairstyle features only a couple of horizontally braided layers on the top. The hair on the sides is kept to shoulder length and fuss-free.
Center-Parted Braids With Ringlets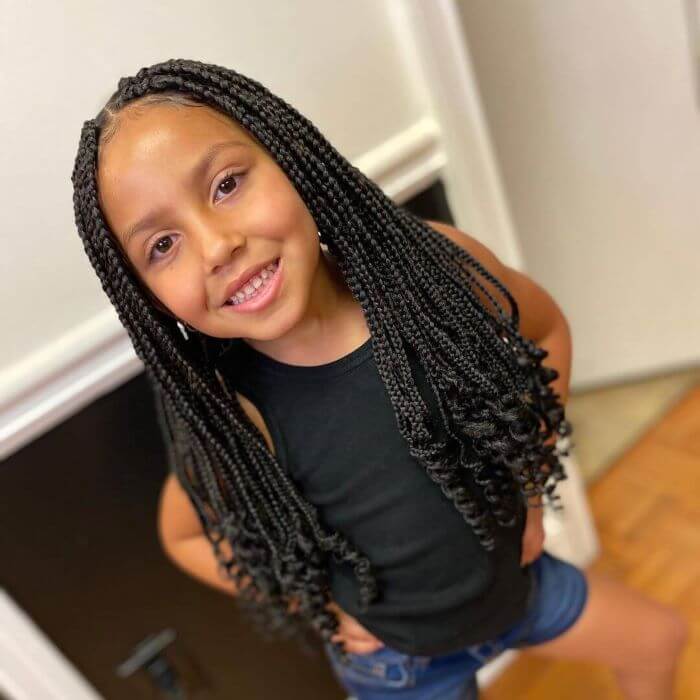 A simple and stylish hairstyle, this one is braided all over and parted in the center. A funky touch is added to the look by creating ringlets at the tips using a curling iron.
Simple Center-Parted Box Braids
Braided Top Knot With Curled Tips
This cool hairdo features braids that go swirling all the way to the crown and formed into a top knot there. The tips are curled with a curling iron and some styling product to keep them intact for long.
Box Braided Top With Curly Back
This one features a thick box braided top with open curly hair at the back. The high ponytail adds a touch of style to the look.
Colorful Box Braids
This colorful look is stylish and elegant. Just add different colors in layers and achieve box braids that continue to get thinner towards the tips.
Box Braided Top Bun
This funky hairstyle features a massive braided bun on the top. The hair on the sides is braided and goes behind the shoulders falling at the back.
So, let your little girl enjoy some of the coolest, trendy box braids for 7 year olds this year. Make your picks from the hairstyles above, and you will have some amazing looks for your girl to flaunt throughout the year.