Box braids have always been a wonderful hairstyle for black girls, and they never go out of fashion. The kinky hair of black girls needs special treatment, and you must find out a hairstyle that works for them on every occasion. Fortunately, the box braids for 8 year olds make that magic hairstyle that will leave everyone stunned no matter where your girl goes. Want to have a look at some cool variations of the hairdo? Let's run you through a few of them.
Box Braids For 8 Years Old Girls – A Signature Look
Ready to give your girl a new signature hairstyle? Here we have some beautiful options that you will fall in love with.
Box Braided Bob
Bob hair cut is a cool styling option for girls of all ages, and it fits in well for 8 year old black girls too. A nice box braided revamp has been given to the hairstyle here. Box braids on either side of the center part look just amazing.
Long Box Braids With Curled Tips
For girls who like to flaunt some length, this beautiful hairstyle makes a perfect choice. It features box braids all over and the curled tips add a unique, elegant vibe to it.
Funky Long Box Braids
This hairstyle is simple and stylish. While the long thick hair is braided all the way from the top to the tips, it's given a funky touch with colorful ribbons.
Thick Box Braids
This hairstyle looks as unique as ever. This beautiful look can be achieved by taking thick layers of hair from different sections of the head and braiding them tight and thick. It looks gorgeous and makes an ideal black girls hairstyle for school.
Box Braids With Ribbon
Source
This simple hairstyle boasts a sleek and stylish look, forming thin layers of box braids on either side of the center part. It's given an uplift with those inter-twinned pink ribbons.
Box Braided Layers
Source
This beautiful hairstyle features layers of box braided hair all over with some cool little accessories taking it to a whole new level.
Combed Over Box Braids
A cool party look, this hairstyle features box braids that have been combed over to a side. Accessories and ribbons lend it an even better vibe.
Funky Box Braids
A funky look achieved with only a couple of box braids created on either side of the angling center part, this hairstyle is a stylish choice for the school.
Side Parted Box Braids With Hair Accessories
A perfect hairstyle for long thick hair, this look is achieved with a side part.
Dense Box Braids
A perfect box braided look for girls with thick and dense hair, this one is perfect for every occasion.
Box Braided Cornrows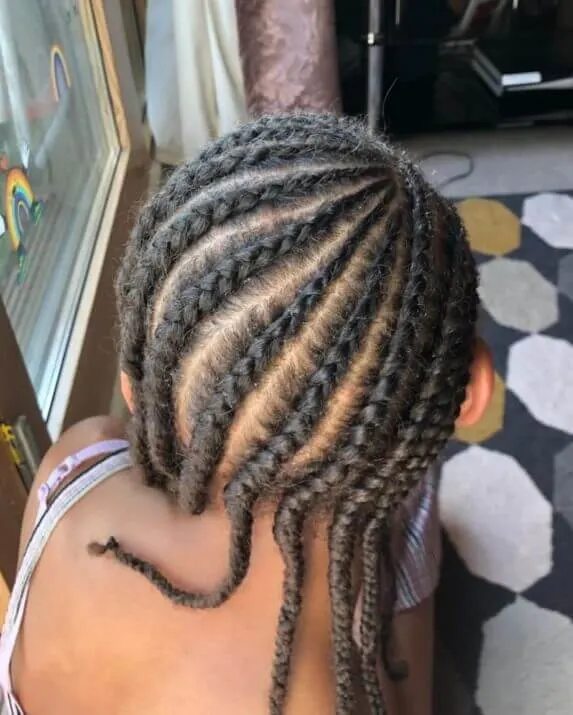 Cornrows look amazing on black girls and they make a natural hairstyling option for those thick, kinky hair. This beautiful look features angling cornrows created with box braided hair and they make a perfect combo.
Center-Parted Box Braids With Beads and Ribbons
This cool look features box braids right from the top to the tips. The braids are accessorized with beads and ribbons to complete a beautiful hairstyle.
Braided Cornrows With Curls
This cool look for 8 year old girls gives their long, kinky hair an organized new touch. You can add a bit of shine to their otherwise rough locs and they will look just amazing. Just make sure that you create cornrows to perfection and let the curly volume towards the bottom make a statement.
There are many cool variations of the box braids for 8 year olds that you can try out. Some unique and stylish hairstyles are listed above, and you can always experiment with these looks to come up with something new and innovative. You'll surely find a hairstyle your girl will love.