The rugged kinky hair always presents a challenge when it comes to styling. Whether you go to the stylist or want to give your girl a more organized everyday look at home, you are lost for choices.
Fortunately, however, box braids for 10 year olds can be the answer to your woes. You can find many trendy variations of the hairstyle too.
Best Box Braids For 10 Years Old Black Girls

Looking to give your girl a completely revamped hairstyle? These box braids variations should make a perfect choice for you.
Box Braids With A Dramatic Part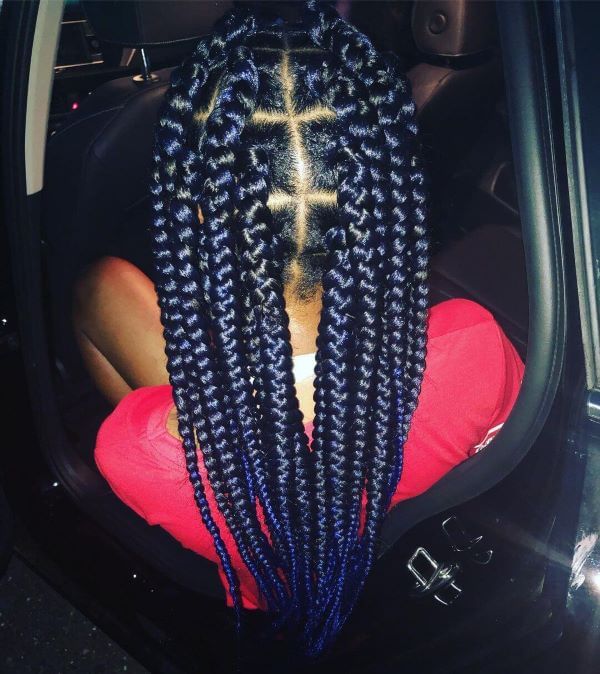 part your girl's hair in the center and create box braids on both sides all the way to the bottom. Make sure you give the part a more dramatic look by creating it a little wider.
Box Braided Layers
Long layers of box braids always present a wonderful look and this one is no different. Add a colorful ribbon accessory to one layer and it will look even better.
Combed Over Box Braids
This beautiful hairstyle is the solution to long rugged kinky hair and it is pretty simple to style too. Just create box braids all over her head and combed it over to a side. It will look amazing as it falls over her shoulder.
Combed back box braids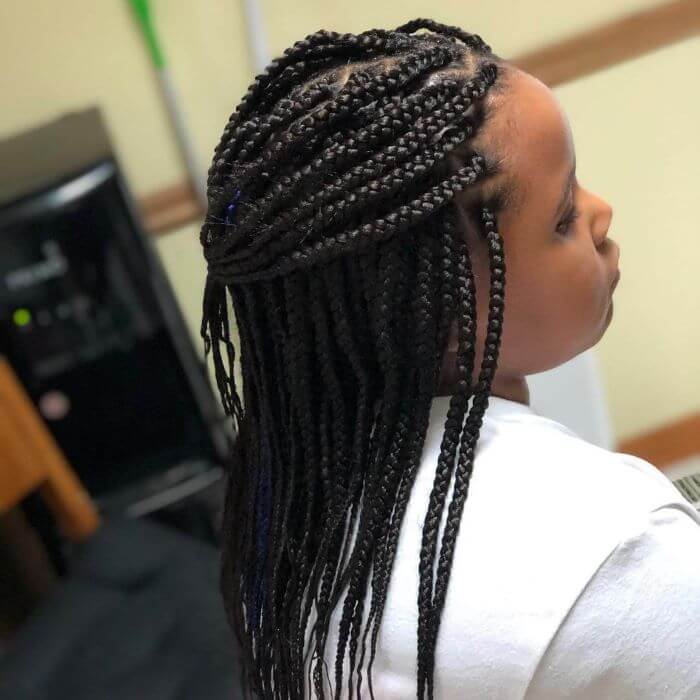 Box braids can be styled in all the creative ways you might possibly imagine. Consider this beautiful look where braided hair at the front is combed back and secured with a knot at the crown. All the underlying layers are allowed to fall over in all directions.
Colorful Cornrows With Braided Bun
Cornrows look more organized than anything else and when you add color to it, the hairstyle looks even better. Add a braided bun to the mix and you have a cool, stylish look.
Dense Box Braids
For her head full of kinky hair, this dense braided look is a perfect choice on any day.
Center-Parted Braids With Accessories
A simple center-parted braided hairstyle can make a wonderful party look with the right accessories added at a distance.
Cornrows With Curls
This cool look boasts braided cornrows on the top while curly hair is left open on the sides.
Patched Cornrows
This extravagant look features beautiful cornrows with patches on the top. The box braids on the sides are a wonderful addition to the mix.
Unique Box Braids With Sectioned Sides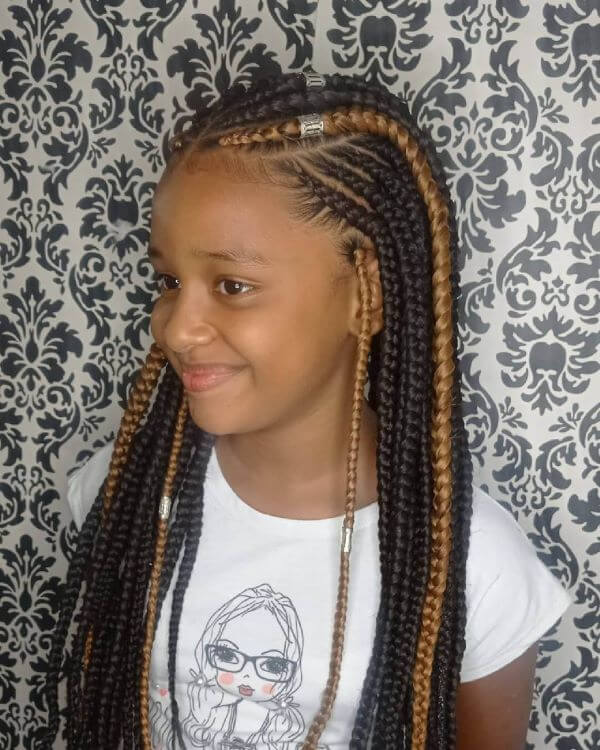 This combed back box braided look is just amazing. Accessorized and combed back, it gets a unique look with colorful layers and sectioned braids on the sides.
Box Braids With A Massive Top Bun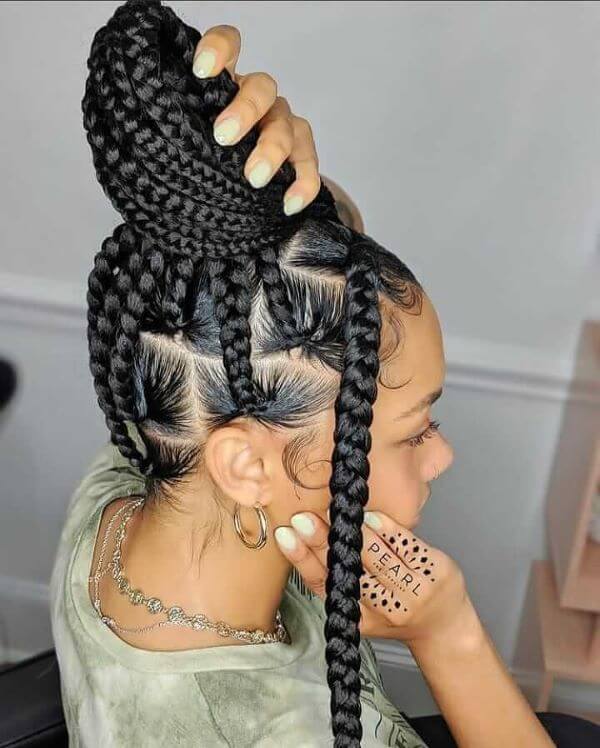 If you are looking for a stylish party hairstyle that will highlight your beautiful box braids, this hairdo is tailor-made for you. The big bun on the top makes a perfect focal point and the braided bangs add a unique touch of style to it.
Colorful Box Braids
This beautiful braided hairstyle gets its flair from the tinge of color that makes the braids look standout. It is pretty simple to achieve once you have picked the right color for her hair.
You are never short of hairstyle variations when it comes to box braids for 10 years old. Pick one of the beautiful hairstyles above and give your girl a cool new look.
There is something available for every occasion, and even for everyday routine. She is definitely going to love her new box braids for sure.