As your girl grows older, her needs start changing. This applies to the way she styles herself too. Her beautiful looks depend a lot on her beautiful hairstyles, and you must be on the lookout for some trendy new looks all the time.
Struggling to find the perfect hairstyle for your girl's kinky hair? You should consider box braids for 9 years old Kids. There are many cool variations of the hairstyle available today and you shouldn't have any trouble finding one that suits your girl.
Should a 9-Year-Old Girl Get Box Braids?
Imagine your 9-year-old little girl strutting her stuff on the playground, flaunting her brand-new box braids like she's on her own personal runway. Let's get real, that's going to turn a few heads!
Before making the decision, however, it's crucial to consider a few things. Box braids, while undoubtedly fabulous, demand a bit of commitment. These braids aren't a one-and-done deal. They're like that persistent telemarketer that keeps calling—you can't ignore them.
Now, onto our pint-sized fashionista. Does she possess the patience of a saint? Because installing box braids can be a marathon, not a sprint. You might even finish watching the entire "Harry Potter" series before those braids are done. And trust me, you'll know how Dobby felt when he was finally free!
Also, does she have the superpower to resist scratching her head? Box braids can sometimes itch like a new wool sweater, and scratching can potentially damage her hair and scalp.
If she's okay with channeling her inner zen master and refraining from the itch frenzy, then she's one step closer to those trendy box braids.
Lastly, is she ready to carry a little extra weight? Literally. Box braids can add some heft to her head. But hey, she might just develop neck muscles that could give a pro wrestler a run for their money!
In the end, if your young trendsetter is up for the task and eager to rock some beautiful box braids, why not? Let's make her the coolest fashion-forward kid on the block.
Stylish Box Braids For 9 Years Old Kids – 2023 Update

Wondering which black girls hairstyles are trending this year? Check out these cool new looks for kinky black hair.
1. Box Braided Pigtails
This beautiful hairstyle is the coolest way to organize your girl's kinky hair. The hairstyle is achieved with a center part by creating slanted cornrows on either side. The pigtails created around the crown make a perfect focal point for this hairstyle.
2. Long Box Braided Hair
This cool hairstyle is simple and stylish and won't take too much time from your morning routine either. Just create simple box braids all over her hair length and comb it over to a side.
3. Combed Over Box Braids
This trendy box braided look requires you to start braiding lengths from different sections of the head, at least, one inch apart. You can then comb them over to a side and accessorize them.
4. Colorful Box Braids With Beads
This hairstyle is achieved by braiding the entire length at the back. Add some color and beads to the mix and you have a wonderful look for your girl to flaunt.
5. Colorful Braids
This beautiful hairstyle is simple and stylish. All you have to do is to dye it in a royal blue tinge and start braiding.
6. Box Braids With Curled Tips
This fancy braided look can be achieved by creating box braids on the sides and the back. A fancy touch is given to it with a perfect mix of colors and some curls at the tips.
7. Fancy Box Braids With Zig-Zag Part
If you are ready to spare some time from your busy routine, this stylish hairdo is the way to go for your little girl. It is created with a zig-zag part in the center and braids in different sections of the head.
8. Bubble Braids With Colorful Accessories
A simple choice for long hair, this hairstyle is stylish and trendy. Braid sections of the tails using colorful accessories and you have a wonderful look ready for your little girl.
9. Long Braided Hair With Beaded Tips
This stylish look can be achieved by adding beads at the bottom of your girl's brown braided hair.
10. Braided Cornrows
A cool braided hairstyle, this look is about creating wide cornrows at an angle. The hair is left open halfway through and falls over the shoulders in style.
11. Long Brown Box Braids
A cool look with a puffy top, it's pretty simple to achieve. Create braids all over her head and let it fall over her shoulders.
12. Braids with Flat Top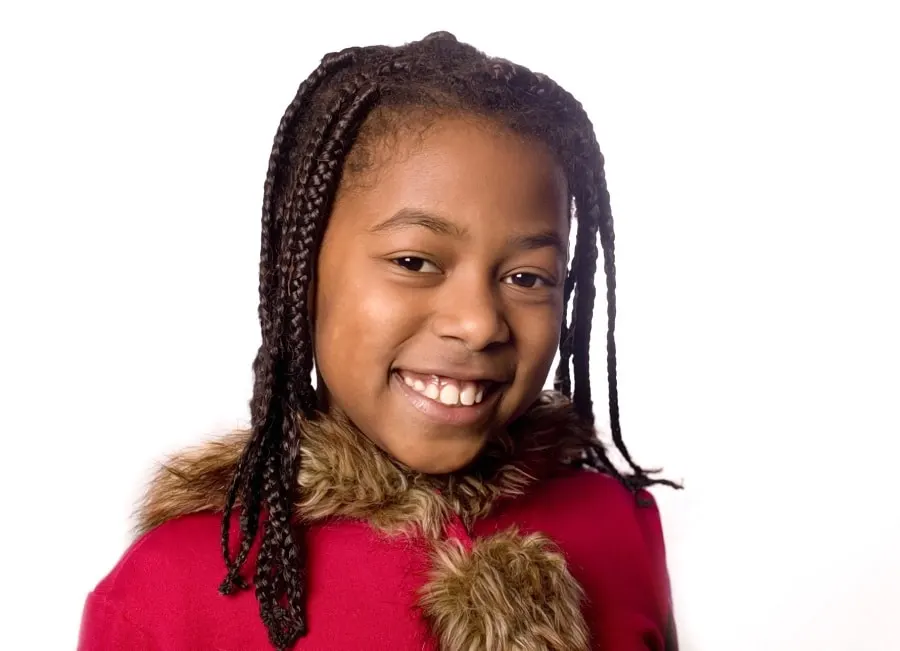 Many box braids styles start right on top of the head so there's a lot of texture there. Here however the top has quite a flat look. Some kinky hair texture is visible and the braids start at the sides of the head instead.
13. Curly Ponytail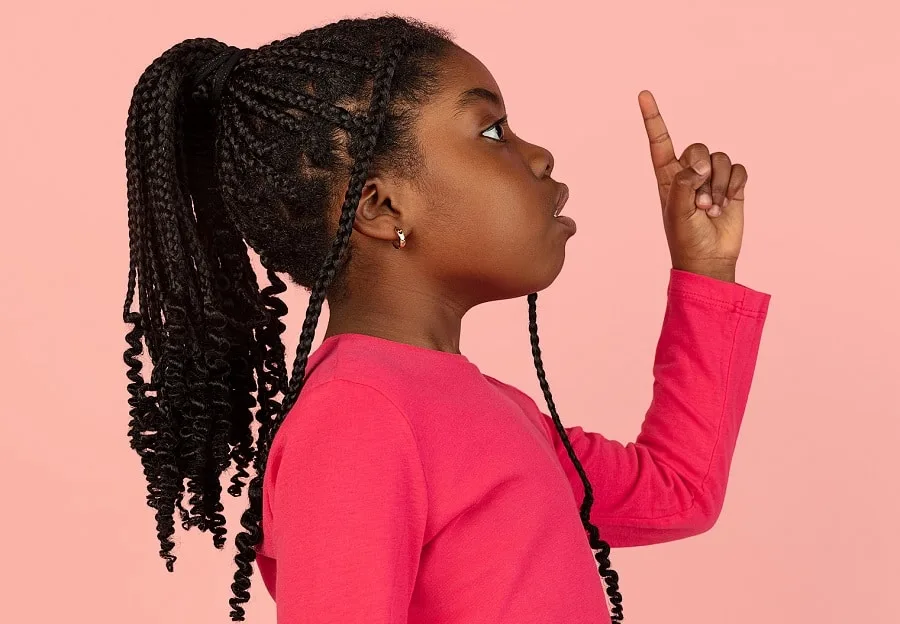 You can quite easily form a ponytail using box braids as it mimics the way you would put straight hair into this style.
There is a mixture of braids and defined curly tendrils that form this style. The variety makes your little girl's appearance more fun.
14. Half Up Look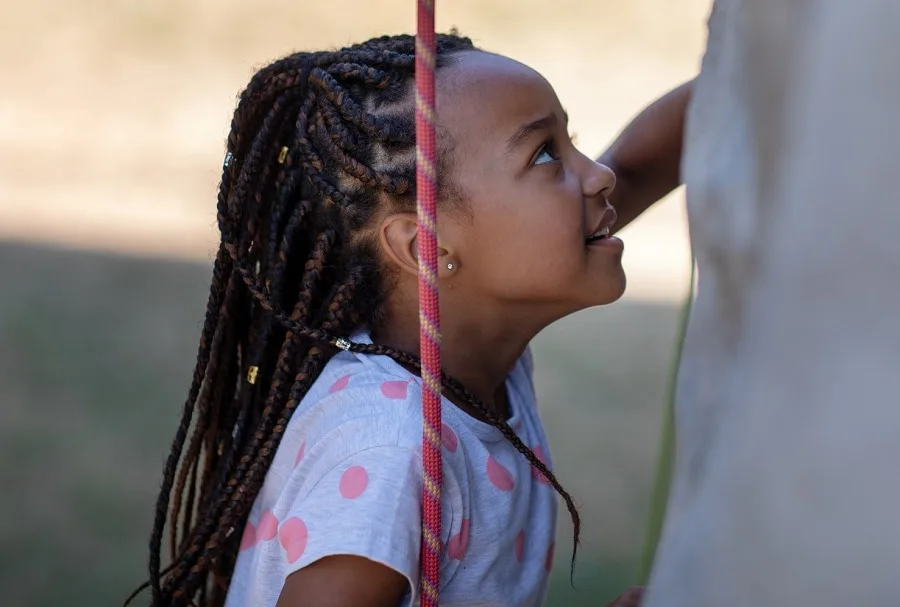 Half up, half down styles are classic for little girls. You can also achieve this look using box braids for your 9-year-old kid. Pull the side braids up into a ponytail and the crown of the head. Let the back sections flow freely.
15. Thin Colored Braids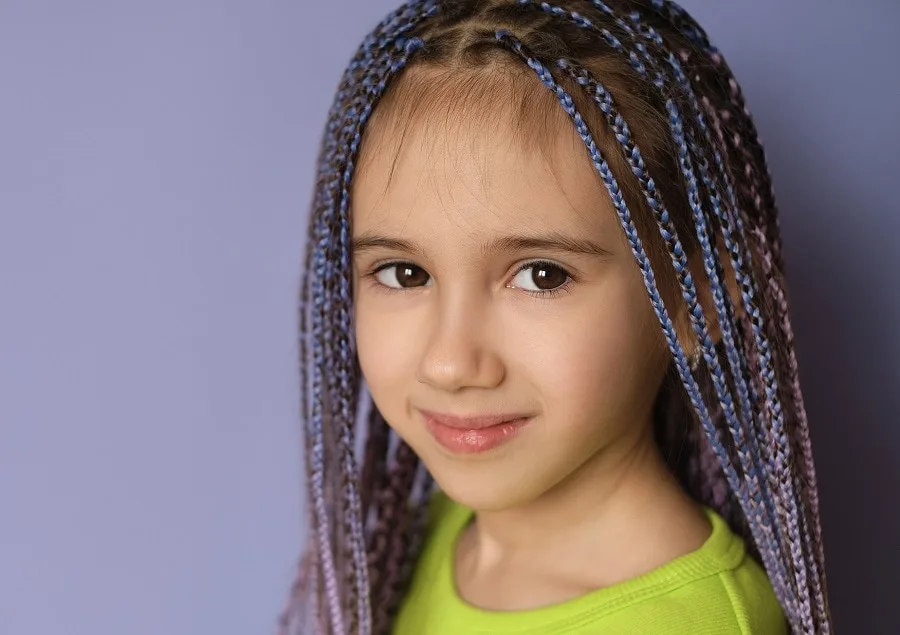 Weaving strands of colored hair into Your little girl's braids is one of the benefits of this style. She can stand out a lot from her peers. You can give the illusion of much sleeker hair by creating thinner sections to put into plaits.
16. Long Beaded Strands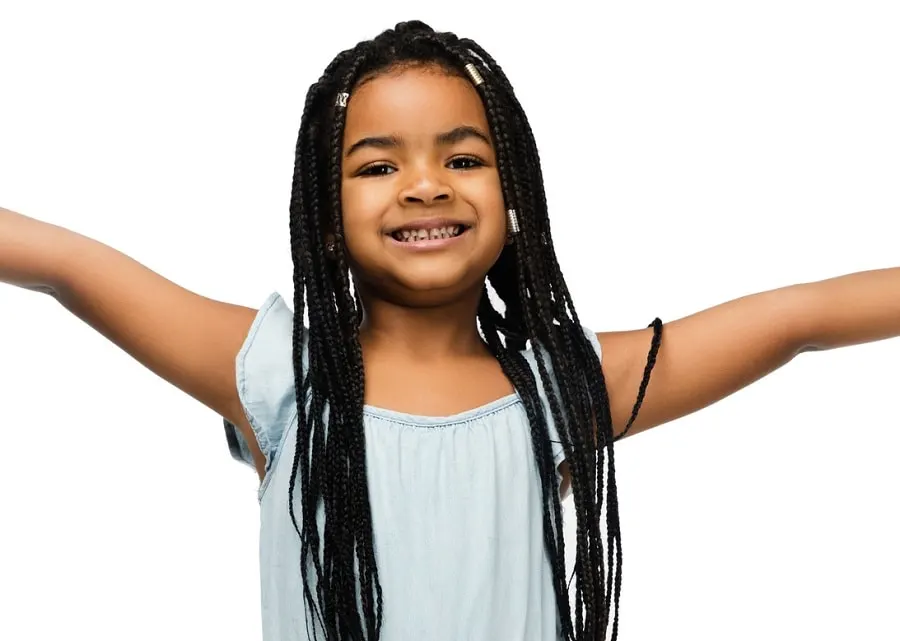 Many 9-year-old girls wish to wear their box braids very long. This is highly achievable because the style is so protective. Let them cascade down to your little girl's waist and add some beads to make the style more fun.
17. Half and Half Color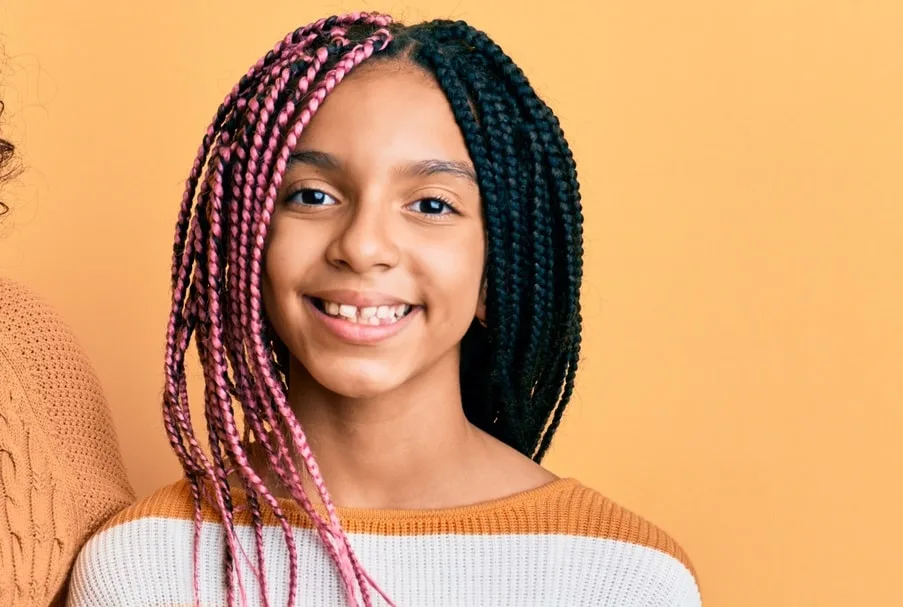 Pink is a popular color for little girls to want to wear in their hair. Form half and half style where one side is pink and the other is black.
Keep the braids medium thickness so the color really stands out towards the top of the head.
18. Spaced and Beaded
Lots of the looks we've seen so far have the box sections very close together. Here there is an inch or more of space between each little section.
The braided sections also have beads decorating them to draw the eye. Lastly, there are a couple of loose curls in the style.
19. Decorated Jumbo Braids
Very thick plaits like these are referred to as jumbo braids. Many of them have been decorated to ensure your little girl feels confident wearing this style.
There are some pink sections, and other parts have got beads and silver thread wrapped around the hair.
20. Half up Bun
Once again we see how amazing half up hairstyles look with plait styles like this. The sides are drawn into a little barn that sits just below the crown of the head. The rest of the tresses cascade long and free.
21. Bow Shaped Updo
Creating art with braided hair is very trendy these days. Even your 9-year-old with box braids can join in the fun! Here the look forms and updo in the shape of a bow.
The baby hairs around the face have been gelled down very neatly in keeping with current trends.
22. High Pony with Beads
High ponytails are an upbeat style that many young girls are adopting these days. Pull all the braids up to the top of the head and secure them in the style.
Leave a few loose to hang around the face. You should also add some golden beads to different sections of the hair to accessorize.
23. Pink and Beaded
The most adorable little girls love having pink in their hairstyle. Lots of pink strands have been added gradually into these waist-length plaits.
You can also see many braids dotted around the style to make it even more unique. Your little girl will have so much fun picking out the different beads she wants to wear with her look.
24. Half Up with Bands
It's good to wear thick hair half up as it keeps many of the strands out of your little girl's face. Draw some of the plaits from the side back and secure them in place. Add a couple of bright bands so the look remains youthful.
25. Blonde with Curly Ends
Hair extensions are extremely useful when you want to achieve a style like this. Keep the natural braids short and add blonde extensions.
Wear these braids extremely long then secure the ends. Let some curls fall down your daughter's back to complete the look.
Box braids make a trendy hairstyle for black girls and there are a lot of variations that you can try every day. Pick one of these box braids for 9 years, old kids, from the list above and give your girl a trendy new look today. She is definitely going to enjoy her new hairstyle and catch all eyes everywhere she goes. Try one today!
Editor's Pick