As your girl grows older, you start looking for new ways to make her personality pop. Your focus is, particularly on her hairstyle as the look of her hair can change her style upside down.
You should start early, however, and try the best hairstyles for 10 year olds girl and explore something that she can wear in everyday routine and also on special occasions.
Top Cute Hairstyles For 10 Year Olds Girl
Finding the best hairstyles for your 10-year-old girl shouldn't really be a hassle as there are plenty of them around. You just need to make the right pick for the occasion and find something that makes a good choice for her routine hairdo as well
Stylish Braids With Pigtails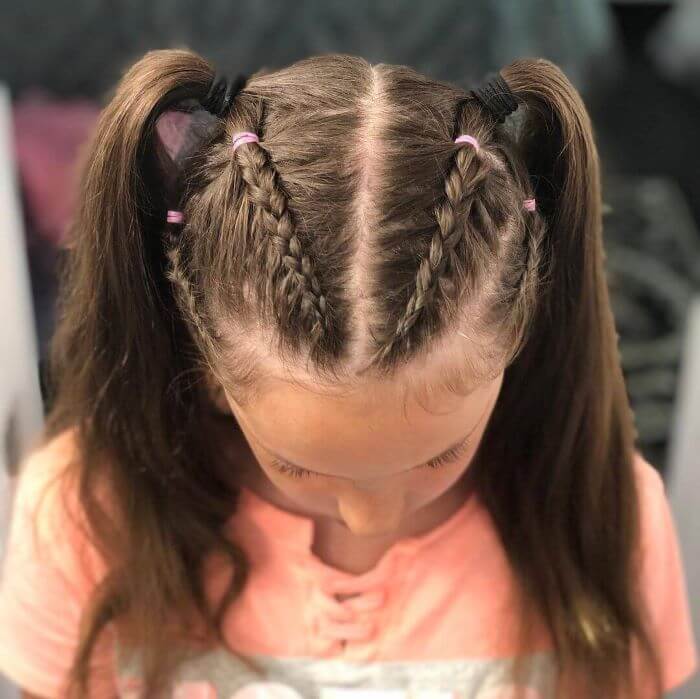 This is a simple hairstyle for girls with shoulder-length hair. It is created with a center part and fine braids are done at the front. Take the braids all the way to the crown and form them into long pigtails.
Open Hair With A Braided Crown and Flowers
This beautiful party look is tailor-made for 10 year old girls whose hair has grown enough to let it stay open and curl the tips at the back.
A touch of style is added with a beautiful crown braid created around her head and decorating it with flowers.
Cornrows With High Ponytail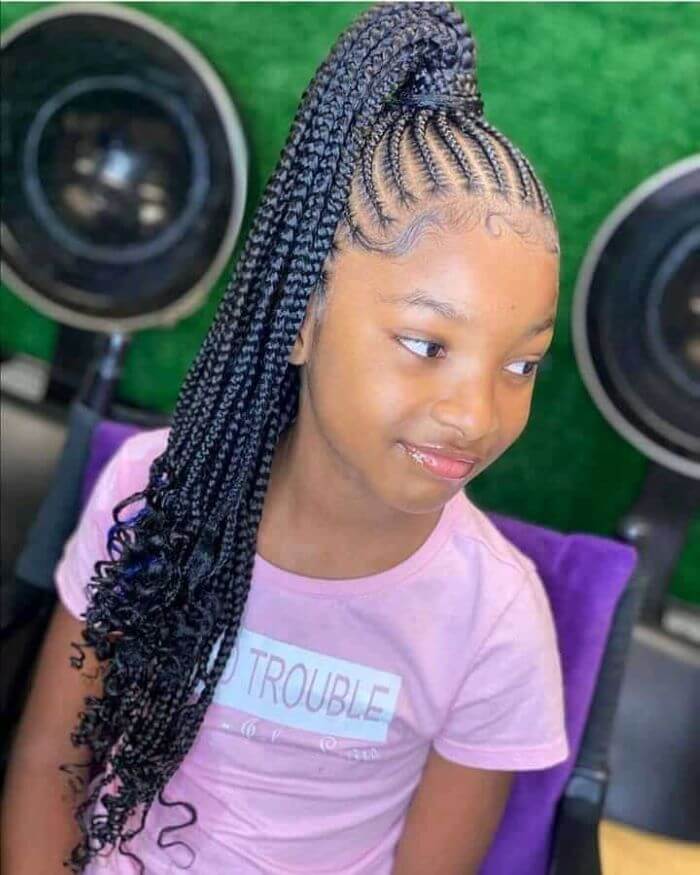 This cool hairstyle for black girls makes a perfect choice any day. It brings organization and style to her dry kinky hair, and the curly tips will grab everyone's fancy for sure. It will certainly be a cool new look for your 10 year old.
Stylish Hairstyle with Crown Braid And Curled Back
High Ponytail With Colorful Beads And Ribbons
Curly Hairstyle With A Big Ribbon Accessory
Stylish Braided Hairdo With A Sectioned Ponytail
Simple Center-Parted Hairstyle
Long Combed Back Hairstyle With a Crown Knot
Elsa Braid Hairstyle Variation
Short Side-Swept Bob
Combed Back With Long Bubble Ponytail
Wavy Shoulder-Length Hairstyle With Color
Unique Braided Tail Variations
Long Wavy Hair With A Stylish Accessory
Side-Parted Braided Top With High Ponytail
Cornrows With A Unique Braided Bun Pattern
Long Cornrows With Braided Tails
Colorful Hair With Crown Knot
Wavy Purple Hair With A Centre Part
Side-Parted Hairstyle With Braided Tails
Knitted Braids With Low Braided Pigtails
This cool hairstyle looks unique and pretty organized with knitted braids all over. Low braided pigtail buns add some personality to this unique hairstyle, while the knotted hairpins make it look even better.
Long Hair With Thin Braided Layers
It's a simple hairstyle for girls with silky straight hair. You just need to start braiding layers at the crown and accessorize them with colorful beads to achieve a perfect look for your 10 year old.
These amazing hairstyles for 10 year olds girl make choice easier for you regardless of the occasion. The funky touch in most of these hairstyles makes them a perfect option for your little girl. Shortlist a few, and try one now!