As a parent, you want your child to look their best at all times, and their hair is no exception. However, coming up with creative and age-appropriate hairstyles for 10 year old girls can be daunting.
As your girl grows older, you start looking for new ways to make her personality pop. Your focus is, particularly on her hairstyle as the look of her hair can change her style upside down.
Whether your child's hair is long, short, curly, or straight, there are numerous age-appropriate and trendy hairstyles that will make them look and feel their best.
In this article, we'll guide you through some of the most popular and easy-to-maintain hairstyles for 10 year old girls.
Cute Hairstyles For 10 Year Olds Girl
Finding the best hairstyles for your 10-year-old girl shouldn't really be a hassle as there are plenty of them around. You just need to make the right pick for the occasion and find something that makes a good choice for her routine hairdo as well
Stylish Braids With Pigtails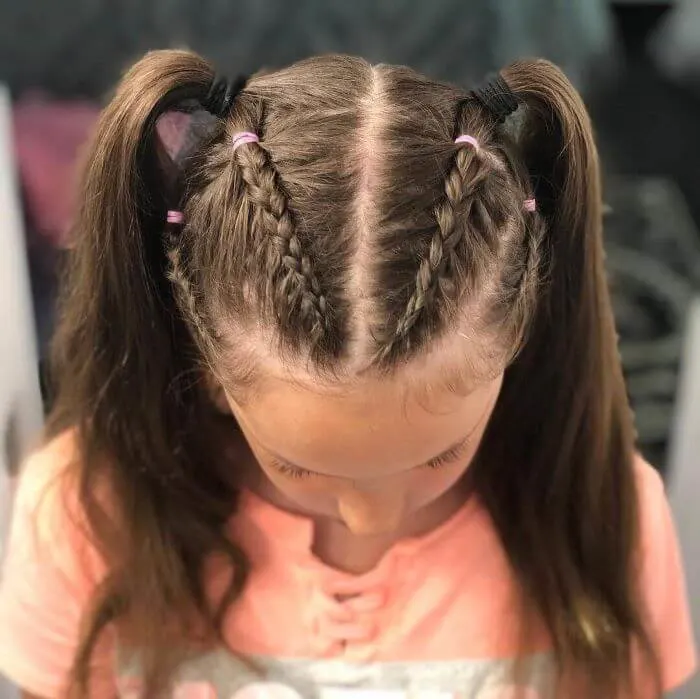 Open Hair With A Braided Crown and Flowers
This beautiful party look is tailor-made for 10 year old girls whose hair has grown enough to let it stay open and curl the tips at the back.
A touch of style is added with a beautiful crown braid created around her head and decorating it with flowers.
Cornrows With High Ponytail
This cool hairstyle for black girls makes a perfect choice any day. It brings organization and style to her dry kinky hair, and the curly tips will grab everyone's fancy for sure. It will certainly be a cool new look for your 10 year old.
Stylish Hairstyle with Crown Braid And Curled Back
Picture a regal crown braid adorning the top of the head, with the rest of the hair gracefully curled back. This is a perfect princess look with a modern twist!
High Ponytail With Colorful Beads And Ribbons
Curly Hairstyle With A Big Ribbon Accessory
Stylish Braided Hairdo With A Sectioned Ponytail
This one features an intricate braided 'do upfront, complemented by a cool sectioned ponytail at the back. It's like wearing a piece of art on your head!
Dual Dutch Braids With Playful Ponytails
A hairstyle for a 10-year-old girl, the Dual Dutch Braids with Playful Ponytails, sports two neat Dutch braids ending in lively ponytails. It combines a sophisticated style with a burst of youthful energy.
To style this 10-year-old girl hairstyle, start by parting the hair down the middle. Next, on each side, create a Dutch braid starting from the front, working your way down to the nape. Secure the remaining hair into high ponytails.
Twisted Topknot With Butterfly Clips
The Twisted Topknot with Butterfly Clips is a charming hairstyle for a 10-year-old girl that boasts a delicate, elegant topknot and cute butterfly clips. It's a delightful style that combines simplicity with a touch of enchantment.
To achieve this look, gather all the hair up and twist it into a bun at the crown. Secure the topknot with a hair tie and accessorize with colorful butterfly clips.
Half-Up, Half-Down Bow Hairstyle
The Half-Up, Half-Down Bow Hairstyle is a sweet and chic style featuring a lovely hair bow on the crown and loose waves cascading down. For this 10-year-old girl hairstyle, take two sections from the front, pull them back and tie together into a bow at the back of the head. Let the rest of the hair flow naturally for a free-spirited look.
Fishtail Braid Pigtails With Ribbons
This hairstyle for 10 years old girls is youthful and fun. The Fishtail Braid Pigtails with Ribbons showcases intricate fishtail braids, adorned with ribbons for an added flair. Start by parting the hair in the middle, then fishtail braid each side down to the tips. Finish by tying the ends with colorful ribbons.
Heart-Shaped Braids With Side Swept Bangs
Heart-Shaped Braids with Side Swept Bangs is a hairstyle that speaks volumes about a 10-year-old girl's playful and loving nature.
Style by parting the hair at the side and then creating two French braids, one on each side of the head, that meet at the back to form a heart. Allow the bangs to sweep to one side.
Double Bun Hairstyle With Colorful Scrunchies
Double Bun Hairstyle with Colorful Scrunchies is a fun and vibrant hairstyle for 10 years old girls.
This style features two high buns wrapped in vibrant scrunchies for a pop of color. Part the hair down the middle, pull up into two high ponytails and twist each into a bun. Secure each bun with a colorful scrunchie.
Low Pigtails With Floral Hairpins
This 10-year-old girl hairstyle is simple yet elegant, featuring low pigtails adorned with floral hairpins.
To achieve the Low Pigtails with Floral Hairpins, part the hair down the middle, secure each side into low pigtails at the nape, and adorn with floral hairpins for a touch of nature-inspired charm.
Rainbow Unicorn Braid With Glitter Accessories
The Rainbow Unicorn Braid with Glitter Accessories is a magical hairstyle for a 10-year-old girl. This vibrant style showcases a high unicorn braid with an assortment of glitter accessories. Start by pulling the hair up into a high ponytail. Create a French braid, secure at the end, and embellish with a scattering of glitter accessories.
Space Buns With Beaded Braids
The Space Buns with Beaded Braids is an out-of-this-world 10-year-old girl hairstyle. This look sports two high space buns complemented by beaded braids for a stellar style. Divide the hair into two sections, braid each section, and then twist into two high buns. Slide in beads of your choice onto the braids.
French Braid Updo With Sparkly Hair Bands
The French Braid Updo with Sparkly Hair Bands is a sophisticated hairstyle for a 10-year-old girl. This elegant updo features a French braid swept up into a bun, adorned with sparkly hair bands for a dazzling finish.
To get this look, start a French braid at the nape and work up towards the crown, then twist into a bun. Add sparkly hair bands for an extra touch of glam.
Simple Center-Parted Hairstyle
Sometimes, less is more, and this hairstyle proves it! It's a simple center-parted 'do that lets natural beauty shine.
Long Combed Back Hairstyle With a Crown Knot
Elsa Braid Hairstyle Variation
Short Side-Swept Bob
Combed Back With Long Bubble Ponytail
Wavy Shoulder-Length Hairstyle With Color
Unique Braided Tail Variations
Long Wavy Hair With A Stylish Accessory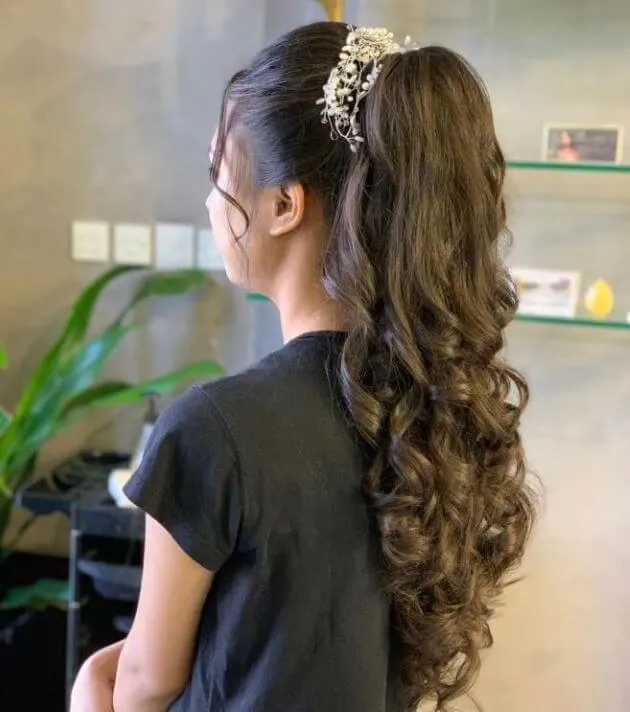 Imagine long, free-flowing waves adorned with a stylish accessory. This is a perfect blend of elegance and fun!
Side-Parted Braided Top With High Ponytail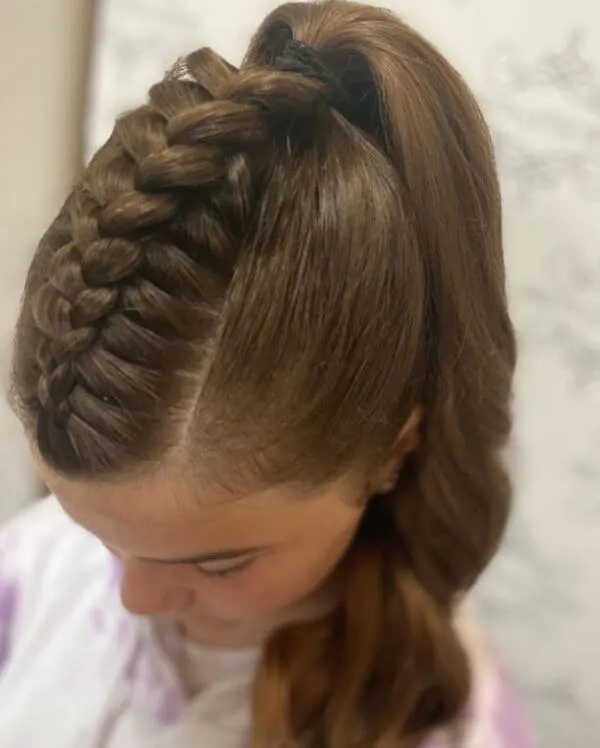 It's all about height and style here! The hair is side-parted, with the top braided and ending in a high, lively ponytail.
Cornrows With A Unique Braided Bun Pattern
Long Cornrows With Braided Tails
Colorful Hair With Crown Knot
Wavy Purple Hair With A Centre Part
Side-Parted Hairstyle With Braided Tails
Knitted Braids With Low Braided Pigtails
This cool hairstyle looks unique and pretty organized with knitted braids all over. Low braided pigtail buns add some personality to this unique hairstyle, while the knotted hairpins make it look even better.
Long Hair With Thin Braided Layers
It's a simple hairstyle for girls with silky straight hair. You just need to start braiding layers at the crown and accessorize them with colorful beads to achieve a perfect look for your 10 year old.
These amazing hairstyles for 10 year olds girl make choice easier for you regardless of the occasion. The funky touch in most of these hairstyles makes them a perfect option for your little girl. Shortlist a few, and try one now!