Looking to make your little girl look like a princess with fishtail braids? You bet! Let me tell you, braids are like the superheroes of hairstyles – they can do it all and look fabulous while doing it.
Now, I know what you might be thinking, aren't braids mostly for black girls and women? Well, that's where you're wrong, my friend. Braids are for everyone, no matter what type of hair you have.
Sure, they're a go-to for black women and girls, but trust me, anyone can totally rock this look. Among the many types of braids, there's this one that's got its own kind of swagger – the fishtail braid.
Picture this: a ponytail braided to look like the scales of a fish. Cool, right?
And guess what? There's not just one type of fishtail braid, there are loads to choose from. So get ready, 'cause we're about to take a deep dive into the wonderful world of fishtail braids. Fasten your hair ties, this is gonna be a fun ride!
So, if you are interested in getting beautiful fishtail braid hairstyles, let's start by checking out how you can create simple fishtail braids for little girls.
Cute Fishtail Braids for Little Girls
The Classic Fishtail Braid
Gather your little girl's hair into a ponytail, then divide it into two sections. Criss-cross small pieces from each section over to the other side to create that beautiful, scaled look we all love. It's simple, timeless, and perfect for any occasion.
Double Fishtail Braids
Who says you need to stop at one? Divide her hair into two equal sections from the middle and work a fishtail braid on each side. Double the braids, double the fun!
Fishtail Braid Crown
Start a loose fishtail braid on one side of her hair, then wrap it around her head like a crown. Secure it on the other side for a hairstyle that's fit for a princess.
Fishtail Pigtails
This one's great for an active day at the park or a fun picnic. Part her hair down the middle and create a fishtail braid on each side, just like classic pigtails but with a chic twist.
Fishtail Braid Bun
Start by making a fishtail braid, then coil it into a bun at the nape of her neck. This one's as elegant as it is easy.
Half-Up Fishtail Braid
If she loves her hair down, try this one. Take a section from the front, fishtail braid it back and secure it with a cute clip. It's perfect for showcasing those beautiful braiding skills, while keeping the hair off her face.
Fishtail Braid Updo
Fishtail braid her hair from the bottom up, then pin it into a chic updo. This style keeps her hair neat and tidy, and looks incredibly stylish.
Side Fishtail Braid
Gather all her hair on one side and work that fishtail magic. It's an effortlessly charming look that's perfect for any day.
Fishtail Braid with Ribbons
Here's a fun one – start a fishtail braid, and weave a colorful ribbon in as you go. It adds a playful pop of color and can be matched to her outfit!
Fishtail Braid Ponytail
Make a high ponytail, then fishtail braid the pony. This gives you a youthful, spirited hairstyle that's great for school, parties or playdates.
Types Of Fishtail Braid
Image Source: Aalicerosehairandmakeup
As mentioned earlier, there are quite a few different types of fishtail braid and each of them has its own unique vibe and style statement. Let's check out some of the cool variations to the hairstyle and see what they are all about.
Side Fishtail Braid
As for a side fishtail braid, it's a slight variation of the original look in which the braid is created to a side rather than the back. The hairstyle looks cool and elegant and makes a perfect vibe on a party night.
Image Source: Vilmabragander
And, if you are getting interested, let's see how to do a side fishtail braid step by step.
Take some hair from top and divide them into equal parts.
Tale a few strands from outside of right section.
Cross these strands over and combine them into center of the section on the left. Repeat on other side and take small amounts of hair from left side, cross over, and combine them into center of the section on the right.
Similarly, work with all the hair you have in the hands until you see your hair getting shaped in a certain way. As it starts shaping, keep incorporating more of your loose hair moving further down.
Repeat this cross-over process and continue to tighten up your hair.
Moving further down, grab a bit thicker hair sections from the side you want your fishtail braid to be swept away from.
Similarly, take a bit thinner hair sections from the side you want your braid to be swept to. It will make the braid start moving further down the desired side.
Continue to achieve the fishtail right to the tip of your hair.
Braid to ends on either side. It's a cool braid for the layered hair as the layers tend to poke out making it have a lived-in vibe.
Pinch several plaits from outside now and then pull out so that it has that lived-in vibe and your hair look even thicker. Loose sections should be pinned in place and you should spray it using a hairspray wherever needed.
That's it, your side fishtail braid is ready and you can flaunt it as a perfect hairstyle choice in fall. The hairdo is just perfect when it comes to showing off your layered or colored hair.
How to Create Side Fishtail Braid
French Fishtail Braid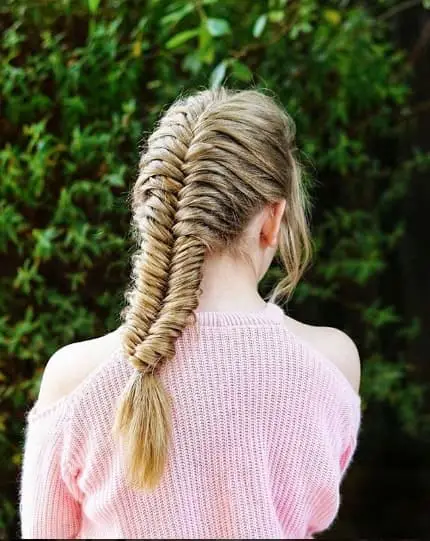 Image Source: Braidalchic
Another cool variation of the hairstyle is the French fishtail braid. The look can be achieved by doing a little variation to the hairstyles described above. So, here we have a French fishtail braid step-by-step guide for you to find out how exactly the look can be achieved.
Gather a hair section at your crown on top. Make sure it is at eye level and is centered to perfection.
Split this section of hair into two to achieve a left and right half.
Pull a thin layer of strands from the left side and gather it from the hairline. Ensure that the strand in thin and that it is no more than 0.5".
Pull this thin layer of strands across the left section of hair and move it towards the right.
This thin strand should then be tucked under right section to make it the part of right section.
Now, pull a thin layer of strands from the right side of your head and ensure that the strands are exactly the same length apart from the center of the head as the ones pulled from left side earlier. Here again, the thickness of the layer should be no more than 0.5".
Next, pull the layer across right section of hair and move it towards the left side.
This thin layer of strands should now be tucked under left section of hair to make it part of that section.
Pull up another section in the center. The size of this section should be the same as that of the first one that you had pulled up earlier. Fold this section across to the left side just the way you did with the first one.
Continue to alternate the sides as long as you reach the base of the head. Now, your hair can be tied off or you can continue with the fishtail braid.
Keep braiding in the same fashion and make sure that the braid is kept as smooth and tight as possible. It can be tussled up later.
Finally, the braid should be tied off towards its end with almost 1" of hair left behind. Use a cool hair tie for tying off the braid.
Gently tug on the braid's edges to make it look a bit messy. Remember that if there are too many layers in the hair, it will make the braid look messy.
How To Fishtail Braid Your Own Hair?
Well, the fishtail braid, despite its coolness, can seem a bit challenging. Braiding your own hair can be tricky, especially when you're not entirely sure how to fishtail braid your hair.
So, what can you do if you don't have someone to help you achieve a cool fishtail braid look? Don't worry; here's how to fishtail braid your own hair with minimal hassle. Let's dive in.
Firstly, ensure that you have well-brushed hair to work with. This helps prevent any tangling during the process.
Also, have a couple of clear elastic hair bands at the ready, along with a clip-in flower or a bow. Of course, you'll need a mirror; otherwise, you won't be able to see where you're going with your braid.
Once you have everything set up, prepare to amaze yourself by following the steps below and achieving a fantastic look with really cool fishtail braids, all done by you.
Here are the steps:
Pull all your hair to one side to form a low pony and then secure it with an elastic band. If there are some little hairs that you intend to spill down at the front, just pull them out and split the hair in half right above the ponytail holder to create a small hole.
Hold the split with one hand, and use your other hand to pull the bottom half of the ponytail upwards, making it pass through that hole. Then pull it back downwards behind it to create an interesting twist to start off the braid.
Use both hands to split the ponytail into two halves of equal volume and size and hold each half in a hand.
Next, start creating your fishtail braid. You'll soon find out that it can be achieved quite easily. Just ensure that you grip those two sections of strands tightly to keep things in place.
Start by taking some strands from the outside of the right half and move it across and over to the other side, integrating those strands into their new position in the other section. Similarly, take some strands from the outside of the left half and move them across and over to the other side. Again, integrate those strands into their new position in the other section.
Continue repeating this process until you've braided both sections of hair down to the bottom. Finally, secure the braided style at the bottom with another elastic band.
Sometimes, a slightly messy braid can look super cute. To achieve this look, use both hands to gently tug at a few strands on each side of your fishtail braid.
Starting from the top, work your way down to the bottom. The extent of the pulling and tugging depends on the style that you want to achieve. In fact, you can skip this last step if you prefer a perfect fishtail braid.