Prom nights are really special to every high school student and everyone wants to look impressive and stylish on this occasion. However, whether you want to wear a hairdo on prom or you'd like to wear it to party, you can find lots of amazing prom hairstyles for medium hair for party.
Prom is a special occasion that allows you to showcase your personality and style, and your hair is an integral part of your overall look. With each year, new trends in hairstyles emerge, and 2023 is no exception.
In fact, there are more options than ever for medium length hair.Whether you want a classic updo or a trendy half-up, half-down style, there are plenty of prom hairstyles to choose from in 2023.
So, we've compiled a list of the top trendy prom hairstyles for medium-length hair, complete with tips on how to achieve them and what dress styles they best complement.
Get ready to turn heads at prom with the perfect hairstyle for your medium length hair!
Prom Hairstyles for Medium Hair 2023 (Party Updates)

For girls with medium length hair, the options to style their hair for the prom night are even better. They really have a whole lot of choices to go with and some of them really are the easiest. Here we have listed the best prom hairstyles for medium hair for party.
1. Beautiful Low Bun Hairstyle

It really is a cool low bun hairstyle that asks for a beautiful crown on top more than anything else. And for girls who are contesting for being the prom queen, this beautiful hairstyle can really help you take pace.
The messy and wavy fringes on the sides and a cool thick French braid ending into a low hair bun, you can't ask for anything better.
2. Upside Down Fishtail Braided Bun
Those inverted hairstyles can always add a unique sense of interest to an otherwise typical hairstyle and here we have a perfect example.
If you're planning a bun hairstyle for your prom night and also want to ensure that it's something exclusive and not so hard to achieve at the same time, this one with upside down fishtail braid is definitely going to do the trick for you.
Create a typical fishtail braid but do it the other way around and you will have a unique style ready for a unique occasion. Create a beautiful, messy bun on top and your finished look would be better than everyone.
3. Side Swept Waves
This style features beautiful, soft waves cascading to one side. It exudes an aura of effortless grace and elegance.
How to: Achieve this look by curling your hair with a curling iron and then gently brushing them to one side. Use a hairspray to keep them in place.
Suitable for: This prom hairstyle is perfect for off-shoulder or asymmetrical dresses, as it highlights the neckline and shoulders.
4. Half-Up Twisted Crown
It is a romantic hairstyle where the front sections of the hair are twisted back and secured, creating a crown-like effect.
How to: Twist sections of your hair from both sides and secure them at the back with bobby pins.
Suitable for: This style goes well with strapless dresses or gowns with detailed necklines.
5. Waterfall Braid
This intricate braid involves strands of hair flowing through a loose braid, resembling a waterfall.
How to: Start a French braid and gradually add new sections of hair, letting some strands fall down like water in a waterfall.
Suitable for: This hairstyle is ideal for flowy, ethereal dresses or bohemian-style gowns.
6. Sleek Straight with Side Part
It is a classic and sophisticated style, where hair is straightened and parted to the side for a polished look.
How to: Straighten your hair with a flat iron and then create a deep side part.
Suitable for: Best complemented by structured dresses, or a chic pantsuit for a modern take on prom night.
7. Vintage Hollywood Curls
This is one of the timeless prom hairstyles for medium length hair, featuring big, glamorous curls reminiscent of old Hollywood.
How to: Use a large-barrel curling iron to create curls, then brush them out and set with hairspray.
Suitable for: Ideal for vintage-inspired dresses or classic ball gowns.
8. Low Side Ponytail with Curls
This style involves a curly ponytail situated to one side, creating an enchanting and feminine look.
How to: Curl your hair, then gather it to one side and secure it into a low ponytail.
Suitable for: This works well with one-shoulder dresses or gowns with intricate back details.
9. Dutch Crown Braid
This hairstyle involves a braid that wraps around the head like a crown, imparting a regal appearance.
How to: Create a Dutch braid along the sides of your head and wrap it around, securing with pins.
Suitable for: Best for high-neck dresses or gowns with a simple, elegant design.
10. Faux Bob
This is a unique prom hairstyle for medium hair, where the hair is tucked and pinned to create the illusion of a bob.
How to: Curl your hair, then tuck and pin it under to create a faux bob shape.
Suitable for: This look goes perfectly with retro-inspired dresses or those with a high neckline.
11. High Sleek Ponytail
A modern and edgy look, this style features a high, sleek ponytail that's both chic and playful.
How to: Straighten your hair and then pull it into a high ponytail, using gel for a sleek finish.
Suitable for: Great for modern, geometric dresses or outfits with bold patterns.
12. Loose Tousled Updo with Florals
This ethereal hairstyle involves loose, tousled hair pinned up, adorned with floral accessories.
How to: Curl your hair loosely, gently tease it, and pin it up randomly. Add floral accessories.
Suitable for: This prom hairstyle is ideal for romantic, lace dresses or gowns with a whimsical feel.
13. Low Braided Bun
Another bun for the best prom hairstyles for medium hair for party, this low bun is unique in the sense that it is braided and it is given a more voluminous vibe.
Obviously, you have to wear something really special to prom and nothing can be better than this beautiful hairdo that has a unique element of style to it.
The thick and loose braid works wonders to give this hairdo a more unique and stylish vibe while making sure that it's loose, messy and low on the nape. Nothing can really beat this beautiful hairstyle.
14. Boho Vibes
If you are feeling all those Boho vibes, and would like to wear the hair down while making sure that the design on the back of your dress is visible, this is the hairdo you'd want to go with.
Tease the hair around the crown to create a beautiful bump, keep the frontal layers a bit messy and swept to a side and go for a messy braided look at the back to give your hairstyle a perfect finish. You'd love the finished hairstyle.
15. Messy Braids
Braids can still be one of the best prom hairstyles for medium hair for party, and you can't find a better variation than this one. The French braided look is achieved with thick and messy hair and it looks lovely on all those special occasions.
The hairstyle doesn't just offer a completely charming look, it allows you to show your dress off in style as well. It's messy but it's even more stylish!#
16. Braided Volume
This braided hairstyle features a braid on the top of the head, and it's pinned to the back of the head very neatly. There's a lot of volume in the top, and some loose, blonde curls fall gently around the face to frame it beautifully.
17. Sweet Space Buns
Space buns are an amazing prom hairstyle for medium hair, and they're made very elegant here. The buns are twisted cutely and are low down on the side of the head. The back of the hair is loose and has some volume while it's secured in the bun.
18. Pink Braid Look
This hairstyle is curly and touched with pink. The ends of the hair have a little bit of pink in them, but most of the pink is in the large braid that goes around the head like a crown. It's a perfect look for a tween to rock at prom.
19. Elegant Classic Bun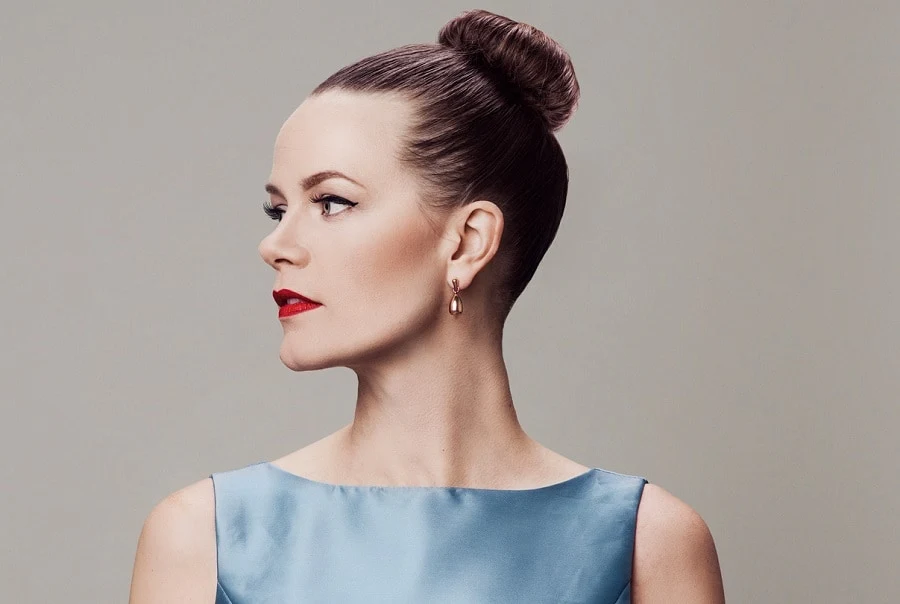 This is an elegant classic bun style that works for all ages. It's also a prom hairstyle for medium hair because it's hard to keep long hair neat in a pun like this. The bun isn't too large, and the hair pulled into it is very slick.
20. Face Framing Curls
This hairstyle has lots of loose curls framing the face and the hair is parted in the middle. It looks great with layers as the curls end at different points around the face. There's a lot of volume and it's a great party look.
21. Sweet Textured Bun
This is an easy hairstyle that has a sweet, textured bun on the crown of the head. The back and front parts of the hair have a lot of volume and a sweet flower hairband sits between these bumped, volumized parts of the hair, adding some elegance.
22. Golden Curls To The Shoulders
These golden curls fall lightly to the shoulder and they'll make any young girl look grown up for the night of the prom. It's a stylish but simple hairstyle that can be achieved with a curling wand and a little hairspray. It's so easy to look stylish.
23. Rolled Updo
This look has a princess vibe to it. The hair is rolled from the sides and around the back of the head, perfect, with no hair out of place. White roses on a headband are neatly rolled into the style, too, adding the princess-like vibe to it all.
24. Curls Abundant In a Bun
This is perfect for girls with coily hair. Most of the hair is pulled back tightly into a large bun on the top of the head. The curls then sit on top of the head with a lot of volume, and they look absolutely wonderful.
25. Updo Prom Hairstyles for Medium Hair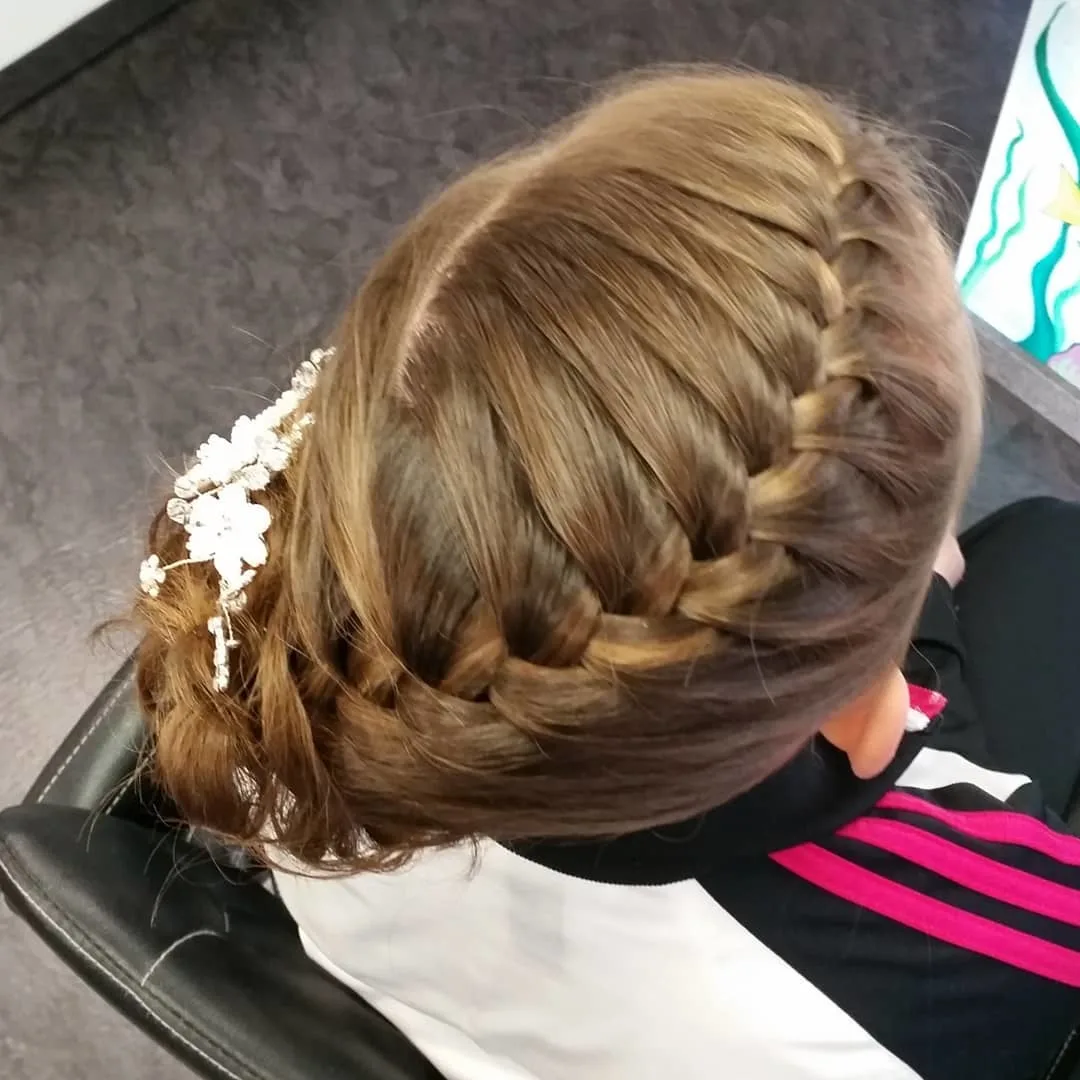 If you want to look chic and elegant on the prom night, you'd want to go with the best updo prom hairstyles that make a unique style statement.
Updo hairstyles really make one of the best choices available for the medium length hair and they can add a unique charm to your personality.
There are all sorts of glam looks that you could achieve and there are many beautiful updo variations that you could try for achieving a special 'do for a special night. Here we have listed a top few among them.
26. Romantic Braids Updo
Braids and updos go hand-in-hand and there are so many of them that you could style for the prom night as well to achieve a more romantic look. What about this beautiful one here? Don't you think it looks romantic? Yes, it really is!
The braids really make a perfect romance-tie and the curly tendrils that are left at the front for framing her face also create a romantic vibe.
The thick braid swirling towards the back looks amazing as it secures the voluminous bun. And, the casual look created by those strands left loose all around makes stunning vibes too.
27. Updo With Boho Braids
For a hairstyle that looks more bohemian than anything else, nothing can beat this gorgeous look for sure. The braided and tousled hair look as awesome as it can ever get.
It's braided with several braids and shows off some amazing colors as well. You don't often see such colors with hairstyles that are worn loose and long. The hairstyle looks chic and messy and boasts of beautiful tendrils at the front that make a unique style statement.
28. Twisted Updo
This twisted updo is just amazing and makes for the best updo prom hairstyles out there. Yes, it is just amazing to see what you'd be able to achieve with some simple turns and twists of the hair, along with some hair bands and grips.
The hairstyle would take a bit of effort to pull it off to perfection but once you have achieved it, nothing can beat the looks and class of it. When styling it at the back, you need to twist everything in, pin it down, and secure it into place with the help of medium-hold hairspray.
If you know exactly how this wonderful look is created, this beautiful and relaxed hairstyle might even work after prom night as well. So, put in the effort once and you're sure to get great results.
29. Teased Updo
If you want the simplest of looks for the special day, what about this beautiful teased updo? Teasing the hair and backcombing the roots will really add great volume to your hair before you could be able to gently pin it into the desired updo hairstyle.
The hairstyle also adds cool ethereal vibes to the prom look and makes sure you grab as many eyes as possible at the special occasion.
30. Ethereal Updo Hairstyle With Headband
When you are up for a special occasion, you really need a special hairstyle that looks different than anything else.
When you are able to combine a stunning headband accessory with a typical relaxed updo, it will change the entire look to a mesmerizing hairstyle from something that looked a bit messy before.
A few strands falling over on the sides casually and metal design which looks like a beautiful jewelry piece can do the job to perfection. The hairstyle is elegant, cool, unique, and more prom-ready than anything else.
So, ready to rock the party? Choose the best of looks from these prom hairstyles for medium hair and make sure you never let anyone beat you with their style.
Updo or not, all the options listed here make the best choices for medium length hair and they will surely give you a glamorous and chic look. Just go with a perfect combination and nobody will be able to take their eyes off you.