Prom nights really are the special events when every girl wants to style themselves up nice and smell great to make a romantic couple with their crush. However, one thing that girls must not overlook is to get the best prom hairstyles that would go with their personality. Obviously, everyone has their own restrictions like some have short hair while others have long or some want a hairstyle for their curly hair while others want to go for a perfect updo. Well, whatever your specific requirements may be, there are some top hairstyles that exist for your specific requirements and hair we have the best prom hairstyles 2023 listed for you. Let's have a look!
Prom Hairstyles 2023
If you are planning to hit the prom with your partner this year, here we have some of the top hairstyles that you'd want to flaunt and create unique vibes at this year's special event.
Messy Twists
If you want something a bit messier this year, this twisted and messy hairstyle would make a perfect choice. The hairstyle perfectly combines boho chic with romance and also shows off the coolest color dimensions add to your hair-dye-do. If you want to add some accessories, you can definitely go ahead. A floral headpiece or tiara would make a perfect choice.
Curls With Side Fishtail Braid
Fishtail braid makes things look a lot trendier and it relies on 4 hair strands instead of three which are usually used while creating a typical French braid. You may even find it a lot easier to achieve a fishtail braid. To achieve this look just make the braid swirl from half way through the head and achieve cool messy and curly vibe going down towards the bottom.
Messy Fishtail Hairstyle With Low Bun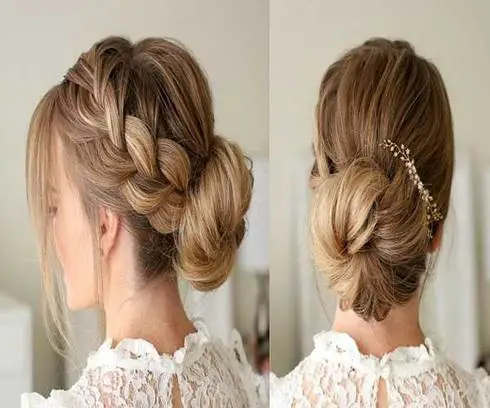 Source: Tombo
When your dress has a cool beautiful back or you'd like to show off your back, an elegant and classic easy updo hairstyle is what you need. Check out this one with fishtail braid added for giving a bit more spice to the look. Just keep the bun low, voluminous, and messy and it will create a perfect vibe.
Vintage Vibes
If you have chosen to go with one of your vintage dresses, you must pair it with a beautiful vintage hairstyle as well. In our opinion, nothing can make a better classic and beautiful look than this hairstyle here. For such beautiful prom hairstyles, there is nothing wrong in faking short hair by cleverly twisting them inside and using the right type of pinning techniques. The hairstyle will go perfectly with your vintage dress.
Curly Updo With Bob-Length Hair
If you have short bob-length hair, this beautiful hairstyle would make a perfect choice. The hairdo is all about those beautifully curled ends that are lifted as well as pinned at back to create a polished updo hairstyle giving a divine look.
Prom Hairstyles For Short Hair
There is no shortage of prom hairstyles for short hair either and there are some of the most gorgeous hairstyles out there that your girl would love to flaunt. Obviously, it's a special event and here we have a collection of special hairstyles that would work for her short hair on a prom night.
Soft Braided Updo
Contrary to the popular belief, the short hairstyles girls can wear on prom are available in a huge variety and they can even be some of the best braid hairstyles as well. Check out this braided updo which creates more of a relaxed vibe and it really is a cute choice as well because it looks wonderful no matter from which angle you look at it. It is also among the top ideas to demonstrate braids as a perfect choice for prom nights.
2. Tousled Bob Haircut With Diagonal Braid
You can always go with short hairstyles that will make a unique statement on a prom night and this one is a perfect choice for sure. Try a complex four-strand braid, for instance, and run it diagonally across your head's back while making sure that it vanishes away in those loose and tousled curls. Keep the bob tousled and wavy towards the bottom and you really are up for a wonderful hairstyle overall.
Loose And Twisted Updo Hairstyle
You have to pull off something spectacular and unique for the prom night and you won't really find a better option than this one. Sometimes, prom hairstyles can be quite elaborate and they may even look perfectly formal. To create a more relaxed feel, you should better go with some soft updo which wraps around your head at the back. It really is one of the easiest prom hairstyles for short hair as you do not need to worry at all about tucking that tail in. It makes a pleasant look overall.
4. Side-Parted Prom Hairstyle
You can't really find a hairstyle simpler and more stylish than this beautiful 'do. The pinned, curly look we have here remains a timeless updo for prom nights, especially for girls with short hair. The hairstyle is both fancy and flirty and that's a perfect combo for proms. We often see short hairstyle that feel like missing the clue somewhere but that's not really the case with this one. It's stylish and it's elegant, making it a perfect choice for prom.
Curved Braided Updo
The hairstyle may seem a bit more complicated than many others we have on the list, but it really isn't that hard to achieve. You just need to braid the hair and make sure that you continue to add pieces to your braid while moving down. Go swirling from one side of the head to the other as you reach the nape and secure the hairstyle with bobby pins. That's it. You're ready for the prom night.
So, these are all the beautiful prom hairstyles we have for you for this roundup. There are all sorts of unique and chic variations of the beautiful prom hairstyles 2023 you can wear to the special night and they can all work the best depending on your face shape, type of hair, and your own personal hairstyle preferences. The options are endless and you now have to decide which of these beautiful hairstyles you'd want to go with. Just make sure it works with your overall style and gives you a perfect look and feel.