If you have been after some of the most chic hairstyles for girls, beehive hairstyle can be the answer to your hair styling woes.
What's the most challenging for you is to style your hair uniquely for every party and event you are going to attend. However, with the beehive variations, you can have an amazing look whenever you like and you won't have to spend too much of your time and effort in achieving a perfect style for your little one either. Get into the popular 60's look and you have one chic hairstyle to flaunt.
If you're looking for a bold and sophisticated hairstyle that's sure to turn heads, the modern beehive is an excellent choice. Whether you're attending a wedding, a night out on the town, or just want to add some glamour to your everyday look, this versatile style is sure to impress. Here's everything you need to know to create the perfect modern beehive.
How to Make A Modern Beehive Hairstyle (2023 Updated)
When it comes to the best cool girls hairstyles which lend you some sort of a vintage vibe, the beehive hairdo is your thing for sure. Let's run you through this beautiful hairstyle step by step.
Section your hair off to start with and leave a couple of frontal strands to allow them to frame the face. Horizontally divide the back into two sections before clipping the lower one into a simple ponytail.
Now, use your fingers or a comb for lifting up the section on top from the back of the head and spray some dry shampoo at your hair roots. It will be helpful in defining the shape as well as the volume of your hair for achieving a perfect beehive hairstyle with a perfectly solid base.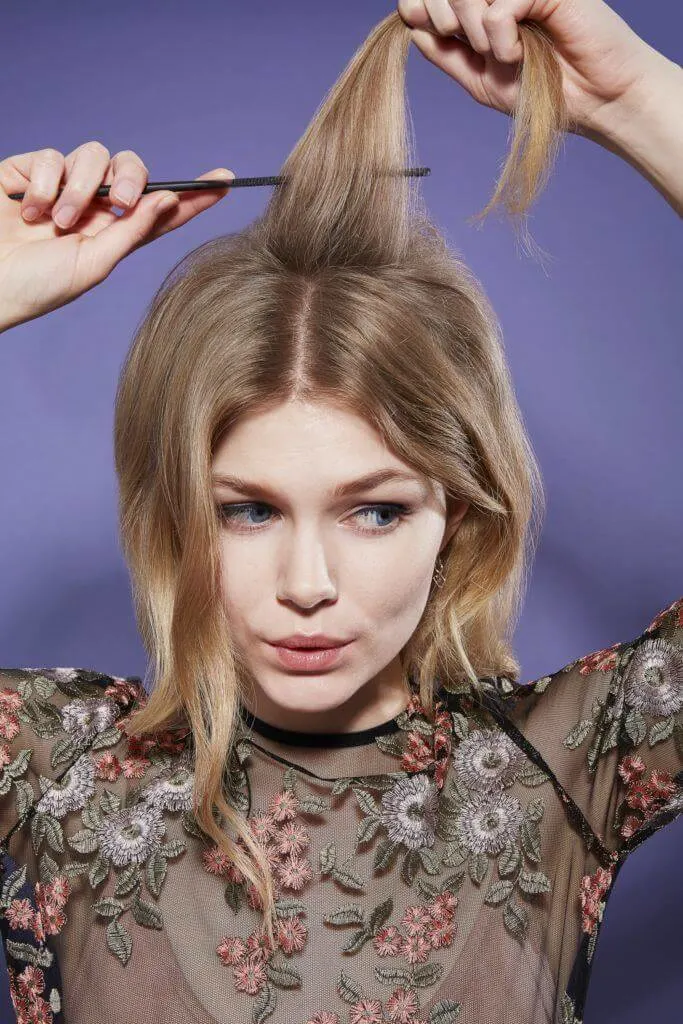 It's time to do some teasing now. Grab a few hair from the section on top and start backcombing it for adding extra volume to it. The more the volume you create here, the bigger the beehive you'll be able to achieve.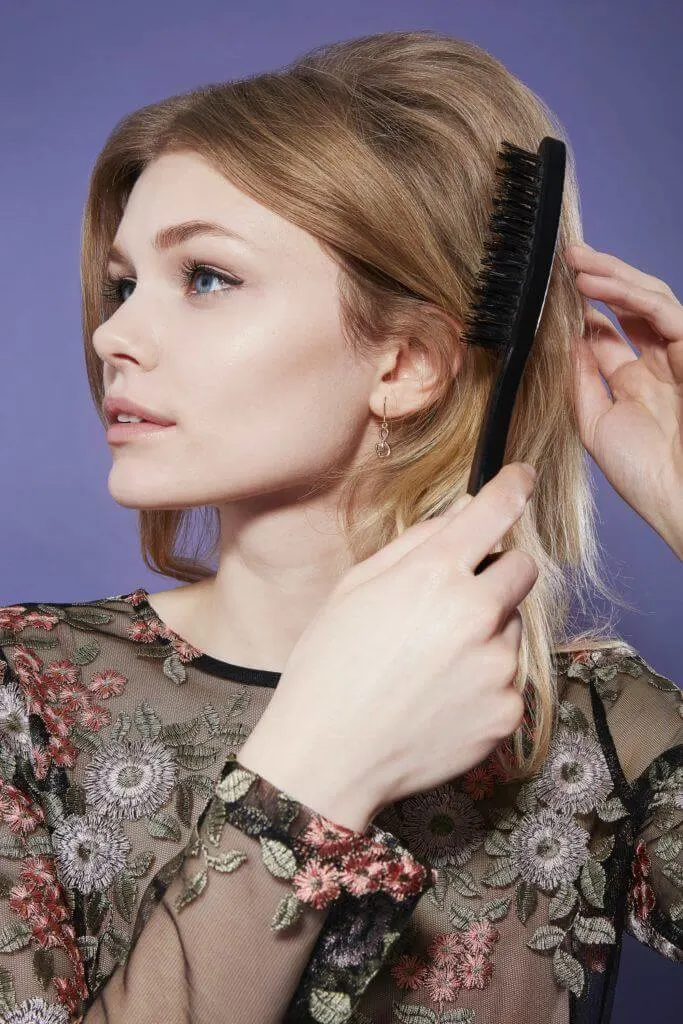 Once you're done teasing, smooth that section over using a bristle hair brush for ensuring that there aren't any flyaways and you are able to achieve a perfect dome shape. Make sure that you brush it all gently here so that you may not end up flattening the volume that you have just created.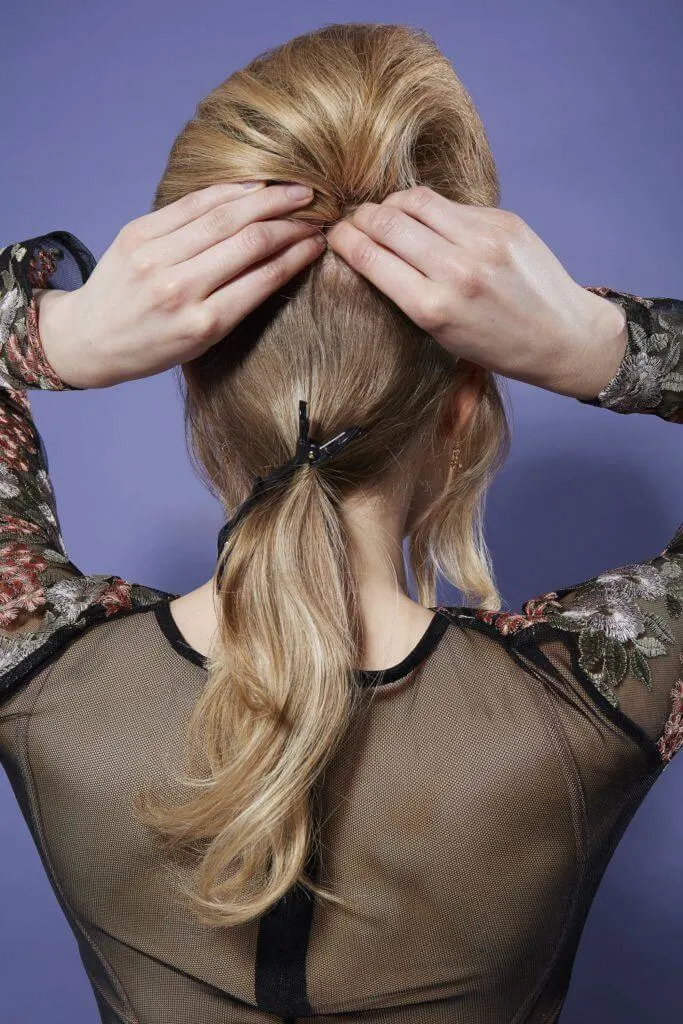 As you get closer to achieving your perfect beehive look, gather the section you had teased earlier with the help of a comb and start pulling it towards back of the head. Start at your hair ends, and roll them under for achieving a bouffant look. Use bobby pins for securing it into place and also make sure that you tuck in the loose ends, if any.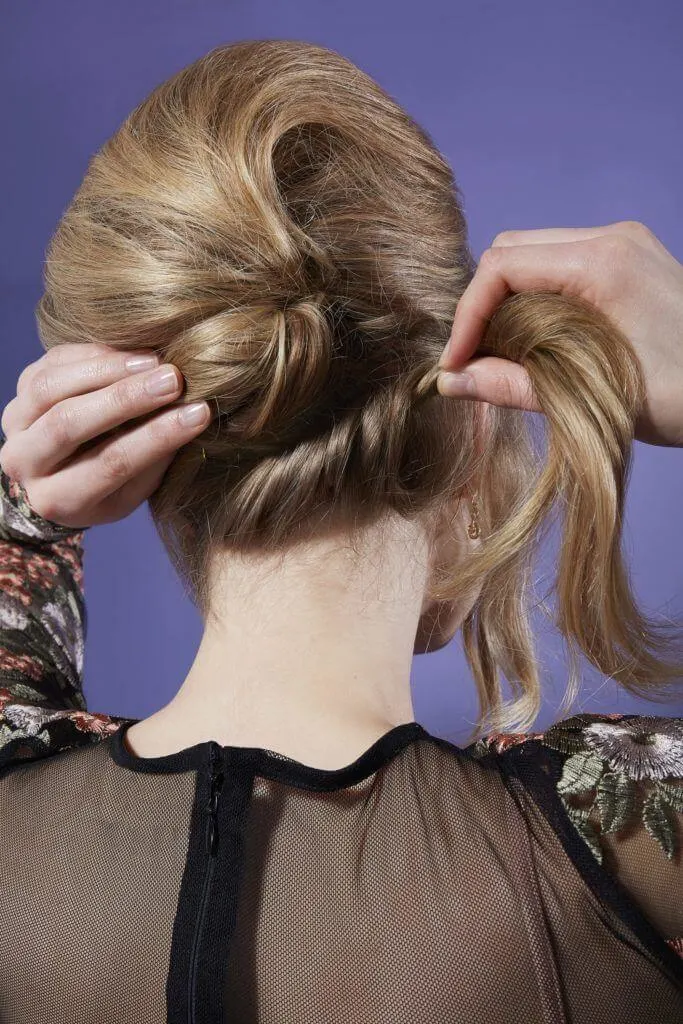 Now, it's time to pin up everything else. Twist the hair in that lower section you created earlier and twirl it all into a simple, neat, low hair bun right at the bottom of the beehive. Pin it into place while making sure that all the hair in the sections at the back are perfectly tucked into the updo.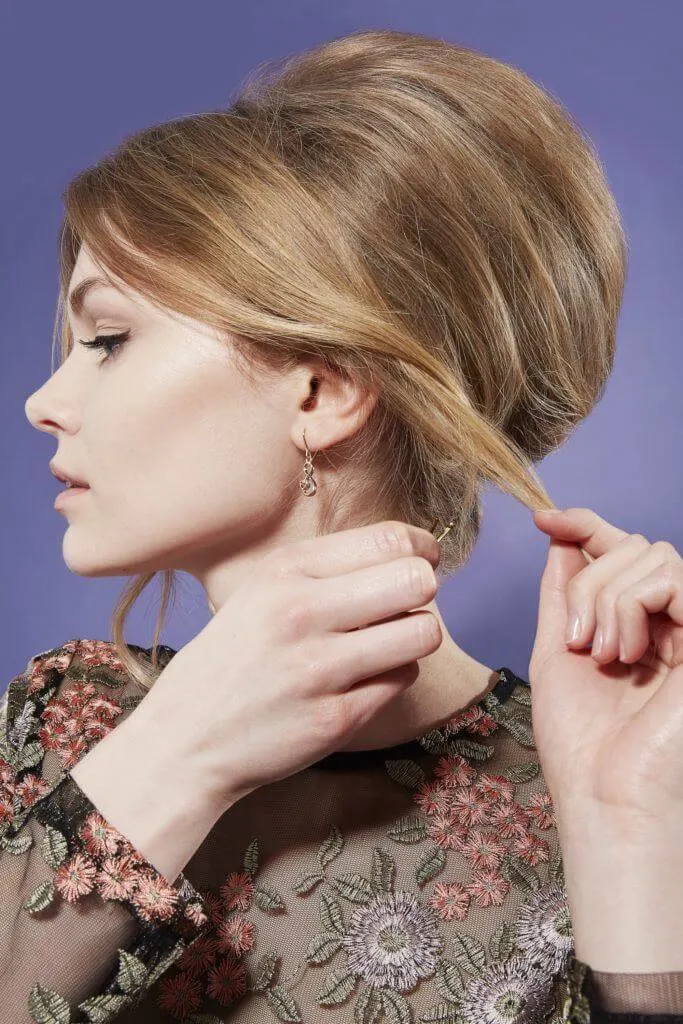 Now that you have achieved the beehive hairdo, it's time you soften it up a little. Pull the two hair sections at the front loose so that they can frame the face nicely. You can also pin them up loosely right behind your ears for creating that authentic vibes of the '60s.
That's it! You're done achieving your perfect beehive. Just spritz a bit of styling spray to secure the look to perfection and that's all. Your beehive hairstyle is ready.
Vintage Beehive Hairstyle Look
Even though you can create a perfect beehive look at home now, it is still advisable that you get to a salon and have your favorite hairstylist style the look for you. They are professionals and they would save you the time and hassle in achieving a perfect look.
Beehive Hair Salon options aren't scarce and any of your favorite hair salons would do the favor. You just need to guide them a little on what exactly you're trying to achieve. If you want to try this hairdo, below are 10 charismatic modern beehive hairstyles that will give you the vintage look.
Half-up Beehive:
A contemporary take on the iconic beehive hairstyle, the Half-up Beehive retains the retro allure while introducing a flirty twist. The top and sides of the hair are teased into a tall, round beehive, while the lower half cascades naturally, creating an enchanting interplay of volume and movement.
How to: Start by taking a section of your hair from the crown and tease it to create the volume needed for the beehive. Smooth over the teased section with a brush to shape the beehive, and secure the top half of your hair with a clip or band at the back, leaving the rest to flow down naturally.
Suitable for: This chic, playful hairstyle is a perfect fit for casual outings, semi-formal events or date nights, adding a touch of sophistication to any ensemble.
Beehive with Braids:
The Beehive with Braids hairstyle is an elegant synergy of classic and modern trends. This look takes the voluminous silhouette of a traditional beehive hairdo and weaves in intricate braids, adding an element of bohemian charm and romantic detail.
How to: First, form a classic beehive by teasing the crown section of your hair. After securing the beehive, take sections of hair from the sides or front and braid them neatly. Finally, bring these braids to the back of the beehive, securing them with hairpins.
Suitable for: This refined hairstyle is perfect for formal events, weddings or galas, as it exudes a unique blend of elegance and sophistication.
Beehive with a Bun:
The Beehive with a Bun offers a modern twist on the classic beehive hairstyle. The upper part of the hair is styled into a voluminous beehive, while the remaining hair is gathered into a polished, sleek bun. This fusion of height and sleekness creates a balanced, sophisticated look.
How to: To create this style, start by teasing the hair at the crown to form a beehive. Smooth the top layer over the teased section, and then gather the remaining hair at the nape of your neck into a tidy bun. Secure the bun with hairpins and a light mist of hairspray to hold everything in place.
Suitable for: This elegant hairstyle is well-suited for business meetings, formal events, or whenever a polished and professional appearance is desired.
Beehive with Side-swept Bangs:
The Beehive with Side-swept Bangs merges the vintage glamour of a beehive hairdo with the modern allure of side-swept bangs. This hairstyle features a voluminous beehive with a soft fringe of bangs sweeping gracefully to one side, adding a dash of mystery and romance to the look.
How to: After forming your beehive, use a round brush and a blow dryer to sweep your bangs to one side. Finish with a light mist of hairspray to hold the bangs in place.
Suitable for: This sultry and glamorous hairstyle is ideal for evening parties, galas, or any event where making a chic style statement is essential.
Beehive with a Bouffant:
Merging the drama of a beehive with the extravagance of a bouffant, this hairstyle is designed to turn heads. The top of the hair is styled into a voluminous beehive, while the remaining hair cascades down in a full, bouncy bouffant.
How to: Begin by creating your beehive, teasing and smoothing the top section of your hair. Then, tease the remaining hair to create the bouffant, smoothing the top layer to ensure a polished appearance.
Suitable for: This extravagant hairstyle is perfect for grand occasions or high-fashion events where making a bold style statement is the order of the day.
Messy Beehive Updo:
The Messy Beehive Updo is a relaxed, casual take on the traditional beehive hairstyle. The top of the hair is teased into a beehive, but instead of the polished, smooth finish of the classic style, this variation embraces a slightly disheveled look, adding an effortlessly chic edge.
How to: Tease your hair into a beehive as usual, but leave some strands loose around your face and at the back for a casually tousled effect.
Suitable for: Casual outings, informal get-togethers, or when you want a hairstyle that blends style with relaxed comfort.
Beehive with Accessories:
The Beehive with Accessories is a customizable variation of the classic beehive hairdo. It allows for creativity, as you can adorn the beehive with accessories like hairpins, flowers, or headbands, adding a personalized touch to the look.
How to: Style your hair into a beehive and then select your favorite hair accessories. These can be placed strategically to enhance the beehive or to secure sections of hair.
Suitable for: This versatile hairstyle is perfect for weddings, special events, or any occasion where you want your personal style to shine through.
Beehive with Waves:
In the Beehive with Waves style, the iconic beehive is paired with romantic, cascading waves. This hairstyle brings together the dramatic height of a beehive with the soft, flowing movement of wavy hair.
How to: After creating your beehive, use a curling iron on the remaining hair to create soft, elegant waves.
Suitable for: This hairstyle is ideal for formal events, galas or weddings, where a glamorous, feminine look is required.
Beehive Ponytail:
The Beehive Ponytail is a versatile style that brings together the stylish volume of a beehive with the practicality of a ponytail. This blend of drama and functionality creates a hairstyle that is both stylish and easy to maintain.
How to: Start by creating a beehive with the top section of your hair. Then, gather the remaining hair into a high ponytail and secure it with a hairband.
Suitable for: This hairstyle is perfect for a range of settings from casual to formal. Its blend of style and convenience makes it a go-to choice for many occasions.
Beehive with Twists or Knots:
The Beehive with Twists or Knots hairstyle presents a creative twist on the classic beehive hairdo. It retains the dramatic height of the beehive but incorporates artistic twists or knots, adding a unique, textural element to the style.
How to: After creating your beehive, take sections of the remaining hair and twist or knot them according to your preference. Secure these sections with hairpins.
Suitable for: Social gatherings, artistic events, or whenever you want to showcase a unique and stylish hairdo.
Auburn Bun
The classic beehive style is made sizzling by the light auburn hair color. The beautiful ginger shade works with both warm and cool skin tones and brings your hair to life. This chic and versatile hair color resonates with the autumn season.
Beehive on Dark Hair
Beehive on naturally dark hair gives the perfect 60's look. Here the beehive is created at the very top and not at the back. Divide hair strands into thick sections and twist them before styling a beehive. The loose curls at the back and the dark eyeliner further push the vintage vibe.
Messy Blonde Bob
A Beehive will look equally appalling with short hair as with longer strands. Here a bob is styled with a beehive at the top. To create this style on short hair, tease your hair at the top and use a lot of hairsprays to create volume and lift. Side-swept hair covers the forehead like bangs and amplifies the thickness of the beehive.
Fiery Red Curls
Ultra warm and fiery red hair color is for the bold and courageous. Your intense and bright hair color will draw all the attention. The beehive hairdo is further jazzed up by adding curtain bangs. The bright curtain bangs add a glow to your eyes and your cheeks.
Chestnut Brown Updo
The rich chocolaty chestnut shade gives a natural gloss to your hair, making your mane multi-dimensional and versatile. The side-swept bangs with loose, wispy strands elongate a round face and highlight your eyes, so be sure to apply thick eyeliner.
Half Up Half Down Style
If you have long hair and want to flaunt your locks along with a beehive-updo, half up, half down is the style for you. The hair at the top is tied in a basic beehive, and the rest of the hair is let down and filled with soft waves.
Messy Beehive on Short Hair
A messy modern beehive hairstyle is perfect for fine hair types. Create a loose beehive and let unruly hair strands come out of it. Use a dry shampoo for texture and sea salt spray to maximize volume. The dark roots and light brown hair create an amazing effect.
Ponytail with Vivid Colors
The most variegated and fun Modern beehive hairstyle. Unique and funk, this vividly colored beehive will make you stand out. Aqua blue and light green colors divide your hair as well as blend beautifully, giving you an adorable hairstyle. The grey-green hairband makes the beehive more noticeable.
Contemporary Bob
In a contemporary beehive, the hair is not stacked with clips or tied. The beehive is left loose similar to a bouffant. Middle part your hair and comb your hair thoroughly. Create a lift by teasing your hair at the back or using hair lift tools. Use a stronghold hair cream to maintain the beehive. Add a printed hairband for a retro finish.
Straight Hair With Full Bangs
Long full bangs are timeless and can be paired with any hairstyle. They are versatile and can be changed easily to create a new look. They highlight your eyes and are ideal for long face structure. The wide pink hairband contrasts with the dark brown hair color and softens your facial features.
Have any beehive hairstyle variations in mind? Do experiment a little to make your look even better and adjust the hairstyle to your own specific face shape and facial contours. Just make sure that you do not end up ruining that authentic vibe of the '60s with your little experimentation. You're going to rock it for sure.