The best hairstyles for girls could be anything from simple and elegant to intricate and adorable. It is the selection you do for a specific occasion and the way you style the look that actually makes the difference. There are a lot of factors to consider in deciding the right girls hairstyles including the hair texture, length, intricacy, the kind of look you would want to achieve. Nevertheless, if you are good at deciding all these factors, you can pull off a special style for any occasion.
Top Statement Hairstyles For Girls
Here we have listed down the best statement hairstyles for girls that will not only give you a uniquely stylish look, but will also not be much of a hassle to achieve either. Just pick the style and get ready to flaunt it like never before. Let's get you through our rundown for the day.
1.
Flower Braid Updo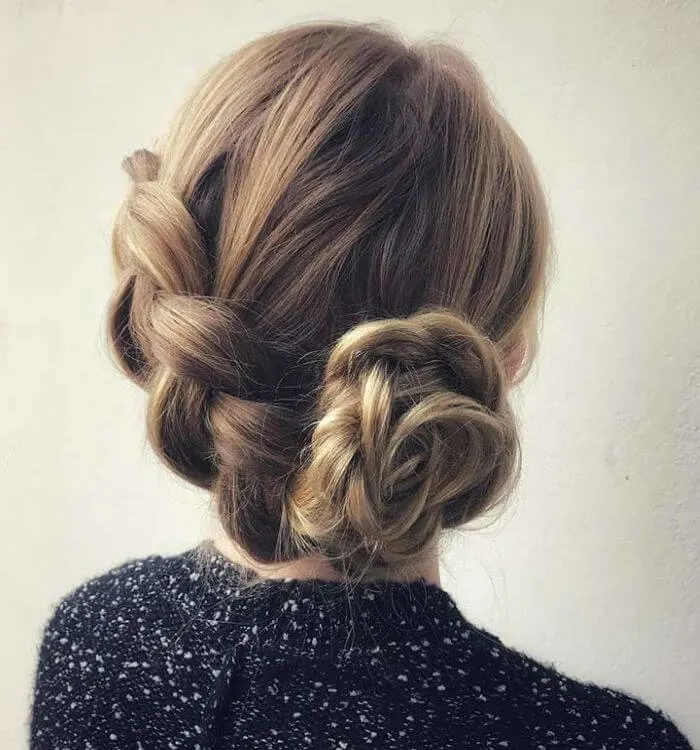 Source:: instagram
Updos are always a classic and stylish choice for girls no matter what the occasion may be. And this beautiful flower braided updo takes things up a notch. The hairstyle does require a voluminous head of hair with some length to make for a perfectly amazing look, however. The styling may not be too hard either because you have to take it all back and start doing a Dutch braid at the side taking it all the way to the other side of the head before rolling it all over into a nice flower bun around the nape area. It looks sweet and elegant and makes a perfect choice for any occasion.
2.
Chignon Hair Bun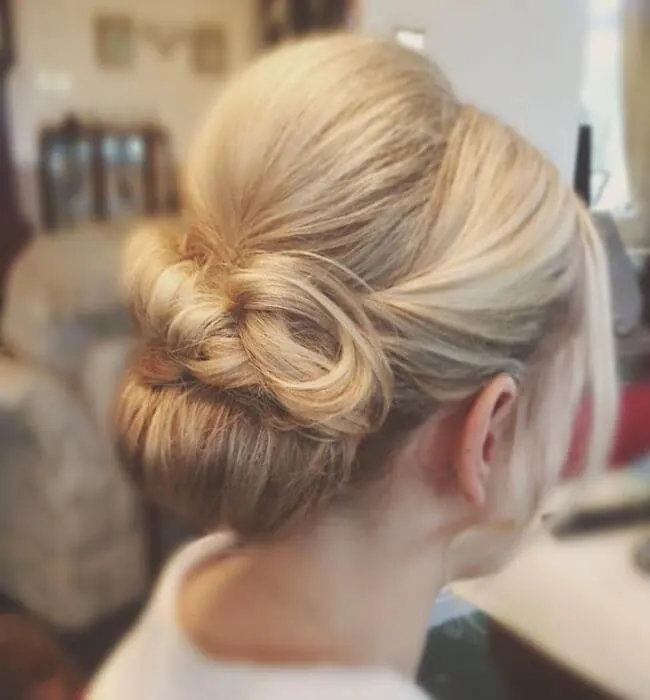 Image: instagram
Chignons are always cute and simple. Just have a look at this one. There are multiple styling elements but it doesn't really look too intricate to achieve. All you have to do is to section off the hair on top creating a bumpy look in the latter part. The hair at the front should be kept tight to the head and swept all the way to a side and taken to the back where it forms a nice knot just above the low chignon bun. Overall, the hairstyle is pretty organized and it can make a special one for any occasion.
3. Pigtail Braid
Image: instagram
What do you make of the pigtails? Do they make to your favorites' list? The hairstyle is rather simple and can make a perfect everyday look. It is not easy to achieve either and still makes a statement for you on those casual days. To achieve this braided pigtail look, just part your hair in the center and allow it to go all the way to the back forming nice braids sitting on top of either side. Stop braiding towards the lower part of each section and just comb it through before securing the braids with the help of rubber bands.
4.
Micro Braids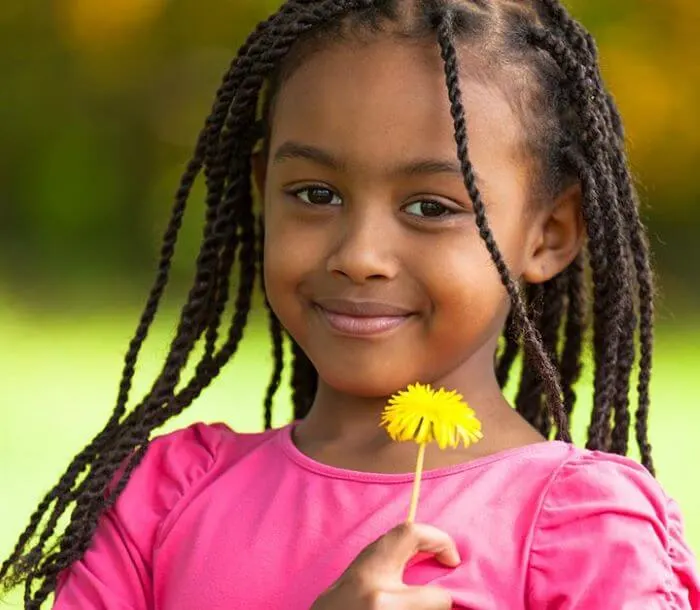 Image: iStock
If you are looking for some statement hairstyles for black girls, this one makes a perfect choice. The hairstyle does not require you to put in too much of effort except for creating these nice and simple micro braids picking random sections all over the head. The hairstyle can make a perfect choice for casual days as well as for special occasions. And, it doesn't require any serious styling expertise either. After all, it's just about braiding thin sections of hair.
5.
Milkmaid Crown Braid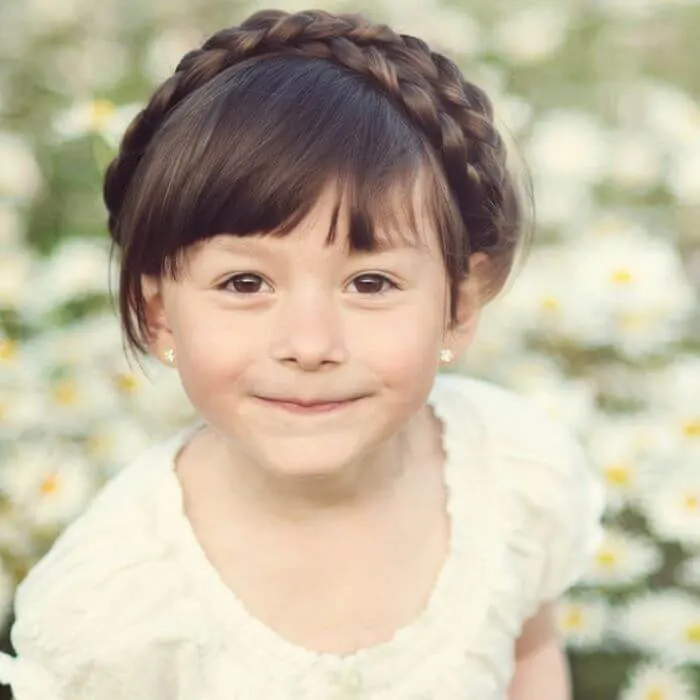 Image: Shutterstock
For little girls, nothing can really make a better statement hairstyle than this beautiful milkmaid crown braids. In fact, this is a different type of crown that doesn't swirl around the head. The hairstyle needs some expertise to achieve it to perfection because it requires the length at the back to be braided and the expertly taken to the top where it sits elegantly half way on top of the head to form sort of a hair band. A cute look is achieved by allowing the frontal hair to fall over the forehead and be slightly swept to a side. It looks gorgeous overall and every part of the hairstyle is just perfect.
6.
Waterfall Twist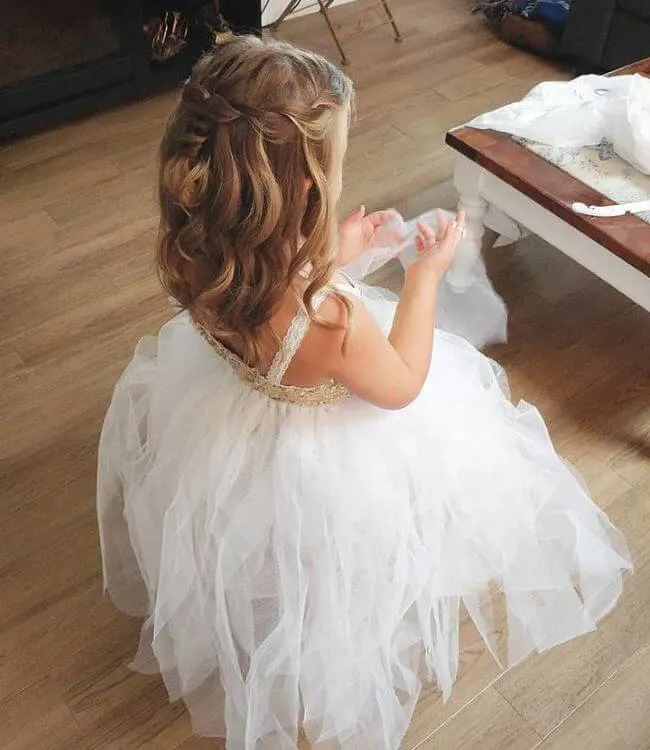 Image: instagram
The waterfall hairstyles always have something special about them. They aren't that hard to achieve but they always make a unique style statement. Have a look at this beautiful waterfall twist, how gorgeous and stylish it looks. It can even make one of the best wedding hairstyles for girls. The hairstyle doesn't have too many styling elements to take care of. Just give it a formal center-parted look at the front and leave it wavy at the back making a nice waterfall with layers held together by spraying a styling product onto them. A couple of layers from the front can be made to go along the sides to form a simple knot at the back creating an impression of a nice crown. Overall, the hairstyle looks amazing.
7.
Curly Stacked Bob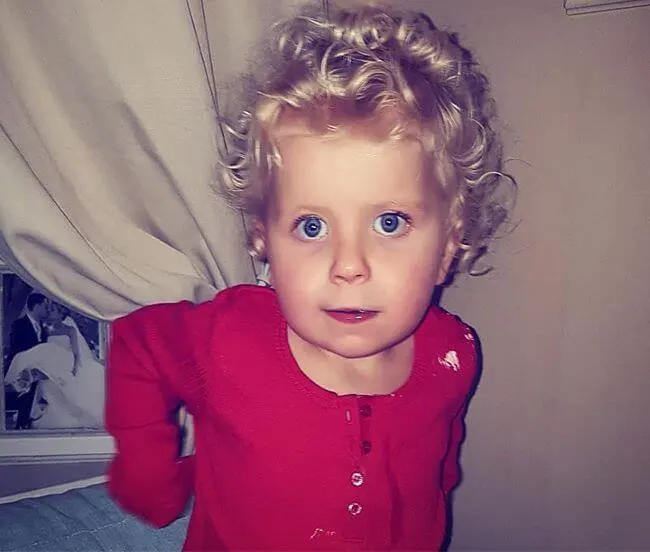 Image: instagram
This is one of the best hairstyles for little girls. It is all natural and wavy and it looks gorgeous when formed into a nice stacked bob. The hairstyle really makes a statement for little girls with naturally curly blonde hair and doesn't need much of styling either. Just run your fingers through and spritz some hairspray on it to achieve this cool and stylish look.
8.
Top Knot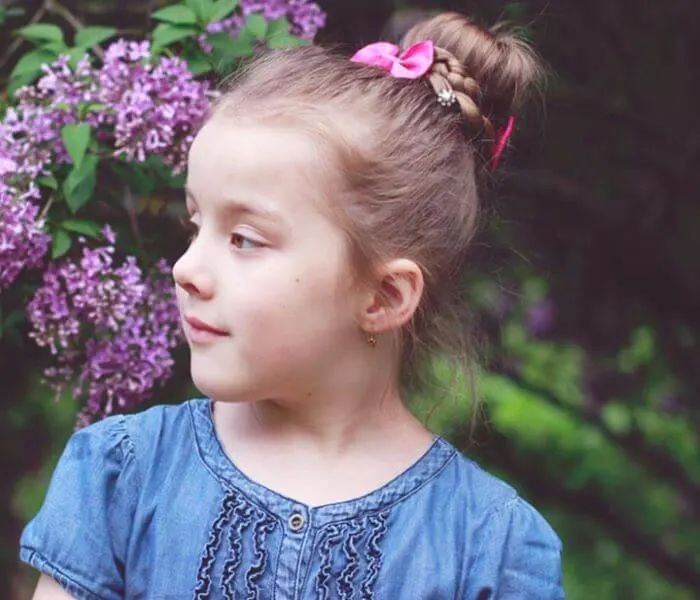 Image: Shutterstock
A top knot can make a stylish and elegant look for girls on any day. And, the best part is that it is not that hard to achieve. All you have to do is to bring it all back and form a nice and simple topknot around the crown area. Create a small braid and wrap it around that top knot and accessorize it a little for some added finishing to the look.
Combed Back With Short Ponytails
If you want hairstyles for girls that do not need too much of styling but still make a statement, this is the one you should go with. You may need to do a bit of curling towards the sides and the back but there is no other styling required for this beautiful 'do. Take it all back at the front, secure it with a rubber band midway through before taking a couple of roped sections out of it to form ribbon bow knots and little ponytails on either side. Let the tails and the rest of the strands at the back go curling all the way at their tips and your hairstyle will make a unique statement.
Ballerina Twirls With Pink Statement Bow
Source: instagram
How cool this hairstyle looks? A couple of hair sections with ropes going twirling from one side of the head to the other and forming a nice short bun topped with a statement pink bow really make for an amazing style. Styled with a straight side part, the hairstyle gives a perfectly organized look and can be a wonderful choice on any occasion. Just make sure that you create sections of hair with precision.
Half-Cut Mohawk Hairstyle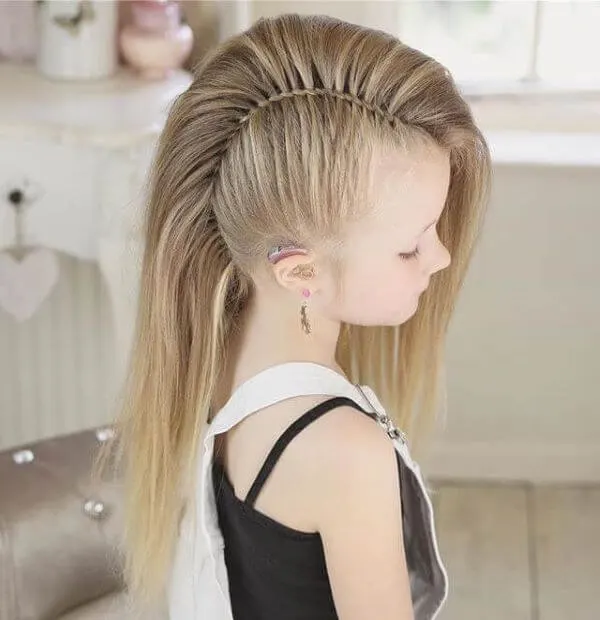 Source: instagram
Mowaks and girls? Does that really make sense? Probably not if you haven't tried this beautiful look before! This really is a unique statement hairstyle that is just perfect for any occasion. It needs some length all over and is styled by taking all the hair from one side to the other tight to the head before letting it form a nice Mohawk shape halfway through. There is a micro braid that serves like a center part and defines one section on top from the other. You will need a lot of hairspray to secure this look into place.
Curly Shirley Hairstyle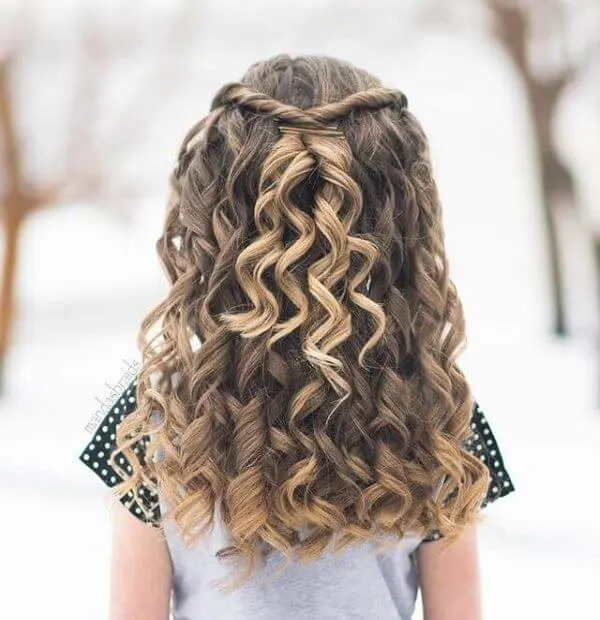 Source: instagram
Another cool statement look, this hairstyle is all about voluminous curls at the back and a rugged look on top. If you have naturally curly hair, it won't really need any styling whatsoever but if you have to achieve this look with straight hair, you will have to spend some time with a curling iron to create those beautiful twisted locks. The curling is mostly needed at the back. What you need to do on top is to simply comb it back while taking a few strands on either side and twirling them into thick ropes that cross over at the crown before turning into the same wavy volume as the rest of the hair. That's a special look to achieve on any occasion.
13. French Braid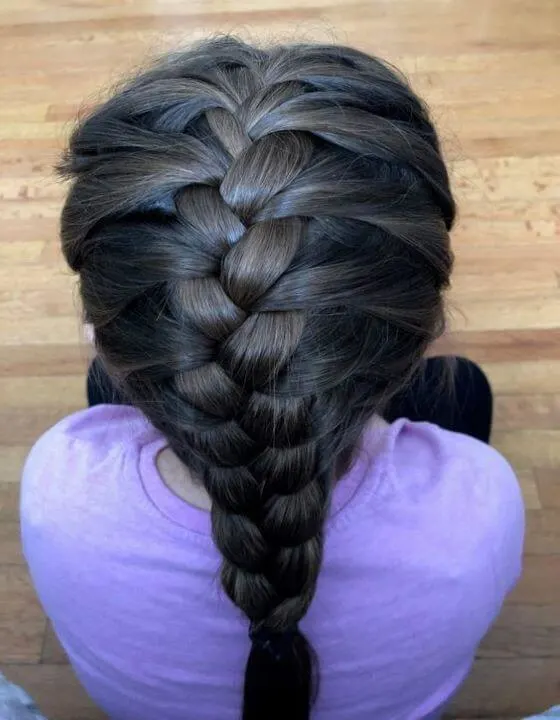 French braids have always made the statement girls hairstyles and they look gorgeous as well. Look at this beautiful hairstyle we have here. It requires some serious volume on top and a thick head of hair. Start braiding in the center on top and take it all the way back into the ponytail. It is a pretty organized look and can make a wonderful everyday hairstyle.
14.
Half-up Hair Bow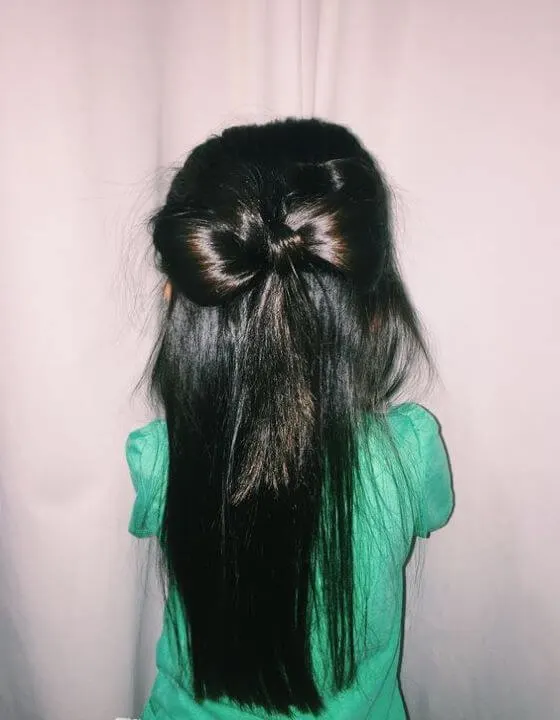 A unique way to style long and lustrous hair, this beautiful half-up hairdo looks gorgeous with a statement hair bow at the back. All the styling it requires is about that hair bow. The locks at the front are simply combed back while everything at the back is left open. The hairstyle does not really need too much of styling effort and can be achieved in a few minutes rather easily.
Cute Buns With Nice Floral Clips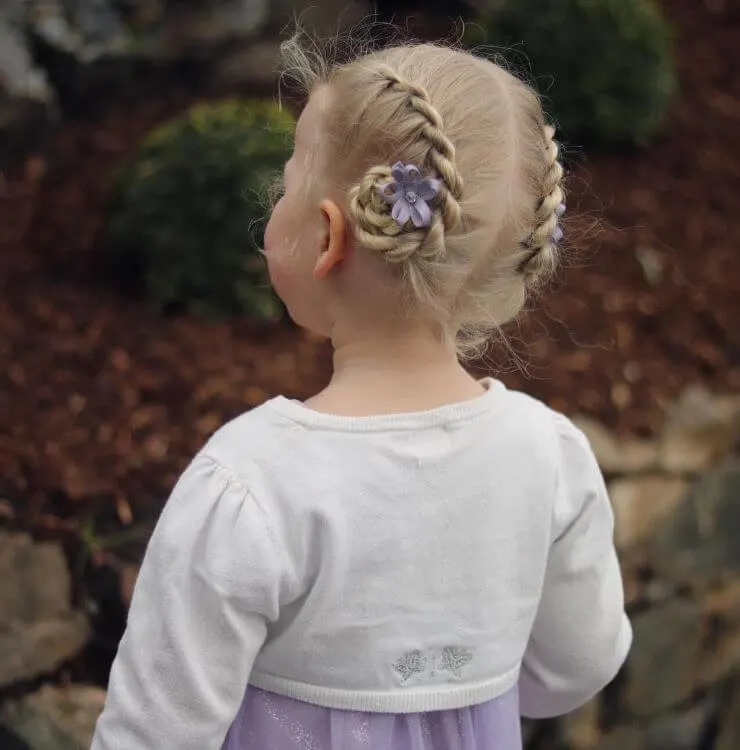 The hairstyles for little girls are as cute as they are themselves. Just have a look at this beautiful floral hairstyle that makes a statement with not much of styling effort put into it. Styled with a simple center part and strands twirling on either side to go from the front to all the way to the back, it forms nice flower bun on either side. A colorful flower accessory on top of each bun would make a statement for sure.
Loop Faux Hawk With Colorful Pins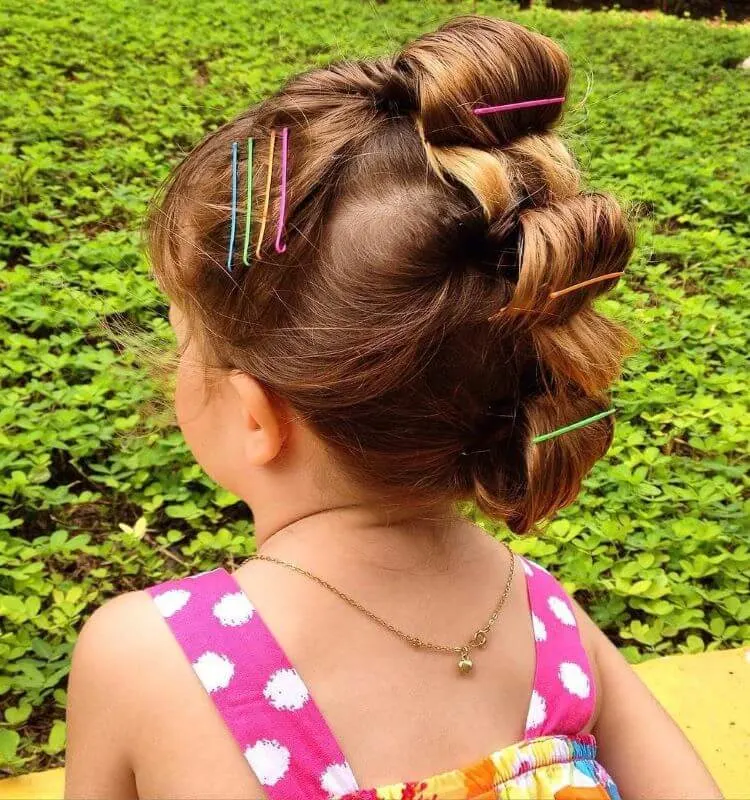 Source: instagram
This is quite an intricate look that needs quite a bit of styling. However, once you are able to pull it off to perfection, nothing else can get even close to this beautiful hairstyle. One of the top hairstyles for girls, this one requires frontal hair to be swept to a side while the latter section on top is combed back before forming a nice loopy tail at the back. Secure it with some colorful hairpins like color pages and it will look amazing.
Upside Down Bun With Braided Back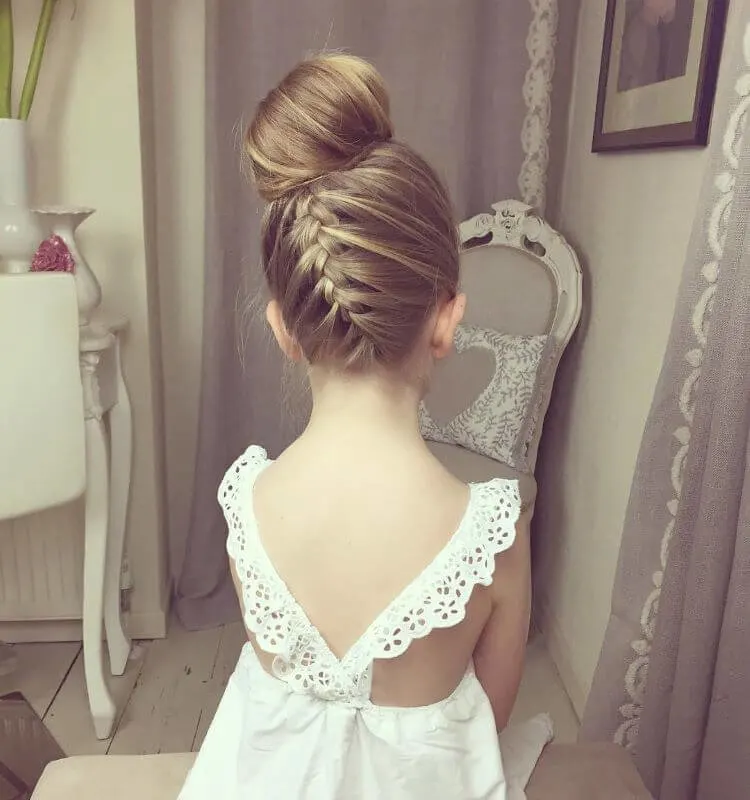 Hair buns are the order of the day and they really make a wonderful style no matter what occasion you would want to flaunt them on. And, with all the variations available, you can style them in whatever way you like. This one here is achieved with straight hair having a tinge of color. It is all combed up from the sides and the back forming a cool bottom-up braid at the back which starts at the nape and ends into the crown. An upside down bun is formed right there and it looks just gorgeous. The hairstyle makes a perfect choice for special occasions.
Twisted Fishtail Braids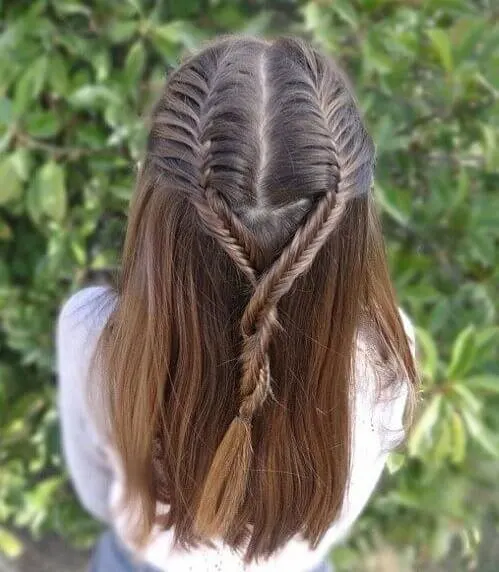 Fishtail braids make an iconic hairstyle for girls and you can achieve them in all the different styles you like. This beautiful hairdo we have here boasts of a pretty organized look. It is created by parting the hair on top in the center and forming fishtail braids on either side on top and taking them all the way to the back where they twirl around each other before being secured into a nice ponytail. The rest of the hair at the back and the sides are left open and it looks just amazing.
Basket Weave Hairstyle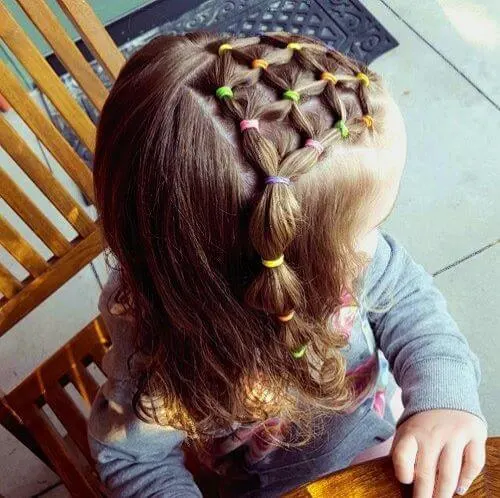 Do you have enough time to weave the hair together into a beautiful look overall? If so, this wonderful look is worth investing your time in. Weave beautiful rope braids to form this wonderful basket weave and accessorize it with some colorful bands to make a uniquely beautiful vibe. Take the ropes to a side as you weave them together where they can join and form a cool rope-braided ponytail. The hairstyle looks gorgeous overall and makes a unique vibe. Besides that weaved section on top, the rest of the hair is allowed to fall over on all sides to complement the overall look.
You are no short of options when it comes to hairstyles for girls and there are all sorts of creative statement looks that you can flaunt in your everyday routine. Check out the amazing hairstyles that we have listed here and see if any of them would do the job for you. From black girls hairstyles to beautiful braids and updos, there are all the variants on the list. See, which of them you'd like to make a statement with this year. Pick one that's not only stylish but also works for your specific needs too.