There are a lot of hairstyling options available for girls and there are all sorts of hairstyle choices they can make for their unique hair type and face shape. With such variety, it becomes even more important to find an appropriate hairstyle that suits your little girl. Especially, when you are looking for easy wedding hairstyles for medium hair, it's really joyful to find out exactly what you had wanted in the first place.
There are quite a few factors that you have to decide on prior to choosing a particular hairstyle. And, it can really get tiring sometimes. Depending on the length and thickness of your tresses, you have to pick a hairstyle that is apt at accentuating the features and complements your style statement.
When it comes to medium hairstyles for girls, such hair come with their own positives and negatives. Some of the hairstyles might look elegant on certain face types while they may not look as great on others. Similarly, some of them might be great only for specific occasions. So, you have to be careful with your choice and make sure you only go with the best ones.
Easy Wedding Hairstyles For Medium Hair
You can find lots of hairstyles that feature medium hair length but when it comes to the wedding hairstyles for girls, there has to be something special. Here we have a list of 10 easy wedding hairstyles that would look rocking on girls with medium length hair.
Double Braided Updo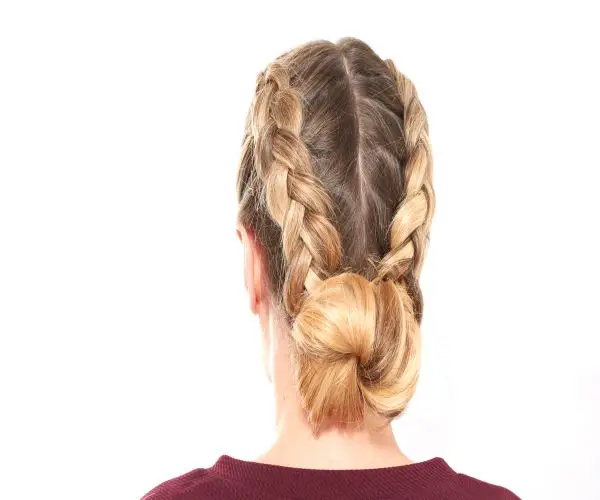 When it comes to the updo hairstyles, it's a pretty basic one. A couple of braids styled into an updo would be a safe choice on any day. You can sport this no-fuss hairstyle on any occasion and it makes a perfect choice for weddings. The hairstyle works just fine for all sorts of wardrobe staples as well. Here is how you can achieve this look.
Achieve central partition with the help of rat tail comb and create two halves on top.
Create high pigtails by gathering hair from both the sections and tying them into the desired shape.
Create two sections from each of these pigtails, just the way you do for rope braids.
Work your hair through into a couple of rope braids until you've reached the edges.
Use hair elastics for securing the braided ends.
The braids should overlap now and an updo should be achieved.
Use U-pins to tuck in those braided ends.
Tame any flyaways with the help of bobby pins.
Use light-hold styling spray for finishing it off and making the hairstyle stay put.
Stylish Low Hair Bun
Elegant and classy, this stylish hair bun gets low at the back and is really a treat to look at. It is very stylish and also makes for a sleeker appearance overall. You can always give this hairstyle a contemporary look and grab all eyes everywhere you go. The hairstyle is also quite easy to style and that earns it some extra points.
If you are interested in achieving this hairstyle for girls, here are the steps to follow.
Part it deep on a side with the help of rat tail comb.
Use the comb for separating the hair on the crown area.
Use sectioning clip to secure that crown part and make sure that it will not interfere while you style the lower hair section.
Use teasing comb for teasing that lower section and create a kind of voluminous effect.
Achieve low hair bun on a side close to the nape of the neck.
You can now release that crown section you had clipped earlier, teasing it back to achieve additional volume around the crown area as well.
Smooth it up at the crown while brushing it back in the direction of the hair bun.
Wrap that hair section all around that low bun.
Tuck in those edges from upper section making them go around the hair bun and use U-pins in the process
Use bobby pins to secure any flyaways.
Use light-hold hairspray to keep the look intact.
Top Bun With Mess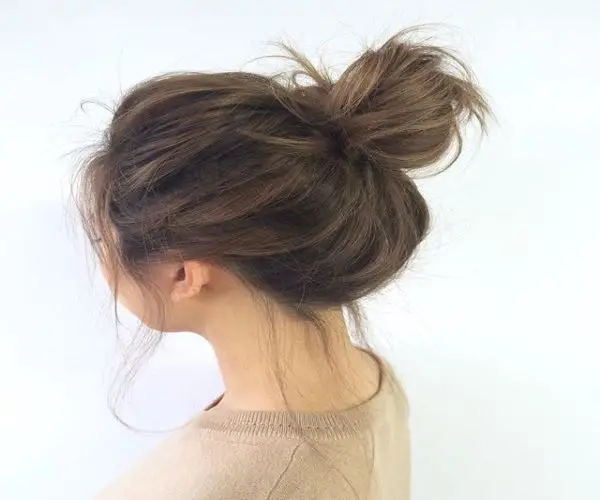 It's casual and uber chic! Agree or not, urban girls often prefer to go with such messy bun hairstyles. The hairdo makes a perfect quick fix for you on any day let alone the wedding party. Nevertheless, it makes one of the best wedding party hairstyles if you want to stay carefree and can accessorize it using some headband for extra advantage.
Let's find out how you can achieve this look.
Brush the hair completely towards the back with paddle brush.
Start teasing right on top of crown and add some volume with the help of teasing brush.
Gather it all at back of the head before you start twisting your tresses' length.
Create half loop updo style by looping all the hair taking them through hair elastic.
Use U-pins to secure the bun after spreading it out.
Pull out some strands to frame the face and make it look a bit casual overall.
Use headband for accessorizing the look even better.
Finally, use light-hold spray to finish it off and make that hairstyle stay put elegantly.
Side Braided Hair Bun
One of the beautiful wedding hairstyles, it's quite elegant and stylish actually. The hairstyle is delicate and accentuates the feminine features of a girl perfectly. Besides wedding receptions, the hairstyle can be sported on parties as well. The hairdo will enhance the personal style of yours manifolds. Many heads will turn for sure once they have a look at you!
To achieve this beautiful hairstyle, here are the steps to follow.
Part the hair on top in the center.
Take out a couple of hair sections on either side from top of your crown.
The remaining tresses should then be secured into a beautiful ponytail and you should wrap the strands from nape of the neck around the ponytail.
Make a bun by coiling that ponytail all around itself.
After working the entire ponytail length into a beautiful bun, use U-pins to secure the look.
Work the sections in a side braided look and also add some face-framing strands into your braid besides those couple of sections you had earlier kept aside.
Once you have reached right to the bottom, use hair elastics to secure these braids.
Wrap these braids over a low hair bun and make it overlap.
Finish it off by spritzing some light-hold spray onto it.
Stylish Rope Braided Hair Bun
It's a fun and hip way of styling your hair for the wedding party. The stylish rope braided bun qualifies among the easy wedding hairstyles for medium hair. You can wear it with just about any dress you may have. You can wear it easily and can manage it without any hassles whatsoever. So, let's get into the details of how this look can be achieved actually.
Comb the hair thoroughly for ensuring that no tangles remain.
Start styling after brushing it all the way back.
Take a couple of sections from the crown area and create beautiful rope braided look.
Twist these sections working them into beautiful rope braid.
Keep braiding until you have reached the end.
While holding a braided section using a comb, crush the other one.
Now wrap that first section around the one you had scrunched up after twisting to make small and beautiful hair bun towards the back.
Right underneath that hair bun, take a couple of more hair sections for creating another beautiful rope braided hair bun.
Now, repeat this step until you've incorporated all the hair into a beautiful updo.
Fan out hair sections from the buns after completing the above step. Tuck those strays in neatly with the help of U-pins.
If required, use bobby pins to tuck in any flyaways.
Spritz a bit of light-hold hairspray for holding the hair bun into place.
Side Braided Low Hair Bun
Chignons always create a timelessly classy look. They have that unique aura of sophistication and calmness that is unique to them. Here we have another graceful variation of a chignon hairstyle. It is pretty simple and easy to achieve and manage. You'll definitely receive lots of compliments with this half-tie chignon.
Here you have the steps to follow for achieving this look.
Take out a couple of hair sections from either side of the head, right above your ears.
Grab remaining hair before tying them into a beautiful ponytail with the help of elastic.
Wrapping the tail around itself, create a low hair bun somewhere around the head's base.
Work through the sections on the sides to create beautiful braids.
Keep braiding until you have reached the end.
Secure those braided ends with small elastics.
Use U-pins for securing the hair bun after wrapping the braided hair around it.
Use bobby pins for tucking in any flyaways.
Use hairspray to finish it off and make sure that the hairdo remains in its place.
Easy French Knot
Simple and easy, the French knot turns out to be a sophisticated and chic hairdo you can sport on weddings. This dainty-looking and delicate hairstyle makes for an urbane look for all the girls. You can easily achieve this hairstyle in no time and it really looks beautiful. Much of a hassle-free look, it also makes for the best low maintenance haircuts.
Here are the steps you should follow for styling it up.
Create off-center partition on top.
Use hair curlers to curl all the edges of your locks.
Grab a paddle brush and start brushing your locks on smaller partitioned side to the back and finally secure it with bobby pins.
Roll all remaining hair in opposite direction for creating that beautiful French twist.
Use U-pins for securing the twist.
Use light-hold spray to finish it off and secure the look.
Loose Low Hair Bun
This one is quite a chic and casual hairstyle that you can sport on those summer weddings. It's an urbane and stylish look that will bring all eyes towards you. It is quite hassle-free and will earn some extra points for sure. It really is one hell of a traffic stopper. Here are the steps to follow for achieving this wonderful look.
Brush the hair back.
Divide the hair into 3 different sections with the help of sectioning clips.
Braid the hair into a typical 3-section braid until you reach edge of your hair.
Fold it inwards at the ends and secure using hair elastic.
Roll your braid inwards and upwards for creating that low hair bun.
Use U-pins for securing the hair bun.
Tease the crown on top with the help of your fingers in order to create that tousled look.
Use light-hold hairspray to finish it off.
Sock Bun with Braids
A beautiful sock bun is always going to make a statement for you on a wedding party. It's a hassle-free look that makes your perfect companion during the daytime. This braided sock bun can be worn anywhere you like and not just to the weddings, whether it is a casual day or a work day. This sock bun variation is definitely going to make a lot of heads turn. Let's find out how you can achieve this wonderful look.
Grab your hair from the back of the head to form a ponytail with the help of big elastic.
Next you can take a sock and then wrap that sock around base of your ponytail.
Loop your ponytail that you just created in the last step through that sock and create a cool sock bun.
The ponytail should be looped in a particular way to ensure that its edges come out of both sides of that sock.
Coil those edges into sort of a beautiful twisted braid.
Wrap those braids around the beautiful bun you've just created to secure the look.
Use U-pins to tuck it in.
Tame any flyaways with the help of bobby pins. The sock bun with braids is ready to flaunt.
Fishtail Bun
The last on our list is a variant of a bun which brings along some beauty of that iconic fishtail braid. It is pretty easy to achieve and you can do the hairstyle quite effortlessly. You can try it out with just about any type of wardrobe stale you may like.
Want to achieve this look? Here's how you can do that.
Tie the hair up into a cool high ponytail towards the back just behind the crown.
Create an iconic fishtail braid.
Use hair-tie for securing the braided ends.
Now, self-coil the braid and form a bun.
Use U-pins for securing the bun and give it a properly finished look.
Complete the hairstyling with light-hold spray.
So, do you think any of these easy wedding hairstyles for medium hair are going to make a difference for you? Whether you are styling your own hair or you are doing it for your little girl, you have to be spot on with the choice and if you don't go wrong here then you are surely going to make a perfect look out of her. Determine which look is going to suit her better than the others and allow her to rock it on the next wedding event.