Hairstyles for girls are aplenty and you may come across some of the most unique girls hairstyles in today's fashion forward world. The hairstyles keep innovating and you will find something more adorable and eye-catching every next day. From pigtails, hair buns, and braids to long beautiful hairstyles for girls, there are all sorts of options available and it's your choice how you would like to style your little girl's hair. It would be a great idea to get some input from your little girl too as to which hairstyle she would want to wear but you really have to be spot on while doing so. Solely relying on your girl's opinion can easily go wrong and you may end up with a not-so-great hairstyle.
If you are looking for the most adorable hairstyles for girls, here we have listed the best options for you. All these beautiful hairstyles are trending these days and you would be able to give your little girl something that looks cool on her for sure. Let's check out!
Braided Top With Pigtail Buns
Source: Pandghairstyles
This cool statement hairstyle really looks amazing on little girls. It boasts of a really nice hairstyle on top which boasts of an angled braid starting at the front. There is an angled part as well while the hair around the crown is made into beautiful pigtail buns that add a cool girlish vibe to the hairstyle. The braid that goes at an angle from the front ends up into one of these buns as well. There is a statement bow added in front of a bun to make this hairstyle look even more stylish and beautiful. It's cute, chic and elegant.
Combed Back Hairstyle With Side Fishtail Braid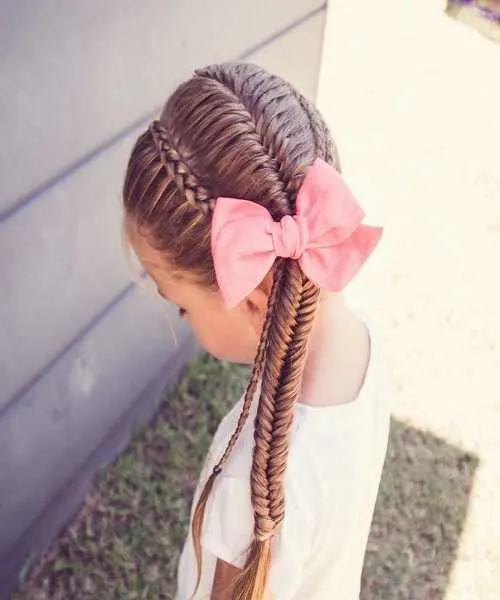 Source: Elisahairstyles
This beautiful hairstyle has one major style element if not many – the beautiful fishtail braid that makes a wonderful side ponytail. The frontal hair is combed back and there is a small horizontal braid that makes sort of a hair band on top and keeps everything into place. The hair behind that false band is made into a horizontal fishtail braid that goes all the way to the tip of the side braided ponytail. A statement bow accessory in a cool girlish color can be added just where the ponytail leaves the head and it will really look amazing.
Center Parted Long Hairstyle With Braided Design
Source: Ymbook
Center parted hair really look the coolest on little girls, especially, when you choose this style for the long and lustrous beautiful hair. So, if your little girl has the luxury of such beautiful hair, you can definitely go with this wonderful hairdo for her hair. Just part it in the center and keep it all open at the back. Take strands from either side and make them into beautiful thin braids that join at the back forming a V-shape. Take some more strands and braid a thicker braided design this time in the same shape going parallel to the one you made earlier. It will make a perfect low maintenance haircut for formal parties.
Combed Back Hairstyle With Messy Bun
Source: Shades and braids
Hair buns have always made a wonderful choice for little girls, especially in summer months when they need an option to tuck away their hair and keep the neck open to feel some air. If she has long enough hair on top, just comb the frontal fringe to a side and make a messy bun at the back just below the crown area. Bring in an ornate accessory to secure the bun in style and give her something special to flaunt at every other event that she has to attend.
Center Parted Hairstyle With Braided Ponytails
Source: Zozoshair
Probably, the most obvious choice you have for styling your girl's long hair is to go with a center parted look. However, once you have achieved a center part, you can style it in all sorts of different manners to come up with a uniquely stylish hairdo. This one here is a wonderful hairstyle for school and it gives a perfectly organized look overall. Just bring her hair from either side of the part towards the back and make it into beautiful braids starting around the crown area and forming a nice horizontal hourglass shape. Eventually, the braids form cool and fine braided ponytails leaving the nape of the neck.
Short Hairstyle With Horizontal Braid And Side Bun
Source: Joyofbraiding
If your girl is growing into her teenage, it's quite likely she may not have the luxury of long beautiful hair. However, you can still manage to give her a unique and beautiful hairstyle that would look amazing on her. Take this one, for example, the hairstyle works perfectly for little girls and boasts of a combed back look at the front. There is a nice horizontal braid that starts around the ear on one side and goes to the other forming sort of a head band on top before securing into a cool, small braided hair bun there. You can use some colorful hair accessories to make it work and look stylish.
Loose Braided Top With Short Ponytail
Source: Aider Hairarrange
Another hairstyle for girls with not-so-long hair on top, this one takes layers of hair from the sides and secures them into a loose braided hairstyle on the top. The braid starts at one side of the front and is formed with a thick layer of hair that goes all the way to the nape of the neck and forms a nice and short ponytail there. It really looks amazing and is one of the best out-of-the-book hairstyles that creates a gorgeous feel overall.
Combed Back Hairstyle With Voluminous Ponytail
Source: Munchkin Hairstyles
Has your girl got long and beautiful blonde hair? If you have the luxury of such naturally beautiful hair, you won't have to put too much of effort in styling her hair into something that looks and feels amazing. Comb it back at the front and ribbon it up half way through the head before taking the thin layer all the way to the crown and securing it with a colorful hair accessory. Take similar layers on either side of her head and make them join that top layer just where you had secured the first one. Now, below this junction, just leave the rest of her hair open and let it form a beautiful ponytail. The hairstyle will look gorgeous overall.
Cornrows With Long Beaded Braids On A Side
Source: Trinbella
This is another unique look that is, particularly, tailor made for the black girls. One of the best black girls hairstyles, this one requires you to form a simple pattern of cornrows that starts on one side and goes all the way to the back. A similar pattern is created horizontally on top and it is made to go to a side at an angle as if it were swept forward. However, these braided cornrows form nice tails that fall over the shoulder and are beaded at their tips. The look is just amazing and makes for a wonderful hairstyle.
Combed Back Hairstyle With Stylish Braided Ponytail
Source: Glover_love
This is one of the most unique hairstyles for girls out there. The hairstyle is first combed back at the front where all the frontal hair is made to come back around the crown area where it is divided into two sections of hair that go twisting back before being secured with rubber bands on either side of the head. From there onwards, the hair section on the left side is braided into a thin, fine braid while the strands from the other section are made to join the braid as it is created forming sort of a bridge of open hair between the two sections. A colorful rubber band can be used at the bottom to secure the tail into a simple pony.
Braided Halo Band
Source: Glover_love
This cool hairstyle is about creating a center parted look to start with. You then have to take hair from one of the sections and start braiding them into a thick beautiful braid that goes swirling around the head and forms a nice halo band or a crown shape. The hairstyle works perfectly fine for fancy dress events where your girl might have to play a Queen. The hairstyle doesn't require much of maintenance either and can be given a bit of a messy touch as well.
Combed Back Hairstyle With Long Sectioned Ponytail
Source: Anncatruo
One of the most obvious hairstyle choices for girls with long hair is to go for a combed back look at the front. This hairstyle takes that same approach as well. It's combed back tight to the head and is formed into a thick ponytail just around the crown area with the help of rubber bands. It goes on like that forming cylindrical sections of hair before being secured into a typical, thick and voluminous ponytail starting at the nape of the neck. It's up to your girl whether she wants to bring the voluminous ponytail forward or not. It looks cool when brought over the shoulder.
Fine Layered Hair With Braided Top And Messy Hair Bun
Source: Pandghairstyles
This is quite a unique take at a typical fine hair style. The hair on the sides is kept fine and long as they look beautiful in the form of layers. The style is created at the top by combing it back and creating a couple of fine parallel braids that start at the front and go all the way to the crown where they blend into a beautiful messy hair bun created horizontally. It really looks cool and makes for a perfect vibe on any special occasion.
Cornrows With Braided Hair Bun
Source: Tribe_Braiding
A typical hairstyle for black girls, this cornrows look is a bit different as it features a bit thicker rows going parallel to each other from the front to the crown. There is a beautiful, thick braided hair bun at the crown area which really looks amazing. Add a beautiful accessory to secure the bun into place. Let a couple of layers to fall over her ears and she is surely going to make a unique style statement.
Braided Hairstyle With Heart Design
Source: Pandghairstyles
This really is a wonderful hairstyle that looks amazing and cute on little girls. The hairstyle would work perfectly on special occasions and isn't that hard a look to achieve. Start braiding at the front on one side of the head and take a thin braided layer to the top as it goes swirling around the head and is secured around the nape area where it blends into a thick braided ponytail. Just behind the starting point of the frontal braid, take a few strands and tie them into a knot so as to form a cool heart shape. It will really look awesome when accessorized with a vibrant bow accessory.
Combed Back Hairstyle With Braided Design And Bun
Source: The Dad Lyfe
Combed back hairstyles really look amazing and they have a unique take to girls hairstyles as well. However, you can achieve the combed back look in whatever way you like. This beautiful hairstyle here takes a braided combed back approach with the frontal locks made into three parallel fine braids as it is combed back. Three parallel horizontal braids start on one side of the head and go swirling over the vertical braids and end up into the beautiful hair bun between the crown and the nape area. The hairstyle looks pretty organized, doesn't need much maintenance and will enhance the cuteness of your little girl manifolds.
Messy Pigtails With Hair Band
Source: Missharleemae
When your girl is still growing up and entering into her teenage, your most obvious choice for styling her hair is to go with nice pigtails hairstyle. Yes, it's pretty simple to achieve as you just have to part her hair into the center or comb it all back before creating the pigtails on either side of the head just where the crown is. What if you could give her a slightly messy look for those carefree days when she has to do nothing but play with her friends? It will really look cool on her for sure. It will also make her childish looks pop as well. Add a nice hair band on top with a cool bow style and it will definitely take her cuteness to the next level.
Combed Back Hairstyle With Tight Braided Hair Band
Source: Pandghairstyles
Combed back hair really looks amazing and if you can add a natural touch of texture and puffiness to it then it's even better. Just take a look at this beautiful hairdo and imagine how beautiful it would look on your little girl. The hairstyle boasts of a perfect combed back look while a horizontal tight braided hair band covers it up in the middle to keep the combed back hair perfectly into place right throughout the day no matter how careless your girl may be. The wavy finish at the back looks really amazing as well and it goes with the hairstyle on top to perfection. Definitely, it's a perfect look to cherish for your little girl both in casual routine and on special occasions.
Asian Hairstyle With Typical Hair Bun
Source: Aider Hairarrange
For those cute little Asian girls, something truly Asian would do a great job. So, if you want to style your girl up in a conventional Asian hairstyle, this one here is going to do the job for you. The hairstyle boasts of tight side-swept hairstyle at the front while there is an expansive Asian hair bun at the back which just looks amazing. Obviously, your girl needs to have long beautiful hair for achieving this perfectly Asian look. You can accessorize her hairstyle with some cool Asian-style colorful hair accessories and she would be ready to rock for sure.
Short Hairstyle With Cute Pigtails
Source: Buttercupscreations
Pigtails really are a go-to choice for styling little girls' hair and we have got another cool look for your little princess here. If you she has short and fine hair then it will make a perfect hairstyle option for her. Just comb it back from the center of the head and take it to either corner of her head to form beautiful pigtails. Secure the pigtails into place with the help of colorful small bow accessories and it will look just awesome. Leave the frontal hair right there and sweep it gently to a side. You can't ask for a better, cute hairstyle for your little girl.
Combed Back Hairstyle With Sectioned Top And Ponytail
Source: Skylabooshair
Combed back hairdos can take all sorts of unique shapes and styles and here we have a wonderful example. You can try this look with your girl's hair on any day and it will surely make a unique statement. Comb it back on the top, create cool little sections of hair. Secure each section with colorful rubber bands and part the strands into two before taking them to strangle around the next section. Keep repeating the same for every section before you reach the crown area and secure it into a long wavy ponytail. Make sure that you bring all the strands from the sides to the back by combing them tightly and secure them into the ponytail.
Center Parted Hairstyle With Braided Hair Design
Source: Emeryrosestyle
A simple, cute, and elegant look, this beautiful hairstyle gives your little girl more of a vintage vibe with a contemporary touch to it. The hairstyle can be achieved to perfection with long hair and requires little to medium effort for achieving a perfect look. For giving your little girl this beautiful hairstyle, just part it in the center and start braiding fine braids at the edge of each side taking it all the way down to the nape of the neck. Stop braiding there and leave the hair open to form nice and wavy casual ponytails at either side of the head. A beautiful bow style can be created in the center of the back by taking strands from either braid and making them join right in the middle while making a few of them to circle in the form of a braid. Create another style element by spraying a few strands with a styling product and making an inverted '3' shape with them. Overall, the hairstyle will look pleasantly gorgeous on your little girl.
Short Hairstyle With Side Swept Fringe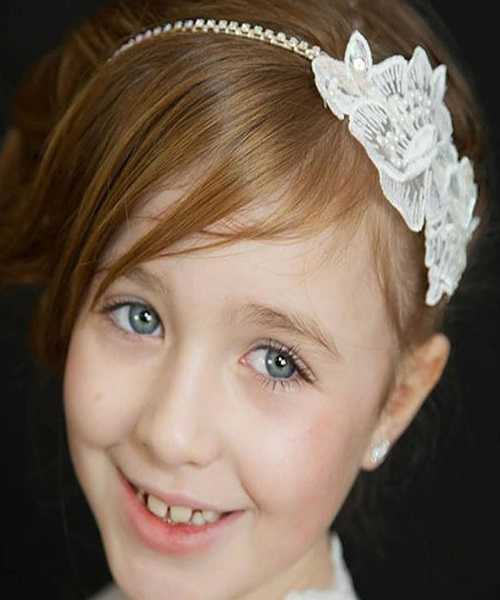 Source: Ihgdesigns
This cool hairstyle is just tailor made for special events and it's quite a low maintenance haircut. The hairstyle boasts of short hair cut into a boyish hairstyle. A unique style statement is made by that side swept and edgy fringe. You can add a signature hair band on top to give your little girl a perfectly chic and amazing look overall. If you can find a cool design in white, that would be even better.
Center Parted Hairstyle With Shape Up And Messy Hair Buns
Source: Hairtodream
A perfect hairstyle for scorching summer, this beautiful hairdo would definitely keep your little girl cool both at school and also while she plays. It's a pretty organized look that will stay in place right throughout the day as well. Just part her hair in the center and take all the hair on either side right to the crown area where it is formed into a beautiful messy pigtail bun on either side. A unique style element can be added to the hair at the back by braiding thin and fine braids that also end up into the pigtail buns. Overall, it will really look cool and make for a wonderful style.
Combed Back Hairstyle With Loose Braided Voluminous Bun
Source: The Dad Lyf
This beautiful hairstyle is about a wonderful combed back look that seems pretty simple at the front and is just tightly combed all the way to the back. However, a wonderful style element is added with the help of this voluminous hair bun at the back that is not simple either but braided loosely into a cool hairdo. You can further accentuate the look of this beautiful hairstyle with the help of a chic hair accessory tucked into the hair bun towards a side. Overall, it's a plush look for any day and can be worn at any event.
Combed Back Braided Hairstyle With Raised Ponytail
Source: Kassiacope
Yet another beautiful combed back hairstyle on the list, this hairdo requires you to comb her fine hair back nice and tight. Just make sure that the hair in the central section is braided tightly and a straight braid goes all the way back to the crown where it is strangled around with a thick layer of hair and is formed into a nice, raised ponytail. The ponytail is kept straight and fine with an edgy look to it as well. However, the centerpiece of this beautiful hairstyle is that beautiful braid on top. The hair on the sides is also combed back very tight to the skin and is made to join the ponytail around the crown area.
Combed Back Hairstyle With Hair Design And Braided Tails
Source: Hairstylesforgirlies
This cool combed back look actually boasts of a beautiful and unique hair design at the back. A frontal layer of hair is taken and made to call the way to the crown all along the center part. Similar layers are made to join this central layer of strands from either side. After creating three such sections, the hair just below the crown area on either side of the part is braided into tight and fine braided tails that go below the shoulder length and are secured with the help of rubber bands. Overall, the hairstyle is quite intricate and it makes for a perfect hairdo for any day.
Blown Out Kinky Hairstyle
Source: Thecosmo_Snob
Looking for the best hairstyles for black girls? Just stuck with finding something that works best for the kinky hair types? This beautiful hairstyle is definitely going to work for your little girl even on the special occasions as well. Just let her naturally kinky locks grow up on top and let it flow freely everywhere. The kinky mess will make a unique style statement and she will definitely fall in love with it. Just make sure that you style it in the form of an updo and there is nothing left lower over the years to cover them up. It will definitely look cool on your little girl.
Center Parted Hairstyle With Pigtails
Source: Little_Girl_And_Her_Hair
This is another unique take on the pigtails hairstyles. The hairstyle can be achieved to perfection with medium length hair. For a perfectly organized look, part it in the center and take it tight and close to the head towards the back. Secure into nice, curvy ponytails and make for a uniquely raised pigtails hairstyle that will look just awesome on your little girl. The hairstyle boasts of some length as the pigtails reach below the ears with their beautiful edgy tips. Overall, the hairstyles makes for a perfect everyday look that your girl will love to wear for sure.
Combed Back Hairstyle With Center Parted Front
Source: Littlemissskylar
Combing her hair all the way back looks amazing but what if you start combing it back half way through her head? The hairstyle will still look gorgeous if you are able to tackle the frontal locks to perfection. Here we have one great way of doing that. Keep it tight to her head and style it with a perfect center part. Secure the frontal locks on either side with the help of colorful hair accessories and make the combed back hair fall over to the sides and the back in style. Make sure that it looks voluminous at the same time as well. The texture in the fine and straight hair is also going to look really cool as well.
These girls hairstyles listed above really offer all the variety you need to style your little one's hair no matter what face shape and type of hair she has. Many of these hairstyles are chic enough that she can easily wear them to even the most special events and there are many on the list that would do perfectly for her routine hairstyle for school. Decide which look you'd want your little girl to wear next and make a pick from the list above!