You can never run out of options when it comes to hairstyles for girls, but one hairdo that you'd love to prefer over others is a cool French Braid. The hairstyle is known for its very cute, perfectly organized vibe and it can really make your little girl look the cutest. There are so many wonderful variations in French braid hairstyles and you can never go wrong when you choose this hairdo for your little girl. Definitely, there will be some variation that is going to suit your little one.
Before we get into some of the coolest hairstyles that you could give to your little girl this year, let's check out how to do a French braid step by step.
How To Do A French Braid?
There can be quite a few options you can try when it comes to styling your girl's hair into a cool French braid. However, to stick to the basics, here we have listed how to do a classic braid and give your girl some vintage style to flaunt. Let's have a look.
Prep the hair by brushing it through so that any tangles are removed. When her hair gets soft and smooth, it's all set to braid. To create a single braided look going down her head, brush the hair backwards and take it away from the forehead.

If you want to braid down a side or create several braids, part her hair and start brushing into sections.
Try to braid wet hair because it will give soft and pretty waves to her hair.

Start sectioning off her hair by gathering one major chunk from her head's top-center. The entire length in that section must come from same "hair row". Make sure that you do not grab the strands from lower down or higher up.

For girls with bangs, it is a good idea to bring it all into her braid or you can also leave the bangs loose too. Just try whatever you thing would be the best for her style. For braiding purposes, grab her hair from top-center, right above her forehead.

Part the first chunk of hair into three different pieces similar to any traditional braids as it will create the braided pattern. Separate the hair by running the fingers through that chunk and make sure three even pieces are created. None of the three should be smaller or larger than other two.
Start creating a typical braided hairstyle now. Get the hands positioned appropriately and hold two of the strands together while the third one should be in your other hand. Cross right strand of hair over the one in the center. Next make left strand go crossing over the one in the center. Keep repeating until few rows have been created.
Work new hair in as you continue with your typical braided pattern. Before you cross over one section to the center, grab a few strands from the side of the head and make sure that it's included in cross-over.

Each time you go crossing over, work in some other hair as well. It does not matter how much of new hair is grabbed in every time. Remember, however, that lesser the hair that is grabbed in every run, the better and more intricate look you are going to achieve at the end.

Bring all her hair into this French braid while working down the head. Once you are at nape of her neck, make sure that all the hair has been incorporated into the braid.
Finally, finish it off after all her hair has been worked into the braid. Secure it using a colorful ponytail holder and you are good to go. Try not to use rubber bands because they will rip her hair off when you'll try to remove them.
How To French Braid Pigtails?
There are quite a few variations of this braided look that you may want to try out with your girl and here we have a cool one described step by step for you. Here is how to French braid pigtails.
Start off with her wet hair, applying a small amount of some top quality frizz-control serum. Make sure that you start at the roots and work your way to the tips of her hair as you apply this product.
Detangle her hair using a wide-toothed comb and the dry it out partially. You have both the options when it comes drying her hair out i.e. with the help of blow-dryer and air-drying the hair. Ensure, however, that her hair does not get dried out completely because braiding will be a lot easier when her hair is still damp. This is especially so for fine hair.
Part her hair on top of her forehead with the help of a comb and keep parting it right to the nape of her neck.
Use elastic to secure one of the sides as it will help ensure that the parting on top rests straight as you continue to braid.
On other side, start braiding and secure using elastic.
Now, remove elastic on other side before you repeat the same steps to braid.
Once you have finished braiding her hair off, take some hairspray on the index finger to pat down and get rid of the flyaways.
Cute French Braid Hairstyles For Girls
Now that you know how to braid your girl's hair in different styles, let's have a look at some of the cutest variations of the hairdo. Many of these can be achieved simply by following the steps above while others may require a bit of improvisation on your part to take things to the next level. Whatever the case, your girl is surely up for a wonderful look that she can flaunt even on the special occasions.
Center Parted Hairstyle With French Braided Tails
Source: Instagram
One of the simplest hairstyles, and the one we have discussed above in how to French braid pigtails section, this one creates a slightly casual vibe overall. All you have to do is to part her hair in the center right to the nape of the neck and start braiding cute pigtails on either side. It's a perfect hairstyle for school and can also make a wonderful everyday look for her as well.
Center Braid With Combed Back Hair
You may have seen many center parted hairstyles but what if that center part is covered with a beautiful braided style? Yes, that certainly makes for quite a unique hairdo and it will work even on the special occasions because your girl will look all-unique with her cute hairstyle. The braid starts thick right at the front and it keeps on shrinking as we move towards the tips. A textured look given to the rest of the hair with layers coming and joining the center braid really makes it feel amazing.
Braided Design With Combed Back Hair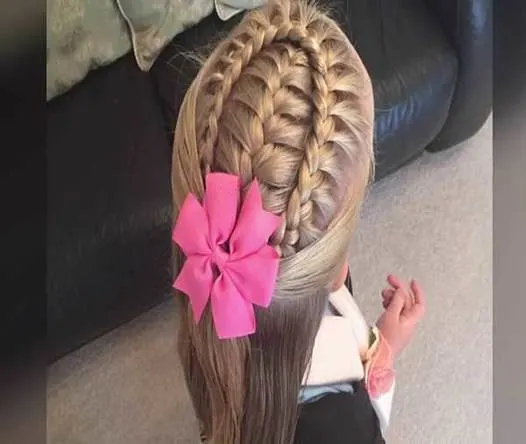 Source: Little Girls
When it comes to achieving this type of braided look, you most have to go with a combed back hairstyle on top and the sides. For this party hairstyle, the same would apply with a unique braided design created on the top. Braid all the hair in the center and create a cool u-shaped braid that swirls around that center braid to make for a perfectly chic hairstyle. Secure the look with the help of a colorful accessory and let the hair at the back stay open to complete a wonderful hairstyle. Your girl will flaunt the hairdo everywhere and is definitely going to collect a lot of praise.
Side Swept Hairstyle With Side Braid
You don't always have to start the braid at the front and take it all the way back to the tips of her hair. Rather, a cool and classic braided hairstyle can be achieved by bringing all the hair on top to a side and forming a classic French braid on the side. The thick and beautiful braid falling over her shoulder is definitely going to make a statement and your girl is going to love it for sure.
Center Parted Hairstyle With Braided Crown And Ponytail
A casual center part starting at the front and going right to the crown and a beautiful braid swirling around the head makes a perfect combination. Secure her braided hair at the back with the help of a simple rubber band and let the rest of the hair form a cool, voluminous, and long ponytail at the back which defines the overall style to perfection. The hairstyle gives more of a flat-headed vibe and really makes for a perfectly stylish hairdo overall.
Combed Back Hairstyle With Short And Thin Braided Tail
A combed back and organized look is what makes every little girl look charming. And, if that's exactly what you are after, this beautiful hairstyle is just tailor made for you. Comb it back in sections and start a French braid just around the crown area. Just make sure that you keep it thin and short leaving a fine tail behind. The hairstyle is very simple and looks amazing on little girls. It won't need too much of maintenance either and is a perfect hairstyle for school as well.
Center Parted Hairstyle With Cross-Braided Look
Styled with a perfect center part which begins at the front and goes all the way to the nape of the neck, this simple hairstyle gives braided pigtails a unique glamorous touch. After sectioning off the hair on top, the hairstyle features a braid starting in each section. It gets a unique and stylish vibe when the braids cross over at the crown and form nice pigtails on either side at the back. They look amazing as they leave her head around the nape area and fall behind.
Braided Top With Hair Bun
Source: Instagram
This is another cool and unique hairstyle achieved with a braided look. This one is unique in the sense that the entire top is covered with a wide braided look and the sides are combed backwards nicely too. Everything combines at the crown to form a cool and voluminous hair bun. If you are able to secure it to perfection, you can't find a better alternative for your little one for sure.
Side Parted Open Hairstyle With A Side Braid
This cool variation of the hairstyle requires the hair on top to be parted on the side and predominantly left straight and open. A cool braided look is created horizontally halfway through on top and it really looks gorgeous on little girls. Make sure that it is secured to perfection so that they hairstyle may not go wayward in the middle of the day. The rest is just fine and this classy hairstyle will make its own unique statement.
Braided Hairstyle For Black Girls
Braids are a typical hairstyle to go for as far as black girls are concerned. But what about a French braid? Yes, they can achieve this stylish look as well and that too with a unique touch of style. The hair on top is also braided with several parallel braids to make for an all out stylish look while the French braided look is achieved starting around the crown area. The thick braid will look gorgeous on any black girl and it can be even an everyday look for them as well.
French With Bow Braided Design
If you don't just want to stick to a typical French braided hairstyle and would like to go with an add-on to her classic hairstyle, this would be a perfect hairdo for you to go with. The hairstyle features beautiful bow shaped braid starting at a side and going swirling around her head before it gets into a typical French-style braid just around the nape area. Let her take it to the front and fall over her shoulder for a perfect hairstyle to flaunt anywhere.
Long Open Hairstyle With A Cool Side Braid
Source:
Long and open hair always makes a stylish look and when it's silky and straight it looks even better. Give your little girl a gorgeous hairstyle and let her flaunt the beauty of her long locks while still adding a touch of organization and a classic style to her hairdo. She will really look gorgeous with this French braided style on the side achieved with the side swept hair on top. The hairdo is very simple to achieve and it won't take a whole lot of effort for styling her hair in this beautiful look either.
Sectioned Hairstyle With French Braided Ponytail
This cool and organized look makes a perfect hairstyle option for school and it's one of the best low maintenance haircuts as well. You just have to style it to perfection once and then it will stay intact all day long without needing you to put in any extra effort for touching up her hairstyle every now and then. For achieving a cool hairstyle, just section it off halfway through the top horizontally and style the frontal section with a center part forming cool, fine braids on either side of the part. The hair from the section towards the back should be taken back tightly and formed into a braided ponytail starting in the middle of the crown and the nape. It's slightly raised up to make it more evident and is secured with colorful accessories to ensure that it draws all eyes. Don't forget to bring the frontal braids to the back and make them join the braided ponytail just where it starts.
Center Parted Hairstyle With Braided Tails
This really is one of the best hairstyles for little girls that is quite simple to achieve as well. The hairstyle is just perfect for girls with naturally thin and fine hair and it makes a gorgeous everyday look for your little one. The hairstyle can be achieved quite easily as well with the hair on top parted into the center and a nice and cute braided look achieved on either side. It is then secured into beautiful, fine tails that look just awesome. Make sure that you use vibrantly colored rubber bands for securing the tails and it will really look amazing.
Thick French Braided Tail
This is another cool everyday look that is a perfect choice for girls with naturally thick and voluminous hair. Just create a basic French braided pattern at the back while combing the frontal locks backwards as well and you have a perfect hairstyle ready for your little girl. The look is so organized that it will also make a wonderful hairstyle for school as well without breaching even the strictest of school codes. The long tail at the back really looks amazing as well.
So, which of these French braid hairstyles do you like the most? Do you think any of these is good enough to style your girl's hair with? We're sure that there is something on the list that will make your little girl look as cool and stylish as ever. Make the right pick for your little one see how gorgeous she looks in one of the best classic hairstyles out there. Take expert help in styling a French braided style if you are not so good at braiding hair. Happy Braiding!