You are always on the lookout for the best hairstyles to suit your personality. Well, things get tougher when you belong to the African American ethnicity. To be honest, it's the most challenging to find out the best African American hairstyles because of the unique nature of your hair. But fortunately, hairstylists introduce some cool hairdos every year and you should be able to find a few that work for you if you look in the right place.
African American Hairstyles For A Cool Look
There are many variations of the African American hairstyles available for both kids and adults. You need to be a bit choosy about your hairstyle though because it can make or break your looks. Let's check out some beautiful hairstyle options that you could try out.
Twisted Buns With Braids
The best choice you have for those kinky and rough locks is to go with some twists all around your head and for buns everywhere. Criss-Cross braids in the center on top elevates the look to perfection.
Defined Curls
The natural curls can be given a more defined look with the help of a styling product and here we have a perfect example of that. Just keep it short and stylish and you won't have any styling issues whatsoever.
Layered Short Bob
If you have the luxury of straighter hair, your best choice would be a nice short bob hairstyle. This one with thick bangs can make a statement on any day and makes a perfect choice for working women. It can be your everyday choice and won't require too much of styling either.
Blunt Black Bob
This is another cool variation of Bob haircut and it looks gorgeous. The Blunt bob with some bangs falling over really make it a perfect look to flaunt. It's a perfect choice for formal settings.
Sleek Vintage Bob
If you want a retro look, this beautiful hairstyle is just for you. Obviously, you need to have straighter hair as well. But when you give it a wavy look with a styling tool, the retro bob will look better than anything else.
Short Stacked Bob
A stacked bob makes a perfect everyday look for the African American girls. You just need to make sure it is achieved to perfection.
Curly Pixie Mohawk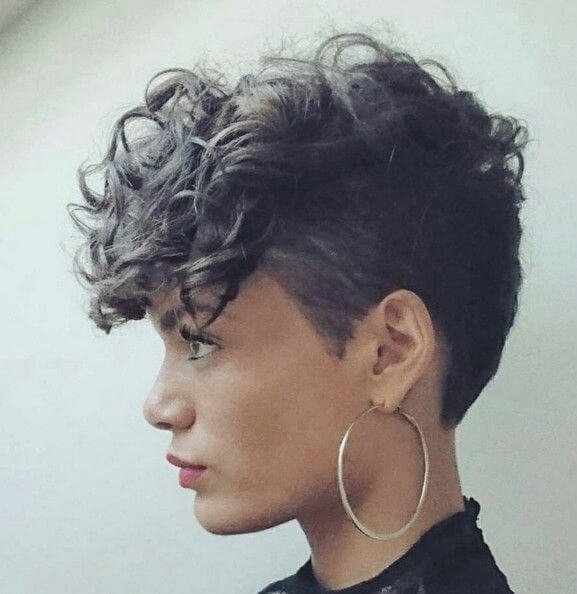 Mohawks aren't just for men, but this cool Pixie Mohawk makes a perfect choice for the African American girls as well. The hairstyle is achieved with nice and curly hair on top and has some special vibes to deliver.
Side Parted Bob With Extravagant Bangs
This cool hairstyle makes a perfect choice for the party nights. The Rosewood Ombre shade gives it an elegant and stylish look while those bangs falling over and covering half the face really look gorgeous and stunning.
Short Hair With Edging
This cool variation of the boy hairstyles for African American girls makes a perfect choice on any day. The hairstyle boasts of messy, colored bangs on top and there is a cool little tail at the back too. Overall, it looks just perfect in everyday routine.
You are no short of African American hairstyles for girls. It's just the matter of picking the right variation for yourself to rock the look. Check out the hairstyles on the above list and see which of them you would like to flaunt next. You're surely going to find something that works for you.