Want to stay ahead of the style game and turn heads like never before? Look no further than girls' haircuts and hairstyles. They hold the power to keep young girls in vogue like nothing else.
With countless options out there, finding the perfect balance of personality, style, and elegance can be quite a challenge. But fear not! We've got you covered with the best Roman hairstyles for girls, offering an authentic and unique vibe that's sure to make you stand out.
No need to stress about choosing the right haircut. Simply explore our list of fabulous girls' haircuts and find the one that suits you best. Embrace the opportunity to unleash your true style and rock the look that speaks to your inner fashionista.
How to Choose A Girl's Haircut
Choosing a haircut for a girl can depend on several factors. Here are some tips to guide your decision:
1. Consider Her Hair Type
Some hairstyles work better with certain hair types. For example, if she has curly hair, a cut that highlights her natural curls could be a good choice. Similarly, if her hair is straight, a sleek bob or a pixie cut might work well.
2. Think About Maintenance
Some hairstyles require more upkeep than others. If you and your child prefer a low-maintenance routine, consider a haircut that's easy to manage and doesn't require a lot of styling.
If you don't mind spending more time on hair care, there are plenty of long hairstyles to choose from.
3. Consider Her Face Shape
The shape of her face can significantly influence what haircuts will look most flattering. Here are some general guidelines for choosing a haircut for a girl according to face shape:
Oval Faces: Girls with oval faces can gracefully carry a multitude of hairstyles. Be it a lively pixie, a flowing long layered cut, or a neat bob.
Round Faces: If the face is nearly as wide as it is long, it may be classified as round. Haircuts with volume on top and more narrow sides can help elongate the face. A side part can also be flattering for round faces.
Square Faces: Square faces are as wide as they are long, with a distinct, angular jawline. Rounded haircuts or soft layers can beautifully counterbalance these angles. It's advisable to stay away from blunt bangs as they might highlight the squareness.
Heart-Shaped Faces: This face shape is characterized by a wide forehead and a narrower, pointed chin. Medium to long length haircuts with soft layers, particularly around the face, can help balance this shape. Additionally, side-swept bangs can draw attention to the eyes and middle of the face, rather than the forehead.
Long Faces: For a more rectangular or oblong face, consider a haircut that adds width and volume on the sides. Layers, waves, or curls can achieve this, and a fringe can help to shorten the face.
4. Take Her Personal Preferences into Account
If she's very active and enjoys sports, a shorter cut or a style that keeps hair out of her face might be a better choice. If she enjoys dressing up and styling her hair, longer styles with more versatility may be more suitable.
Even at a young age, children can have strong opinions about how they want to look. If she has a preference for her haircut, it's important to take her opinions into consideration. This can help her feel more confident and happy with her haircut.
5. Keep School Rules in Mind
Some schools have strict rules about hairstyles. These rules can include limitations on dyed hair, specific lengths, the use of accessories, or even how much hair can be covering the face.
Before deciding on a particular hairstyle or cut, make sure to check the school's policy to ensure it aligns with their regulations.
6. Safety Concerns
Consider safety when choosing a haircut. For very young children, hair that falls into their eyes or could get caught in something might be a hazard.
The most important thing is that she should feel comfortable and confident with her haircut. Don't try to force your kid to try any haircut she doesn't like.
Cutest Haircuts For Girls
1. Classic Ponytail
The classic ponytail is a versatile and fuss-free hairstyle. It works perfectly for school, plays, and even special occasions. Just gather all the hair at the back of the head and secure it with a hair tie. To add a festive touch, decorate the ponytail with a colorful bow or ribbon. It's easy to do, easy to manage and always looks neat.
2. Sweet Pigtails
Pigtails aren't just timeless, they're double the fun! Divide the hair into two sections, right down the middle, and fasten each side with a hair tie, creating two separate bunches. This hairstyle can easily be elevated with fun accessories like butterfly clips or glittery bands. Pigtails are playful, adorable, and loved by little girls.
3. Braided Crown
The braided crown is a beautiful hairstyle that brings a touch of elegance and charm. Begin by creating two braids from either side of the head and then wrap them around the top, fastening the ends with bobby pins. It gives the impression of a halo or a crown, perfect for a princess-themed birthday party or a family photo session.
4. Loose Waves
For a relaxed, natural look, loose waves are a great choice. If the girl's hair is naturally wavy, simply use a little detangling spray and scrunch the hair lightly. If not, use a wide-barrel curling iron to create soft waves. This hairstyle is perfect for any casual outing, giving a free-spirited and youthful vibe.
5. Half Up, Half Down
This hairstyle offers the perfect balance between having the hair up and leaving it down. Take the top half of the hair and secure it into a ponytail, bun, or even a braid, while leaving the rest down. This is a versatile hairstyle that's great for any occasion – school, a birthday party, or a family dinner.
6. Side Swept
The side-swept style is a chic and easy hairstyle for little girls. Part the hair on one side and sweep it across the forehead, securing it on the side with a cute barrette or bobby pin. This look is particularly great for dressier occasions, adding a touch of elegance and sophistication.
7. French Braid
The French braid is a bit more intricate but yields a beautiful result. Starting at the crown, this braid gradually add more hair from the sides as you work your way down. It looks great for special events or sporting activities.
8. Short Bob Curtain Bangs
This girl's haircut involves a shorter length, usually around the jawline, accompanied by a fringe that is parted in the middle, draping to both sides of the forehead, much like a curtain. It frames the face beautifully. This hairstyle requires a bit more maintenance to keep the bangs in shape, but the adorable end result makes it worth it.
9. Box Braids
Box braids are a protective hairstyle often used in Black and African cultures. They're not only stylish but also a great way to manage thicker hair types. This hairstyle involves sectioning the hair into square or rectangular "boxes" and then braiding each section.
10. Space Buns
Space buns are a fun and quirky hairstyle for little girls. Just divide the hair into two sections, twist each into a bun, and secure them at the top of the head. It's a cute, playful hairstyle that's perfect for parties or casual day outs. Plus, it's a fantastic way to keep the hair off the face on a hot day.
11. Twisted Hairstyle
Source: Hairstylist_cocochoco
There can, literally, be innumerable ways you can style your long and voluminous hair and this twisted hairstyle really is one of them. It looks cool with a twisted long ponytail and gives you a whole new personality and aura.
12. Bob Haircut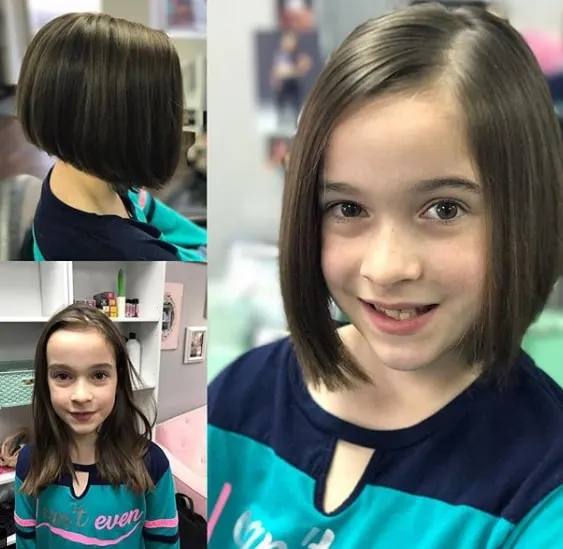 Source: Leahsouthernrootshairstudio
Keep your hair only couple of inches shorter than shag haircut and you will find yourself in the Bob zone.
It's a perfect hairdo to go with if you have short curly hair. You can expect to have a bit of more bounce and volume in your curly hair as the layers will be more lightweight.
13. Side Wrap
Source: Twisted_viridiana
Having flat ironed the hair a day back, you can keep that sleek look of your hair to continue with this cool side pony. Just pull the hair to a side and create a ponytail as you would normally do.
Now, grab one thick hair strand and use it to wrap around base of the hair. Make sure you have a 2-3 inches wrap. Use hair spray and some bobby pins for keeping that strand intact.
14. Layered Bob
Source: Lunaticfringesv
The Bob haircut described above is just fine but if you want to give your bob some more length, layered haircut offers beautiful shape which also allows for some easy styling as well.
It's a perfect girls haircut for anyone who wants to grow the bob in to lob haircut or even longer without much of an effort.
15. Loose Waves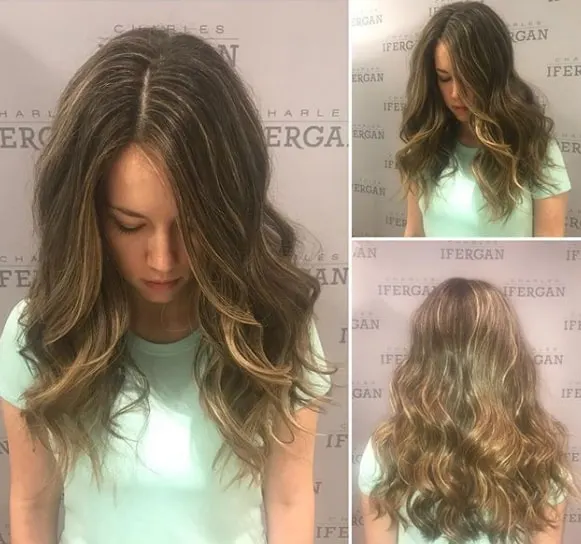 Source: Giselle_charlesifergan
The time when you have to grow out the bangs may be harsh on you but you can still make things work for you. The long and wispy bangs can be easily rocked with loose and short waves to achieve a perfect look overall.
16. Side-Swept Chignon
Source: Braid.inspiration
The classic look of side-swept chignon really makes for a cool hairdo for girls. Besides, it doesn't take much time to style either.
All you have to do is rub some styling cream into your hands before simply applying it to your dry ends. After that, just twist the hair to make a knot just below the ear and your cool hairstyle is ready.
17. Glam Curls
Source: Sharleneguzman
Combine fabulous waves with this high pony and you will have a perfectly amazing haircut ready for just about everything be it a prom or some chill kickback.
18. Top Knot
Source: Gabi_baylee_ann_boehr
If you have always found it hard to get the hair out of the face then trying this classic top knot hairstyle would be a perfect fix.
It won't just keep the hair tied and out of your way but will also add a cool vibe and charm to your personality.
19. Undercut French Braid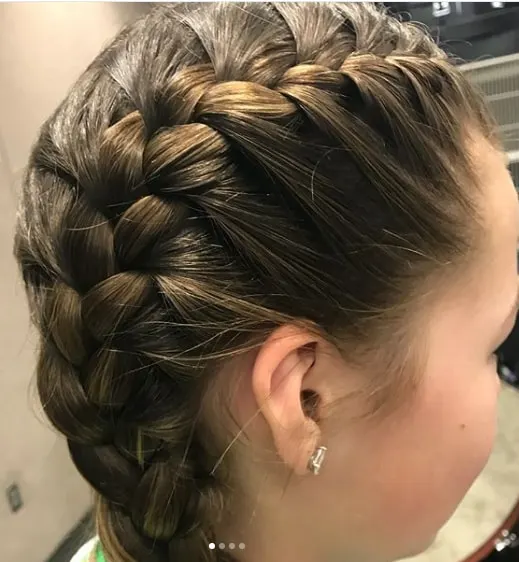 Source: Hannah_loves_your_hair
If you are one of those lively young girls who always want to try out something funky, this is one of girls haircuts that will not just amp up the classic look of the French braid but will also give it a punky touch.
To achieve the look, part your hair with a comb for making three different sections. Apply a dime of some styling powder on fingertips and French braid all the sections you've created.
Twist together all the braids at their ends and pull all of them over a shoulder and secure it using hair tie. Use shine spray to finish the look and have that silky boost.
20. Queen Elsa Braid
Source: Loolooshair
It's a completely frozen swept-back braid and you can achieve the look by twisting frontal hair back and moving along the hairline.
Secure that twist behind the ear using bobby pin. Pancake that twist now for adding some volume. All the remaining hair should be pulled into loose fishtail braid.
21. Beachy Waves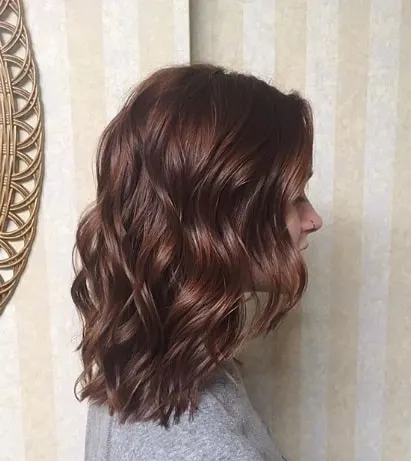 Source: Ilona.v.d
Even though that low pony style sounds too childish but it still gives a chic look that you can carry anywhere you want.
Use sea salt spray for bringing out the cool look as if you've just finished surfing. That makes it stand true to its name.
22. Milkmaid Braid
Source: Macis_braids
It is quite easy to style the second-day hair. You can get this milkmaid braid hairstyle by creating four different sections of hair, braiding them on the front, and twisting back pieces. Now, wrap every section around the head and pin it in place.
23. Triangular Lob
Source: Daisyvillap
When it comes to girls haircuts the Triangle shape is often considered something that you ought to avoid at any cost.
However, there doesn't really seem to be any evidence around as to why you should avoid it. We believe, if you style it properly, triangular lob haircut will be just perfect for girls with curly hair.
Just make sure that you choose asymmetrical part which proves to be a bit more wearable as compared to center-parted hairstyle. Get bottom-heavy blunt hairdo and part it off to a side for a perfect look.
24. Messy Ponytail
Source: Breezehairandlashes
It's a first choice second-day hairstyle for girls that gives an amazing, edgy twist to the tail. To achieve the perfect look, spray your hair ends and roots with some texturizing product and then comb through.
Now, pull the hair back to nape, secure using some elastic, and wrap 1-inch hair section around that elastic for hiding purposes. Flatiron hair ends and curl big sections of the pony.
25. Super-Short Shag
Source: Thronehair
You don't really need to restrict yourself from enjoying those stylish layers only because you have short hair.
The pixie length shag haircut for girls gives you something a bit edgy, particularly when you wear it in somewhat messy style.
26. Waterfall Braided Down Haircut
Source: Bella_brides
The waterfall braids turn out to be a cool way of extending the blowout maybe for one more day. Spray your long locks with some texturizing product and braid the hair sideways.
Let one section to drop on each cross and pick up new section for pulling into your waterfall braid right then. The look seems pretty and gives you a cool style to boast of.
27. Long Bangs
Source: BeautifulLonghair
Sometimes bangs may need you to maintain them regularly but they are still an easy option to go with for adding something extra in girls haircuts.
However, long bangs are proven to be not that much of hassle. You don't need to trim them regularly and they also offer a great option for going on a test drive with bangs if you really do not want to get something full-on right away.
Besides, they are a low-key hairdo and can complement lots of different hairstyles.
28. Half-Up Bouffant
Source: Emayasalon
Give yourself that retro look by going for this pretty bouffant hairdo. Turn the head upside down, spray some volumizer on the roots, and blast your hair with blow dryer.
Now, tease at roots, backcomb your hair to get half-up hairstyle and pin everything into place to achieve the final look.
29. Swing Bob
Source: Kelly_elaine_walsh
Another of the bob girls haircuts, this one really is a fun hairstyle and can also be managed quite easily. This really is a recommended hairdo because of its flattering nature and just about anyone can wear it.
You can have swing bob haircut with short length or medium length hair depending on the end style you want to achieve. It is pretty cool and versatile.
30. Sleek TopKnot
Source: Momandkeyona
This one really is the perfect hairstyle you should be wearing for having that ultimate chic look. To achieve the look apply lightweight gel on your damp hair and then slick them into high pony.
Afterwards, split your hair length into a couple of sections, twist both the sections together and then wrap them to form a bun on the top. Secure the look with the help of bobby pins.
31. Wavy Shoulder Length Hair
Source: Cillastylist
This beautiful hairstyle is all about those extravagant waves towards the tips. Cut nicely to cover the face, this is one of the best girls haircuts on the list.
On top, it's just mid parted and the hair is nicely swept to the sides as they go on to hit the shoulder length.
32. Long Bob
Source: Ladyscissorhands719
This long bob gets the nicely cropped asymmetrical look and is cuter than ever. This one suits perfectly to girls with straight, fine and beautiful locks and is a perfect hairstyle for both casual and formal events.
The hair on top is swept to a side and gives a perfectly clean look.
33. Classic Bob Hairstyle
Source: Michellehawthornephotog
Bob hairstyle has its own unique variations that make the hairdo look amazing on any given day.
However, this one is a classic outlook of a bob haircut which is cut short enough to reach the chin. Almost side parted, the hairstyle looks so cool overall.
34. Side Parted Bob Haircut
Source: Thestylingtemple
Whether you style a bob with a side part or keep it look natural with bangs, you have all the options available to make it look stylish and natural.
This one here is a perfect example. The side part doesn't go deep and is just there to show that it exists at the front.
35. Center-Parted Bob
Source: Cortneyfarkashair
This center-parted variation of a bob hairstyle makes for an even different look. Still a bob hairstyle, but this one looks cool on roundish faces and girls with chubby appearance.
The hair is cut chin-length and then center-parted nicely to achieve a cool look.
36. A Line Bob Haircut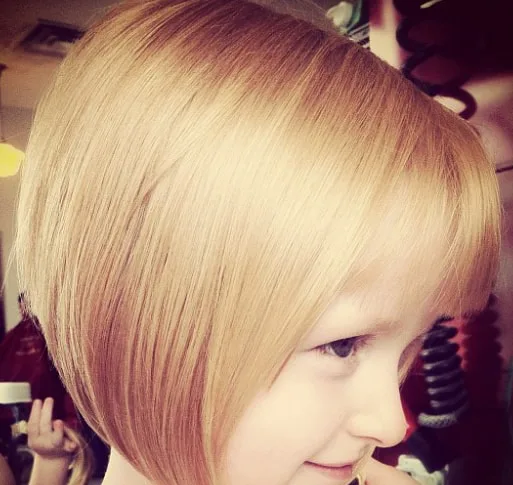 Source: Berkleychopshop_jay
Another bob hairstyle variation, this one is called the A-Line Bob. Cut short towards the back and longer towards the front, this hairstyle looks amazing when styled with beautiful bangs at the front.
37. Boys Cut – Girl Haircuts Shorts
Source: Lauren_metropolisspasalon
The girls haircuts look amazing when given a boyish vibe. This boys haircut will suit your little girl to perfection.
Kept longer towards the sides and back, and swept nicely with a side part, this one really is a perfect hairdo for school going girls as it doesn't require much of maintenance.
38. Bob With Bangs – Haircuts for Girls with Medium Hairs
Source: mommy_to_paige
Another example of a bob haircut, this one features more natural look and doesn't have too many fancy things about it.
The hair is grown a bit shorter than shoulder-length and the bangs are allowed to come forward in more of a puffy style. Overall, it looks amazing.
39. Side Swept Long Hair
Source: Liftinguptreehouse
Long hair is probably the most natural girls haircuts style. And if you love that, you can style it naturally with a beautiful side sweep. Just make sure that you get a bit of cropping done to give it a cleaner look overall.
40. Shoulder Length Hair With Center Part
Source: Transformations_by_vee
Another natural hairstyle for girls, this one also requires the hair to be grown shoulder length and then parted from the center to achieve a perfect look. This hairstyle suits little girls very much and they love to wear the look as well.
41. Classic Bob Hairstyle
Source: Hot_herbamomma
This classic bob hairstyle looks so cool on little girls and is a perfect choice for their school routine. Parted slightly from the side, the look is cute, neat and quite amazing.
42. Bob Cut – Little Girls Haircuts
Source: Janaebhairtivity
This is another great example of a bob haircut that looks amazing from the back. Though not so straight or clean, still the casual looking bob is just perfect for a casual day out.
43. Bob With Fringe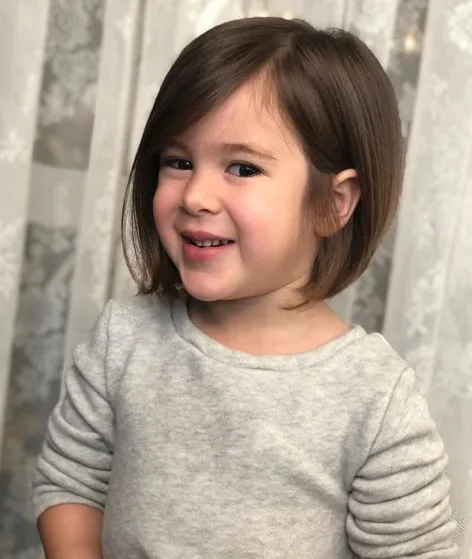 Source: hairdosbyshan
This bob hairstyle variation comes with chin-length hair and requires the fringe to be swept to a side nicely and on the other side it's tucked away nicely behind the ear. the center part completes the look beautifully.
44. Asymmetrical Angled Bob
Source: Frizerski_salon_studio24
This asymmetrical bob hairstyle is all about that bold angle which flows from the back to the front.
Complimented nicely with bangs, this look makes you feel like a real barbie doll. The nice thing about it is that the bangs are blent beautifully into the entire look. Overall, it's a perfect hairstyle.
45. Girls Haircuts With Wavy Layers
Source: Vistabellesalon
One of the best haircuts for girls with long hairs, Get rid of those conventional braided ponies by getting it cut short to shoulder length and giving your hair a wavy texture.
The hair on top is perfectly straight with a beautiful center part and overall it looks amazing.
46. Bob Hairstyle With Unconventional Side Part
Source: Emily.hairstylist
This bob hairstyle variation looks cool with an unconventional side parting. Just as the name suggests, there is no straight parting.
Rather the hair is casually parted to a side. The frontal fringe looks cute and is allowed to fall straight over the face.
47. Wavy Textured Hair With Bangs
Source: Donnadstylisthairsalon
This is a typical girls haircuts that boast of the shoulder length and cool waves towards the bottom. The bangs add a touch of style to this beautiful look and make the hairstyle look even better.
48. Typical Bob
Source: Lacoco_vivocity
This typical Bob hairstyle is a perfect look to go for as far as teenage girls are concerned. The hair is kept close to the chin while the cut makes it come into the face at the tips.
Overall, it creates a nice shape and is a more than perfect choice for teenage girls.
49. Curly Tips With Bangs
Source: Tomboy1201
This is a beautiful hairstyle that both girls with straight hair and those with naturally curly locks can sport.
The extravagant vibe is created by the wavy look of the hair towards the tips whereas those bangs at the forehand look simply cute and awesome. All in all, it's the best hairstyle for girls at such an early age.
50. Shoulder Length With Side Swept Fringe
Source: Jessica_cosmetology
This beautiful hairstyle is all about nice and cool straight locks that is given a stylish vibe through that side swept fringe at the top.
The hairstyle looks amazing on the blondes and the red-heads and shouldn't be overlooked for a casually formal look.
51. Long Crop With Side Swept Bangs
Source: Texasdoll88
Long hair is always stylish and it looks even better when you combine it with bangs. Now, it's up to you whether you want to let the bangs fall over or keep them swept to a side nicely. The side-swept look is as chic as ever though.
52. Layered Hair With Forward Swept Bangs
Source: Stylist_rachel_lenae
This beautiful layered hairstyle is probably one of the coolest girls haircuts around. The hair is cut nicely to shoulder length and allowed to fall over in layers whereas the forward swept bangs make a nice statement covering the entire forehead.
53. Edgy Hairstyle
Source: Emilymalin4
This is quite an unconventional hairstyle for girls that comes with all its beauty lying in its uniqueness. The hair is cut short on one side just like boys haircuts and it is slanted beautifully over the other.
The longer side covers the face and the ears nicely with a long and beautiful fringe. Overall, it looks just perfect.
54. Short Crop
Source: Urbanbeautepk
The wavy texture of the hair is kept intact with this cool short crop. The hair is cut in a normal boys haircut style and is left unruly on top to give a casual vibe. Overall, it's cool for any casual day out.
55. Angled Bob
Source: Jessb_doesmyhair
This angled bob haircut is very much similar to the asymmetrical look. The hair is cut at an angle from back to the front creating a uniquely different look.
The hair on top can be styled in whatever way you like be it center-parted, side-parted or just a casual swipe.
56. Angled Bob With Side Part
Source: Claudiashairstory
This is another cool look that is all about that beautiful angle that makes the bob look uniquely elegant. This bob hairstyle flaunts an expansive fringe with a beautiful smile to create a perfect combo.
57. Side Swept LOB Haircut
Source: Thecutcollective
This long bob haircut is slightly different from what we have already discussed above. The look is perfect and can be worn rather elegantly with a cool side-swept look.
The hair is not kept the same length towards the tips, rather it is allowed to create a uniquely different statement.
58. Voluminous Bob
Source: Hairbytoby
If you are looking for the best girls haircuts for voluminous hair, this is the look you should be after. More of a conventional bob hairstyle, all that is different about this look is that extravagant volume.
Besides, the way this look is completed close to the hair tips is just awesome. And, you can't forget to notice that beautiful hair accessory up top.
59. Short Bob Hairstyle
Source: Hair_by_aubreeb
Short bob hairstyle is a perfect choice for little angels and you'd love to see her wearing the beautiful look with an even beautiful and complementing accessory.
The layered look of the hairstyle makes it even better for any special event.
60. Long And Simple
Source: Buzzesandbeehives
Keep it long and keep it simple, that's probably the most natural choice for girls who don't want to get involved in too much of styling stuff.
So, if you are also the same time, go for this beautiful look and that is center-parted and lets the long locks fall over the shoulders beautifully. If you want to make it look neater, you may like to tie the long hair together.
61. Shoulder length With Casual Bangs
Source: Tomboy1201
This is a simple, cute and perfect look for little girls with straight hair. It requires the hair to be styled nicely with bangs swept to a side.
The hair falling on the shoulders is left unruly and natural to keep the overall look more simplistic and cool.
62. Short Hair With A Long Fringe On The Side
Source: Sahmplus
What's special about this beautiful hairstyle? Probably it's that long fringe that falls over the ear to a side. Other than that, it's short and it's simple just like a boys haircut. Nevertheless, it looks cool and amazing.
63. Girls Haircuts With Ponytails
Source: Beautyartistemma
A couple of ponytails on each corner of the head is what probably all of us have grown seeing all the time on little girls.
This look is exactly what we have here and it's probably the most appropriate hairstyle for kids in their toddlerhood.
64. Casual Side Swept Hair
Source: Tomboy1201
When you are growing older, you are not much concerned about the stylish and attractive looks. Rather, anything that is low-maintenance would work for you.
This cool hairstyle here is just that! The hair is kept shoulder length and styled to a side casually. Overall, it creates more of a Tom Boy vibe.
65. Combed Back Hair With Curly Tips
Source: Zensalonbentonville
This is the look that we have seen many little girls wearing over the years. The hairstyle is all about shoulder length hair curled nicely with a curling product and combed back fringe at the top. Overall, it's really nice.
66. Straight Center-Parted Hair
Source: Lappartement
Straight hair parted from the center, this hairstyle looks perfectly amazing. The fringes fall over the eyes nicely and when combined with that beautiful smile, it's more than perfect.
67. Short Bob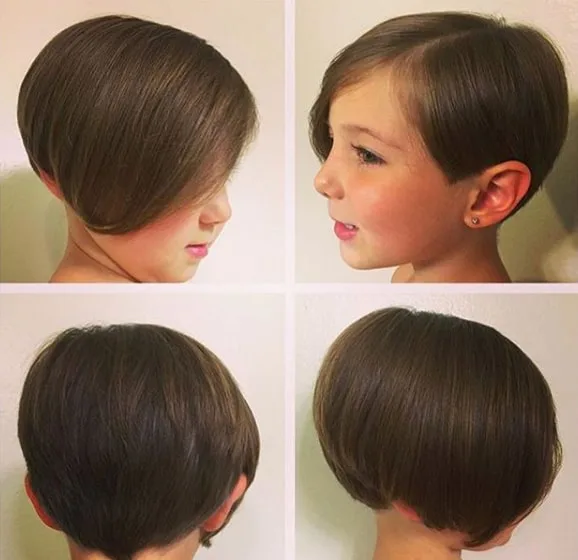 Source: myhairworks
This is a beautiful look of a bob hairstyle. Combed nicely to a side and letting the hair fall over the ear to a side, your girl will look stunning in this beautifully casual look.
68. Short Crop With A Ponytail
Source: Tomboy1201
This is a beautiful hairstyle for toddler girls that is simply elegant. The only detail about this beautiful hairdo for kids is that short pony at the back of the head. On top, it's just simple and short.
69. Extra-Wavy With Bangs
Source: Cosmillette
Growing hair shoulder length, or even beyond, is probably a dream for girls and the look we have here is just stunning.
The long grown hair is given a perfectly curly texture by rolling the curler all over. The voluminous curls look just amazing those complementing bangs at the top make it look even better.
70. Bob With Layers
Source: Lunaticfringesv
This is quite a different variation of the conventional bob hairstyle. The hair at the tips are not rounded or curved forward covering the face, rather they are kept facing outwards at the back in the form of layers.
The style looks so cool on beautiful greyish hair.
71. Curly Bob
Source: Callramona
Bob haircuts are so versatile that you can get them in any shape and on any hair type. This is a beautiful bob hairstyle for girls with curly locks.
Just cut it short, and add some styling product to have a bit of shine and your beautiful hairstyle is ready.
72. Stylish Bun
Source: Mobile_salon_by_tanya
The girls haircuts can get as extravagant as this. Long hair is styled beautifully with that cool bun on top. The hair is center parted at the front and boasts a casual look added with the beautiful bun on the top.
73. Long Angled Bob
Source: Hairbyandrea.palm
This long bob hairstyle is perfect for girls with its angled vibe. The hair on top is parted from the center to make it look even better.
The neat look of the hairstyle is what makes it stylishly unique and elegant.
74. Conventional Bob With Bangs
Source: Donibuckler
Conventional bob hairstyle looks amazing and this one is ever cuter. Styled nicely to have more of a pumpkin shape that looks so cute on little angels, this one has hair nicely falling to the sides while bangs cover the forehead rather stylishly.
It's different, it's elegant and it's a perfect barbie style to have on any special occasion.
75. Combed Back Fringe With Shoulder Length Hair
Source: Zensalonbentonville
Keeping it shoulder length or making it look like a bob is probably the most natural choice for girls.
However, you can make it look different by simply sweeping that fringe back and pinning it up to achieve a unique style. A nice accessory would make it look even better.
76. Bob With Combed Back Top
Source: Sharkeysoc
This is not the conventional bob hairstyle look rather it's same in the length only. The top hair is combed back in style and held in place with a beautiful hair accessory.
The look is achieved by sweeping the frontal fringe backwards and pinning it up.
77. Angled Short Bob
Source: Hair_by_kristinaa
Short bob hairstyles never go out of fashion and when you make it go at an angle, it looks even better.
A perfect choice for silky and straight locks, this hairstyle is just amazing. Wear it with a nice side part and it becomes one of the best girls haircuts around.
78. Straight And Silky Side Swept Hair
Source: Blingbling_blonde
For straight hair, this one is probably the most obvious choice. Just keep it simple and elegant, cut to shoulder length and parted from the side to achieve a more formal and cute look.
79. Layered Bob
Source: Rohmopo
Here we have another variation of the bob haircut. It's a layered hairstyle that features layers falling over the face in style. The fringe is nicely swept to a side and creates a perfect vibe.
80. Wavy Bob With Textured Bangs
Source: Just4kidssalon
If you or your little girl has textured locks then this is probably the best hairstyle to go with. Let the natural texture flow and keep it all simple and naturally shaped. The textured hair will look beautiful.
81. Outblown Hair With Bangs
Source: Onyxsalon_shermanoaks
Call it a variation of bob hairstyle or just an outblown hairstyle, this look is really amazing.
One of the best girls haircuts on the list, this beautiful hairstyle is a perfect everyday look. The bangs are kept a bit apart to add more drama to the style.
82. Side-Swept Fringe
Source: Armandeusweston
This beautiful hairstyle is all about that nice fringe swept to a side. The look is perfect and you can flaunt it everywhere you go whether it's a casual day out or a formal event you have to attend.
83. Sid-Swept Slicked Hairstyle With Curly Ends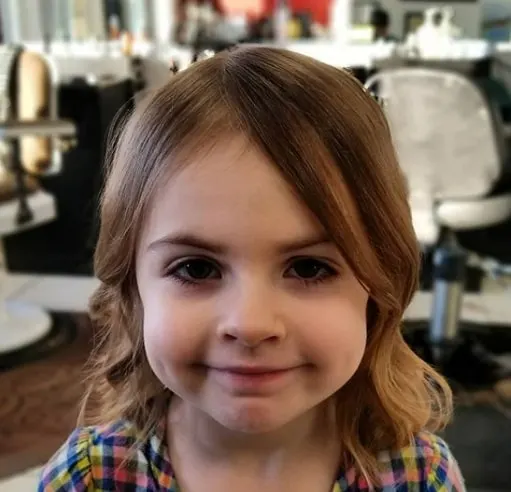 Source: Juneau_barber
Side-swept hair gets natural when worn with the beautiful curly ends. The ends are curled with a styling tool like a curler while the top hair is just simply slicked down the sides to achieve a perfect hairstyle.
84. Short Bob With Extravagant Fringe
Source: Ginga0705
Short bob hairstyle is the most obvious choice for cute little girls and is certainly the best girls haircuts for them. Combine it with that extravagant fringe and you have a more than perfect hairdo.
To make it look even better, keep a couple of frontal bags short right over the forehead and the look will be amazing.
85. Wavy Hairstyle With Bangs
Source: Lbthehairstudio
Keep the hair straight and you might start looking boring and bland very quickly but if you want to add some drama to your hairstyle better make it wavy.
In fact, it's not that hard to achieve the look and some simple styling is done. The frontal fringe looks awesome when swept to a side like what we have here.
86. Curly LOB With Braided Fringe
Source: Hotspothairsalon_mary
The beautiful girls haircuts we have here is amazing. Want a name for it? Well, you may probably call it a curly LOB haircut that reflects the same shape as we have in long bob hairstyles but the hair tips are curly and wavy.
The top hair is stylishly carved out into a beautiful braided band that looks awesome. Overall, it's a great haircut to have.
87. Bob Haircut With Cropped Bangs
Source: Xoxoyalina
This bob hairstyle variation features locks that are curled inwards from the under-edges and there is that beautiful touch given to the cropped bangs.
It's a perfect style to have for school-going girls and, overall, it really looks gorgeous.
88. Long Straight Hair With Cropped Bangs
Source: Brodieholland
Cropped bangs seem to be amazing and this look hair is what makes it an even better choice for modern girls. Combine it with the beautiful long locks and you have a more than perfect hairstyle for any event or occasion.
Though the hairstyle creates more of a casual look, you can make it feel perfectly formal if you are creative enough to do some neat styling.
89. Soft Blended Bob Hairstyle
Source: drawingout
This is yet another bob hairstyle for girls. Not the conventional style bob, but this one looks really cool with all its softness and a different touch it has to it. The blended look of the wavy locks makes it even better.
However, it will need some time and effort to be styled to perfection and you should have the right tools to do that as well.
90. Twisted Updo
A twisted updo can be a charming hairstyle for a little girl, especially for special occasions. This hairstyle is created by taking sections of hair, twisting them around, and securing them at the back of the head using hairpins. You can also add embellishments such as decorative hairpins, flowers, or even glittery hair sprays for extra sparkle.
So, if you have been looking for the best girls haircuts around, you should find a couple here from the above list. These hairstyle options are just amazing and you have all the variety to choose from.
Just go through these beautiful girls haircuts and find the right option for yourself that will go perfectly with your face shape and overall personality. All the best!