You may have heard all the negative things about getting your girl a pixie cut but if you ask me there's nothing like that about the cut itself. Those who had a terrible experience with the haircut might not have had it to perfection actually. In fact, if you are able to give a perfect haircut to your little girl, you'd put her along a lot of popular celebrities who have actually rocked this wonderful look.
Rocking short pixie haircuts might take a lot of guts but it's always worth it. Besides being a completely chic look, pixie haircuts are usually a no-fuss, no-muss hairstyle which means they'll save you and your little girl a lot of morning time.
What Is A Pixie Cut?
A Pixie Cut or a Pixie crop is a haircut option for women and little girls that is around ½ inch to 3 inch in length. You may get a one-length haircut or may even get it trimmed shorter on the sides and the back while leaving the top a bit longer.
Pixie Cut 2020
Even though you might have seen many classic pixie hairstyles, the haircut is still popular in 2020 and you can find a lot of modern looks to the haircut as it continuously keeps evolving. Here we have a list of some of the best pixie cut 2023 options for you that makes your look more adorable and attractive.
Sweeping Bangs
If you have made up your mind to go short with your girl's locks, and are not interested in leaving her face exposed completely, a sweet and simple side swept style would give you some security of the bangs and will offer the ease that comes with a pixie at the same time.
Side Swoops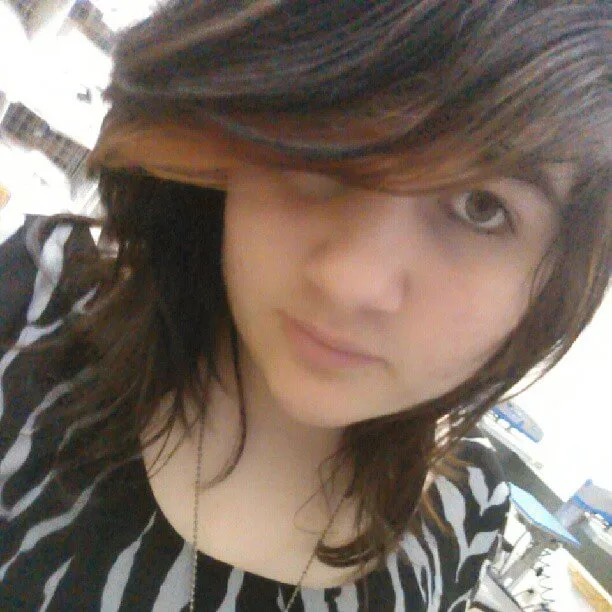 You may have seen Ketty Perry adding a bit of retro drama to hair shorter locks with some deep side-parted bangs and a bit of extra height. You can go for the same look for your little girl in 2019. Apply a bit of medium-hold hairspray and you are good to go.
Wispy Flips
This one is a super-short hairdo that is framed by those beautiful, flippy, and fun edges. You can add some interest to the hairstyle by defying gravity without making it look too stiff with the help of a soft-hold styling product. It will look gorgeous on any day.
Super-Short Shag
Only because you want to keep the hair on the shorter side, you don't really have to compromise on those stylish layers that you'd love to achieve otherwise. Keep a typical shag hairstyle to a pixie length and keep it a bit edgy, particularly when you want to style her hair with a bit of mess.
Messy Curls
For little girls with curly hair, you shouldn't have any issues going really short on top. You can make it into a very low maintenance haircut and add a lot of style to it with the help of some styling gel. Just let it air dry and you'll love the final look of it.
Top Trending Pixie Cut 2020
Want your girl to carry a similar style moving forward into 2020? Yes, you can definitely have some pixie hairstyle interpretations that would be in trend in the year to come.Here we have some trending styles for gorgeous look.
Blonde & Voluminous
This may be your best pixie cut 2020. Just keep some drama on the top and style it in a way that you can keep most of the volume pointed in the forward direction. It will definitely draw all eyes around.
Neat & Wavy Pixie
For girls with naturally wavy locks, you can always go for a side part and brush the hair back to enjoy a soft and elegant look. Spritz some hairspray onto it after applying a bit of lightweight mousse to maintain a perfect shape.
Pixie Wedge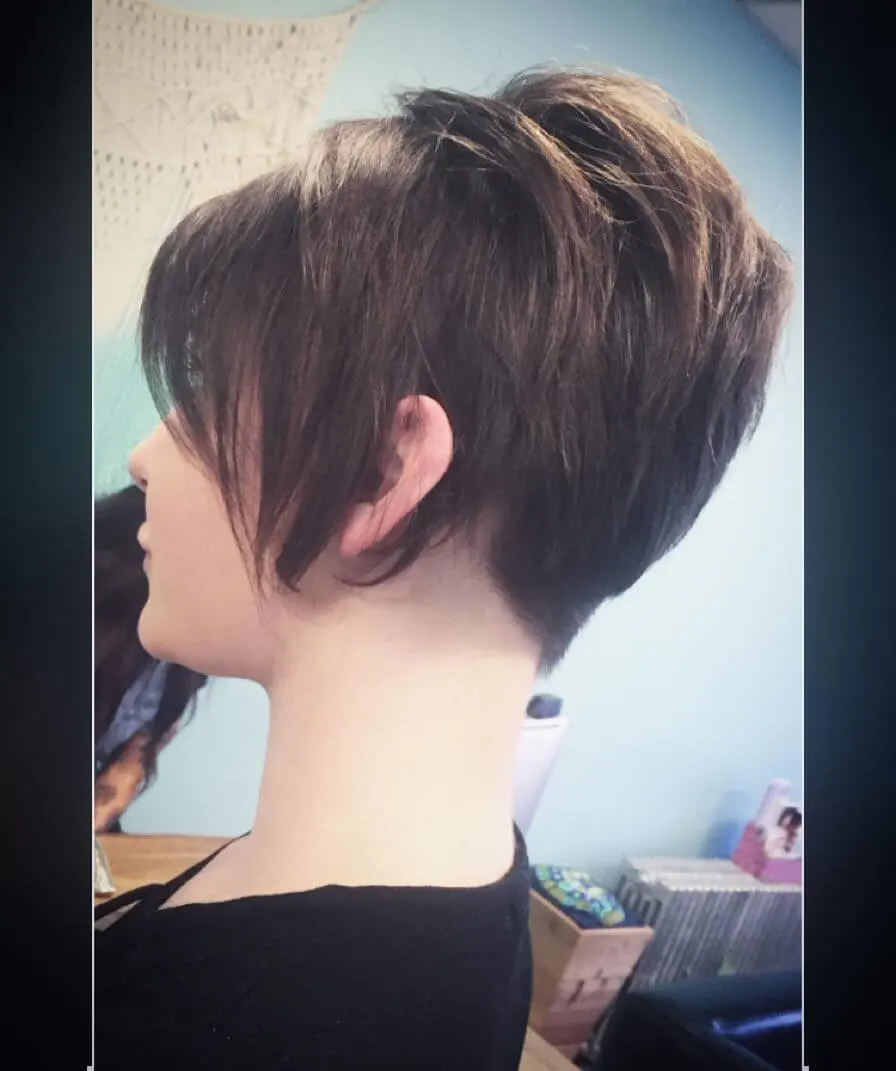 This is another beautiful variation of the Pixie haircut that you can expect to rock in the next year. It requires the locks on top as well as the sides a bit longer as compared to a conventional pixie for some added volume. Change its shape accordingly as well. A classic look for sure!
Feathered Pixie Haircut
When you are not so sure about what variation you want to try with your little girl's hair, you can pair up some highlights and layers to end up with something special. It really works fine for the shorter locks and will give you an even better look if you want to keep it a bit longer. If you choose to grow it out, the original asymmetrical haircut will keep looking edgy and interesting because the hair will be getting longer.
The Pixie Bob
Going with a long and shaggy pixie may give you a perfect transition should you decide to grow it out. When you have some length in the front, you can try some color options as well to play around with the hairstyle and do some experiments.
Short hair for chubby face
So, which short hair for chubby face have been the special ones among the pixie lovers? Here we have our top 5 picks that you may also want to try with your little girl's hair next.
Classic Pixie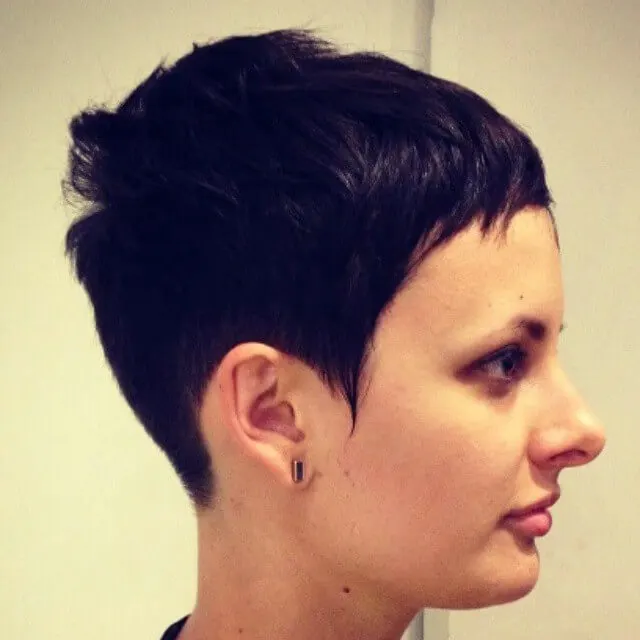 A Pixie cut is probably the first thing that comes to your mind when you start thinking about short hair. A classic pixie never goes out of fashion, especially, when you want it short on top and it's been the trending hairstyle this year as well.
2-Tone Pixie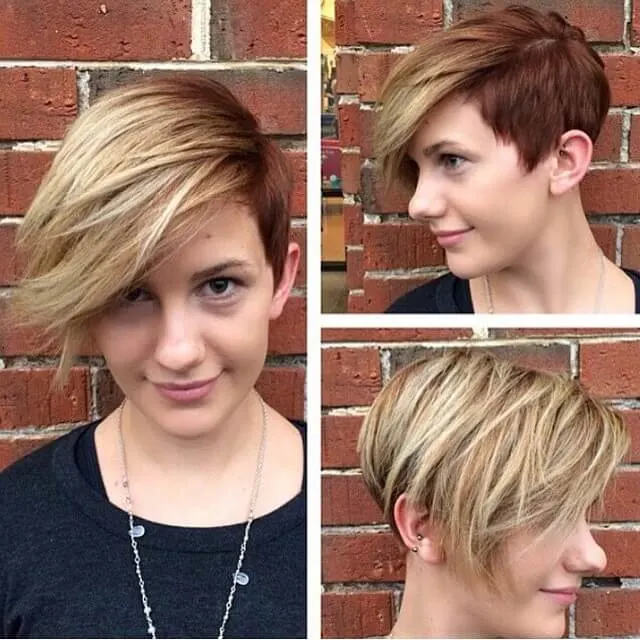 This one is another perfect look that can work for a variety of settings. Ask the stylist to give it a bit of neat texture right throughout. Use some pomade for emphasizing texture and it will help you add some missing spunk along with some shine as well.
Choppy Pixie Haircut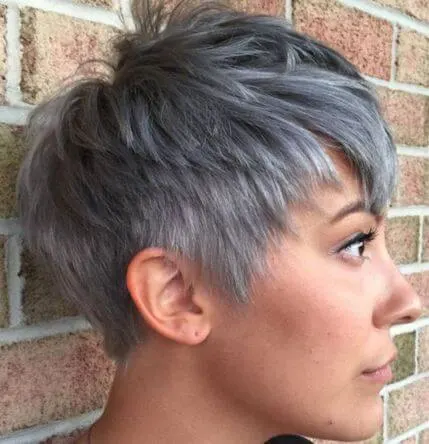 The foremost thing you'd like about pixie haircuts is all the versatility they have to offer. Just look at this choppy haircut and you'd fall in love with it. If you are going to add some color, make sure that you go with some confident choices.
Disheveled Pixie
Chopping the locks fine will always look amazing on the blonde hair type as it is quite light for bringing out the razor-sharp haircut from every single strand. This disheveled look proves the same point.
Tapered Pixie
Tapered on the sides, this pixie haircut impressed everyone throughout the year and is considered a less-extreme pixie in comparison to disconnected, bolder, undercut pixie hairstyles. The taper makes it look much softer as compared to the conventional hairstyle.
Textured Pixie Cut
We have just talked about how versatile these pixie hairstyles could have been. And, here we have another cool variation of the look. Adding some texture on top, you can style it in a variety of different ways and here we have the top few of them.
Asymmetrical Choppy Pixie
For the nonconformist girls, this is a perfect haircut to go with. You just need to create a bit of asymmetrical lines through your typical Pixie and define it on top with a razor.
Asymmetrical Pixie Haircut With Shaved Lines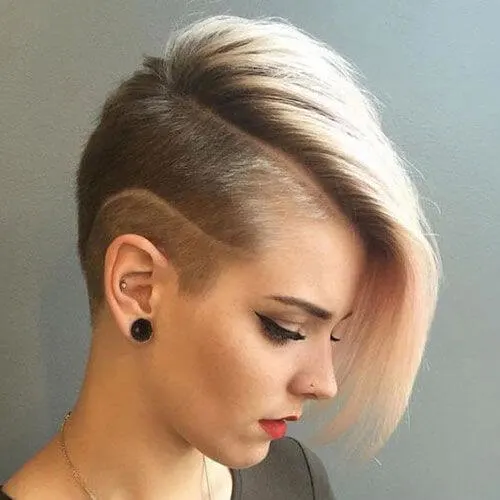 Adding texture to your pixie hairstyle is not always an issue and you can do it on any day. The thing you have to worry about is how exactly you could be able to bring variation to the look. Just go for an asymmetrical look and add some color to it if you want to. Create shaved lines – as many as you'd like – on either side.
Spike Pixie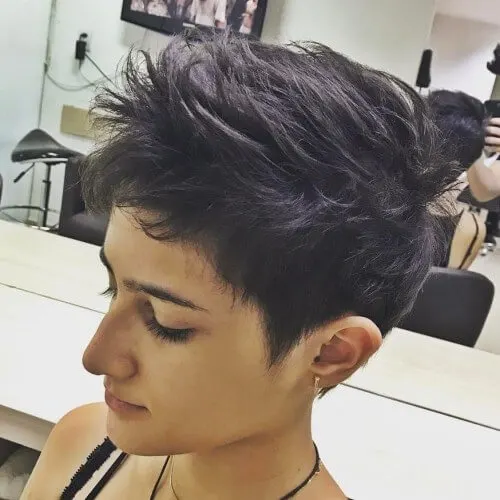 Frame your girl's face with beautiful short and uneven razored haircut and you are good to go. It's definitely going to highlight her face better and make her facial features pop.
Choppy Pixie Haircut With Longer Bangs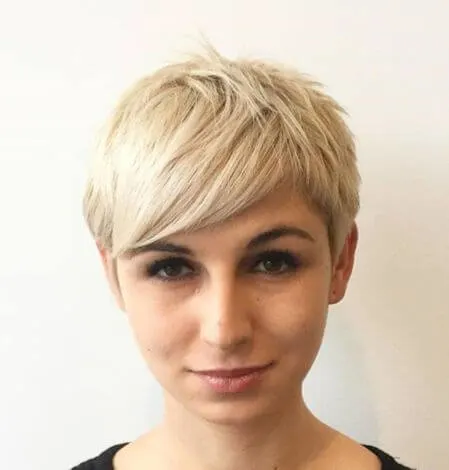 For creating a perfect rock star out of your little girl, give her a choppy haircut on top and add some color to it. Keep the bangs longer and sweep it all to a side.
Choppy Spikes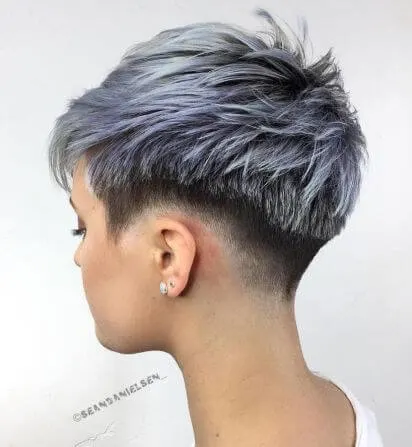 Combine spikes with a choppy look on top and you have this punk-inspired pixie that can be styled to perfection with a bit of hair spray and wax. Tousle it up a bit and create beautiful spikes going in all possible directions.
Long Pixie Cut
For styling a pixie, you do not always have to keep it short on top. In fact, you can style it with a bit of length as well and it will look as gorgeous as you'd like. Here we have some interpretations of the long pixie cut, let's see how it looks and how it changes your look.
Long and Layered Pixie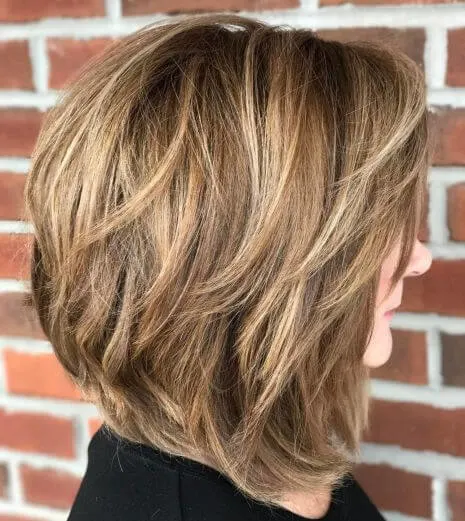 As you normally see with the layered haircuts, this beautiful haircut is a perfect choice for girls with thin hair. The locks might have a wispy look when you cut it straight, or you can achieve a similar effect by keeping the base line round. However, you should try to layer different lengths. It will give your main some tremendous volume even without a styling product.
Blonde Chopped Pixie With Longer Bangs
One of the trendiest looks to have for shorter hair, this longish pixie with bangs looks funky and cute any time of the year. You can add some depth to the hairstyle with a bit of choppy layers, while you make a perfect style statement by getting it with a blonde hue. Some texture paste could be used for fluffing it up a little and enhancing the volume.
Long and Edgy Pixie
This one really is a perfect hairstyle for girls with fine hair. Because of the varied lengths, this long and layered pixie haircut gets an edgy and cool look. The beautiful short layers achieved randomly throughout can help generate a bit of extra thickness near the crown area. Just wear the tresses smooth and ruffle them to add a bit of versatility.
Side-Swept Shaggy Pixie Haircut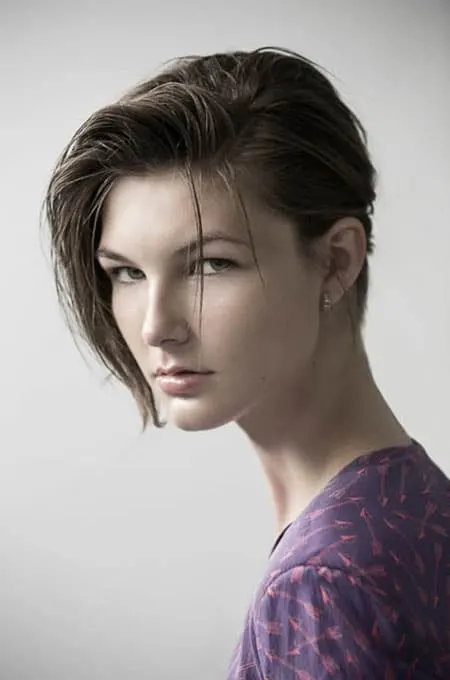 This fierce-looking and fashion-forward hairstyle really speaks volumes about itself. The disheveled and side-swept look of this haircut is a perfect example of androgyny. The length is kept a little shorter than most long pixie cut styles to add a lot of boldness to the hairstyle. Nevertheless, it's amazingly striking.
Long Pixie Haircut With Dimensional Layers
You can achieve dimensional layers across a lot of different lengths as well as highlights. You can always find different blonde shades complementing pixie cuts really nicely with their choppy finish. What's even better is that it doesn't require too much of styling either.
Pixie Cuts For Thick Hair
Among all the variations of the pixie cut, you can find a few that can suit perfectly to girls with thick hair. Here we have a few options for you.
Long And Uneven Choppy Pixie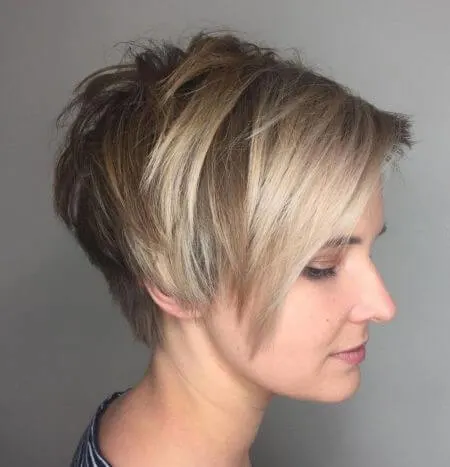 This choppy haircut probably offers the longest possible length towards the front and decreases it progressively going towards the back. It makes for an easy and straightforward transition from a longer haircut to a complete pixie haircut. It looks more like a bob due to those face-framing lengths.
Long And Tousled Pixie Haircut
If you're scared of pixie haircuts which lay flat, you can easily style your longer pixie hairstyle without having to sacrifice the volume. Add some volume booster or root enhancer to your girl's hair roots before you blow-dry her hair and make sure that you flip her head over while drying. It will increase the volume even further.
Pixie Haircut With Curly Top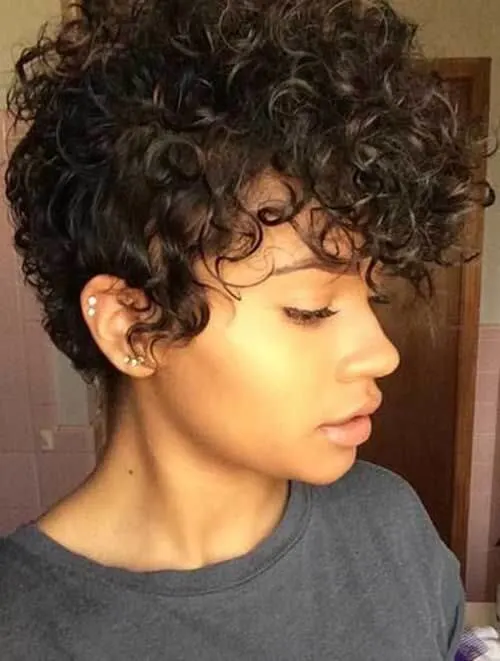 For girls with really curly hair, pixie haircuts make the best low maintenance haircut option. This tapered style we have here works fine for such hair as it keeps the tendrils maintained and manageable. In fact, these are a couple of goals which you always keep in your focus when you have to deal with curled and thick locks.
Feathered Tapered Pixie Cut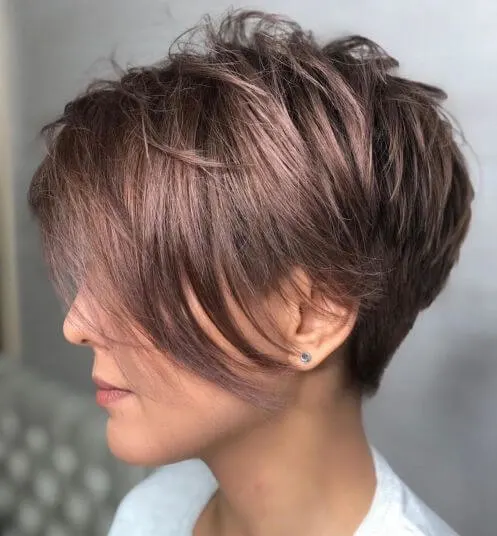 When it comes to the best hairstyles for girls, the ones for thicker locks often work with texture rather than against it. When you go with feathered layers, it will de-bulk the thickness while making the hair feel lighter. As a result, you'll have a perfect pixie that you can run the fingers through anytime.
Pixie Haircut With Fade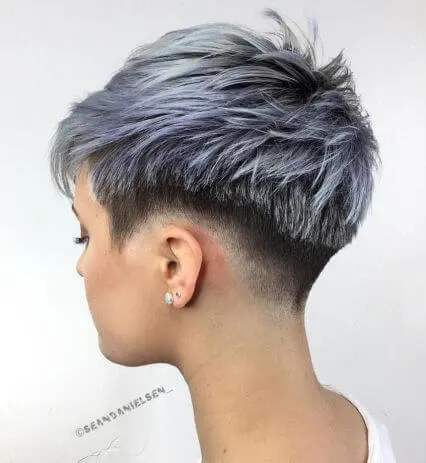 A fade haircut is not just for boys. You can always add a fade to the pixie haircut for your little girl as well. Though it may involve a bit of risk, you can always go with a fade or an undercut with pixie hairstyles. The rest of the hair should be left wild like a peacock and you'll achieve a retro look perfectly. A perfect choice among the pixie cuts for thick hair, it helps keep those longer locks well under control with the help of heat styling tools. Just shape it up in whatever way you like and add a bit of texturizing powder for achieving a naturally undone and messy finish.
Messy Pixie Cut
You may have a few ideas about how to style curly locks into pixie haircuts, but do you have a few variations in your mind that you could try out to create a messy look? Here are a few options that you can try as a perfect messy pixie cut.
Messy Pixie With Shaved Sides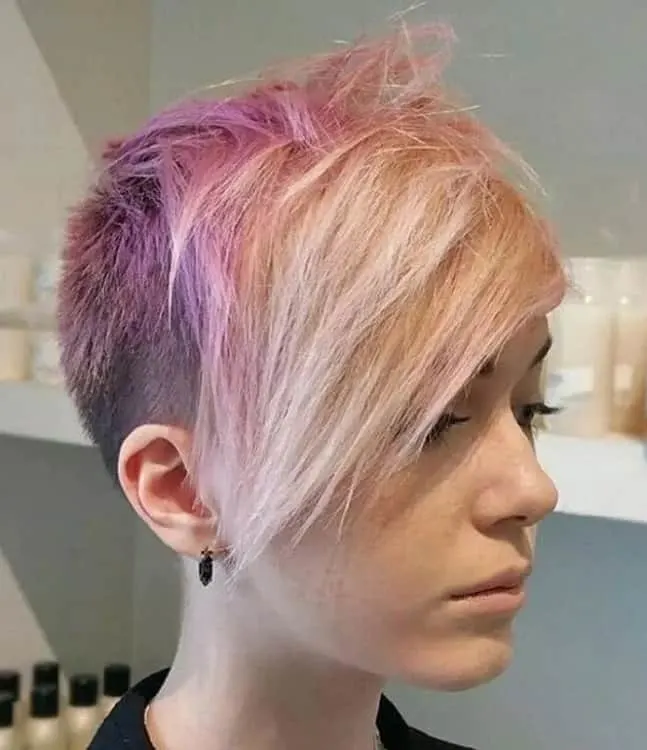 This is probably the boldest of all hairstyles you could have in the pixie realm. Even if you simply go for shaven sides it requires a whole lot of confidence in your little beauty and makes a bold fashion choice. Combine it with a messy pixie haircut and you have a perfect hairstyle for her to flaunt anywhere anytime.
Curly & Messy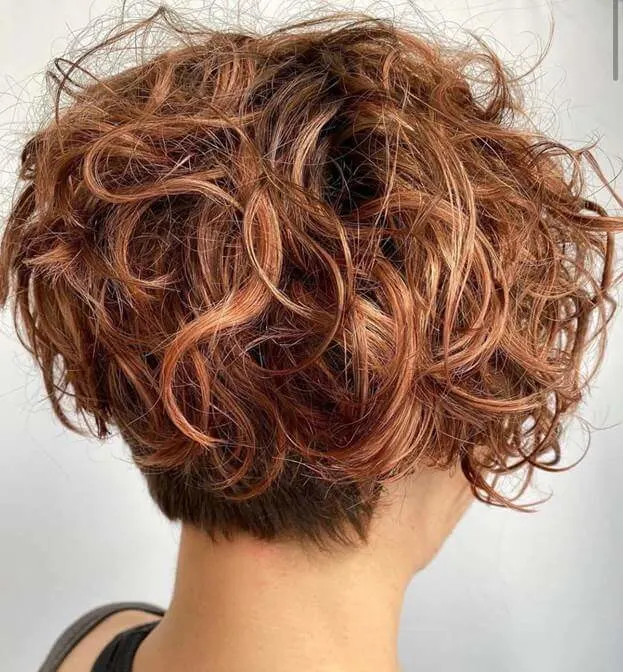 It is by far the most stunning and gorgeous looks that never go out of trend. The hairstyle works just fine for girls with thin hair because it brings a lot of body and texture to the hairstyle. It's super-easy to pull this one off and the final look will seem like you've spent hours on it to achieve.
Outgrown Curly Hairstyle
You may not have seen many Pixie cuts with outgrown locks and this one here just make a perfect choice for a messy look. All you have to do is to overgrow the locks and go for a messy curly pixie haircut described above. The style would look gorgeous on hair that is light colored.
This probably is the only mess you'd love to have in your life. The hairstyle is meant to give some body to the fine hair and adds volume like nothing else.
French Pixie Haircut
Yet another messy pixie cut, this one is going to give your little girl a perfectly French look and feel. The windswept shaggy short hair is definitely going to give your little girl a fresh touch of style and you can always manage it easily. It adds a lot of volume to fine hair if you do it correctly.
The longer locks close to the ears bring some elegance to the look and there's some amazing texture on top which makes it feel voluminous.
Juxtapose Pixie Cut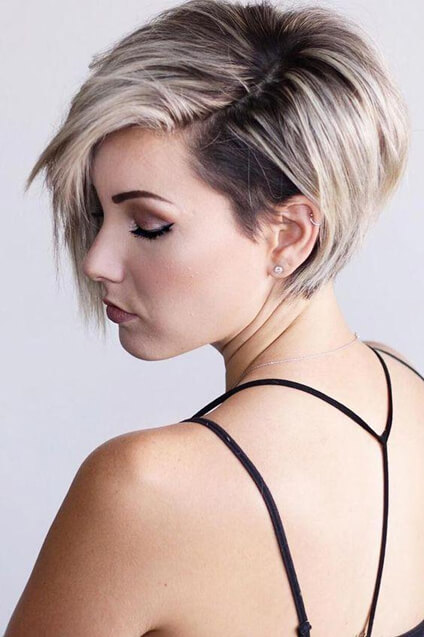 The Juxtapose pixie is one of the best choppy pixie cuts that is paired with some soft and wavy side-swept bangs to make for a perfect style. The hairstyle can't just be achieved easily, it's very simple in terms of maintenance as well. It has the essence of that messy pixie cut and boasts of its natural, soft, and wavy texture.
Pixie Cut FAQs
So, if you want to achieve a pixie cut and have some common questions in your mind, here we have the answers you must be looking for.
Are Pixie Haircuts in style for 2020?
If you are planning of some short hairstyle, a pixie cut is definitely going to be a perfect choice for you in 2020.
Are Pixie Cuts easy to maintain?
If you're looking for some hairstyles to do a bit of experimentation, pixies really make a perfect choice. Even subtle changes to this look can have drastic effects. The maintenance and care required for pixie haircuts is unlike what you may have to do with the longer hair. Grow out tends to be much different from the longer layered haircuts. Nevertheless, it is pretty easy to maintain as you do not have to do much of styling and get a haircut every now and then.
Is Pixie Cut good for thick hair?
Pixies make a good choice for thick and coarse hair if you choose to go with side-parted hairstyle with longer locks as that's, probably, the most natural of choices that would look flattering on your stubborn strands.
Are pixie cuts good for round faces?
Pixies remain the most popular choice for round faces if you want to go with something short. For girls with round faces, the short hair must cover the ears. In general, for round faces, you shouldn't go with something that itself is round in shape.
What can I use to style a pixie cut?
There are a few things you can do for styling your girl's pixie haircut. Here we have outlined them for you.
Keep the bangs piecey or soft. For feminizing this boyish look, blow-dry the bangs towards a side with the help of small and round brush.
Use some texturizing products and make it pop.
Make sure you never over do it while styling.
That's all for today from our Pixie cut guide and you should now be looking forward to achieving one of the hairstyles listed above for your little girl. Just make sure that you pick the right category depending on the type of hair she has and her face shape. Also, you have to decide for what occasion you'd like to have a haircut and come up with something that suits your little girl to perfection. Nevertheless, it remains a low maintenance haircut and would do a perfect job even if you are looking for a routine haircut for her. Skim through the list above and make your perfect pick now!